COVID-19 Takes A Toll On First Responders
By Ron Jeffers, New Jersey Editor | June 01, 2020 | NEW JERSEY
Story No. 042720103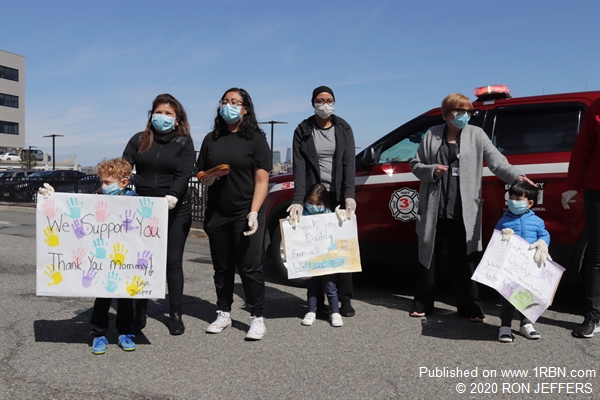 Photo by RON JEFFERSThe COVID-19 pandemic not only affects medical personnel and first responders, but their families as well.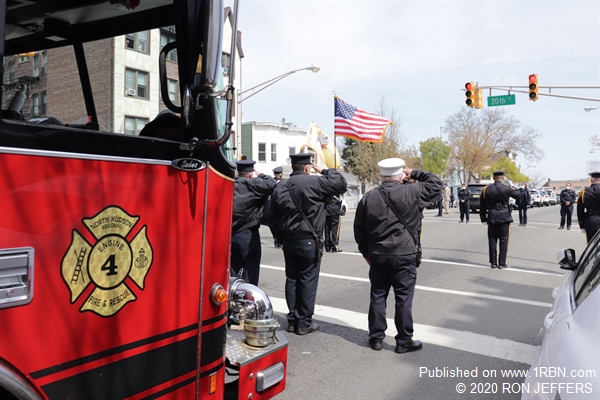 Photo by RON JEFFERSMembers of North Hudson Engine Co. 4 pay their respects during the funeral procession for Union City Detective Alex Ruperto, 52, who died from complications of COVID-19. Hundreds of northern New Jersey police officers lined Kennedy Boulevard for blocks with radio cars, motorcycles and emergency service trucks to pay their last respects. Det. Ruperto, of the Training Division, was a former member of the Emergency Service Unit.
The year began with first responders facing a new risk as they continue to serve their communities. An invisible enemy, known as COVID-19, that can not only put their lives in jeopardy, but those of their family members as well.

Will we ever know the true story behind the cause and spread of this virus that caused a global pandemic? Maybe some will, but don't bet on we the people getting the full story. As the virus spread and people died, the politicians in Washington, D.C. continued with partisan politics, as usual, instead of uniting as Americans to fight this war.

To borrow a line from New York Post columnist Cindy Adams, "So, changing the clocks we went from Standard Time to the Twilight Zone."

"Use universal precautions," has become a common term on radio frequencies, day and night. Running assignments have been changed and procedures altered. Emergency vehicles, and first responder quarters have been regularly put through a decon procedure and specialized equipment acquired for same. Not to mention first responders, themselves, being "deconned." New Jersey became #2 in the country for coronavirus cases.

First responders still report to work and do their jobs. Doctors, nurses and other medical personnel do the same. And, don't forget the truck drivers delivering food and other supplies, transit workers, department of public works employees, the store employees serving you, the postal workers, and so many more.

There are many stories of people coming together to fight this enemy. Companies changing their factories to assemble ventilators, face masks and other necessary items.

In April, the New Jersey State Police Urban Search & Rescue (USAR) unit delivered trailers full of medical equipment to field medical stations in locations that included Secaucus, Edison and Atlantic City. The equipment was supplied by the Division of Strategic National Stockpile and secured by the state police. State police USAR tractors pulled trailers that were donated by Shoprite and Wakefern Food Corp. to transport this equipment.

Laird & Co. retooled their production facility, in Colts Neck, to make hand sanitizer. Lisa Laird donated 90-gallons to be used to sanitize firehouses, etc. Tribar Services helped distribute the product all over the state.

There are many helping hands pitching in, with stories too numerous to mention. For example, Newark Firefighter Stephen Wolf, of Engine Co. 7 along with fellow firefighters, has been preparing food for senior citizens in the city. A talented cook, Wolf prepares 50 meals a day and trays of food once a week for Newark hospitals, either at the firehouse or at home. Wolf has been leaning on his cooking to get him through a tough time. His 73-year-old mother, Carole, died in April from the coronavirus. Lodi firefighters delivered 20 pizzas to nurses, doctors, assistants and secretaries at Hackensack University Medical Center.

Seventy-five ambulances assembled at the Meadowlands staging area next to MetLife Stadium, on April 10th. "The country is pulling together across the EMS communities to help us," said assistant commissioner for the New Jersey Department of Health, Christopher Neuwirth. Before addressing the assembled EMTs, Neuwirth honored Istael Tolentino and Kevin Leiva of St. Clare's EMS in Passaic, Liana Sa of the Watchung Rescue Squad and Dr. Frank Molinari of the New Jersey Sports & Exposition Authority EMS. All four responders died from complications of the coronavirus.

In mid April, 100 more EMS units arrived at the Meadowlands, from all over the country, to join the existing 75 with a total of 600-plus EMTs and paramedics supporting NJ personnel. This included 9-1-1 call volume, health facility relocations and other operations.

First responders have participated in drive-bys at local hospitals, with light and sirens working, to thank medical personnel for their hard work and dedication.

Passaic Firefighter Israel "Izzy" "Nudge" Tolentino, Jr., of Engine Co. 1-Tour 4, succumbed to complications from COVID-19. He leaves behind a wife and two children. He served in the US Marine Corps for 4-years and he was a volunteer member of the West Paterson Fire Department and First Aid Squad. Firefighter Tolentino also volunteered his service with the Passaic Office of Emergency Management. He was also employed as an EMT for Saint Clare's Hospital. In 2018, he achieved his life's goal, and dream, becoming a career firefighter in Passaic.

On Easter, Paterson Police Officer Francesco Scorpo, 34, died from coronavirus related complications, according to local officials. He is survived by a wife and two young children. Union City Detective, and former ESU officer, Alex Ruperto died on April 16th.

Others who have died from complications of the coronavirus, at this writing, include Bedminister Township Sergeant Alterek Patterson, Hudson County Corrections Officer Bernard Waddell Sr., Essex County Correctional Officer Maria Gibbs, Middletown Firefighter/EMT Robert Weber, Woodbridge Township ambulance and rescue squad Chief John Carrelia, Little Falls Fire Department ex-president and Singac Fire Company member Michael Burke, former Madison Firefighter Dennis Matyus, Newark PD Criminal Intelligence Analyst Lt. Daniel Francis and Paterson Firefighter/EMT instructor and Wayne volunteer firefighter John Ferrarella.

Later in April, Little Falls was in mourning again with the loss of former assistant fire chief Ronnie Cordero. He volunteered his service for 40-years with 12 as assistant chief. He also served as a township code enforcement officer.

Edison Fire Captain Richard Campbell was a 28-year veteran and worked up until the day he became sick, which included his last call at an apartment complex fire. The Bay Head Fire Company lost Firefighter Dave Clark. His son, Zach, is a probationary firefighter and his wife, Lisa, is a member of the Bay Head Fire Police.

The Valley Hospital Emergency Room Nurse Pamela Orlando, 56, died from coronavirus complications on April 16th. The breast cancer survivor and mother of two won The DAISY Award, an international honor for extraordinary nurses. She also taught nursing at Lincoln Tech.

On April 24th, Bloomingdale Police Officer and Oakland volunteer Assistant Fire Chief Gary Walker, 53, passed. He was a police officer for 20-years, and he joined the Oakland Fire Department in 1987.

A good friend of this writer passed away at the New Jersey Firemen's Home, in Boonton, in April. Retired Union City Fireman Robert Gemignani was one of the first hometown firemen that I became friends with when I was a kid. A local hero for me on Snorkel 1. He was a union president, organized Christmas parades and delivering gifts to kids in hospitals, and became active in the volunteer ambulance squad that was organized in 1971. I became a city cop and we worked together at fires and other incidents. He gave everyone a nickname! I worked with his wife, Estelle, for many years when she was a civilian telephone operator and clerk in BCI. We had a break each other's chops relationship, common in a police department. Many laughs with both. RIP, Bobbie G.

Ambulance workers, many of whom are volunteers and without health benefits, face this health crisis every day.

Teaneck has been one of the towns hardest hit by this crisis. Chief of the Teaneck Volunteer Ambulance Corps, Jacob Finkelstein, said, "This is a mass casualty incident in our whole town."

Mat Giachetti teaches health and safety classes for emergency medical technicians. He also earned the top martial arts award in 1999 from the International Black Belt Hall of Fame. As captain of the Wall Community First Aid Squad, he said, "We've never seen anything like this before," referring to COVID-19. "We're scared. But, we're still going out there."
This article is a direct street report from our correspondent and has not been edited by the 1st Responder newsroom.