June 2021, UPS page 2
By Ron Jeffers, New Jersey Editor | June 01, 2021 | NEW JERSEY
Story No. 042621114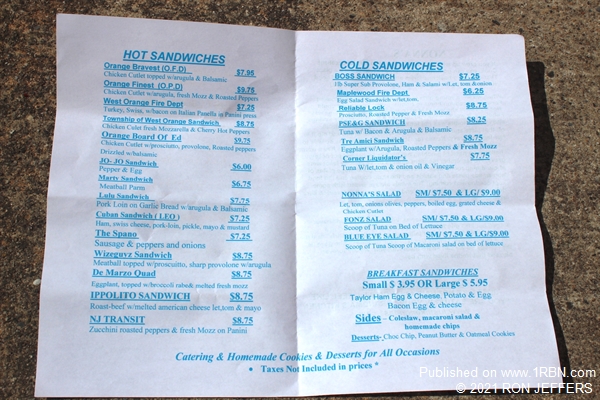 Photo by RON JEFFERSJust Like Nonna's menu.
DOWNS: Solar panels caught fire atop the Hobby Lobby store on Route 35 in Holmdel, March 27th. It is the second time in a year that solar panels at this building burned, officials said. One firefighter was treated for heat exhaustion.

UPS: Recently, the Point Boro First Aid Squad and Point Pleasant Fire Station 75 both received $1,400 donation checks from Boro4Boro Shirt Project organizers. In 2020, local eateries, retailers and other establishments launched the project and raised money through the sale of T-shirts to support first responders that serve the community during the pandemic. For the winter season, new apparel with hoodies went on sale.

DOWNS: A March 27th fire caused damage to Knockout Pizza on Chambersbridge Rd. in Lakewood, as well as damage to neighboring stores, officials said.

UPS: On March 31st, the East Rutherford Emergency Squad received a donation of 100 masks and hoods from Bartlo Packaging, of Passaic.

DOWNS: A 4-alarm fire tore through a row of stores at 240-244 Smith St., Perth Amboy, on March 30th. One firefighter suffered a minor injury, officials said.

UPS: The Caldwell Borough Council presented a proclamation to Fire Chief Andrew Pollara to honor the 32-member volunteer fire department, recognizing their 120th anniversary serving the community. The virtual meeting was held in March. Chief Pollara said the department is saving its "big celebration" for the 125th anniversary.

DOWNS: A Village Harbor dwelling on Clyde Lane in Stafford Twp. was reported destroyed by fire, and the house next door damaged, March 27th.

UPS: Last year, the fire departments of Hackensack, Teaneck and Englewood were awarded a $550,000 FEMA grant. This regional grant has been used to train every member of the three departments (200+) in Firefighter Safety & Survival and Rapid Intervention, in compliance with state and national standards. In March, the three departments trained at the Morris County Public Safety Academy.

DOWNS: Bayonne firefighters were able to rescue one dog, but could not save another, during a fire in a two-story dwelling on West Third St., March 30th, officials said.

UPS: On April 6th, Roseland volunteer firefighters offered a Happy Birthday greeting to Firefighter Frank Mazzocchi, 87, who still "puts on the gear" and responds to calls to serve his community. Mazzocchi has served as a volunteer firefighter for more than 50-years, according to a department spokesperson.

DOWNS: A woman and pet were killed as the result of a fire in a Lehigh Blvd. dwelling in Jackson, on April 1st. Another woman jumped from a second-floor window and suffered minor injuries, authorities said.

UPS: In East Rutherford, Meadowlands Fire Department members safely removed passengers after they became stranded on a roller coaster at Nickeloden Universe Theme Park within the American Dream mall, state police Sgt. Lawrence Peele, said. No injuries were reported.

DOWNS: A 7-year-old boy died in a fire that raced through an Astor St. townhouse in Newark, Apr. 8th, and five other residents were injured. Firefighters rescued two adults and three children out of the home, officials said. The 7-year-old's body was located on the third-floor by firefighters.

UPS: The Chatham Emergency Squad is celebrating its 85th anniversary of service for the community. With nearly 1200 calls in 2020, the CES has grown as demands have grown for the squad's volunteer service.

DOWNS: A 71-year-old man died in a fire that involved a Dakota Ave. dwelling in Middletown Twp., April 2nd.

UPS: Paul Perrello has been promoted to Chief of Department in Hanover Township.

DOWNS: A 3-alarm fire involved the All County Recycling yard on Enterprise Ave., in Trenton, April 6th. The wind and water supply issues made it difficult to fight the fire, officials said.

UPS: New firefighters in Montclair are Connor McCann, Tyler Diggs, John Auletta and George Miller.

DOWNS: A burned body was discovered at the site of a brush fire behind a swim club near Boulevard East in West New York, April 7th. After North Hudson firefighters extinguished the fire, the burned remains of a person was discovered, according to the Hudson County Prosecutor's Office.

UPS: John Wittnebert is the new firefighter appointed in Hanover Township.

DOWNS: A labor intensive fire in a mixed occupancy building on Asbury Ave., in Ocean City, caused extensive damage and forced four residents to evacuate, officials said.

UPS: New firefighters in Springfield are Stephanie Bagniewski and Michael Vanadia.

DOWNS: An alleged drunk driver attempting to leave a single-vehicle crash on the Atlantic City Expressway, in April, struck a Winslow fire engine that came to assist, according to NJ.com. State troopers arrived before the car could drive away. The driver and passenger were in possession of a gun and were taken into custody.

UPS: Actor Kelsey Grammer visited the Liberty Corner Fire Company in April. Grammer is known for his Frasier Crane character on TV. Local Firefighter Tom Castronovo works in marketing for Grammer, and the actor is a big supporter of volunteer firefighters, according to Chief Carl Blanchard. Grammer was born in the Virgin Islands, but he spent part of his childhood in New Jersey.

DOWNS: It took more than 62,000 gallons of water to extinguish a fire in a Camp Hoover building on Route 521 in Newton, April 14th, officials said.

UPS: On April 15th, the Unilever Federal Credit Union presented the Cliffside Park Fire Department with a check for $10,000 as a result of a grant program that UFCU and its partner, The Federal Home Loan Bank of New York, coordinated to help small business and non-profits in the New Jersey area.

DOWNS: The sky was filled with black smoke due to a two-alarm fire at a White Horse Pike auto body shop in Egg Harbor City, April 10th.

UPS: Paterson firefighters rescued a man from the base of the Great Falls on April 18th, officials said. The victim told firefighters that he jumped from the walkway bridge. The 32-year-old victim was on a rocky island at the base of the falls. One group of firefighters forced entry to the catwalk at the base of the hydroelectric plant, and another crew set up a down stream backup with inflatable hose at the Alfano Island Bridge. A roof ladder was rigged to the catwalk to use for accessing the water since there was no other access. A boat was lowered via rope and pulley system into the water using a rigged safety line on a spool attached to the boat. They navigated the Great Falls and reached the victim, Public Safety Director Jerry Speziale said. A life jacket and rope harness were put on the victim to pull him back to the catwalk. The man was taken to St. Joseph's Medical Center and listed in stable condition.

DOWNS: A garage portion of a Vliget Dr. home in Hillsborough was heavily involved in fire when the first unit arrived on April 20th, officials said. The fire extended to a room above the garage and a 2nd alarm was struck.

UPS: Thanks to the Bergen County Sheriff's Office Community Release Center (CRC), an access ramp was completed at the home of a Ridgefield Park junior firefighter, 17, who was seriously injured at a recent fire. The CRC at the Bergen County jail offers minimum security inmates a structural alternative to rehabilitation by participating in moderate levels of manual labor for the benefit of the community. PBA Local 134 donated the materials.

DOWNS: A dwelling fire on Nicholas Ct. in Upper Freehold, April 22nd, spread to other structures due to dry brush, officials said. An air tanker from the NJFFS dropped water on the scene to help quell flames, a report said.

UPS: In April, some six weeks after suffering a medical event while battling a forest fire on the Brick-Lakewood border, Firefighter Brian Sauers left Shore Rehabilitation Center, in Brick, to go home. NJFFS member Sauers, 64, was operating at the March 14th fire, that involved some 167 acres, when he collapsed as the result of a cardiac event, according to his daughter. Sauers, who is a Toms River Fire District 1 chief as well as a firefighter with the state forest fire service, was greeted by dozens of firefighters and medical personnel from the surrounding area, all saluting his release. They then escorted him home where he will continue his rehabilitation. Leaving the hospital facility, Sauers paused to thank Brick Police Officer Anthony Chadwick. When Sauers was stricken, P.O. Chadwick grabbed a defibrillator from his radio car and began chest compressions on the firefighter until Brick EMS personnel took over. The police officer then escorted the ambulance to the hospital.

DOWNS: A 3-alarm fire at the Sky Top Gardens Apartments in Sayreville, March 24th, destroyed two units and displaced at least two families. Firefighters did rescue a pet bird, according to Fire Chief Anthony Mercado.

UPS: There is a little deli on Lincoln Avenue, down the street from Orange Fire Headquarters in the Little Italy section of the city, that is a popular stop for first responders. The menu at Just Like Nonna's list sandwiches in the name of local organizations. This includes: the Orange FD and PD, West Orange FD, Maplewood FD, Orange Board of Education, NJ Transit and PSE&G. Catering, plus homemade cookies and desserts! www.justlikenonnas1.com
This article is a direct street report from our correspondent and has not been edited by the 1st Responder newsroom.