A True Quint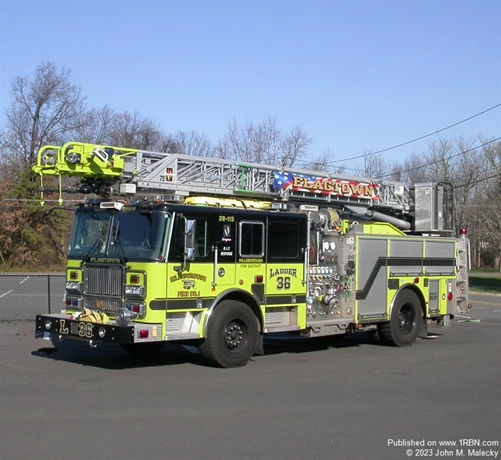 Photo by John M. MaleckyHillsborough FC-1, L-36, 2007 Seagrave 1500/350/40A/ 10 kw and 75-foot aerial. It was sold by Seagrave Sales & Service.
Photo by John M. MaleckyFairmount FC, Washington Twp., E2-1, 2022 Spartan ER, Gladiator 1500/750/40A. It was sold by Campbell Supply Co., LLC.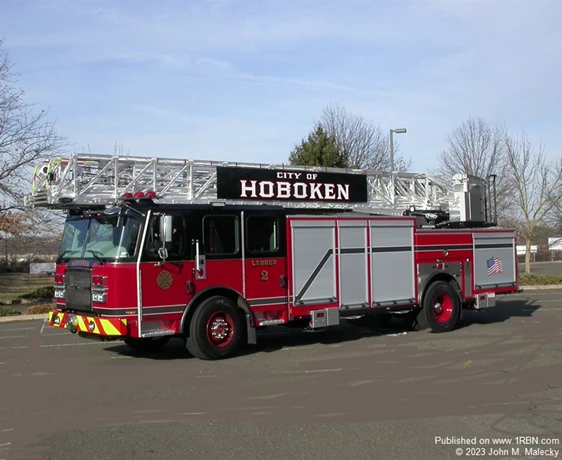 Photo by John M. MaleckyHoboken L-2, 2022 E-ONE Typhoon 110-ft. and 5 kw generator. It was sold by Absolute Fire Protection.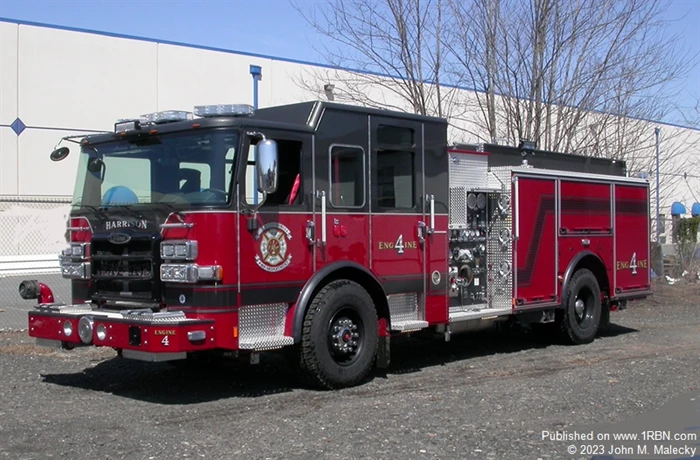 Photo by John M. MaleckyHarrison E-4, 2023 Pierce Enforcer, 1500/750. It was sold by Fire & Safety Services.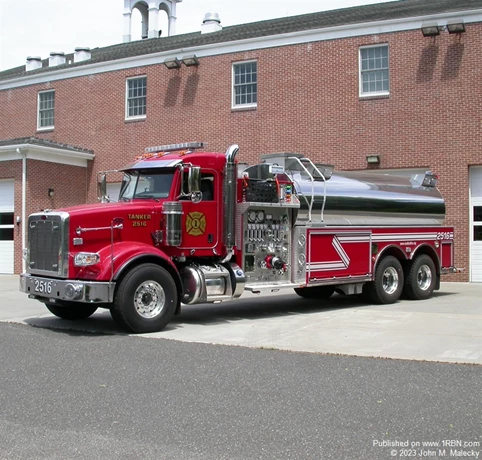 Photo by John M. MaleckyMedford Twp., Union FC, T-2516, 2018 Peterbilt 367/Pierce, 2000/3500 with 10-inch dump valve. It was sold by Fire & Safety Services.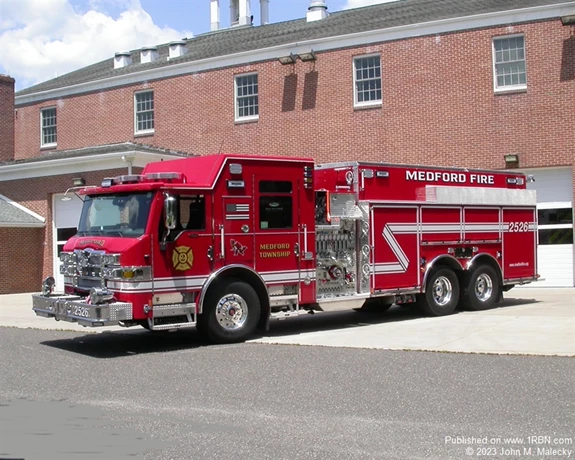 Photo by John M. MaleckyMedford Twp., Taunton FC, T-2526, 2022 Pierce Velocity 2000/3000 with 10-inch dump valve. It was sold by Fire & Safety Services.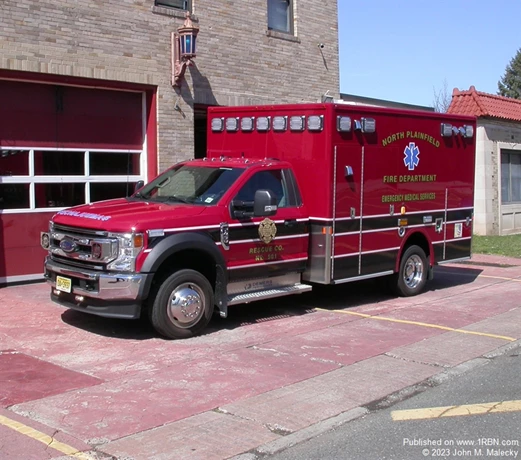 Photo by John M. MaleckyNorth Plainfield R-501, 2022 Ford F450 XLT/Demers, MXP150E. It was sold by the 1st Priority Group.
This article is a direct street report from our correspondent and has not been edited by the 1st Responder newsroom.
APPARATUS OF THE MONTH
By John M. Malecky                                                             May, 2023
 A TRUE QUINT
We all know that the word, "quint" means five. It pertains particularly to ladder trucks. To distinguish it from other ladder trucks it was one that had (1) a volume pump, (2) a bed of hose, (3) a water tank, (4) a complement of ground ladders and (5) an aerial device. A pumper was a triple combination unit having a pump, water tank and hose bed. Adding a complement of ground ladders made it a "quadruple combination unit" or quad. Adding an aerial device made it a quint. The January, 2022 apparatus column briefly covered information on quints. Today, there is a difference between the ground ladder requirement for ladder trucks as opposed to that of quints. A ladder truck today is required to have 115-feet of ground ladders, whereas a quint of today is required to have 94-feet. Ladder 36 of the Hillsborough Township Fire Department, a Seagrave, is a quint with 94-feet of ladders, though it is still designated as a "Ladder Company." It has a smaller water tank than the usual 500-gallons, but I'm not sure if that was to allow for more space for ground ladder complement. Most other 75-footers with pumps, tanks and hose do not carry enough ground ladders to be called "quints." It is just a convenient designation. The photo of Ladder 36 is featured this month. Other photos this month include a Spartan ER pumper from the Fairnount Fire Company in Washington Township (Morris County), which is in Long Valley. Two other photos are from Hudson County, namely an E-ONE Typhoon rear-mount from Hoboken and a Pierce pumper from Harrison. Jumping down to Burlington County we have two Pierce pumper/tankers from Medford Township. One is on a Peterbilt chassis and is from the Union Fire Company, and the other on a Velocity chassis from the Taunton Fire Company. Our final photo is of a Demers Type 1 ambulance from the North Plainfield Fire department in Somerset County. Demers is built in Canada.
In dealer news, Fire & Safety Services has received the following Pierce orders: for Gloucester Township, Chews Landing (Camden County) a stock Enforcer mid-mount tower; for Parsippany-Troy Hills District 5 (Rockaway Neck) an Enforcer pumper (Morris County); for Hillsborough Township District 1, a Saber pumper (Somerset County), and for Demarest (Bergen County) an Enforcer pumper.
Defender Emergency Products has received an order from Atlantic City (Atlantic County ) for a Rosenbauer 100-foot TDA. Specs include a Commander 60-inch cab length with eight-inch raised roof, barrier free cab entry doors, Cummins X15, 500 hp diesel engine, Whelen lighting, Rosenbauer FX aluminum body, Max Force bumper, Zone Defence Camera System, Rosenbauer hot dipped galvanized frame rails, custom multiple transverse storage compartments, 36- Camera System, David Clark all wireless intercom system and a full NFPA ground ladder complement.