Firefighter/Photographer Recognized in Bergen
By Ron Jeffers, New Jersey Editor | May 01, 2020 | NEW JERSEY
Story No. 033020115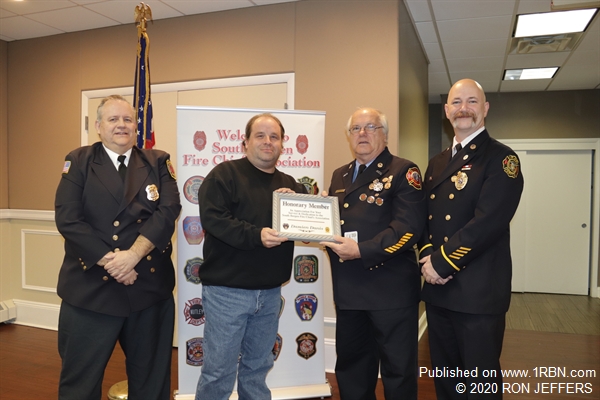 Photo by RON JEFFERSIn appreciation for his service and dedication, Saddle Brook Firefighter and 1st Responder News senior correspondent, Damien Danis, was named an Honorary Member of the South Bergen Fire Chief's Association, at their March meeting. (L to R): 1st Vice President Bryan Hennig, Damien Danis, President Tony Chido and 1st Vice President Scott Muttel.
In 1985, Garfield firefighter and fire photographer Rich Wolfson assembled a bunch of people together in his firehouse with the same interest in fire scene photography. From that meeting, the New Jersey Metro Fire Photographers Association was formed.

The NJMFPA gave light to many local fire departments of the value of fire scene photography that were being taken by the persons using cameras at their emergency incidents. Close relationships between club members and the officers and firefighters of many local departments were established. In later years, Wolfson changed careers to become a well known fire investigator.

Also around this time, Wolfson took a young fire buff under his wings-Damien Danis. He saw the love of the fire service in this kid and his enjoyment in taking photos.

In early March, before COVID-19 turned our world upside down, the South Bergen Fire Chief's Association held their business meeting in South Hackensack. Before conducting their usual business, now a veteran volunteer firefighter and photographer, Damien Danis was called up to the officers. In the county that he loves so much, he was named an Honorary Member of the organization for his service and dedication.

Danis is a member of Saddle Brook Engine Co. 2, where he has served as captain, lieutenant and engineer. He is a former president of the Saddle Brook Exempt Association and ex-president and Life Member of the NJMFPA. In addition, he is a photographer for the fire departments of Lodi, Garfield, Rochelle Park and Elmwood Park. He is also an Honorary Member of Rutherford Engine Co. 2 and a 1st Responder News senior correspondent. Danis is employed by Quality Auto Mall in Rutherford. Besides fire scene photography, he attends many of the department's affairs. He took over a lot of ceremonies that veteran, and Damien's mentor, Wolfson handled in earlier years.

Like Wolfson, in the days of personal websites and fire scene photography for profit, Damien is old school. He does not believe in selling his work to fellow first responders. As a matter of fact, if he hears the words, "How much?" or "What do I owe you," he gets insulted! He enjoys the brotherhood and hospitality fellow first responders offer when he visits a firehouse or fire scene.

During the meeting, and showing up fashionably late, James Wood Sr., was also named an Honorary Member of the association. Wood, a former Wallington firefighter, has been photographing emergency incidents for decades. His son, James Jr., was recently appointed to the Passaic Fire Department.


This article is a direct street report from our correspondent and has not been edited by the 1st Responder newsroom.