THEY ALSO SERVE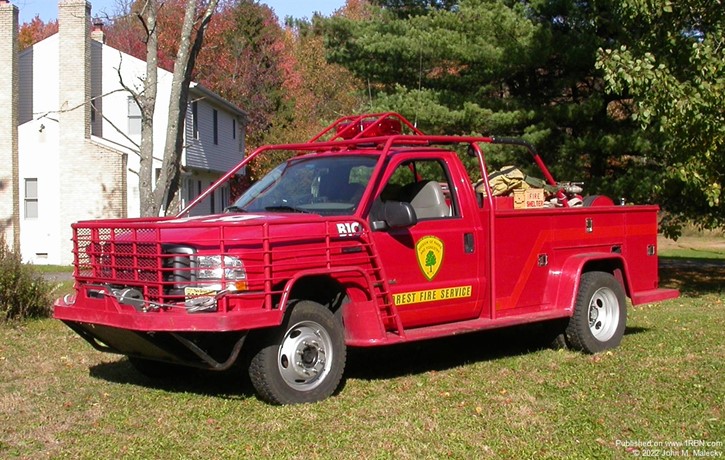 Photo by John M. MaleckyNJFFS B-10 (now A-10) 2004 Ford F-450 4x4/Knapheide/NJFFS 250/250 and 6-ton front winch. There are 100 of these.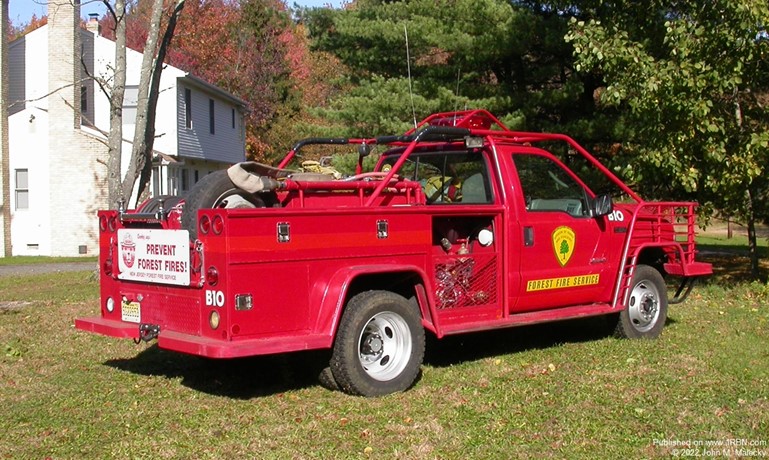 Photo by John M. MaleckyRight/rear view of NJFFS B-10 shows pump compartment.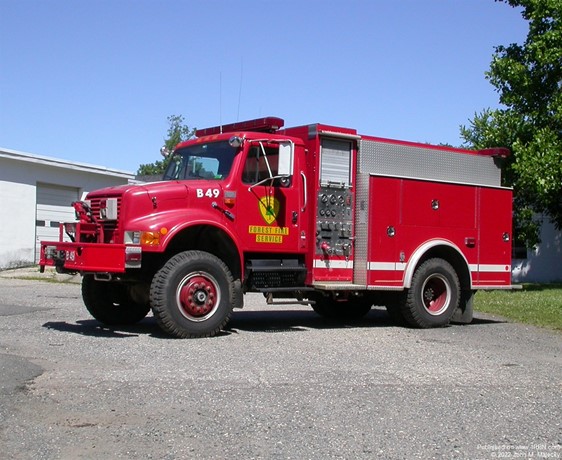 Photo by John M. MaleckyNJFFS B-49, 1990 International 4900/J.C. Moore 475/500. It formerly served in Lakewood.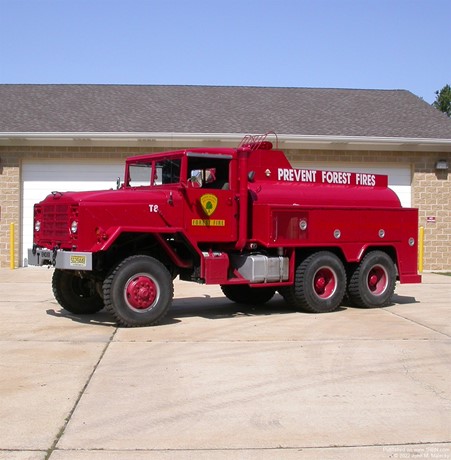 Photo by John M. MaleckyNJFFS Tender-8, 1984 AMC 250/1200.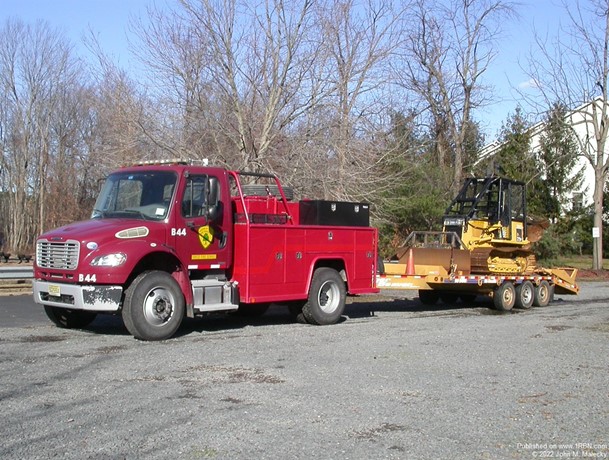 Photo by John M. MaleckyNJFFS B-44 2010 Freightliner M2/2007 Knapheide 230/800. It is pulling a 2004 Eager Beaver trailer with a 2009 Kumatsu dozer.
Photo by John M. MaleckyMadison Park E-907, 2019 E-ONE Typhoon 1500/780 and 6 kw generator. It was sold by Absolute Fire Protection.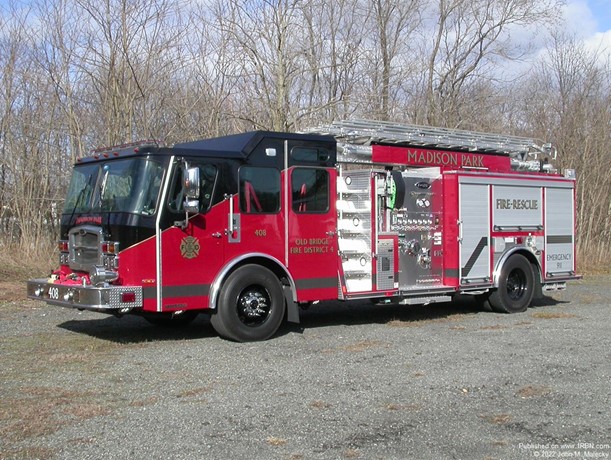 Photo by John M. MaleckyMadison Park L-408, 2020 E-ONE Typhoon 1500/530 with 50-foot boom and 6 kw generator. It was sold by Absolute Fire Protection.
This article is a direct street report from our correspondent and has not been edited by the 1st Responder newsroom.
APPARATUS OF THE MONTH

By John M. Malecky April, 2022

THEY ALSO SERVE

If the title sounds familiar, it is modified from a book titled "They Also Served", which Fire Apparatus Journal Publications came out with in 2007. In that book was the history of non-municipal fire departments in New York City and it is an outstanding publication. In this column we are focusing on the New Jersey Forest Fire Service, and most of the photos this month are from this agency. The agency is administrated by the Division of Parks and Forestry, NJ Department of Environmental Protection. It is responsible for protecting life and property, as well as the state's natural resources from wildfire. They have three divisions: Division "A" (office in Andover Boro), Division "B" (office in New Lisbon), and Division "C" (office in Mays Landing). They operate the following apparatus and equipment: 21 lookout towers, 100 Type 6 x wildland engines, 14 Type 4 wildland engines, 8 water tenders, 3 large dozer JD750's, 4 mobile command posts/centers, 75 support or staff vehicles, 10 medium dozer/plows (JD450,D4), 20 small dozer/plows (D21, JD400, JD350,D3), 6 helicopters (3 heavy, 2 Jet Ranger and 1 Bell 47), 3 fixed wing aircraft, 2 seasonal contract single engine air tankers, 2 full time air attack bases and 2 seasonal air attack bases. This information is courtesy of the NJ Forest Fire Service. The photos show a front/left and right/rear view of one of the 100 Type 6 x engines. This one was photographed as B-10 (B Division), but later was assigned to the A division and is now A-10. B-49 is a Type 4 engine that formerly saw service as the "paid Man's Truck" in the town of Lakewood (Ocean County). At one time Lakewood only had one paid man on duty and he responded with a specific pumper. Next is one-of-eight water tenders followed by a Type 4 engine with a dozer. The last two photos are E-ONE Typhoons from the Madison Park Fire Company in Old Bridge Township (Middlesex County). One is an engine and the other is designated as a ladder.

In dealer news, VCI Emergency Vehicle Specialists has delivered to Pennsauken in Camden County, two Horton 523 ambulances on Ford E-450 chassis.

Fire & Safety Services received the following Pierce orders: for North Brunswick FC 3 (Middlesex County), a stock Arrow XT pumper; for Burlington City (Burlington County) an Enforcer pumper and for Neptune Township (Unexcelled), an Enforcer pumper (Monmouth County). Pierce deliveries include an Enforcer pumper to Andover Township (Sussex County) and an Arrow XT dryside tanker to Raritan Borough (Hunterdon County). A late arrival is a Velocity 2000/3000 pumper/tanker for Medford Township (Burlington County), which is being prepped.

Absolute Fire Protection has delivered to Bloomfield (Essex County) an E-ONE Metro 100 single axle ladder. They have received the following E-ONE orders: a new order from Newark (Essex County) for 8 Typhoon apparatus (five pumpers, one stainless steel heavy rescue, one 95-foot rear-mount platform and one Metro 110 rear-mount aerial); for Lake Parsippany, a Cyclone low hose bed pumper with SAM pump controls and for Mt. Tabor an HP100 foot platform on a Cyclone chassis and a Typhoon pumper (Morris County). Also, for Blairstown (Warren County) a Typhoon stainless steel pumper with 1000-gallon water tank.