Apr., 2022, UPS, page 2
By Ron Jeffers, New Jersey Editor | April 01, 2022 | NEW JERSEY
Story No. 031422112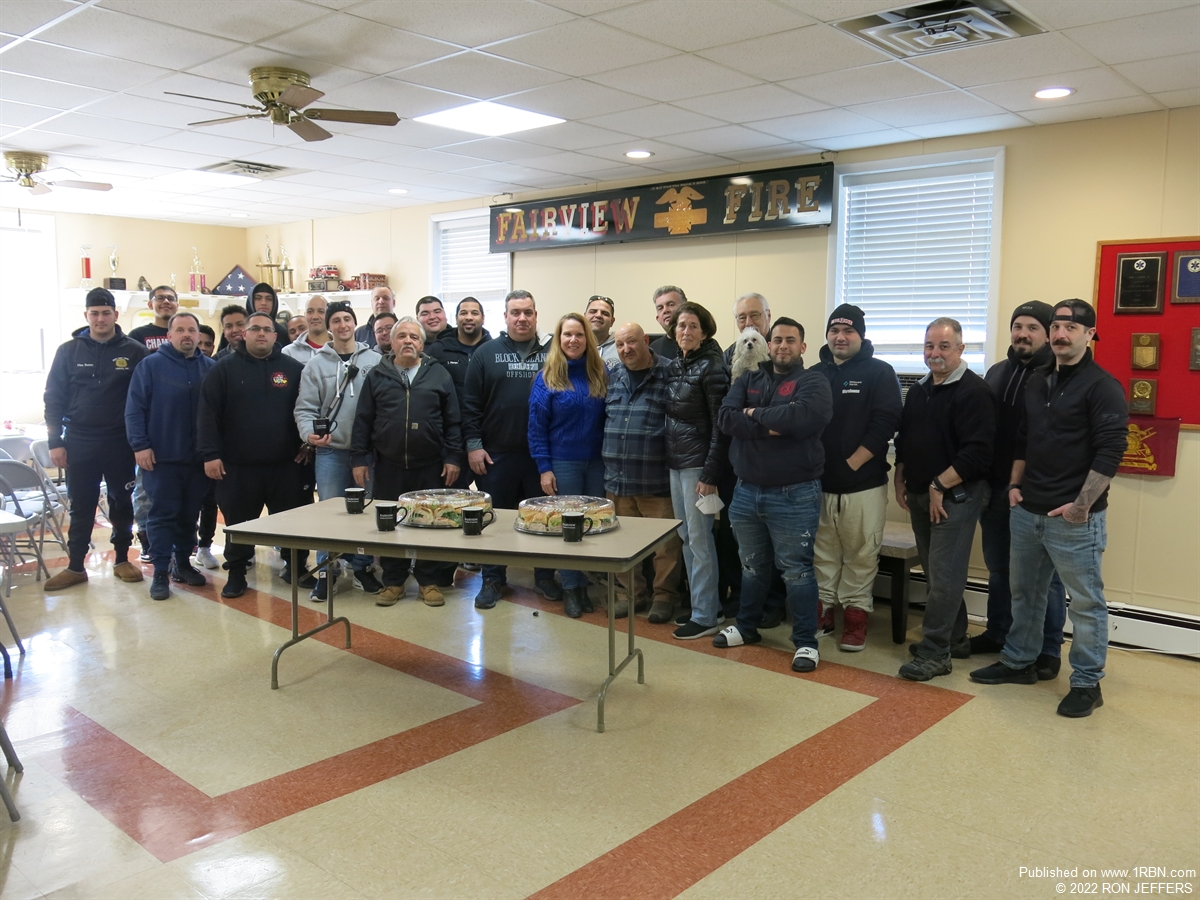 Photo by RON JEFFERSMembers of the Fairview Chamber of Commerce provided lunch for volunteer firefighters in appreciation of their dedication to duty during the past two-years of the COVID pandemic.
DOWNS: One person was found dead inside of a Suzanne Ave. home in North Cape May, Feb. 6th, as the result of a fire, officials said.

UPS: The Red Bank V.F.D. has acquired a 26-foot SeaArk boat from the N.J. State Forestry Department, and members are currently upgrading the vessel themselves to create a first-responder boat. It is part of the Special Operations Division comprised of marine, dive and rescue units. Volunteer firefighters are seeking donations from the public to help upgrade the vessel and to make overall repairs, according to "Tap into Red Bank."

DOWNS: A resident of a Banner St. dwelling, in Highland Park, jumped from a second-floor window to escape a fire that damaged four apartments on Feb. 8th, officials said. The victim jumped before first responders arrived.

UPS: Construction projects continue at the Bergen County Law & Public Safety Institute, in Mahwah. Projects include constructing a two-story training mall fit with a movie theater and atrium, plus a four-story mixed use occupancy tower.

DOWNS: A woman who was rescued by firefighters during a fire in a Valley Way home in West Orange, Feb. 20th, later died at St. Barnabus Medical Center, officials said. When fire units arrived, fire had already involved the basement and first-floor. The homeowner escaped, but the victim was trapped on the second-floor. The homeowner was treated for smoke inhalation. In a follow-up, according to the Essex County Prosecutor's Office, the 66-year-old woman suffered fatal injuries as a result of running back into the house in an attempt to rescue her cats.

UPS: In Englewood, Jeff Kaplan was promoted to deputy fire chief, in March. Promoted to captain were David Haenelt and Kyle Hummel. Brian Comitto is the new lieutenant.

DOWNS: Two people died in a house fire on Hamburg Ave. in Mullica Twp., in February, police said. The dwelling was fully involved when first responders arrived. Three other occupants were able to escape without injury.

UPS: Bogota police and firefighters teamed up, February 20th, to rescue a husky canine that had gotten stuck on the roof of a local home. Officials said the dog had been home alone and apparently wanted some fresh air. The dog pushed an air conditioner out of a second-story window and stepped out onto the roof. Police, along with firefighters from Ladder Co. 1, teamed up to secure the dog on the roof. Sgt. Geoffrey Cole said the dog was safely brought back into the house.

DOWNS: Several pets perished due to a fire at the Sunset Village Apartment complex in Manchester, Feb. 27th, officials said. One resident was trapped on a second-story balcony and was rescued by firefighters.

UPS: Toms River Fire Company 2 will celebrate its 100th anniversary at Huddy Park on May 14th, starting a 2 p.m. In addition, there will be a fire apparatus parade and show.

DOWNS: Two Westampton residents were in critical condition in an area hospital due to a fire that broke out in their home, Feb. 24th, according to FOX29.

UPS: In March, Gregory Ricciardi was sworn in as the provisional fire chief in Union. Henry Sisbarro was promoted to deputy chief.

DOWNS: An elderly woman was seriously burned as the result of a fire at the Gatehouse Apartments in Edgewater Park on Feb. 15th, police said. The woman was airlifted to Temple University's Burn Unit.

UPS: New firefighters in Paterson are; John Gonzalo, Amanda Dakake, Jonathan Sanchez, Jason Rivera, Eddie Quinones, Jared Dolak and Devin Anderson.

DOWNS: The resident of a burning Bennington Dr. home in East Windsor suffered burn injuries, on March 5th. She was airlifted to a hospital for treatment, according to WPVI-TV.

UPS: Members of the Clifton Fire Department have taken a lead in organizing the effort to collect surplus firefighting equipment from area fire departments for Ukraine's fire service. City Firefighter Oleg Skachko, who emigrated from Ukraine when he was 14, came up with the idea for this project. As a youth, Skachko lived next to a firehouse in Paterson; and, he said he wanted to be a firefighter for as long as he could remember. Collecting gear is only part of the project. Getting it to first responders is seen as a more difficult task, at this time.

DOWNS: One person was hospitalized and a pet cat was treated for smoke inhalation as the result of a dwelling fire on Chaucer Dr. in Independence Twp., March 2nd. A rescued cat was treated with a pet oxygen mask, according to the local first aid squad.

UPS: Newly appointed members of the Middlesex County HazMat Unit are Christopher Rowe and Gregory Epstein.

DOWNS: A mother and child were injured in a "suspicious" fire in a Hamilton Ave. home in Trenton, March 11th, officials said. The injured were taken to a local hospital for smoke inhalation.

UPS: The Rutherford Irish American Association's 2022 Firefighter of the Year is Thomas Verdino. He is a 30-year veteran of the borough's volunteer fire department, and he served as chief in 2006. He also served as apparatus maintenance officer for over 10-years. In addition, he is a career fire captain in Jersey City.

DOWNS: A Paramus EMS unit was involved in a MVA, striking a utility pole, on East Midland Avenue, March 8th, police said.

UPS: On February 26th, the Fairview Chamber of Commerce provided lunch for local volunteer firefighters at the Walker Street firehouse. This deed was in appreciation for their dedication and answering all of the calls to protect its citizens during the COVID pandemic of the past two-years. Chamber of Commerce Vice President, and a first responder himself, Al Demuro told the group, "We can't thank you enough. You responded to every call." He added that they did "an outstanding job".
This article is a direct street report from our correspondent and has not been edited by the 1st Responder newsroom.