April 2020 UPS, Page 2
By Ron Jeffers, New Jersey Editor | April 01, 2020 | NEW JERSEY
Story No. 030220110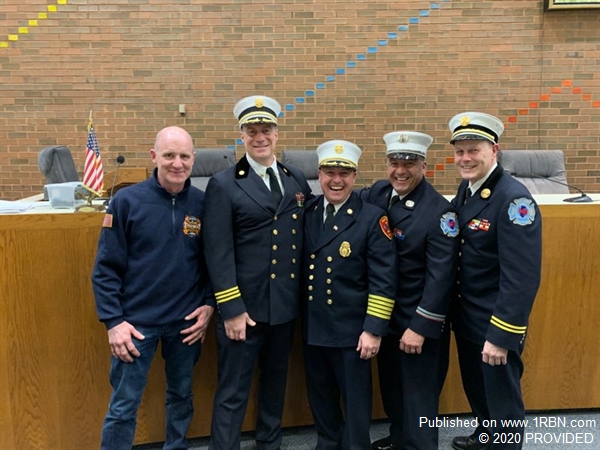 Photo by PROVIDEDCelebrating the promotion of Clifton's new fire chief Frank Prezioso, third from left, are friends from the new chief's North Bergen roots. They are, L-R: North Hudson Battalion Chief Kevin Cowan, Deputy Chief Anthony Venezia, Captain Stefan Vassallo and Battalion Chief Al Salvesen.
DOWNS: Fires in Trenton on Feb. 1st and 2nd destroyed four homes and critically injured a woman. On Feb. 1st, units were dispatched to the 400-block of Brunswick Ave. and found a fire that quickly spread to four vacant dwellings. That fire went to 3-alarms. The cause was believed to have been started by squatters, officials said. On Feb. 2nd, firefighters responded to a dwelling fire on Morris Ave. where they found a woman badly burned, officials said. The victim was flown to Temple University's burn center in Philadelphia.

UPS: In February, Arron Heller was promoted to career chief of Hamilton Township District 9.

DOWNS: One person was killed and another resident injured in a February 6th fire in a three-story home that had been converted into apartments in Ocean Grove. Two first responders were treated from minor injuries, according to reports.

UPS: In February, Hoboken firefighters assembled and cooked lunch for residents of the Hoboken Shelter, according to Chief Brian Crimmins. The shelter hosts 50 people nightly, while serving 530 meals each day. Captain Goldsack purchased the food, according to the chief, and he invited fellow firefighters to help. He received assistance from Captain Marsh, and Firefighters Forcum, Lugo, Greene, Pineiro, Casolaro, Lanzo, Cappiello, Tamborra, Amaro, and Chaplain Elaine Thomas.

DOWNS: A woman was killed as the result of a dwelling fire in the Silverton section of Toms River on Feb. 8th, according to the Ocean County Prosecutor's Office. The building was heavily involved in fire upon arrival of first responders, and flames extended to nearby homes. Rescue efforts by police and firefighters were unsuccessful. A Toms River police officer was taken to Community Medical Center and treated for smoke inhalation.

UPS: In February, Charles Rivera was appointed as a career firefighter in Deal.

DOWNS: A family of eight and a pet dog were able to escape their burning Tintle Ave. home in West Milford unharmed, Feb. 11th., officials said. The second floor area suffered the most damage.

UPS: The Teaneck Fire Department has been awarded a $45,000 federal grant for equipment to decontaminate firefighter's gear to help prevent cancer.

DOWNS: A 30-year-old Paterson resident jumped from a second-floor window of his burning North First St. home and died, Feb. 15th. According to reports, Andres de Jesus Valdez returned home from a trip to the laundromat to find his home in flames. He ran into the building to search for people who might be trapped, but he became trapped himself. The 3-alarm fire sent about ten people to the hospital. Fire Chief Brian McDermott said two firefighters went to St. Joseph's Regional M.C. for smoke inhalation.

UPS: In February, Eric Rearson was promoted to fire chief in Roselle.

DOWNS: An early morning fire consumed the Shiloh Baptist Church on Murray St., Elizabeth, Feb. 16th. Flames were described as "sky high" by a local resident.

UPS: In Linden, Brian Ferraro has been promoted to fire captain. Michael Pirozzoli was promoted to lieutenant.

DOWNS: Camden firefighters battled a large junkyard fire off Atlantic Ave., Feb. 18th. Thick smoke could be seen for miles. The fire involved a pile of debris of crushed cars.

UPS: The Millburn F.D. has received two new turnout gear washing machines and a new dryer for both houses. Local firefighters are grateful for the @Leary Firefighters Foundation for awarding a grant to the department.

DOWNS: A 2-alarm fire damaged multiple units at the Walnut Manor apartment complex in Vineland, Feb. 18th, and displaced its residents.

UPS: Annandale Fire Chief Chris Sloss and Clinton Twp. Police Officer Frank Praino rescued a homeowner from a burning condo unit on St. Andrews La., Clinton, Feb. 23rd, according to the "Warren Hunterdon Daily Voice." The victim told first responders he couldn't make it out on his own. The man was taken to Hunterdon Medical Center and treated for burns and smoke inhalation, officials said.

DOWNS: Six firefighters became trapped when the front porch and roof of a vacant Oakland Ave. home, in Westwood, collapsed on the morning of Feb. 26th. They were trapped for roughly 90 seconds before being helped out, according to Hillsdale Fire Chief Tom Kelley. All six were treated and released from a local hospital some four hours later.

UPS: A Paterson F.D. special operations truck was dedicated in the name of retired Firefighter Luis "Louie" Vega during a ceremony at Fire Headquarters, Feb. 24th, for his outstanding work for the community and department.

DOWNS: Two firefighters were injured and 14 people displaced by a 2-alarm fire in a West End Ave. dwelling in Newark, Feb. 20th. A firefighter was injured when the ceiling partially collapsed, Public Safety Director Anthony Ambrose said. He was transported to University Hospital. A fire captain was evaluated at the scene, but he remained on duty.

UPS: Newly promoted fire lieutenants in Teaneck are Andrew Gonzalez, Michael Tosney, Alan Russ and William Fisher.

DOWNS: A fire tore through a three-story home on Lexington Ave. in Clifton, Feb. 20th, leaving 21 people homeless. One woman was rescued by firefighters from a second-floor window before she tried to jump, officials said.

UPS: In February, Frank Prezioso was sworn in as the city's new Chief of Department in Clifton.
This article is a direct street report from our correspondent and has not been edited by the 1st Responder newsroom.