April, 2021, UPS, page 2
By Ron Jeffers, New Jersey Editor | April 01, 2021 | NEW JERSEY
Story No. 030121109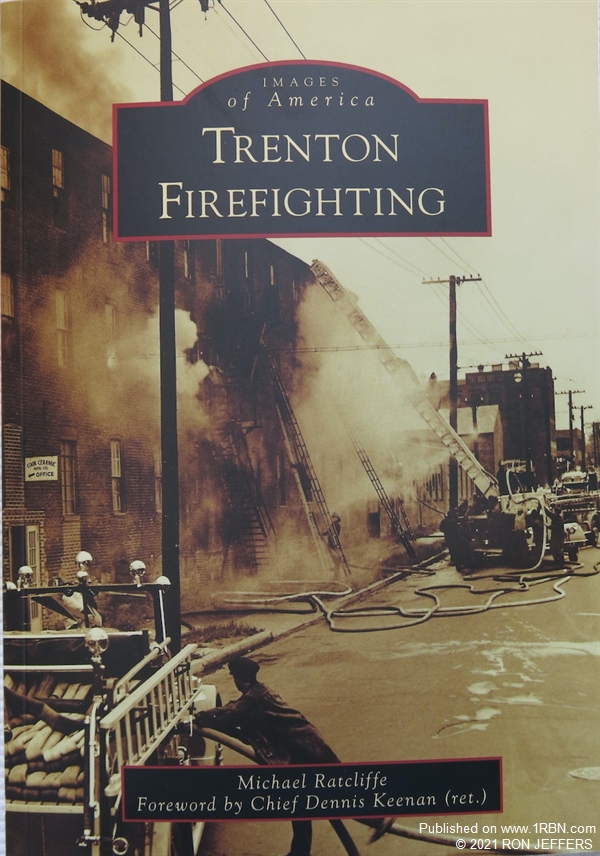 Photo by RON JEFFERS"Trenton Firefighting" is now available.
UPS: On behalf of the fire department and EMS personnel, Wallington Fire Chief Chris Sinisi thanked all who donated to the Department Food Drive on Feb. 27th. All donations were dropped off at the Wallington Presbyterian Church Food Pantry.

DOWNS: A fire destroyed a Wantage three-bay auto repair shop and several vehicles when one of the vehicles being serviced caught fire, Jan. 26th, NJ State Police Sgt. Philip Curry said.

UPS: This year, the Hoboken Volunteer Ambulance Corps is celebrating 50-years of service.

DOWNS: Fire raced through an Ocean City amusement park on Jan. 30th. The fire started at Playland's Castaway Cove. No one was inside the area buildings, O.C.F.D. spokesman Doug Bergen said. There did not appear to be structural damage to the boardwalk, initially.

UPS: On Jan. 29th, Middletown fire units were sent to a Warren Pl. dwelling for a reported dryer fire. First Assistant Chief John Waltz arrived and witnessed an off duty Union Beach police detective and township Firefighter Matt Deickmann rescue an elderly woman, as they emerged from a heavy smoke condition in the building. The homeowner was treated for smoke inhalation.

DOWNS: A 41-year-old woman was found stabbed in a Camden apartment after firefighters extinguished a small structure fire on Jan. 30th, officials said. Firefighters and paramedics attempted CPR. The victim was rushed to a local hospital where she was pronounced dead, authorities said.

UPS: The Sea Isle City council has introduced an ordinance that would establish a "duty crew" program for volunteer firefighters. The periods would cover weekends, nights, during the summer and other peak times. Each firefighter would be eligible for a stipend not to exceed $150 per month.

DOWNS: A Haddon Twp. man was killed as the result of a fire at the Haddon Hills Apartments, Jan. 28th, officials said.

UPS: Two young men were rescued from the freezing waters of the Round Valley Reservoir by South Branch Emergency Services in Hunterdon County, Jan. 30th, after their small boat capsized. The South Branch Emergency Services is a combination of the former Clinton and High Bridge EMS agencies.

DOWNS: A 61-year-old man died as a result of a fire in his North Walnut St. apartment in East Orange, Feb. 1st. Firefighters found the unconscious resident on the kitchen floor with a small stove on top of him, officials said. The man was pronounced dead at the scene at 5:36 a.m.

UPS: Michael Sawicki has been promoted to battalion chief in Westfield.

DOWNS: A man died in a car fire when it ignited as he was revving the engine in an attempt to get his SUV out of a snowbank in Losen Slote Creek Park, Little Ferry, on Feb. 3rd, officials said.

UPS: On February 3rd, the following members of the Paterson Fire Department were promoted to the rank of provisional deputy chief: Lamar Colclough, Charles Gander and Jason Macones.

DOWNS: One person was found dead as the result of a dwelling fire on Beacon Ave. in Ewing, Jan. 28th.

UPS: Brian Piccola has been promoted to fire captain in Westfield.

DOWNS: One person died when a car burst into flames after crashing into a parked car on New York Ave. in Jersey City, Jan. 27th. It is believed the driver lost control and crashed, officials said.

UPS: Newly promoted battalion chiefs in Paterson are: Alejandro Narvaez and Kevin Evans. Promoted to provisional battalion chief are: George Perez and Steven D'Arco.

DOWNS: A Newark man suffered burns when his lit cigarette ignited an oxygen tank at his Mount Prospect home, Feb. 6th, authorities said. EMS transported the victim to the hospital for treatment of burns to the face.

UPS: A mother and her young son were rescued by Elmwood Park first responders after they fell through the ice and into the Passaic River, near Elmwood Park Marina on Jan. 4th, officials said. Elmwood Park Police Chief Michael Foligno jumped into a kayak supplied by a witness to the accident. When the chief reached the two, he said they were seconds from going under. Two borough firefighters, in wet suits, were able to get to the kayak and tie a rope to same. Other responders on the shore were able to pull the kayak back to safety. The victims were taken to a local hospital for treatment.

DOWNS: Six passengers of a NJ Transit bus were extricated by Teaneck firefighters after the bus collided with a Jeep and then struck a utility pole on Teaneck Rd. & Ward Pl., Feb. 8th. Injuries were not considered serious, according to Police Chief Glenn O'Reilly.

UPS: In January, 44 recruit firefighters from local departments were part of opening day for Union County's new fire/EMS training academy, in Linden. The center has opened in a building that formerly housed Union County's Juvenile Detention Center. The recruits are from Hillside, Linden, Rahway and Union.

DOWNS: On Feb. 9th, an unoccupied warehouse burned for several hours on Main St., Pleasantville, causing nearby residents to be evacuated. The building is located behind retail stores and next to the local housing authority senior high-rise and other apartment buildings. The building contained auto parts and tires. Some residents had to be assisted out of an apartment building by firefighters using ladders because the main entrance was in the back near the warehouse, officials said. Numerous area fire companies answered 4-alarms that were transmitted.

UPS: Newly promoted fire captains in Paterson are: Ryan Ackerman, Robert Sabia, Andrew Estrella, Mark Roth, Andrzej Kalath, Keith Eickhorst, Michael Payne, Louis Mantilla, Domenico Brigati and Frank Petrelli.

DOWNS: Two children were killed in a fire that raced through a Martin Luther King Jr. Dr. dwelling in Jersey City, on Feb. 10th. Firefighters were met with heavy fire and smoke. Making a search, they located two children, ages 11-years-old and 8-months-old, officials said. According to the county prosecutor's office, the 11-year-old was pronounced dead at the scene. The infant was rushed to JCMC, but could not be revived. Mayor Fulop told reporters that the children's mother ushered another child out of the apartment to safety, but the door locked behind them, leaving the other two inside. Officials added that the 11-year-old attempted to save the infant, but was later found in the hallway of the apartment's second floor.

UPS: Scott Boyer has been appointed to the Westfield Fire Department.

DOWNS: A man's body was found in a car parked in a detached garage that burned behind a Seger Ave. home, in Clifton, Feb. 10th. An investigation was ongoing, officials said.

UPS: On Feb. 14th, Bayonne fire units were sent to an industrial accident at Global Terminals on Port Jersey Blvd. Firefighters found a heavy-duty container lift, used to move shipping containers, tipped over onto a stack of containers. The operator was trapped inside and unable to self-extricate, officials said. Members of Tower Ladder 2 safely removed the operator. He was taken to Bayonne Medical Center with reported minor injuries.

DOWNS: A member of Erskine Lake Fire Co. 1 died from an apparent heart attack shorty after he participated in a drill. Firefighter John Jonker, Sr., 80, collapsed after returning home on Feb. 16th, authorities said. Jonker was a member of the fire company for 55-years.

UPS: Area firefighters were permitted to use a house set to be demolished by its owner, in the Loveladies section of Long Beach Twp., to conduct a drill. Firefighters from High Point (Harvey Cedars), Surf City and Barnegat Light participated in the Feb. 13th exercise. "We asked the new homeowner if we could use it for our drills, and he said we could," said High Point Fire Co. Lt. Craig Coddington. He added that a smoke machine was used to simulate what firefighters experience when entering a burning building.

DOWNS: A woman was found in a lifeless condition as Jersey City firefighters conducted a primary search during a fire in a Clerk St. dwelling on Feb. 18th, officials said. The victim was later identified as Dorothy Bellinger, 84, a retired city police officer. Firefighters were met with a heavy fire and smoke condition on the second-floor of the two-story home. The victim was found in a second-floor bedroom. Bellinger joined the JCPD in 1963 and retired in 2000. She also served as a Lafayette Ward F committee person, according to NJ.com.

UPS: The Vineland Fire Department will receive $39,171 in AFG funds for department upgrades.

DOWNS: One man was killed and 12 people displaced as the result of a 3-alarm fire that tore through four homes on Elm St., Trenton, on Feb. 20th.

UPS: The Port Republic Fire Department will receive $4,761 in AFG funds.

DOWNS: One person is dead as the result of a fire at the Sunrise Garden Apartments on Fort Sumpter Rd. in Pennsville, Feb. 13th. Arriving units received word of two people trapped inside the building. Making a search, firefighters found two men inside and took them out of the building. One of the victims was pronounced dead at the scene, officials said. The other man was not injured, they added.

UPS: In February, Stephanie Bagniewski was appointed to the Springfield Fire Department. The first career female member in the history of the department, she received the Battalion Chief Ken Nocera Memorial Award for Outstanding Excellence from the Union County Fire Academy.

DOWNS: One man died and another was in critical condition after they were poisoned by carbon monoxide at a Louis St. dwelling in Camden, Feb. 13th, officials said.

UPS: On Feb. 23rd, Camden firefighters discovered a homeless woman during a primary search of a burning vacant Pine St. dwelling and removed her to safety, officials said.

DOWNS: A man became trapped in a burning Manalapan home and died, Feb. 17th, in the Covered Bridge section, officials said.

UPS: The Red Bank F.D. will receive $3,477.14 in AFG funds to purchase PPE and other supplies.

DOWNS: Firefighters removed one person from a burning Lowell St. home in Carteret, Feb. 23rd, who later died, according to borough spokesman Jon Salonis.

UPS: The Fair Haven F.D. will receive $12, 862.21 in AFG funds that are designed to help fire departments respond to the COVID-19 pandemic, officials said.

DOWNS: A fire raced through four North 6th St. dwellings in Newark on Feb. 20th. One firefighter suffered a cut to his face and one resident was injured after jumping out of an upper window from the building where the fire began, according to Public Safety Director Anthony Ambrose.

UPS: This year, Little Ferry H & L Co. 1 is celebrating 100-years of service to the community.

DOWNS: Three Jersey City firefighters were injured battling a 2-alarm fire at a Hague St. dwelling on Feb. 25th. Three families were displaced. The injured members were taken to JCMC for treatment and released.

UPS: As part of Arcadia Publishing "Images of America" series,"Trenton Firefighting" is now available. It traces the evolution of the Trenton F.D. from its formation with the first volunteer fire company in 1747 to present day. It was written by Meredith Havens Fire Museum Board of Trustee member Michael Ratcliffe. There are nearly 200 photos from the archives of the fire museum and the Trenton Free Public Library. The price is $20.00, with proceeds directly supporting the fire museum operations. It can be acquired by mail at: Meredith Havens Fire Museum, c/o Dennis Keenan, 217 Kensington Ave., Trenton, N.J. 08618. Add $3.25 for handling. It can also be obtained at the T.F.D.'s clerks office and Trenton Firemen's Federal Credit Union, both at 244 Perry St. It is also available at Continental Fire & Safety, 2740 Kuser Rd., Hamilton.

DOWNS: First responders answered a call to a Paterson Ave. home in Midland Park, Feb. 12th, and found out that the resident had set a small fire to try and melt snow and ice. Police said the man had poured about a half gallon of gasoline on a gravelly two-feet by two-feet square section of his backyard. A neighbor called police after smelling something burning.
This article is a direct street report from our correspondent and has not been edited by the 1st Responder newsroom.