SPOTSWOOD GETS FIRST AERIAL
By John Malecky, Senior Columnist | January 01, 2022 | NEW JERSEY
Story No. 011922102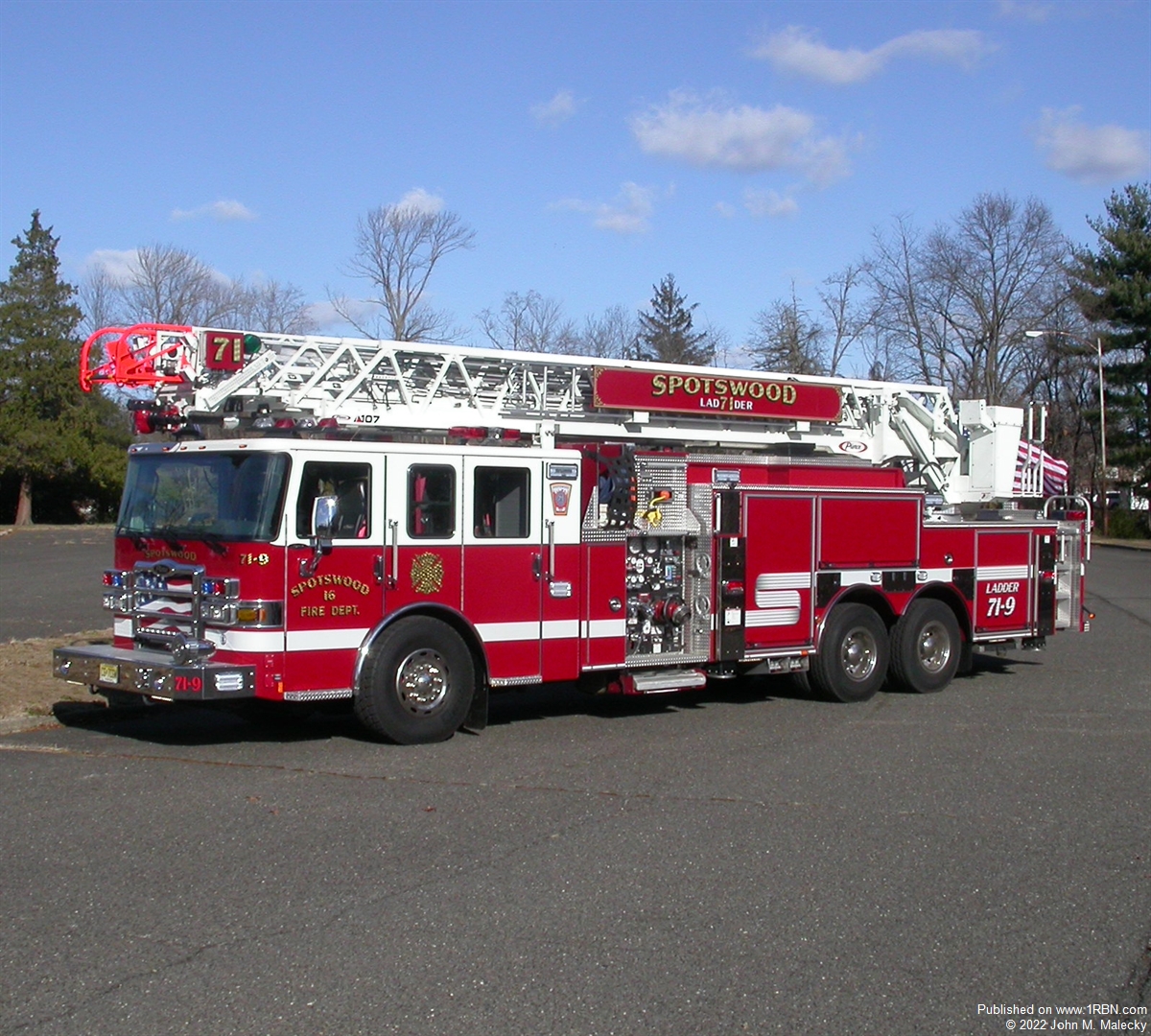 Photo by John M. MaleckySpotswood L-71-9, 2020 Pierce Enforcer 2000/650/8 kw and 107-foot Ascendant aerial. It was sold by Fire & Safety Services.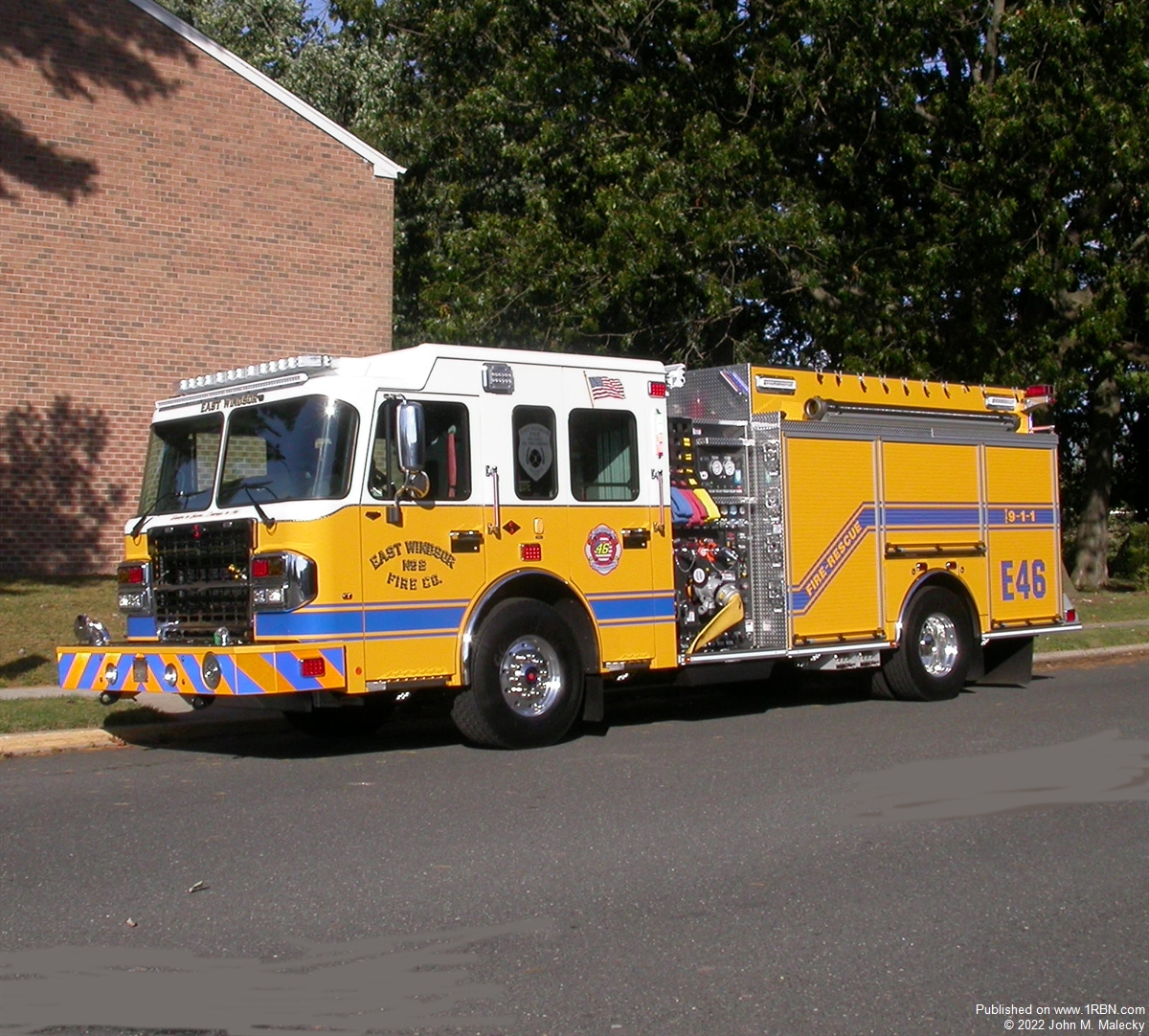 Photo by John M. MaleckyEast Windsor E-46, 2021 Spartan ER Gladiator 1750/1500 with 8 kw generator. It was sold by Campbell Supply Co., LLC.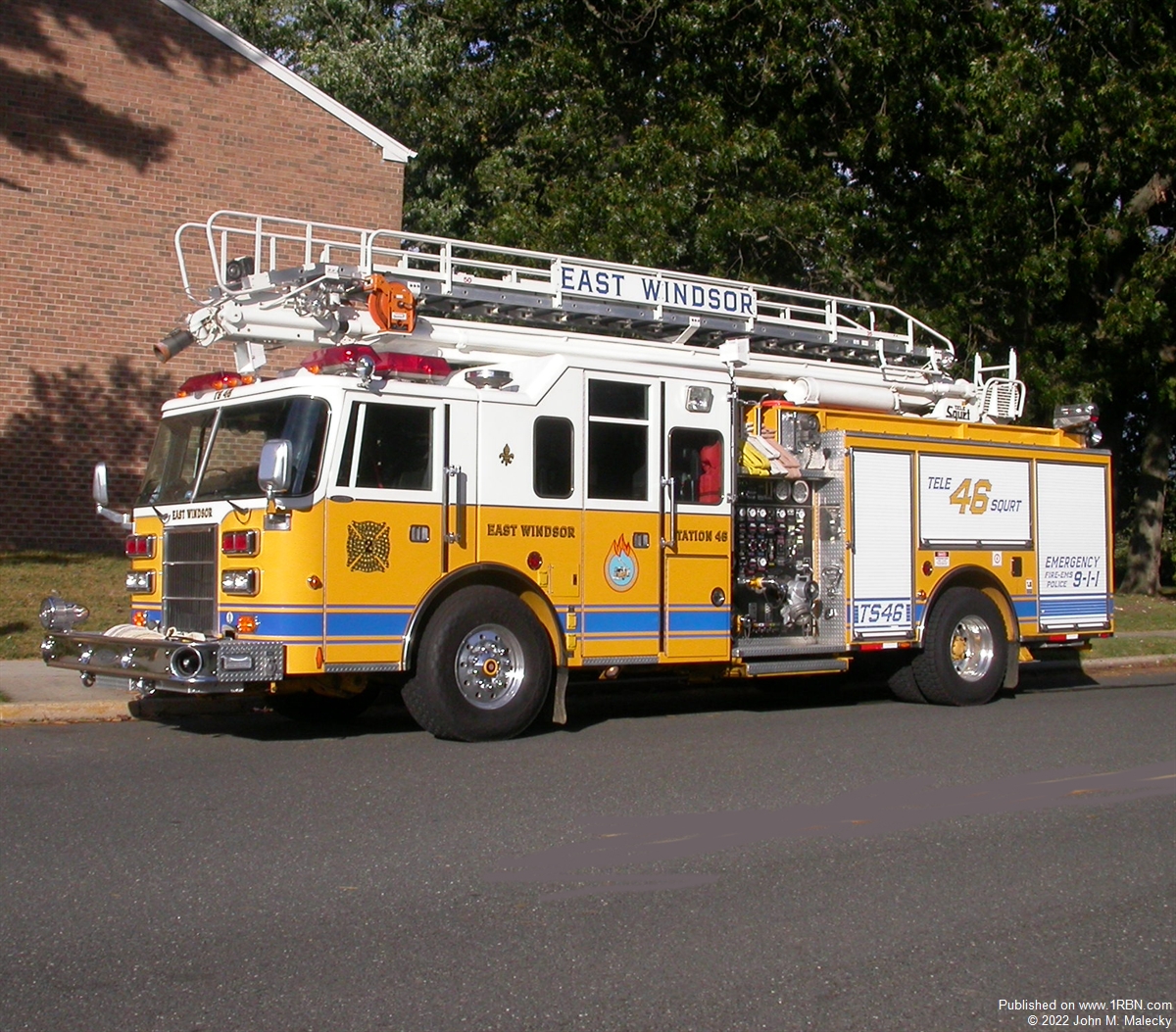 Photo by John M. MaleckyEast Windsor TS-46, 1994 Pierce Lance 2000/750 with 50-foot Telesqurt and 9 kw generator. It was sold by Fire & Safety Services.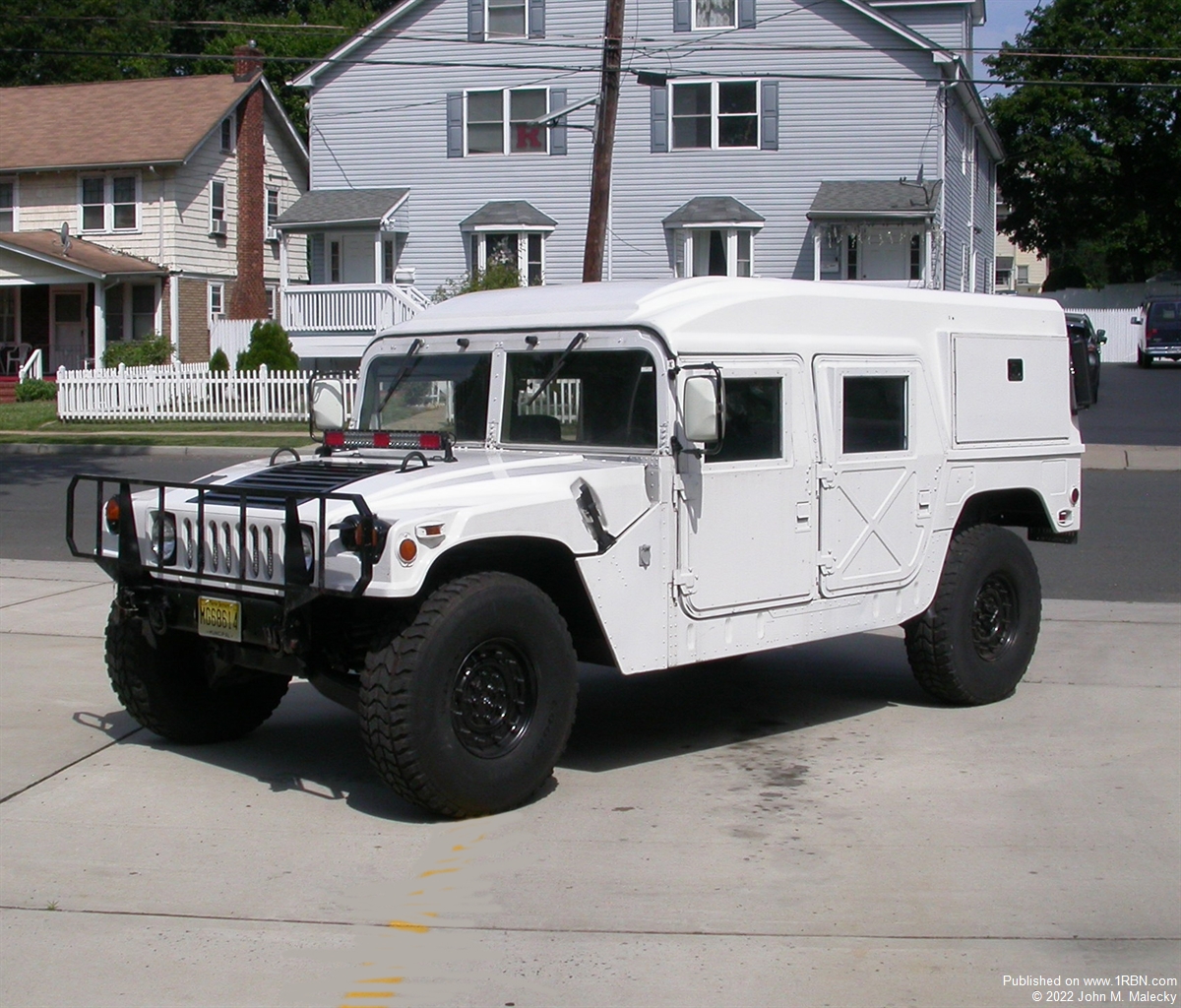 Photo by John M. MaleckyPlainfield H-603, 1994 AmGen High Water Evacuation Unit.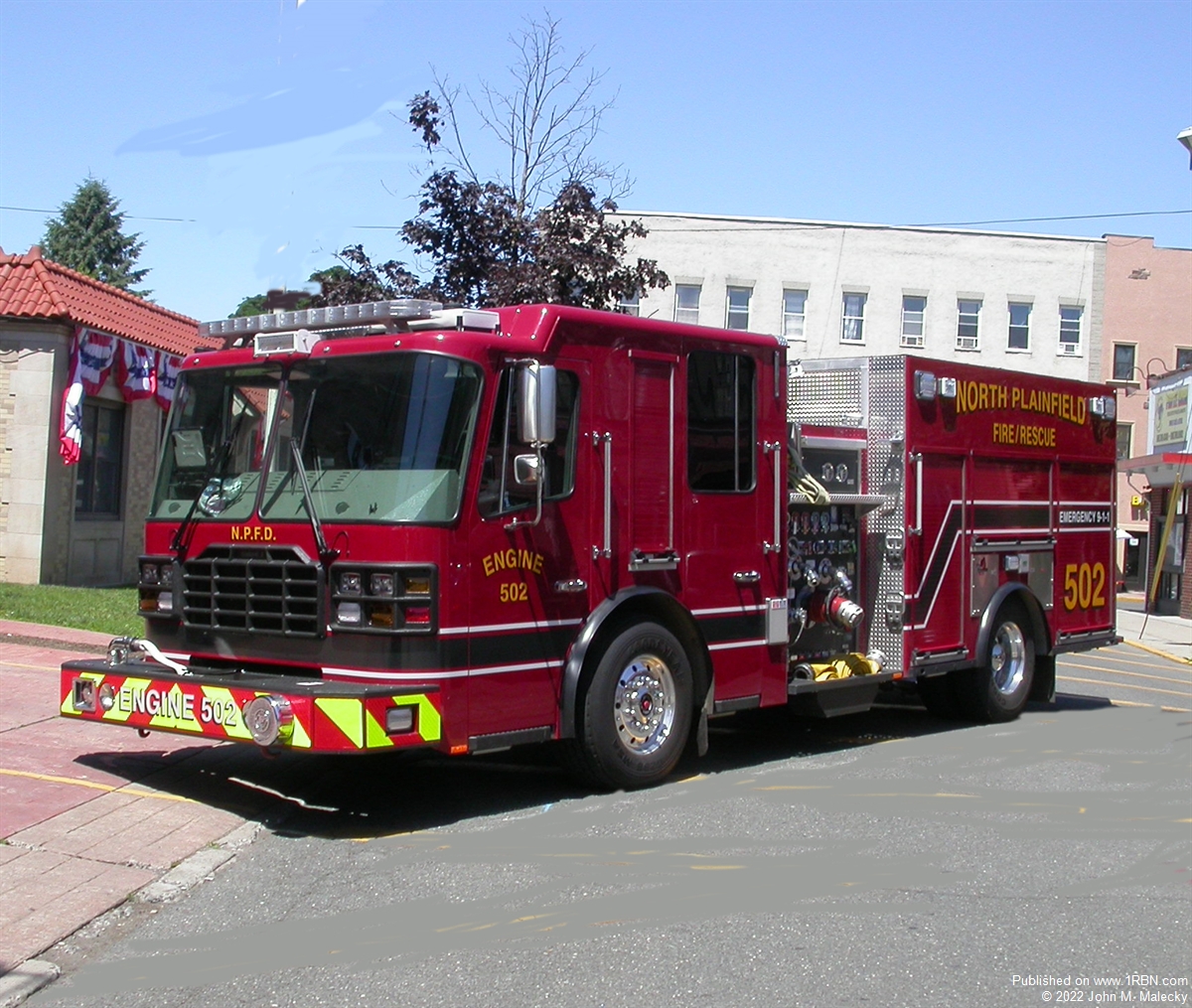 Photo by John M. MaleckyNorth Plainfield E-502, 2020 Ferrara Cinder 1500/750 with 6 kw generator. It was sold by Firefighter One.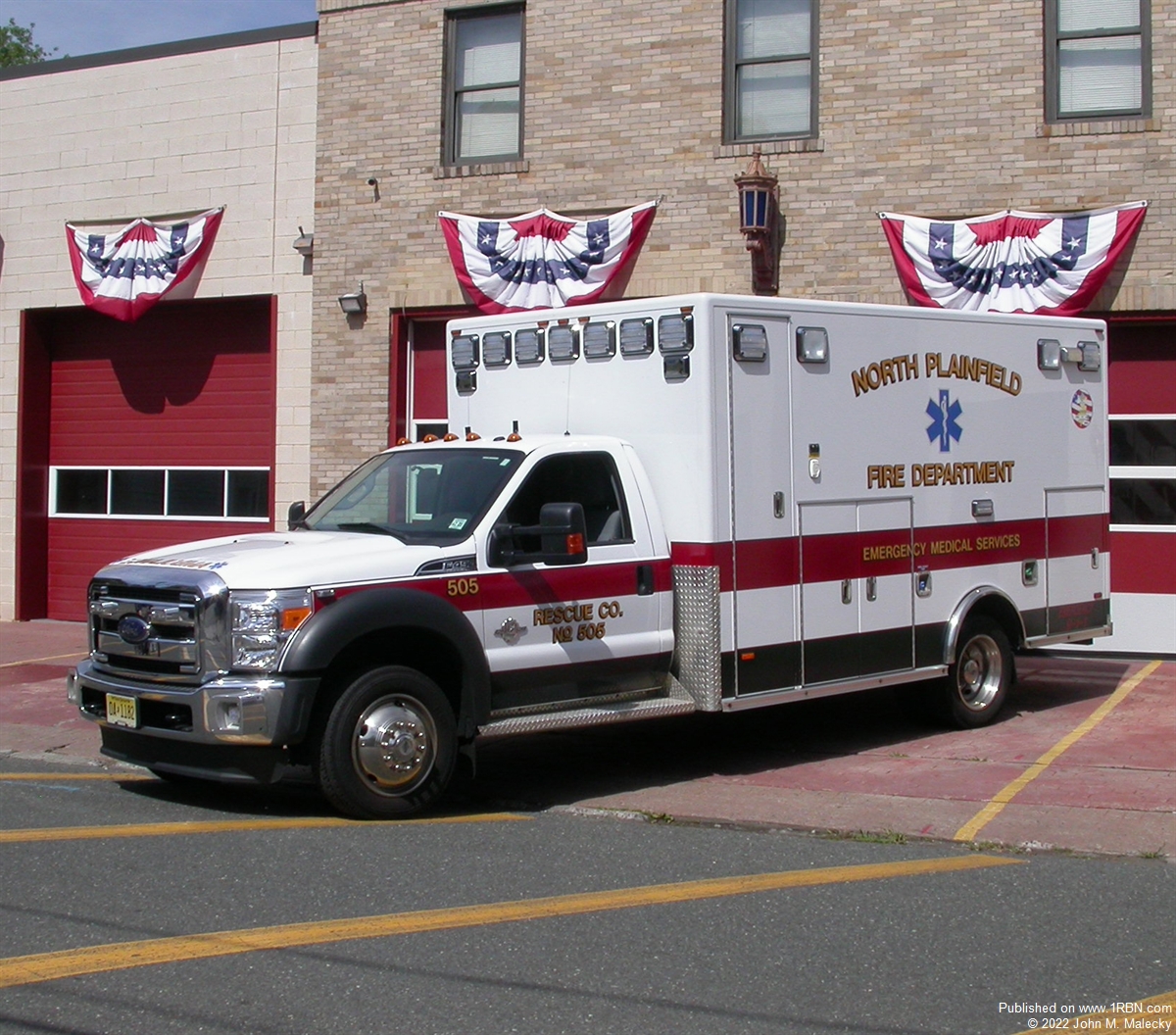 Photo by John M. MaleckyNorth Plainfield R-505, 2017 Ford F-450 XLT SD/P.L. Custom Classic ambulance. It was sold by New Jersey Emergency Vehicles.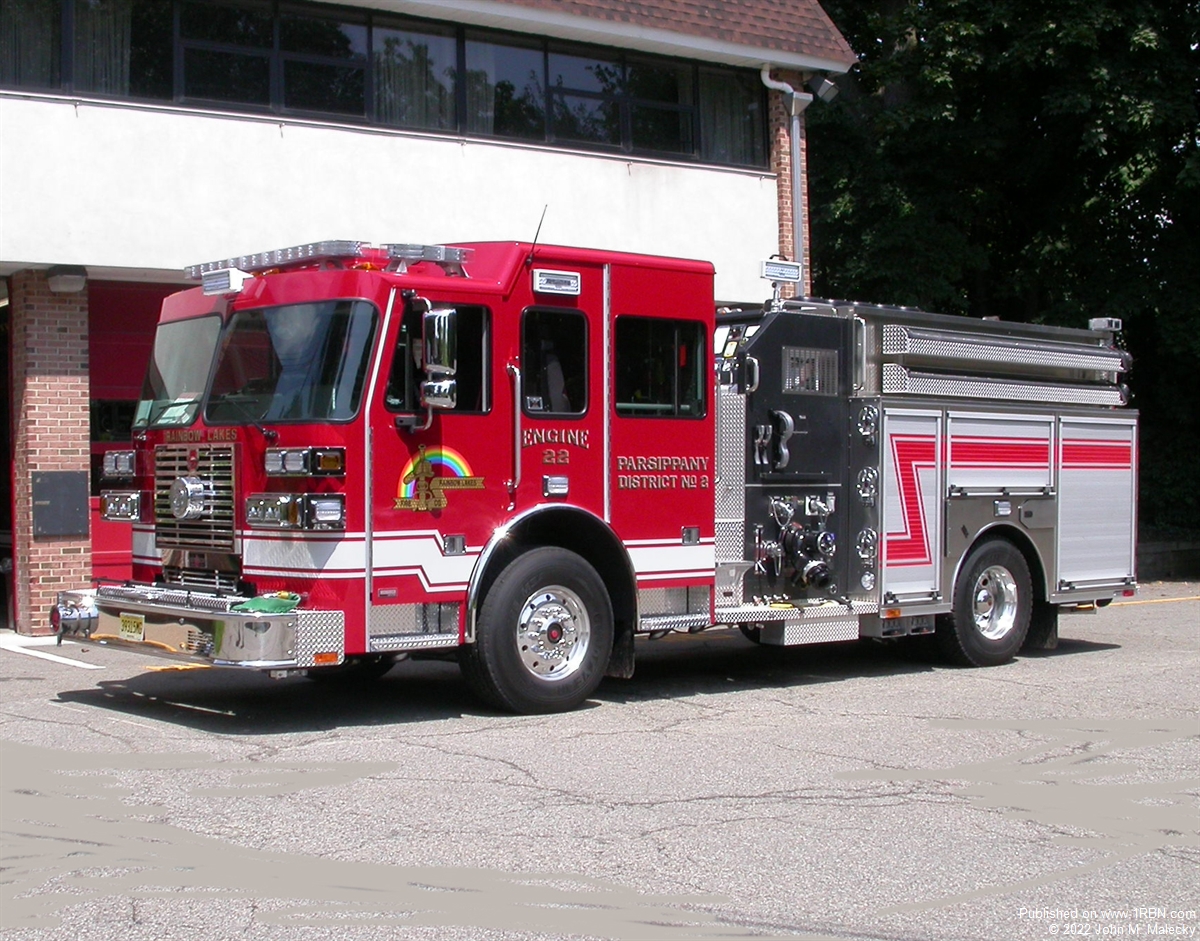 Photo by John M. MaleckyRainbow Lakes E-22, 2020 Sutphen Monarch 1500/100 with 10 kw generator. It was sold by Blaze Emergency Equipment.
APPARATUS OF THE MONTH
By John M. Malecky February, 2022

SPOTSWOOD GETS FIRST AERIAL

The Spotswood Volunteer Fire Department (Middlesex County), was organized in 1898 as the Enterprise Hook & Ladder Company. A search of the available history however does not record them as having a ladder truck. The first apparatus mentioned were pumpers. Their first motorized pumper was a 1921 Model "T" Ford that has been restored and is part of the fire company. This past year they have placed in service their first aerial which runs as a first out piece. It is a Pierce Enforcer 107-foot Ascendant quint in which the compartments have been redesigned to allow for a 650-gallon water tank. Its basic responsibility is as an engine and/or a ladder. Though it has some related tools and equipment, it is not first out on rescue calls. The pump is of the PUC design to allow for more storage space. Going back into history, the traditional definition of the name "quint" would not apply to almost all apparatus called "quints" today! A true quint had a full complement of ground ladders (208-feet), as well as a rated pump, water tank, hose bed and an aerial device. Most quints of today fail the ground ladder footage requirement. It is just a convenience term used for lack of any other designation. Also, the traditional quint back in history would require a 10 firefighter crew. Today in many if not most fire departments, a 10 firefighter complement could be a full first-alarm response with three apparatus! But let's get back to the Spotswood truck. They had to extend the middle bay to accommodate the vehicle. It has an 11-foot seven-inch travel height and is powered by a Detroit DD13, 525 horsepower diesel engine. The pump is a Waterous CMU 2000-GPM with (two) 1 3/4-inch and (one) 2 ½-inch crosslays and a crosslay of three-inch and 2 ½-inch deadlays. The ladder has an Akron Stream Master II ladderpipe. It also has a transverse storage compartment, a Harrison 8 kw hydraulic generator, a 150-foot electric cord reel and both FRC and Whelen lighting.

In other photos we are showing two from East Windsor VFC 2. One is a new Spartan ER pumper/tanker on a Gladiator EMFD chassis with 21-inch stainless steel bumper and 10-inch raised roof cab. Specs include a Cummins X15, 565 hp diesel engine, Waterous CVSU 1750-GPM pump with (two) two-inch and (one) 2 ½-inch crosslays, Akron HiRiser deck gun, 1500-gallon Pro Poly water tank, ROM roll-up compartment doors, a Harrison 8 kw hydraulic generator and Whelen scene lighting. It shares quarters with the next photo, which is a 1994 Pierce Lance 50-foot Telesqurt. It has a 2000-GPM pump and a 750-gallon water tank. Moving to the "Plainfields", we have Unit H-603, a 1994 AmGen High Water Evacuation Unit which is quartered at Engine 3's house in Plainfield (Union County). It was a donation. Next is North Plainfield (Somerset County) with E-502, a 2020 Ferrara Cinder pumper with a 1500-GPM pump, 750-gallon water tank and a 6 kw generator. Also riding out of the station is Ambulance R-505, a 2017 Ford F-450 SLT Super Duty/P.L. Custom Classic Type 1. Finally from Morris County is Engine 22 of the Rainbow Lakes FC in Parsippany Township. It is a 2020 Sutphen Monarch with a 1500-GPM pump, 1000-gallon water tank and 10 kw generator.

In dealer news, New Jersey Emergency Vehicles has delivered a heavy duty rescue to Toms River Township District 2 (Pleasant Plains, Ocean County). Specs include a Spartan Metro Star LFD chassis with six seat cab, Cummins L9, 380 hp diesel engine, 18-foot nine-inch aluminum body, 33-foot six-inch overall length, nine-foot overall height and roof top storage, Onan 25 kw PTO generator, Will Burt Night Scan Power Light NS4.5-9000-OPT with six FRC Optimum 1500 watt light heads, Warn 9,000-pound winch with four Reese receivers and ROM painted roll-up compartment doors. Elizabeth Fire Department EMS (Union County) received a P.L. Custom Classic Type 1 ambulance on a Ford F-550 4x4 chassis and Asbury Park (Monmouth County) has ordered a P.L. Custom Medallion Type III ambulance on a Ford E-450 chassis.

VCI Emergency Vehicle Specialists reports that Cooper University Health Care (Camden County) took delivery of the first of five AEV T-350 high roof Transit ambulances. Milltown Rescue Squad (Middlesex County) received a Horton 457 on a Ford F-450 4x4 chassis and New Vernon VFAS (Morris County) received a Horton 553 on a Ford E-450 chassis.

Blaze Emergency Equipment received an order from the Cheesequake Fire Company in Old Bridge Township (Middlesex County) for a heavy duty rescue. Specs include a Sutphen Monarch Extreme Duty chassis with 73-inch cab, having six seats and a 10-inch raised roof, 22-foot SVI heavy duty rescue body with rear stairs, Oana 25 kw generator, Fire tech scene lighting, Command Light tower, six-ton bumper winch, eight body rope tie offs and an Amkus power unit.

Fire & Safety Services reports the following Pierce orders: the Boro of Rutherford (Bergen County) refurb order for three Arrow XT pumpers, Springfield Township (Union County) ordered a Velocity pumper. Other orders are for Harrison OEM (Hudson County) a Frontline CRU command vehicle with a Fotokite tethered drone and for Somerset County a Skeeter high water rescue demo. Pierce deliveries include a stock Enforcer 107-foot Ascendant quint to Clark (Union County) and an Enforcer heavy duty rescue pumper to Wharton (Morris County).

Emergency Equipment Sales & Service has received an order from the Cooper Health System for two custom FR Conversions Type II ALS ambulances on RAM Promaster chassis. They will be custom outfitted specifically for use in Camden.

Absolute Fire Protection has received the following E-ONE orders: a tag on order of two Typhoon pumpers for Newark (Essex County), bringing the total to four pumpers and one aerial, a VM8 mini pumper for Mantoloking (Ocean County), a Typhoon 1000-gallon 304L stainless steel pumper for Kinnelon (Morris County), a Typhoon pumper and squad pumper for Jersey City (Hudson County), and a Cyclone pumper and HR100-foot aerial for Bogota (Bergen County).

Defender Emergency Products has received an order from East Orange (Essex County) for a second Rosenbauer apparatus. This one is a 100-foot Cobra mid-mount tower to join the 78-foot Viper quint. It will be a Fast Track Delivery of a custom stock unit. Specs include a Commander chassis with 60-inch cab, 11-inch raised roof and full length cab entry doors. Powered by a Cummins X15, 505 hp diesel engine, it has a 3/16 inch aluminum body, Rosenbauer Max Force bumper, hot dipped galvanized frame rails, custom storage, Amdor roll-up doors, Harrison 6 kw generator and Whelen lighting package. It will not have a pump or water tank.

Firefighter One Apparatus reports taking an order from Ocean Township Fire District 1, Oakhurst FC (Monmouth County) for a 2000-GPM Ferrara Cinder pumper with 500-gallon water tank and a stainless steel body. Ferrara deliveries include a 2000-GPM Cinder pumper to Sea Girt (Monmouth County). Specs include an XD 96-inch wide cab, 210-inch wheelbase, rear FireMaxx air suspension, F-Shield treated frame and gear, Cummins L9, 450 hp diesel engine, stainless steel body, enclosed ladder and suction storage, Waterous CSU pump, hose reel, deck gun, multiple pre-connected handlines, 1000-gallon water tank, Akron 3126 foam system, Kussmaul inverter system, customized shelving, FF1 custom tool mounting and FRC and Fire Tech lighting. Also, Paterson (Passaic County) received a "RAC" unit, a Cinder with walk-around rescue style, extruded aluminum body (replacing their air truck ), and to Somerdale (Camden County) a 2000-GPM Cinder rescue pumper with full depth compartments, low hose bed, 500-gallon water tank and extruded aluminum body.
This article is a direct street report from our correspondent and has not been edited by the 1st Responder newsroom.