High Rise Fire Safety-A Priority In Union City
February 01, 2022 | NEW JERSEY
Ron Jeffers, New Jersey Editor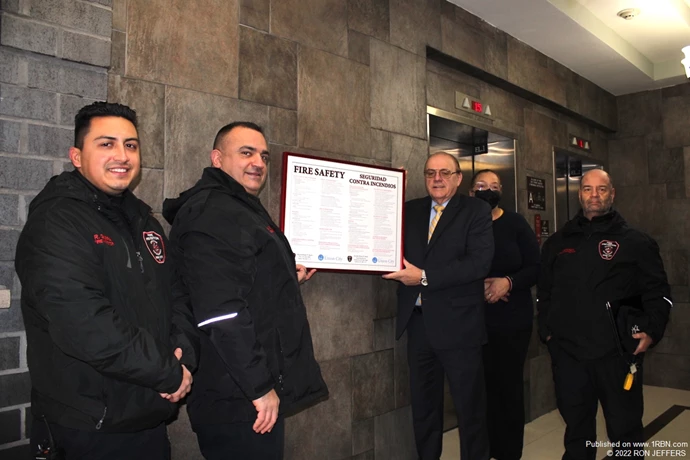 Photo by RON JEFFERSMembers of the Union City Fire Prevention Bureau display a high-rise fire safety information poster, which is one of many that are being set up in tall buildings around the city. (L to R): Inspectors R. Guerra, M. Valdes, Fire Prevention Coordinator J. Isola, office manager Luz Simo, and Inspector L. Miranda, at a 15-story residential structure on 22nd Street.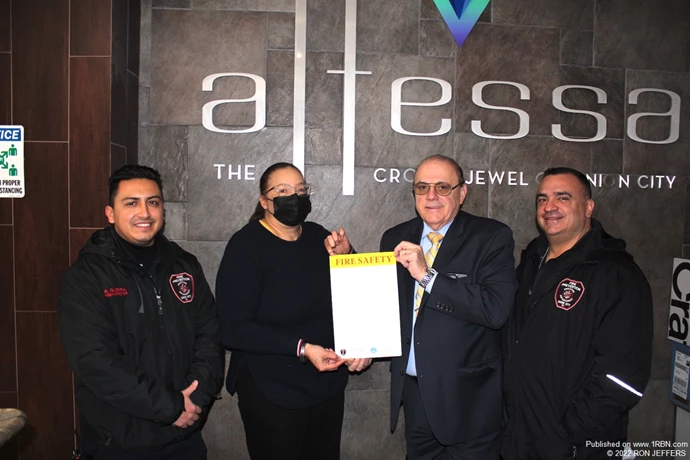 Photo by RON JEFFERSFire safety fliers are also being distributed throughout Union City.
This article is a direct street report from our correspondent and has not been edited by the 1st Responder newsroom.
Horror struck our area when a high-rise apartment fire took the lives of 17 residents in the Bronx on January 9th. Contents burn in "fire resistive" buildings, people panic and smoke kills. The Bronx fire was described as, "the greatest loss of life in a New York City high-rise residential skyscraper," by author and retired F.D.N.Y. Deputy Chief Vincent Dunn.

Within the past few years, the Union City Fire Prevention Bureau has expanded under the guidance of Mayor Brian P. Stack, Fire Prevention Coordinator Joseph Isola and Deputy Director of the Fire Prevention Bureau, Glen Gavin. Personnel has increased along with inspections and fire safety seminars around the city.

The city operates its own fire safety trailer and personnel conduct fire prevention seminars in schools and large buildings.

Recently, the bureau has produced framed fire safety education and safety tips posters that are being put on display in the main entrance areas of high-rise structures. They are usually located in areas where they will be well seen by occupants, such as the elevator or mailbox locations.

These posters include topics that include: Main Causes of Fires in High-Rises; Building Information, including fire alarm systems, emergency lighting, sprinkler and standpipes, plus pull stations; Fire in Your Apartment and what to do; Fire in the Building and what to do. There is also information concerning carbon monoxide and smoke detectors.

In addition to these visible posters, fliers have been printed possessing the same valuable information. They have been passed out at safety seminars and plans call for them to be placed under the doors of apartment dwellers.

The North Hudson Regional Fire & Rescue communication center, that covers Union City, also has these fliers to assist dispatchers offering information to callers.

Educating the public is a key to fire safety with an emphasis on saving lives.