February, 2023, UPS, page 2
February 01, 2023 | NEW JERSEY
Ron Jeffers, New Jersey Editor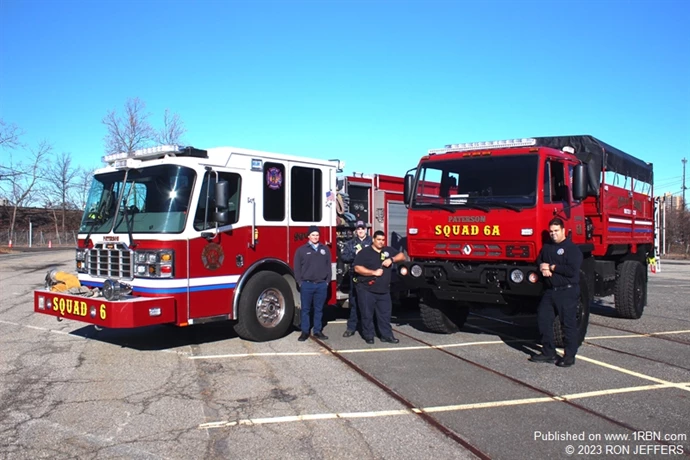 Photo by RON JEFFERSOn December 19th, Paterson Engine Co. 6 was decommissioned and Squad Co. 6 established. The unit has been assigned a new rescue-pumper, and they are also responsible for Squad 6A's Water Rescue unit. (L to R): Captain Ryan Fender, Kevin Rice, Benjamin Hernandez and Louis Hernandez.
This article is a direct street report from our correspondent and has not been edited by the 1st Responder newsroom.
DOWNS: As a Newark fire captain and his company were extinguishing a fire under Route 21, a homeless man allegedly threw a can of food striking the officer, on Nov. 27th. The captain was transported to a local hospital for treatment, officials said. The area is a place where homeless people congregate. The can thrower was arrested and taken to a hospital for evaluation, officials added.

UPS: In November, Hightstown Engine Co. 1 held a dedication for a memorial site in front of the firehouse. It is dedicated to Firefighter Dave Lidke who passed away in the line-of-duty on December 23, 2013. The memorial contains a bench and small patio.

DOWNS: When Garwood police and firefighters answered an alarm of fire call for a Second Ave. home, Nov. 22nd, they found a smoke condition coming from the dwelling. A woman resident was still in the home trying to extinguish the fire in a first-floor bedroom, according to Police Chief James Wright. Officers helped the woman out of the house and she was treated at the scene for smoke inhalation by Union County EMS.

UPS: South Brunswick Fire District 2 will receive $27,000 from the New Jersey American Rescue Plan Firefighter Grant (ARPFFG), according to Tap into South Brunswick. A grant was requested to replace older turnout gear.

DOWNS: A Madison Ave. home in Hopewell Township was destroyed by an early morning fire on Nov. 25th, according to township police. The house was reported to be unoccupied.

UPS: An injured hawk was thankful for firefighters on Thanksgiving Day. River Edge firefighters responded to a call to assist animal control with an injured hawk stuck in a tree. Using their aerial ladder, the hawk was rescued by firefighters, and it was taken to a care center in in Bergen County, according to a REFD Facebook post.

DOWNS: A car caught fire on a flatbed tow truck along Route 80 in Roxbury Twp., Nov. 29th, state police said. Several lanes of traffic were shut down due to the fire.

UPS: The Long Valley Fire Company will receive $28,000 in funds as part of the ARPFFG program, according to the Long Valley Patch.

DOWNS: A 3-alarm fire in a Majorca Court home in Toms River sent two residents to the hospital, Dec. 2nd. East Dover Fire Company Assistant Chief Travis Veth said two residents were rescued from the building and taken to a local hospital for treatment of smoke inhalation. One pet cat was rescued by a Toms River police officer and a second cat by a Pleasant Plains Fire Company firefighter.

UPS: On the evening of Dec. 5th Kearny firefighters responded to a reported vehicle in the Passaic River with entrapment, off of Passaic Avenue. Engine 1, Marines 1 and 2, Squad 2 and Tower Ladder 2 answered the alarm. Companies located an SUV, perched off the side of the river with one occupant inside, according to the Facebook report. Two rescue swimmers were deployed and made contact with the occupant, who was not injured. The swimmers removed the man through a rear door of the vehicle and assisted him along a ladder to firefighters on the river bank. The driver was examined by EMS on the scene.

DOWNS: A fast-moving multiple-alarm fire tore through homes, businesses and apartments on the 600 block of Lincoln Blvd. in Middlesex Borough, Dec. 2nd. Officials said 11 residents were displaced.

UPS: Englewood health Paramedic Kevin Trainer was named Paramedic of the Year by the New Jersey Office of Emergency Medical Services. Trainer is an EMS supervisor.

DOWNS: Hackensack firefighters were sent to an Atlantic Ave. dwelling, Dec. 6th, for a medical emergency. Upon arrival, members used gas meters and found 200ppm carbon monoxide readings inside the building. They evacuated occupants and called for additional resources. Hackensack University Medical Center BLS and ALS personnel treated and transported four occupants to the hospital. PSE&G and officials from several city agencies reported to the scene. Their investigation revealed a clogged chimney caused the natural gas boiler to vent CO to the interior of the home, according to officials.

UPS: Kyle Meyer is Morristown's new career firefighter.

DOWNS: A Lexus RX, driven by an 83-year-old man, crashed into Bliss Nails on East Ridgewood Ave. in Paramus, Dec. 6th. The vehicle was completely inside the business after going through the store front. Several people were inside the salon at the time of the crash, but only one was injured, according to Police Chief Kenneth Ehrenberg. EMS treated a 59-year-old woman for a minor hand cut. The driver was reported to be okay.

UPS: R. Burgos has been promoted to fire lieutenant in Hackensack.

DOWNS: A 62-year-old man died in a fire that involved a Cypress Pl. home in Randolph, Dec. 10th. Two other residents of the house were taken to St. Barnabas M.C. with serious burns, officials said. "The Randolph Fire Department was able to extricate a male and female resident from the building," Meghan Knab, a spokeswoman with the Morris County Prosecutor's Office said.

UPS: New firefighters in Kearny are Patrick Piszcu and Jerry Arruda.

DOWNS: A fire that involved a Berkeley home, garage and vehicles, on Southampton Rd., Dec. 8th, hospitalized the homeowners, according to the Berkeley Patch.

UPS: Mike Hyde has been promoted to deputy fire chief in Kearny. Nelson Da Silva was promoted to captain.

DOWNS: Firefighters battled a 3-alarm fire in a large one-story commercial building near East Elizabeth & North Park avenues in Linden, Dec. 13th. The building houses World Class kitchens, a food preparation company. One worker was treated for smoke inhalation and taken to a local hospital, officials said.

UPS: Firefighters Brenes, Meininger and Troland have graduated from the Morris County Public Safety Training Academy and are now part of the Perth Amboy Fire Department.

DOWNS: Firefighters located a 60-year-old woman inside of her burning home on Maplewood Ave., Maplewood, Dec. 8th, officials said. She was taken to a local hospital for treatment.

UPS: Henry Richard has been sworn in as Chief of the Harrison Fire Department, December 7th. The department also added four new firefighters.

DOWNS: A construction worker that was impaled at a construction site was rescued by Paterson firefighters on Dec. 10th. The victim was injured at the old armory site on Market St., officials said. The worker fell down a shaft from the eighth-floor to the seventh-floor and was impaled on a rebar. He was impaled by two rods, through the left hip and center chest, and suspended in the air. Deputy Chief Jose David Molina said the victim was alert and conscious. First responders encountered obstacles in the unfinished apartment complex that had no stairs beyond the first few floors. Members of Rescue 2, Engine 6, EMS 6, and St. Joseph's Paramedics ALS Unit 704 teamed up for their rescue, according to Chief of Department Brian McDermott. The two steel rods were cut at a point below the accident. They then lowered the man-with a portion of the metal still in him-to the ground via tower ladder. Ladder Co.'s 1 and 2 utilized their tower ladders. "Miraculously, the rebar missed all the major vital organs," said Captain Saul Cintron, of Rescue Co. 2. The worker was taken to St. Joseph's UMC for "major surgery."

UPS: Firefighters were met with a heavy fire condition when they arrived at the Brighton Arms apartments in Neptune City, Dec. 15th. According to the Neptune Uniformed Firefighters Local 2691 Facebook page, off duty Firefighter Franklin Doremus was at the scene. A victim was seen at a first-floor window. FF Doremus entered the apartment and began a search in zero visibility. Upon locating the person, FF Doremus got the victim out to safety. Outside, Wanamassa Fire Chief Nick Dowling assisted with getting the victim to EMS to be treated and transported to a local hospital for smoke inhalation.

DOWNS: A fire at the Sheffield Mews condominium complex involved three units, Dec. 18th, according to Sayreville police. Several families, that were displaced by the fire, were being assisted by the Red Cross.

UPS: Long Branch officials plan to spend $650,000 to purchase an old 1891 firehouse and turn it into a museum. It was the home of Oliver Byron Hose Co. 3, organized in 1890. "As the city with the oldest fire department in Monmouth County, we are thrilled to create this new museum," said Mayor John Pallone.

DOWNS: A fire at the Crosspointe development in East Brunswick took the life of a resident, Dec. 20th. First responders located an unresponsive male in the building who was pronounced dead at the scene, authorities said.

UPS: Firefighter William Crampton was recently recognized by the High Bridge Fire Department for his 40-years of service to the department.

DOWNS: A fire displaced Northfield Mayor Chau's home on Shore Rd., Dec. 19th, according to WPG Talk Radio. The fire started in the kitchen. Chau returned to his home, discovered the fire, and contacted the fire department. Chau is a former firefighter. It was also reported that firefighters saved the mayor's three Dachshund dogs.

UPS: Retiring Peapack-Gladstone Volunteer Fire Company Chief John McDermott was honored for his 36-years of service by the Borough Council, Dec. 6th.

DOWNS: The Parkway Elementary School in Mount Laurel was evacuated, and all students and staff were safely accounted for, due to a fire in a room near the gymnasium, Dec. 22nd. The students were transported to another school, according to a school district official.

UPS: Jersey City swore in 21 new firefighters at a City Hall ceremony, Dec. 16th.

DOWNS: On the morning of Dec. 28th a MVA occurred on the upper level-eastbound-on the George Washington Bridge that involved two passenger cars and a tractor-trailer. Port Authority's GWB Tunnel & Bridge agents responded along with units from the FDNY, NYPD ESU and Fort Lee EMS. Four victims were entrapped that were extricated by the GWB agents, with assistance from the NYPD ESU, according to the T&BA's Facebook post. Multiple patients were transported to area hospitals by EMS.

UPS: Around 12:30 a.m. on Dec. 26th, Hackensack fire units responded to a fire in a 5-story apartment building at 64 Prospect Ave. A working fire was reported on the second-floor. Three-alarms were transmitted due to life hazard conditions, to assist the 18 on duty members. There were people at windows and on fire escapes. Over ten rescues were made, including two children whose parents dropped them down to firefighters below, before the mutual aid companies arrived, according to Local 2081's Facebook post.

DOWNS: A fire broke out in the apparatus bay at the Surf City firehouse in December. As volunteer firefighters arrived, they used fire extinguishers to hold back the fire while other members pulled the apparatus out of the building. Using Rescue-Engine 4913, members stretched a 1 3/4-inch hose line and knocked down the remaining fire with tank water, according to a Facebook post. The preliminary investigation by the Ocean County Fire Marshal's Office determined the fire was accidental and caused by malfunctioning electrical equipment. One firefighter was treated at the scene for a minor injury.

UPS: West Windsor firefighters rescued a dog that was stuck in thin ice at Bear Creek, Dec. 29th. The dog's owner was unable to reach the dog. Firefighter Orausky donned proper protective gear and entered the water, according to MidJersey News. The firefighter was able to grab the dog and return to the bank, passing over the canine to Firefighters Vandegriff and Moore.

DOWNS: A woman died as the result of a fire that involved an Aberdeen apartment complex on Aberdeen Rd., Jan. 5th. Fire consumed at least four apartments and at least 11 people were displaced, according to News12 New Jersey.

UPS: The Township of Nutley Board of Commissioners approved Paul Cafone as fire chief. The new position will be a full-time paid position, approved by the board in January. There will be three assistant chiefs who are volunteer members of the department.

DOWNS: Somerville firefighters are mourning the death of their oldest firefighter. Le Roy Van Ness, 92, passed away on December 28th. He didn't respond to fires, but he continued to stay active as the designated "truck keeper," making sure that equipment was always polished on the apparatus. He supervised the younger members to carry on the tradition of keeping equipment in order.

UPS: On December 19th, Paterson Engine Co. 6 was decommissioned and Squad Co. 6 was established. The squad, using a new rescue-pumper, will run with engine company assignments and technical rescue assignments when special called. Members of the company, who share their quarters with Rescue Co. 2, have the technical training needed for such a unit.