Vehicles from Hudson County; Defender Given More Territory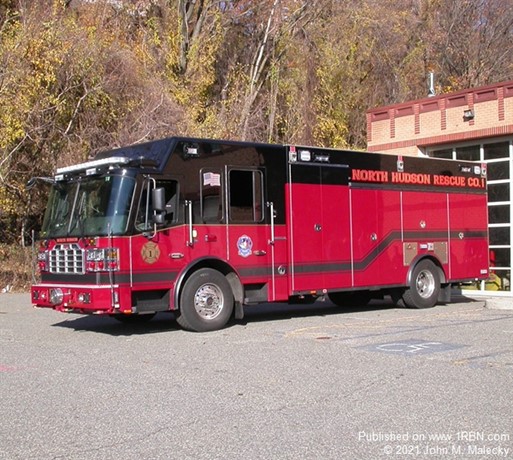 Photo by John M. MaleckyNorth Hudson Regional Fire Rescue, Rescue 1, 2020 Ferrara Inferno with 28 kw generator and 9,000-pound portable winch. It was sold by Firefighter One.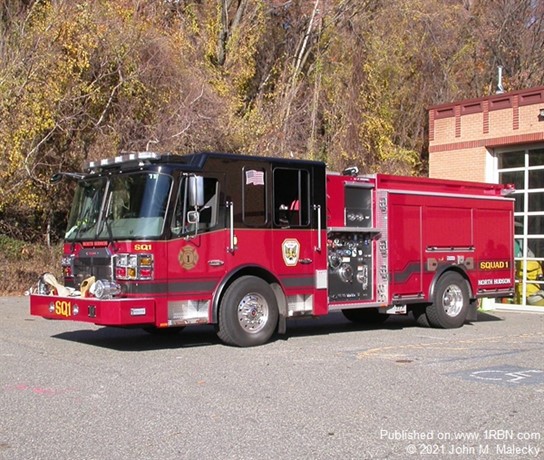 Photo by John M. MaleckyNorth Hudson Regional Fire Rescue Squad 1, 2020 Ferrara Cinder 1500/500. It was sold by Firefighter One.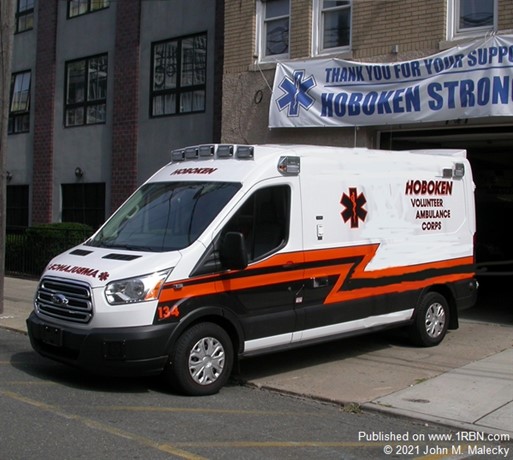 Photo by John M. MaleckyHoboken Volunteer Ambulance Corps, A-134, 2019 Ford/AEV Midroof Transit 250. It was sold by VCI Emergency Vehicle Specialists.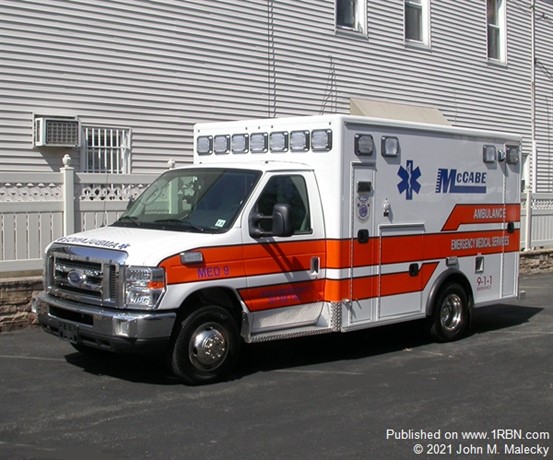 Photo by John M. MaleckyMcCabe Ambulance (Bayonne) Med-9, 2019Ford E-350/Medix RP90EX. It was sold by Defender Emergency Products.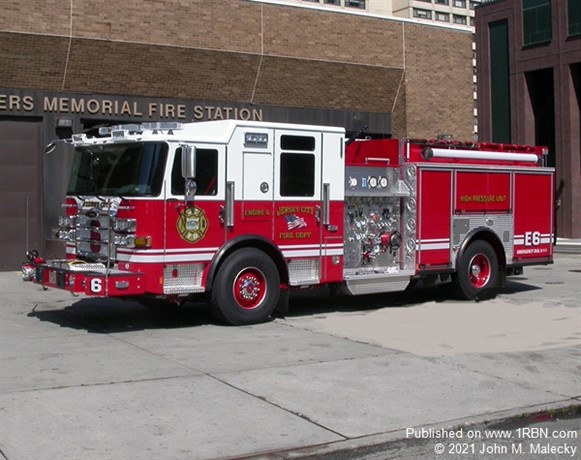 Photo by John M. MaleckyJersey City Engine 6, 2019 Pierce Enforcer 2000/500 High Pressure pumper with three-stage pump. It was sold by Fire & Safety Services.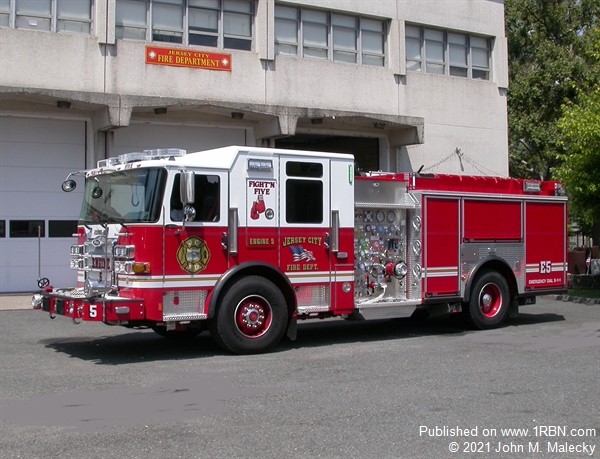 Photo by John M. MaleckyJersey City Engine 5, 2020 Pierce Enforcer 2000/500. It is one-of-three delivered. They were sold by Fire & Safety Services.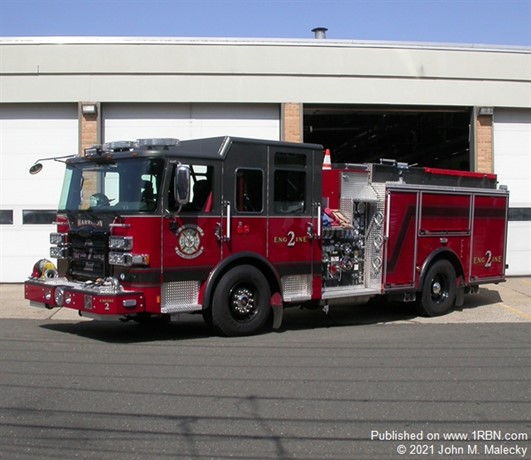 Photo by John M. MaleckyHarrison Engine 2, 2020 Pierce Enforcer 1500/750. It was sold by Fire & Safety Services.
This article is a direct street report from our correspondent and has not been edited by the 1st Responder newsroom.
APPARATUS OF THE MONTH

By John M. Malecky February, 2021


VEHICLES FROM HUDSON COUNTY;
DEFENDER GIVEN MORE TERRITORY

(Author's note: In the last column I had mentioned Gloucester City as being in Gloucester County. I had momentarily forgotten that it is Camden County.)

It's time again to revisit Hudson County for more new deliveries! It was the September of 2019 issue when we last covered the county for the headline plus there were other deliveries that were featured since, but not enough to fill the entire column until now. Even now there are new deliveries that we did not have room for. Some information about the county itself is that it is the smallest in the state with 62-square-miles of land and water, but in contrast it is the most densely populated with over 600,000 residents. Union City is the most densely populated in the country of cities of 50,000 population and North Bergen is the second most hilliest town in the country second to San Francisco. There are 12 municipalities. As far as fire protection the North Hudson Regional Fire Rescue covers five of the 12 municipalities (Union City, West New York, Weehawken, North Bergen and Guttenburg). Of the rest, two are volunteer (East Newark and Secaucus) and the rest are career (Bayonne, Jersey City, Hoboken, Kearny and Harrison). At one time Guttenburg was volunteer but its stations are now repurposed. At one time there was a Hudson County Fire Department with a station at the Meadowview Psychiatric Hospital in Secaucus. The department also performed fire inspections of county buildings but the station is now disbanded and the last apparatus that was there is now part of the Secaucus Fire Department as a squad. Of the photos featured this month are two Ferrara units (Rescue 1 and Squad 1) of the NHRFR, an AEV Ford transit ambulance from Hoboken's Volunteer Ambulance, a Ford/Medix Type III ambulance from the McCabe Ambulance Service a private company based in Bayonne, and three Pierce pumpers (two from Jersey City including one with a three-stage pump, and one from Harrison).

In dealer news, Defender Emergency Products has had its territory expanded to all 21 counties by Rosenbauer America. You may have noticed an ad in last month's issue. They are also a dealer for Medix ambulances and have delivered to Valley Medical Transportation located in Fairfield (Essex County), a Medix SRH-148WD Type II van ambulance on a Ford 250 MR Transit chassis. It has a 3.5L Ecoboost gasoline engine, Whelen lighting, a 1000 watt inverter and a Ferno cot mount package.

VCI Emergency Vehicle Specialists has delivered six Horton ambulances. The Union County EMS (Westfield) received two 603's on Ford F-550 chassis and two 553's on Ford E-450 chassis. Bristol-Myers Squibb in Princeton (Mercer County) received a 623 on a Ford F-550 4x4 chassis and the Tabernacle Rescue Squad (Burlington County) received a 523 remount onto a Ford E-450 chassis.

Blaze Emergency Equipment has made two Sutphen deliveries, both in Morris County. The first is to the Rainbow Lakes FC in Parsipanny Township. Specs include a Monarch heavy duty chassis with 56-inch extended cab with six seats and 10-inch raised roof, 18-inch polished stainless steel extended front bumper, 10-inch double frame rails (50k psi), Cummins L9, 450 hp diesel engine, Hale Qmax 1500-GPM pump, four-inch right side discharge, 2 ½-inch rear discharge and two 1 ½-inch discharges at front of hose bed, 1 ½-inch front bumper discharge, Akron Apollo deck gun, 1000-gallon water tank, 50-gallon foam tank, Williams ATP Class "A" and "B" foam system, 3/16 inch aluminum body, Amdor roll-up compartment doors, ladder chute with backboard storage, Hannay electric cord reel, Harrison 6 kw hydraulic generator and Akron scene lighting. The other went to Chatham Township and is a heavy rescue with a Monarch heavy duty chassis having a 73-inch extended cab with 10-inch raised roof and five seats, 13-inch double Domex frame rails (110k psi), 18-inch polished stainless steel extended front bumper, Cummins X-12 500 hp diesel engine, Hale APS, PTO 300-GPM pump with Side Kick design, 2 ½-inch front bumper discharge, Foam Pro 2002 system, 300-gallon water and 30-gallon foam tanks, 3/16 inch aluminum body, ROM roll-up doors, ladders under hosebed and double hatch, Hannay electric cord reel, Brigade 360 degree camera system, Harrison 10 kw hydraulic generator, FRC brow and scene lighting and a Will Burt Night Scan telescoping light tower. This was at one time known as the Long Hill Fire Company.

New Jersey Emergency Vehicles has delivered two P.L. Custom Classic Type 1 ambulances to the Elizabeth FD (Union County). Both are on Ford F-550 chassis. One is a 4x4.

Absolute Fire Protection has received an order from Raritan Borough (Somerset County) for an E-ONE Typhoon 95-foot mid-mount platform. They are prepping the Typhoon rescue pumper for the Community FC in Middletown Township (Monmouth County) and the refurbished 2006 Cyclone II heavy rescue formerly from Teaneck and now with the Ramsey Rescue Squad (both Bergen County).

Fire & Safety Services reports the following Pierce orders: in Morris County an Enforcer heavy duty rescue pumper for Wharton Borough and in Chester Township a joint purchase with Chester Borough of a Velocity Ascendant 100-foot mid-mount tower. The township is the lead agency. For Raritan Township (Hunterdon County) an Arrow XT dry side tanker. For West Caldwell in Essex County an Enforcer pumper and for Washington Township (Bergen County) a Velocity Ascendant 100-foot mid-mount tower.

Pierce deliveries include in Middlesex County, an Enforcer 107-foot tandem axle ladder for Spotswood and an Enforcer PUC pumper for Bristol-Myers Squibb. Pleasantville (Atlantic County) received an Arrow XT Ascendant 100-foot mid-mount tower.

I would like to bring this month's column to a close with a little trivia. Referring back to the beginning of this column when I corrected my error in stating in last month's column that Gloucester City was in Gloucester County instead of Camden County. It would seem common sense that Gloucester City would be in the county of its name. However, common sense does not always apply. Just some examples are: the town of North Bergen (in Hudson County) is actually south of the Bergen County line. West New York (also Hudson County) is not in the state of New York. The Township of West Bradford, PA is actually about 290 miles "southeast" of the City of Bradford and neither is in Bradford County. East Chicago is in Indiana (not Illinois), East St. Louis is in Illinois (not Missouri) and West Memphis is in Arkansas (not Tennessee). Raritan Borough and Raritan Township, NJ are in two different counties. Finally, all three Plainfield's in NJ (Plainfield, North Plainfield and South Plainfield) are next to each other, but are in three different counties!