HISTORY MAKING PROMOTION DAY IN JERSEY CITY
February 01, 2023 | NEW JERSEY
Ron Jeffers, New Jersey Editor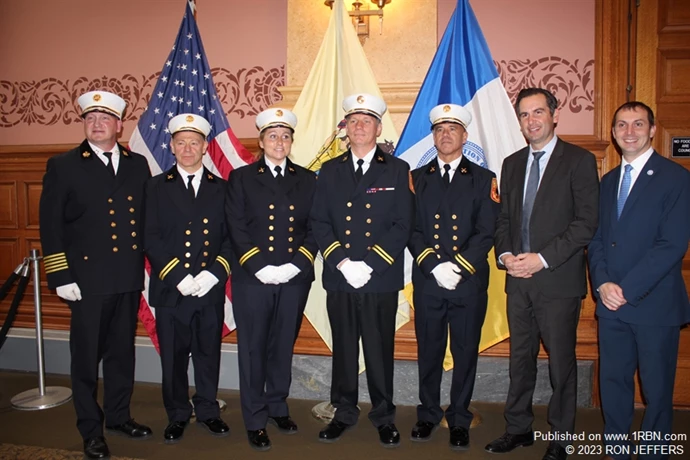 Photo by RON JEFFERSPromotion day in Jersey City, November 29th. (L to R): Chief Steven McGill with the deputy chiefs Joseph Altomonte, Constance Zappella, Shawn O'Connor and Loren Hart, along with Mayor Steven Fulop and Bill O'Donnell from the Director's Office.
This article is a direct street report from our correspondent and has not been edited by the 1st Responder newsroom.
City officials, firefighters, family and friends assembled at City Hall for the promotion of four new deputy fire chiefs on the morning of November 29th. It was a special day for the fire officers attaining their new rank. It was also a special day for 40-year veteran Deputy Chief Anthony Della Rosa, who was the master of ceremony and working on his last day before retirement.

For the history books, former Second Battalion Chief Constance Zappella became the highest ranking female in the Fire Department and reportedly the highest ranking professional female firefighter in the state with her new deputy chief's rank.

This is another first for the chief. Zappella was the city's first female firefighter appointed in 2003 (Engine 9 & Ladder 8), the first female captain in 2011 (Engine 17), and the first female battalion chief in 2017 (Field Training Officer and Battalion 2). Her sister, Francesca, a former city police officer, was appointed to the Fire Department two-years ago.

Also promoted to their new rank were Deputy Chiefs Shawn O'Connor (formerly of Battalion 2), Loren Hart (formerly of Battalion 4), and Joseph Altomonte (formerly of Battalion 1).

Zappella graduated from Saint Peter's University with a degree in economics, and she had worked for Merrill Lynch at the World Trade Center. She stated that she "couldn't stand it". The corporate world was too competitive and cutthroat. During this time, she had also passed the firefighter's test.

In August, 2001, a month before the September 11th attacks, she quit her job to become a firefighter. "It probably saved my life," she said.

Zappella added that she loves the team effort that you have within the fire department. "No fire is going out without the team."

During the ceremony, Chief of Department Steven McGill listed some of the other accomplishments of the Jersey City Fire Department during 2022. That included receiving a national ISO Class 1 department rating, and reaching 700 unformed firefighters on the job. Formerly disbanded Engine Co. 1 was reactivated in the ever growing downtown area. In addition, a specialized unit, Squad Co. 1 was established.