Some Trucks from Morris and Ocean Counties
By John Malecky, Senior Columnist | December 01, 2019 | NEW JERSEY
Story No. 120519103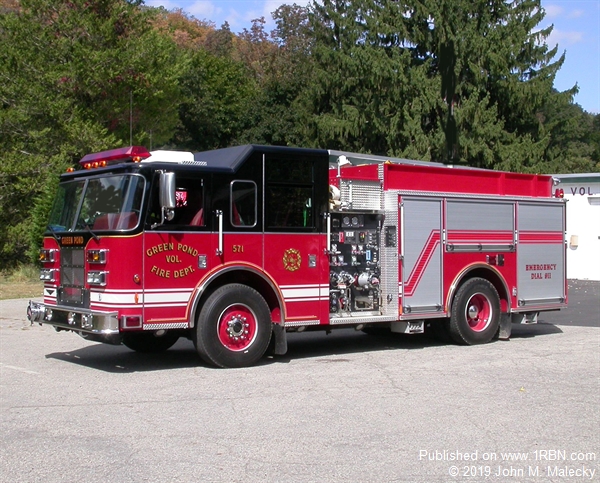 Photo by John M. MaleckyGreen Pond FC, E-71, 2006 Pierce Contender 1250/100/40 and a 6.5 kw generator. It was sold by Fire & Safety Services.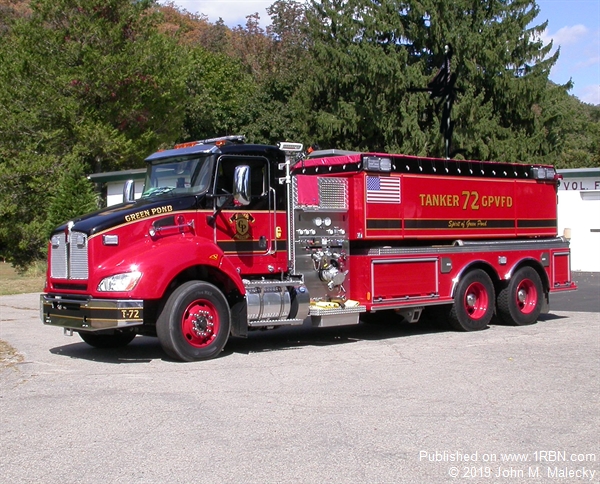 Photo by John M. MaleckyGreen Pond FC T-71, 2019 Kenworth T-4/Fouts, 2000/3000 and 12-inch rear dump valve.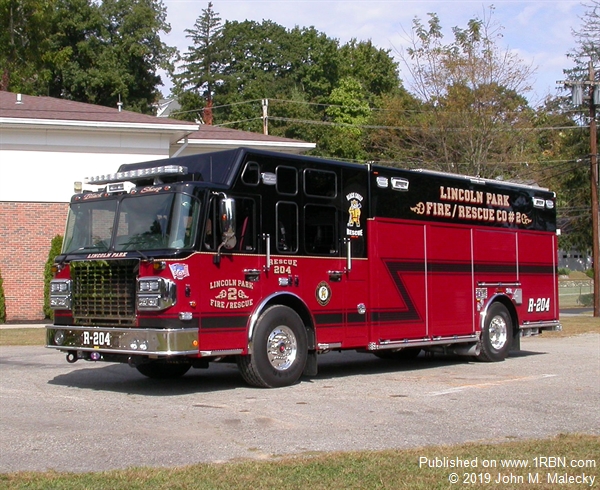 Photo by John M. MaleckyLincoln Park R-204, 2018 Spartan Gladiator/Rescue 1, 30 kw and 9,000-pound portable winch. It was sold by New Jersey Emergency Equipment.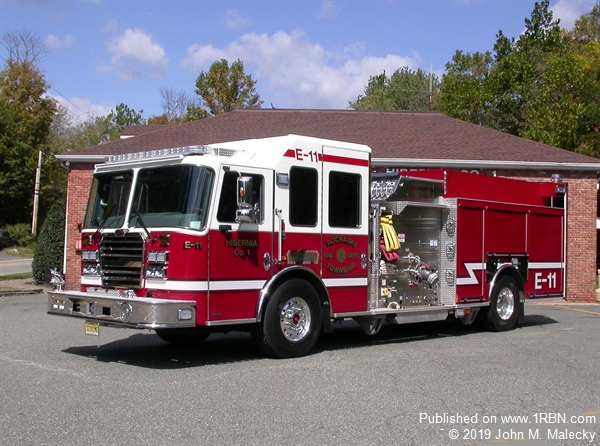 Photo by John M. MaleckyHibernia FC E-11, 2018 KME Panther 2000/1000/30 and an 8 kw generator. It was sold by the First Priority Group.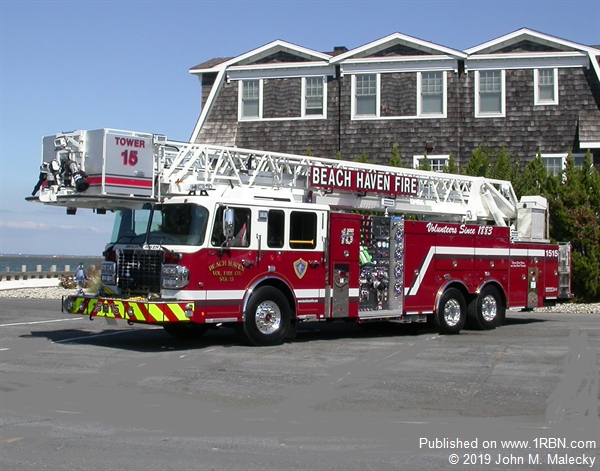 Photo by John M. MaleckyBeach Haven Tower-15, 2019 Spartan ER Gladiator, 2250/400/100-foot. It was sold by Campbell Supply Co., LLC.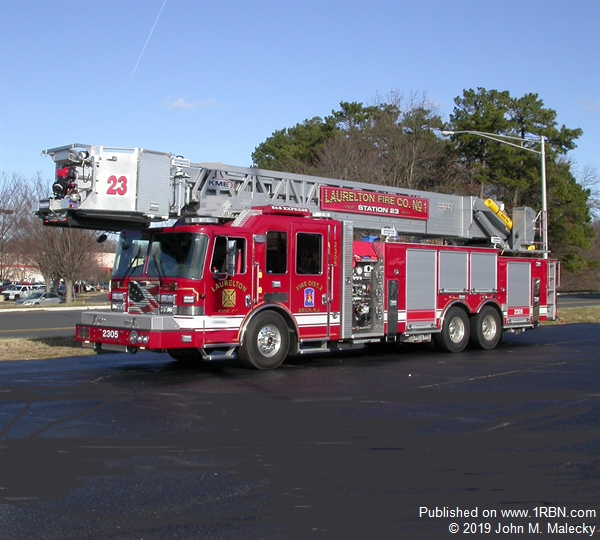 Photo by John M. MaleckyLaurelton FC Tower-2305, 2017 KME Predator, 2000/300/102-foot and 10 kw generator. It was sold by the First Priority Group.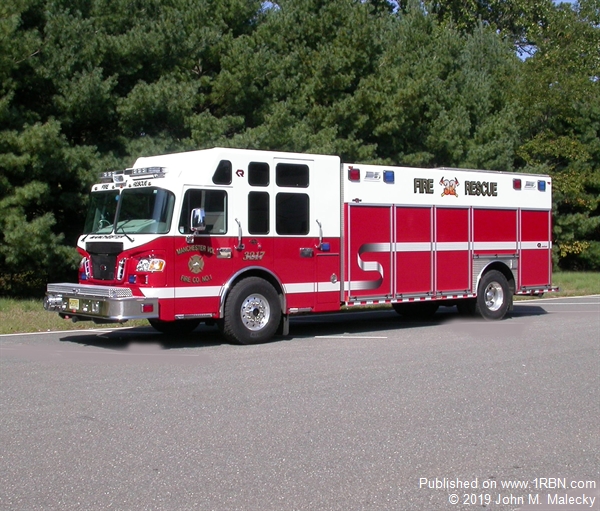 Photo by John M. MaleckyManchester Township, FC.1, R-3217, 2009 Spartan Gladiator Evolution/Rosenbauer/Central 300/300/20 with 30 kw generator and 9,000-pound winch.
APPARATUS OF THE MONTH

By John M. Malecky January, 2020

SOME TRUCKS FROM MORRIS AND OCEAN COUNTIES

Last month we showed apparatus from Bergen County in the northern corner of the state, and the month before we showed rigs from Salem County in the southwest corner of the state. This month we converge a little in each direction to show some Morris and Ocean County apparatus.

Featured in Morris County is one rescue truck from Lincoln Park and three apparatus from Rockaway Township, namely Green Pond and Hibernia. Green Pond is a corporation of over 400-acres and has a lake community within it. The volunteer fire department was started in 1974 with used apparatus, but the current apparatus was purchased new. There is also a separate first aid squad with one ambulance, which is housed at one end of the fire station. Green Pond E-71 is a 2006 Pierce Contender. The Contender when first introduced was an entry level model available in both custom and commercial chassis. The next model up was the Saber, available in custom chassis. As time went on, the Contender model was discontinued and the Saber now is the entry level platform. The commercial Contender model was also discontinued, but Pierce apparatus is still available with commercial chassis. Green Pond Tender 71 is a Fouts Brothers, a brand that is not common in our state. Fouts started out building tankers using commercial tractors. There is no dealer in the state, as they sell factory direct. This tender has an Elkhart Stinger deck gun, an AH Stock, Newton 12-inch dump valve with a swivel and a 3,000-gallon Fol-da-Tank. The Hibernia Fire Company placed in service in 2018 a KME Panther pumper (Engine 11).

In Ocean County, the Beach Haven Fire Company, located in the southern part of Long Beach Island, replaced a 1992 Pierce Arrow 85-foot Snorkel quint with a 2019 Spartan ER rear-mount platform quint, essentially going from a rear-mounted platform to a front-mount platform. It has a Gladiator LFD chassis 515 hp diesel engine, Waterous CSU, 2250-GPM pump, UPF 400-gallon water tank, two TFT Monsoon monitors and a FLIR camera on the platform. It has no generator. Next is from Manchester FC.1 and is Rescue 3217, a 2009 Spartan Gladiator Evolution/Rosenbauer/Central with a 300-GPM pump, 300-gallon water tank, 20-gallon foam tank, 30 kw generator and a 9,000-pound portable winch. Finally, the Laurelton FC in Brick has T-2305, a 2017 KME Predator, 2000/300 with a 102-foot tower and a 10 kw generator.

In dealer news, Firefighter One reports that Ferrara Fire Apparatus is completing a Cinder pumper for Frankford (Sussex County), and in production is an Ultra heavy rescue for the City of Wildwood (Cape May County). They also have delivered five McCoy Miller Type 1 ambulances to St. Clare's.

New Jersey Emergency Vehicles has made two P.L. Custom Medallion Type III ambulance deliveries. One was to Atlantic Health and the other to the Borough of Edgewater in Bergen County. They are on Ford E-450 chassis. Also, the City of Elizabeth Fire department EMS (Union County) received two P.L. Custom Classic Type 1 ambulances on Ford f-550 chassis.

Fire & Safety Services reports the following Pierce orders: two Enforcer pumpers (one for Westfield in Union County and one for Bellmawr in Camden County); in Essex County an Arrow XT pumper for Nutley and two Ford F-550 ESU light rescues for the NJ Transit Police; in Bergen County, an Enforcer rescue for Closter, an Arrow XT pumper for Mahwah and for Harrington Park, an Impel 107-foot Ascendant quint and Ford F-550 mini pumper; in Monmouth County, an Enforcer pumper for Neptune District 1, and an Enforcer heavy duty rescue pumper for Eatontown; in Atlantic County, an Arrow XT 100-foot rear-mount platform, an Enforcer PUC pumper and an Enforcer pumper all for Somers Point, and an Arrow XTR 100-foot Ascendant mid-mount tower for Pleasantville City; an Enforcer 107-foot Ascendant tandem axle aerial for Spotswood (Middlesex County); a Saber top-mount pumper for West Milford (Passaic County); and an Enforcer pumper for Green Township in Sussex County. Pierce deliveries include an Enforcer pumper to Bayonne (Hudson County), an Arrow XT pumper to Lake Hiawatha FC in Parsippany-Troy Hills (Morris County), an Enforcer pumper to Saddle River (Bergen County), and a Saber pumper to Kenilworth (Union County).

Absolute Fire Protection reports that they have delivered an E-ONE Typhoon stainless steel rescue pumper with right side pump controls to Stanhope (Sussex County), and a Typhoon stainless steel CAFS eMax pumper to the Holland FC in Holland Township (Hunterdon County). They are prepping for Plainfield (Union County) a Typhoon low hose bed pumper for Engine 3. They have received an order from the Community FC in Middletown Township (Monmouth County) and the Port Reading FC in Woodbridge Township (Middlesex County) for a Typhoon rescue pumper each.

Blaze Emergency Equipment earlier this past year delivered a Sutphen Monarch pumper to the Easthampton Township Fire Department (Burlington County). It has a 15-inch raised roof cab, 2000-GPM pump with top-mount/side-mount panel, 1000-gallon water tank and two 25-gallon foam tanks with "A" and "B" foam, and a 6 kw generator. They received an order from the Rainbow Lakes FC in Parsippany-Troy Hills Township (Morris County) for a Sutphen Monarch pumper with a 56-inch Extreme Duty cab. Specs include a 10-inch raised roof, seating for six, Cummins L9, 450 hp diesel engine, Hale Qmax 1500-GPM pump with top-mount panel, 1000-gallon water tank, 50-gallon foam tank, Zico electric ladder rack, roll-up compartment doors, 10 kw Smart Power generator, Command Light CL light tower, and FRC scene lights.

VCI Emergency Vehicle Specialists has delivered to the Brigantine FD (Atlantic County), a Horton 553 Type III ambulance on a Ford F-450 chassis.

Emergency Equipment Sales & Services apparatus division has received an order from the Buena Vista Township FC in Newtonville (Atlantic County), for an HME pumper. Specs include an 1871-W chassis stainless steel body, 1750-GPM pump with top-mount panel and 1200-gallon water tank. Their ambulance division received an order from Morningstar Transport Services of Plainfield (Union County), for an F.R. Conversions Type II ambulance on a Dodge Ram ProMaster chassis.

In other news, Mullica Township (Atlantic County) has purchased West Atlantic City's 1997 KME pumper with 55-foot FireStix waterway. It has a 1250-GPM pump and 600-gallon water tank. It is expected to be assigned to the Nesco fire station.

Logan Township (Gloucester County) was expecting delivery of an E-ONE pumper.

Defender Emergency Products received an order from Atlantic City (Atlantic County) for a Rosenbauer pumper. It will have a Commander chassis stainless steel body Cummins L9 diesel engine and Waterous 1500-GPM two-stage pump.
This article is a direct street report from our correspondent and has not been edited by the 1st Responder newsroom.