Big Brothers of Salem County
By John Malecky, Senior Columnist | October 01, 2019 | NEW JERSEY
Story No. 101019101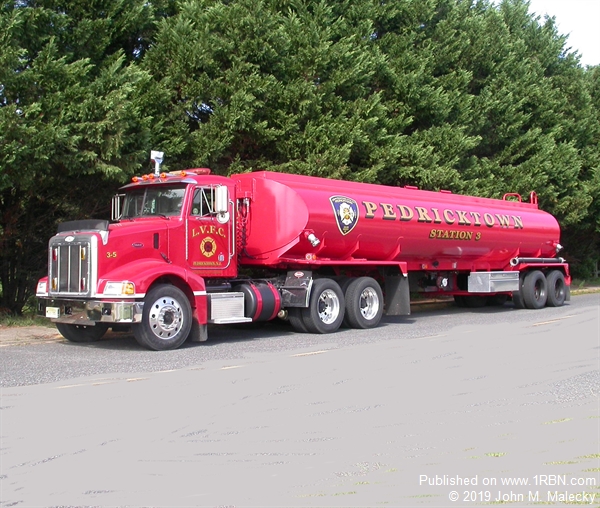 Photo by John M. MaleckyPedricktown T-3-5, 1995 Peterbilt 379/Fruehauf, 8,000-gallons. It was formerly operated by Lacey's Express.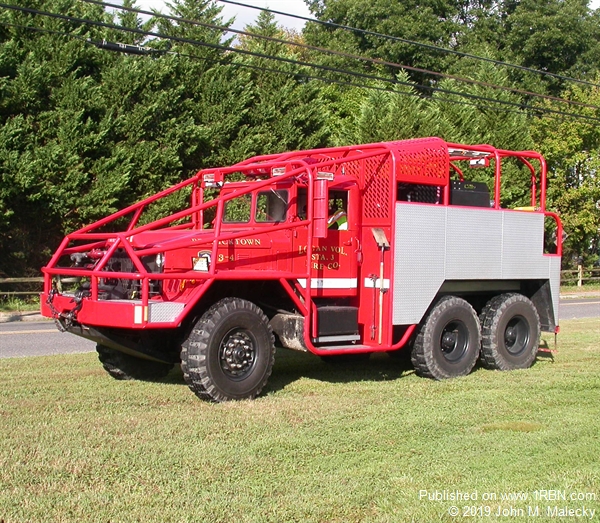 Photo by John M. MaleckyPedricktown Brush 3-4, 1970 Kaiser M818/Chivvasn 250/800 with 10-ton winch and Akron FireFox bumper monitor.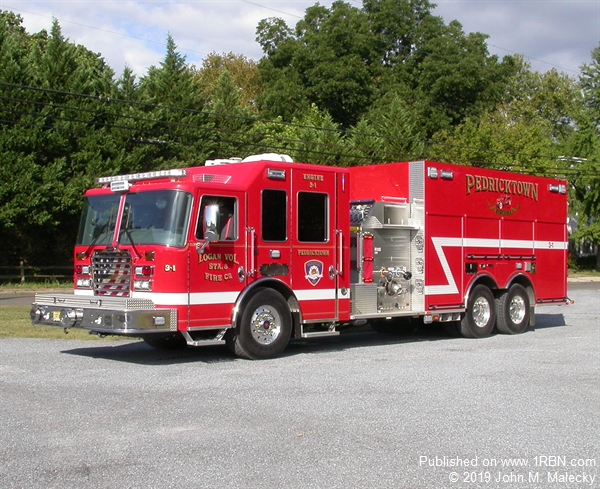 Photo by John M. MaleckyPedricktown E-3-1, 2018 KME Predator 2000/2800/20A/30B and 10 kw generator. It was sold by First Priority Emergency Vehicles.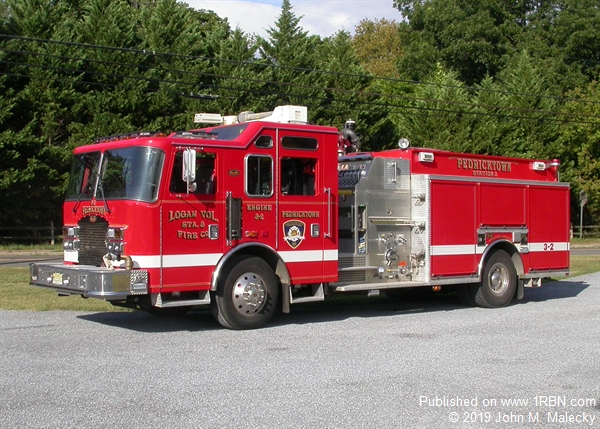 Photo by John M. MaleckyPedricktown E-3-2, 2003 KME Excel 1500/1000 with 15 kw generator and air cascade system. It was sold by First Priority Emergency Vehicles.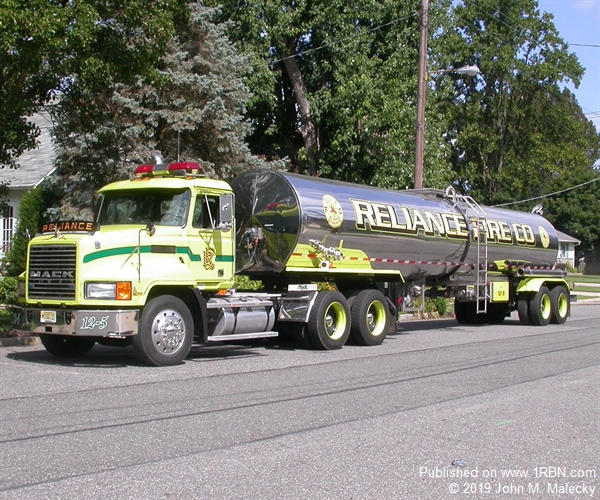 Photo by John M. MaleckyWoodstown T-12-5, 1995 Mack CH/Walker, 350/6000 with 2015 rebuild by Hytech. It was a former milk truck.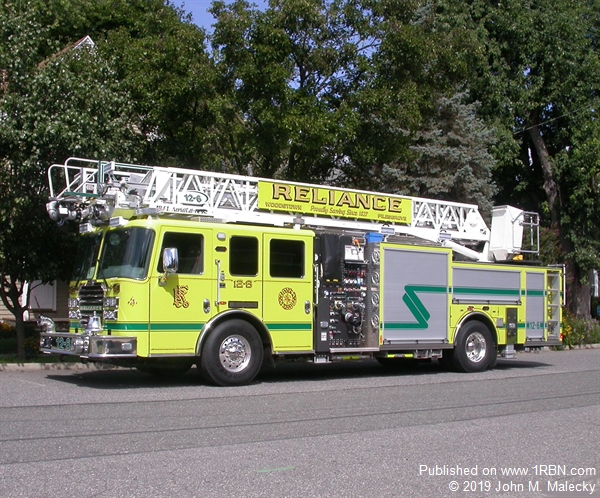 Photo by John M. MaleckyWoodstown L-12-6, 2017 KME Predator, 1500/500 with 79-foot aerial and 10 kw generator. It was sold by First Priority Emergency Vehicles.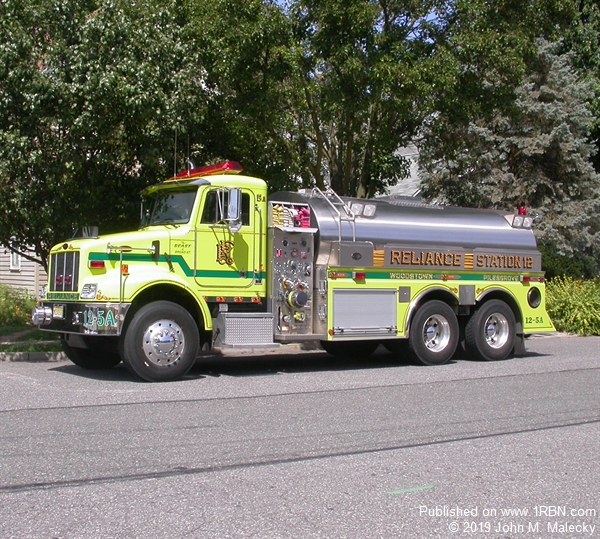 Photo by John M. MaleckyWoodstown T-12-5A, 2002 Peterbilt 330/S & S, 750/2900.
APPARATUS OF THE MONTH

By John M. Malecky November, 2019

BIG BROTHERS OF SALEM COUNTY

(Author's Note): I am dedicating this month's column to the memory of Assistant Chief Anthony Jackson of the Logan Fire Company in Pedricktown, who was killed in a tractor-trailer accident on the NJ Turnpike during the period that this manuscript was being compiled. To the Logan Fire Company, "We Feel Your Loss."

When the "Little Big Guys" feature was introduced into this publication, the theory was to focus on small apparatus that was able to negotiate in areas where the size of major apparatus prohibited them from doing so. Hence the little guy became the big guy when it allowed crews to accomplished their missions easier. At a later time there was an attempt to focus on larger apparatus such as tractor-drawn tankers, and calling them "Big Brothers". It worked here and there, however the amount of tractor-drawn tankers has since dwindled to a fraction of what it used to be. But this month we display two such tankers from Salem County. I understand that at least two other Salem departments have such tankers. Most of these tankers were bought or acquired used. In the case of the Pedricktown truck, it was donated I believe from Lacy's Express, a local business specializing in transportation of hazardous materials, hazardous waste, intermodal tanks and general commodities. The Woodstown truck has a 1989 Walker bulk milk trailer. It was later rebuilt in 2015 by a company named Hy Tech which specializes in milk tank trailers. In any event, these two apparatus provide a change from our usual display of apparatus and we hope to enjoy it. Other apparatus in our display this month are big as well, such as the Pedricktown brush truck and the Woodstown S & S pumper/tender. Pedrickown is in Oldmans Township and the fire company's name is Logan, which we were told is an Indian name. Woodstown is in Pilesgrove Township. Other vehicles featured include a KME pumper/tender and a KME pumper with a larger water tank which doubles as their rescue. The Woodstown KME quint replaces a 65-foot Telesqurt.

In dealer news, Emergency Equipment Sales & Service, LLC is working on a remount of an Excellance Type III ambulance for Hackensack Meridian Health.

Fire & Safety Services reports the following Pierce orders: In Bergen County, a Velocity 100-foot mid-mount tower for Elmwood Park and a Velocity pumper for Garfield. In Passaic County, Hawthorne ordered a Velocity 100-foot rear-mount platform and in Union County, Berkeley Heights ordered a Velocity mid-mount tower. Pierce deliveries include in Morris County, the Town of Boonton received an Enforcer pumper, the Town of Butler received an Enforcer 110-foot Ascendant platform. Hanover Fire District 2 (Whippany) received an Enforcer pumper and Chester Township received a Peterbilt dry side tanker in which the pump and body from their older tanker were used and a new chassis and tank installed. In Monmouth County, Millstone Fire District 1 received a Velocity PUC pumper.

Firefighter One has delivered two McCoy Miller Type II ambulances on Ford Transit chassis to University Hospital in Newark (Essex County). They have the following Ferrara orders: an HD 107-foot aerial on an Inferno chassis for North Wildwood (Cape May County), a Cinder pumper for North Plainfield (Somerset County), a Cinder pumper for Belleville (Essex County), a Ford F-550 mini pumper for the Brookside FC in Mendham, and an Inferno pumper/tender for Jefferson Township Co. 2 (both Morris County).

Absolute Fire Protection has received two E-ONE orders. One is for a Typhoon stainless steel rescue pumper for the Washington FC in Matawan (Monmouth County), and the other is a Metro HP-100 ladder on a Typhoon chassis for Bloomfield (Essex County).

New Jersey Emergency Vehicles has delivered to New Jersey Natural Gas (serves Monmouth, Ocean, Middlesex, Morris and Burlington Counties), a command center with slide-out conference room. Mounted on an International MV607 chassis it has a 22-foot body with 77-inch headroom. Features include a diesel generator, curbside 18-foot electric awning, computer command system with networking, comfort station with toilet, sink, hot and cold running water, refrigerator, four-person squad bench, aluminum counter tops, sound deadened insulated entrance doors and 12 VAC roof-mounted air conditioner.
This article is a direct street report from our correspondent and has not been edited by the 1st Responder newsroom.