Richland's Utility Has Many Uses
By John Malecky, Senior Columnist | June 01, 2020 | NEW JERSEY
Story No. 060420107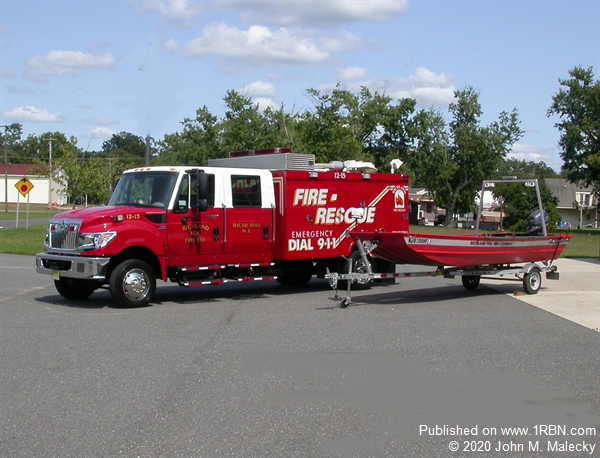 Photo by John M. MaleckyRichland's Utility 12-15, 2013 International TerraStar with 1997 Reading body and 2015 Lowe flat bottom boat with 20 hp Yamaha motor.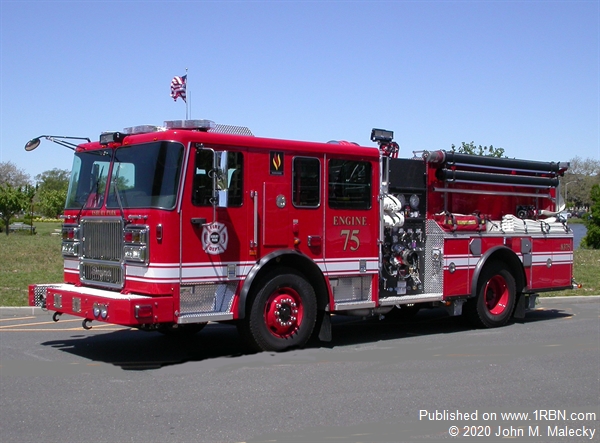 Photo by John M. MaleckyAsbury Park E-75, 2020 Seagrave Marauder with 2000-GPM pump and 500-gallon water tank. It was sold by Seagrave Sales & Service.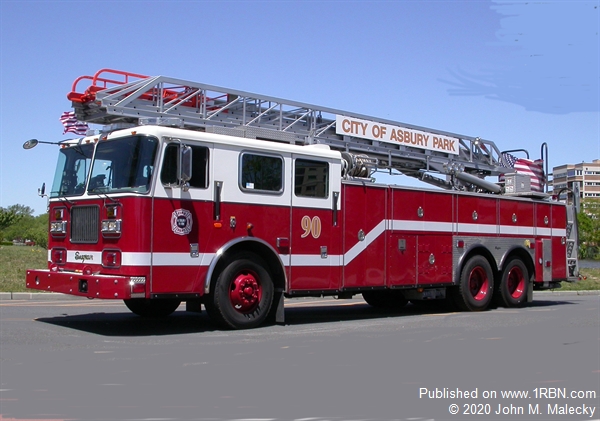 Photo by John M. MaleckyAsbury Park 1999 Seagrave TB with 100-foot aerial and 8 kw generator. It is X-FDNY L-137. It was sold by Seagrave Sales & Service.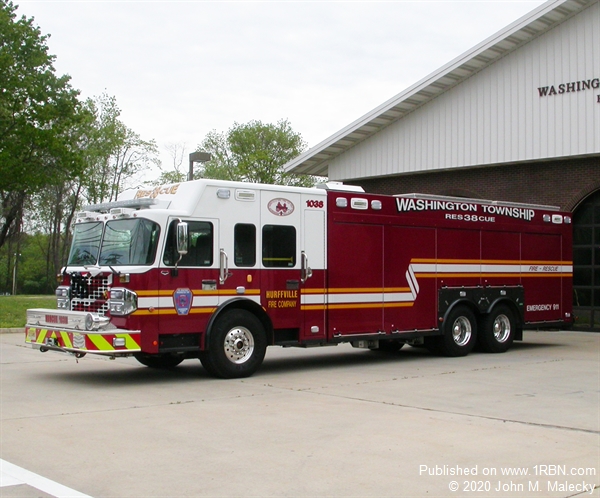 Photo by John M. MaleckyWashington Township, Hurffvile FC, R-1038, 2019 Spartan Gladiator/Custom Fire, 300/300, 12 kw generator, 4 ton portable winch and 6 ton front winch. It has a 40-foot two inch body.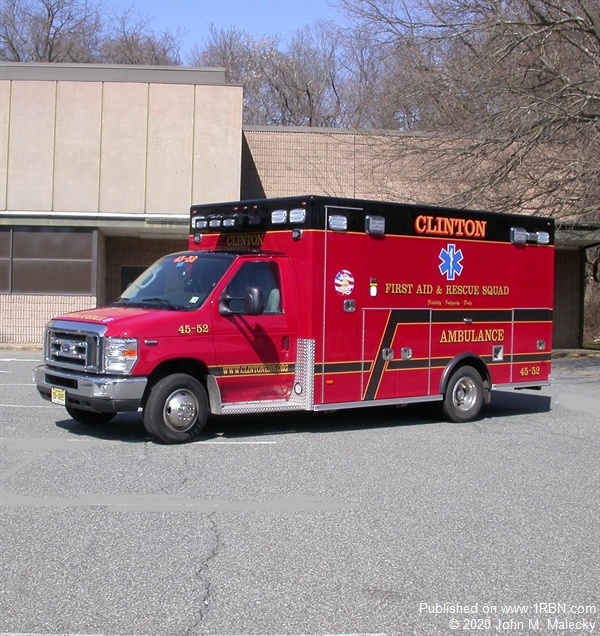 Photo by John M. MaleckyClinton First Aid & Rescue Squad A-45-52, 2020 Ford E-450/P.P. Custom Medallion. It was sold by New Jersey Emergency Vehicles.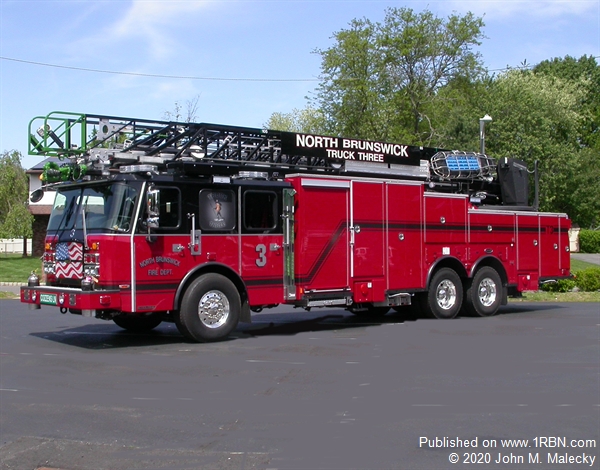 Photo by John M. MaleckyNorth Brunswick FC 3, Truck 3, 2019 E-ONE Cyclone 1500/300 with HP-105 aerial. It was sold by Absolute Fire Protection.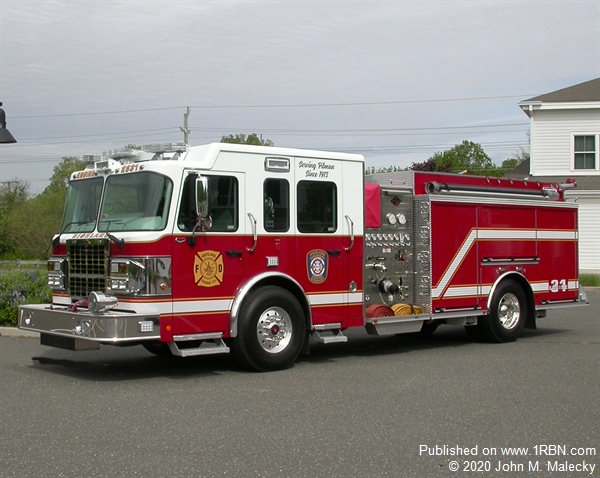 Photo by John M. MaleckyHighland Chemical Engine Co. of Pitman, E-2831, 2020 Spartan ER Metro Star, 1500/750 with 6 kw generator. It was sold by Campbell Supply Co., LLC
APPARATUS OF THE MONTH

By John M. Malecky July, 2020


RICHLAND'S UTILITY HAS MANY USES

In Atlantic County in Buena Vista Township the Richland Fire Company's Utility 12-15 has many duties. The vehicle has a 2013 International TerraStar chassis with a 1997 Reading body. The original 1997 chassis was heavily damaged with a cracked frame after a collision, but the body was salvageable. Hence the newer chassis. Some of the features include an on-board 6500 watt diesel generator, Will Burt Night Scan, six ton winch and four cylinder air cascade system. Inventory includes ice and water rescue equipment, survival suits, PFD's, an electric Jaws setup (to back up the rescue truck), and a trailer with a generator and trash pump for dewatering operations. Shown next to the truck is a 2015 Lowe 16-foot flat bottom boat with a Yamaha 20 hp engine. The truck also transports the dive team, as they are a backup for the Hamilton Township Dive Team. The area is considered recreational with lakes, ponds and gravel pits (also known as blue holes), with potential for water related incidents. Many thanks go out to Chief Tony Monfredo and Dennis Sharpe for information provided. Among the rest of the photos are two Seagrave apparatus from Asbury Park. One is a new pumper on a Marauder chassis and the other is a rebuilt former New York City rear-mount which originally saw service with Ladder 137 in Queens. We also have a massive heavy rescue in the Hurffville FC in Washington Township (Gloucester County). It has a massive 40-foot, two inch body length of non-walk-in design. Unseen from the exterior is a 300-GPM Hale pump. The body is built by Custom Fire. Next we have an ambulance from the Clinton First Aid and Rescue Squad in Hunterdon County. It is a P.L. Custom Medallion Type III and it is the last one to have "Clinton" name on it. Due to a merger involving the High Bridge Emergency Squad, the new name will be the South Branch Emergency Services. North Brunswick Company 3 recently replaced their 75-foot quint with an E-ONE 105-foot quint and it is featured this month as well. The last photo featured this month is of a Spartan ER pumper for the Highland Chemical Engine Company in the Boro of Pitman (Gloucester County). I was told that the fire company enlisted the various talents of their members to do extensive additional work on the vehicle after delivery to include tool mounting, panel installations in the compartments and modifications which permitted additional equipment storage. They are gradually adding new inventory to eventually make it a candidate to be a squad. Some features include a Metro Star chassis, Cummins L9, 450 hp diesel engine, Hale Qmax 1500-GPM pump, Pro Poly 750-gallon water tank, Harrison 6 kw generator, Whelen scene lighting, a Hurst Tool, ROM roll-up- compartment doors, and a TFT Blitzfire hand held monitor.

Midwest Fire Tanker has delivered a pumper/tanker to the Oxford Township VFD (Warren County). It was a factory direct sale. Features include a Freightliner M2, 112 chassis, Waterous CSU, 1250-GPM split shaft pump, five-inch front intake, 3000-gallon APR poly tank, two 2 ½-inch direct tank fills, three 10-inch Newton square dump valves, Zico portable tank carrier with 3,000-gallon portable tank, one-inch Hannay booster reel, Rear View Safety camera and Whelen scene and telescoping lights. It has an all poly constructed body. The overall height is nine-feet, nine-inches and overall length of 34 ½ feet.

In dealer news, VCI Emergency Vehicle Specialists reports that Stafford Township EMS in Manahawkin (Ocean County) received a Horton 553A Type III ambulance on a Ford E-450 chassis. Also, the Millville FD (Cumberland County) took delivery of two Horton 603 Type I ambulances on Ford F-550, 4x4 chassis and Wall Township Police EMS (Monmouth County) has ordered a Horton 553 Type III ambulance on a Ford E-450 chassis.

Firefighter 1 has delivered to North Plainfield (Somerset County) a Ferrara Cinder pumper with an extruded aluminum body, Hale Qmax 1500-GPM pump with side mount panel and a 750-gallon water tank. Some additional information has been sent about the previously delivered Frankford pumper (Sussex County). It has a 1100-gallon water tank (instead of 1000) and a Foam Pro system.

Emergency Equipment Sales & Service received an order from the Delanco EMS (Burlington County) for an Excellance remount of a 2007 Horton module onto a new Ford E-450 chassis which will also include repairs and updates.

Absolute Fire Protection has delivered to Elmwood Park FC 3, an E-ONE mini pumper on a Ford F-550 chassis. It has a 1250-GPM pump and 300-gallon water tank. Fair Lawn FC 2 has ordered an E-ONE HR-100 single axle aerial ladder with 1750-GPM pump and 500-gallon water tank. Lodi has ordered a rescue pumper and a top-mount pumper both on Typhoon chassis. All are in Bergen County.

Fire & Safety Services reports the following Pierce orders: for Linden (Union County) an Enforcer pumper and for the Flanders FC in Mt. Olive Township (Morris County) an Arrow XT Ascendant mid-mount tower. Pierce deliveries include in Bergen County, a Saber pumper to Ridgewood and an Arrow XT pumper to Dumont. The Montgomery Fire District 1/Belle Mead FC (Somerset County) received a Velocity 100-foot rear-mount platform; Mullica Township/Elwood FC (Atlantic County), a Saber dry side tanker; the City of Jersey City (Hudson County) three Enforcer pumpers and Hamilton Township Fire District 8 (Mercer County) an Enforcer pumper.

New Jersey Emergency Vehicles has delivered to University Hospital EMS in Newark (Essex County) a rescue with a 16-foot three-inch walk-around body on a Freightliner M2 chassis. They were prepping for the Township of Medford EMS (Burlington County) a P.L. Custom Medallion Type III ambulance on a Ford E-450 chassis.

Seagrave Sales & Service has delivered a pumper and truck to Asbury Park in Monmouth County, (see photos). The specs on the pumper include a Marauder chassis, stainless steel cab and body, 165.5 inch wheelbase, Cummins L9, 450 hp diesel engine, Waterous CSUC20E, 2,000-GPM pump, Waterous rotary valves with flow meters, Pro Poly 500-gallon water tank, six-inch front intake, Akron Apollo deck gun, one-inch booster line, two 1 ¾-inch crosslays, an Elkhart RAM hand held monitor and Whelen brow and scene lighting. The ladder truck is a 1999 model with 233 inch wheelbase, 100-foot aerial and eight kw generator (X-FDNY). Mahwah FC 3 (Bergen County) ordered a pumper. Specs include a Marauder chassis, stainless steel cab and body, eight seats, Waterous CMU, 2000-GPM pump, 750-gallon L-Type tank, FRC lighting and a Cummins 500 hp diesel engine. Brielle ordered a pumper on a Capital chassis. Specs include a 142.6 inch cab, with six seats and nine-inch raised roof, 1750-GPM pump with 48-inch panel, 650-gallon water tank, 139-inch long body, side-mounted ground ladders and a 200-foot booster line, and Goodwill Hose Company 1 in Belmar signed a contract for a Fastrack Series pumper. It will have a 141-inch Marauder stainless steel full tilt heavy duty cab, Cummins L9, 450 hp diesel engine with engine brake, Intelex Plus wiring system, Waterous 1750-GPM pump, 750-gallon water tank, stainless steel body, extended bumper with front intake and discharge, FRC scene lighting and an enclosed ladder tunnel through the rear (both Monmouth County).

This article is a direct street report from our correspondent and has not been edited by the 1st Responder newsroom.