Penflex, Inc.
50 Century Hill Drive, Suite #3 Latham, NY 12110

518-783-6915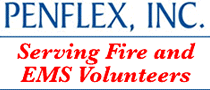 Penflex, Inc. is a pension plan, actuarial and administrative firm located in Latham, N.Y. Penflex specializes in the administration of volunteer firefighter and volunteer ambulance workers length of service award programs (LOSAPs). For the past twelve years, Penflex has been retained to assist local and state government officials to establish and operate LOSAPs. Currently, Penflex provides services to almost 300 volunteer emergency service organizations.

Penflex aims to custom-design LOSAPs that help recruit, retain and reward members of volunteer emergency service organizations.