Campbell Supply Co
710 South Oak Street Iowa Falls, IA 50126

641-648-4624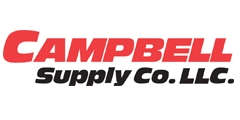 Campbell Supply Co. is a family owned and operated business. Established in 1963, John and Jim Campbell base their company on honesty and service. We provide high quality merchandise at competitive prices.

Versatility — CSC has 35,000+ Line Items In-Stock.

Service Support — Our team consists of knowledgeable customer service people available at all times to provide technical support and Outside Salespersons stopping by to show you the latest products, and checking for your special needs.

Experience — Average years of experience in our sales staff is 13+ years. Which means you get quality answers to your technical questions.

Tool Repair — We offer full service tool repair for brands like: Dewalt, Milwaukee, Stihl, Rolair, Harrington Hoists and Cranes, and others.

Factory Representation — Safety Seminars, Recommendations, Training, and New Product Information.

Fully Integrated Computer System — Which allows for customized part numbers, on-site order entry, bar coding, EDI capabilities, and much more.