'Vacant' Structure Fire in Reading Claims Civilian's Life
By JASON BATZ, Correspondent | December 20, 2020 | PENNSYLVANIA
Story No. 122620103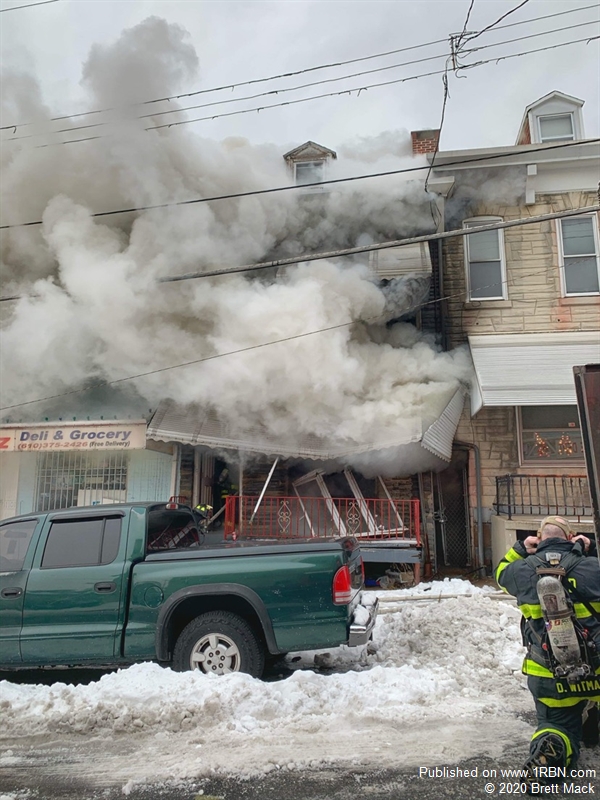 Photo by Brett MackCrews operate at a reported vacant structure fire in Reading.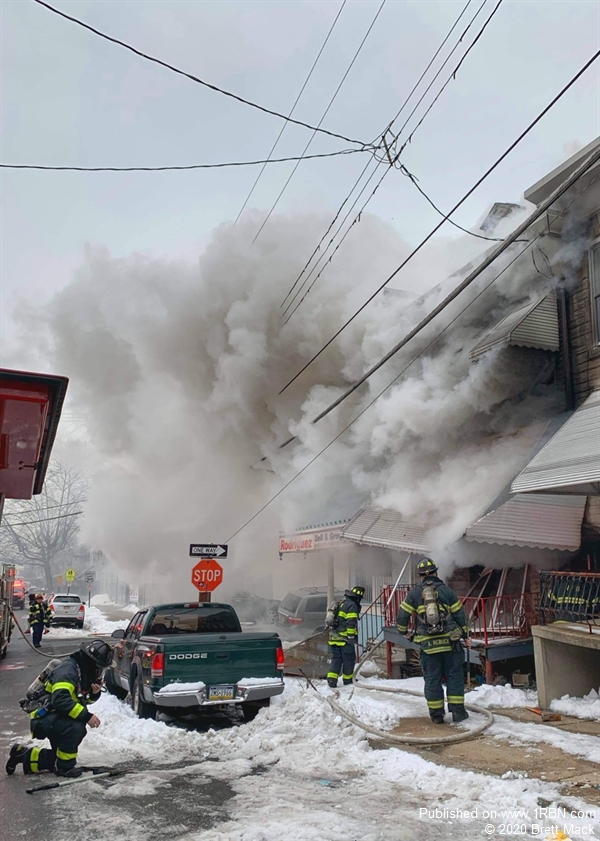 Photo by Brett Mack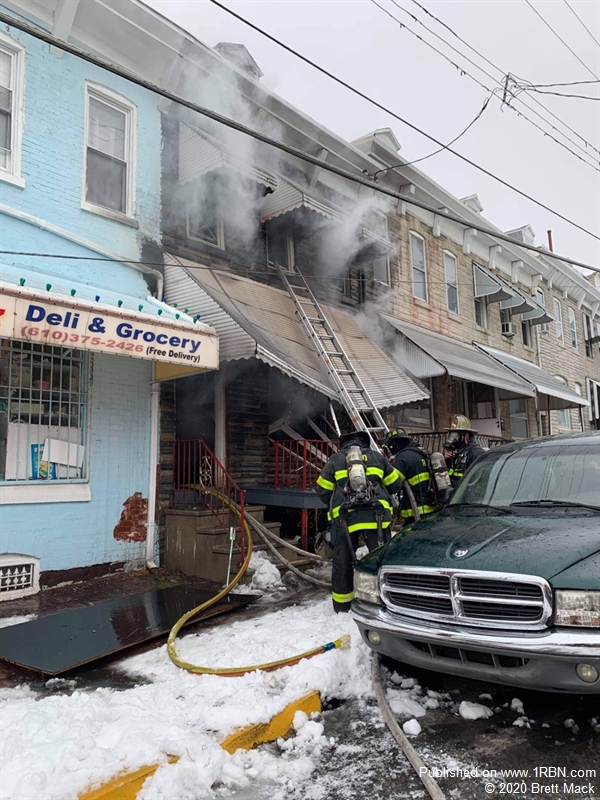 Photo by Brett Mack
Reading, PA - On December 20, 2020 around 8:27 A.M., companies were dispatched to the area of S 11th Street and Spruce Street for multiple calls reporting black smoke coming from the front of a structure.

Updated calls stated that fire was showing from the front window of 1103 Spruce Street. Tower 1 arrived on scene and reported a two-and-a-half story, middle of row structure, with heavy fire showing on the first floor. R1 Lieutenant advised all units that the building was tagged "vacant & condemned" and all personnel should use caution.

Car 2 arrived on scene, established command, and requested RPD to the scene immediately for traffic control due to vehicles running over the fire department's hoses. Crews advanced into the first floor knocking down all visible fire. Search crews reported that they had fire on the second floor, so an additional hand line was stretched to their floor.

While they were operating on the second floor, one of the firemen fell through the floor before getting stuck around chest deep. A fireman nearby grabbed onto him and together they were able to keep him from falling all the way through. Both firemen were unable to let go and call for help via their radios. A third fireman was advancing a hose line to the second floor when he heard the yells and saw the firemen in trouble. He quickly called a MAYDAY, which was transmitted at 8:38 A.M.

Command immediately acknowledged the MAYDAY, activated the RIT team, and requested a second-alarm. After calling a MAYDAY, the third fireman joined in the effort and together they were able to remove the fireman in distress. The crew reported to command that they had the fireman unstuck and out of the building. At 8:42 A.M., command reported that the MAYDAY was canceled and all personnel were accounted for.

During searches of the first floor, a civilian was found deceased. As suppression efforts continued, personnel operating on the second floor reported a partial ceiling collapse, but confirmed the crew was okay. R1 Lieutenant advised command that the fire on the second floor was knocked down, but he located fire on the third floor as well. Another line was stretched to the third floor and the fire was extinguished.

Crews also worked in exposure buildings to ensure no fire travel had occurred and the fire was placed under control at 9:29 A.M., with extensive overhaul. Injuries sustained by the firemen are all reported non-life-threatening. The OFM is investigating the fire.

This article is a direct street report from our correspondent and has not been edited by the 1st Responder newsroom.