Orange Firefighters Busy During December Making Holidays Happier for Kids
December 23, 2022 | CONNECTICUT
DOUG FENICHEL, Correspondent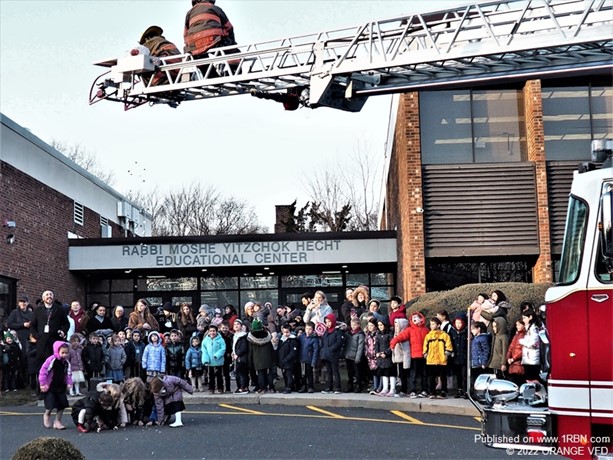 Photo by ORANGE VFDOrange vol. firefighters drop chocolate coins, Hanukkah gelt, for the children at the South Central Hebrew Academy.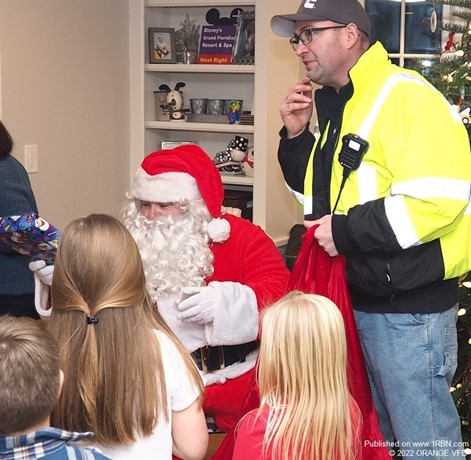 Photo by ORANGE VFDSanta, played local resident Chris Jensen, reads the label on a toy he's about to give to eager children in a home in Orange. Santa's helper is Firefighter Will Clemens.
This article is a direct street report from our correspondent and has not been edited by the 1st Responder newsroom.
ORANGE, CT – December is always a busy month for the Orange Vol. Fire Department, but in addition to handling emergencies, firefighters this month delivered the spirit of the winter holidays to children in Orange.

Firefighters donated their own money to two charities helping children. They also escorted Santa Claus to 190 homes in town during the Santa's Helper program and made the Hanukkah celebration special for children at a town Jewish day school.

At the department's annual holiday party, firefighters and friends participated in a 50/50 to raise money for the Yale-New Haven Hospital Children's Toy Closet. When the winning ticket was pulled, the prize-winner stood up and said to give his winnings to the kids. The resulting donation was $850.

Firefighters passed the hat during a monthly meeting for a special holiday fund by the town's Social Services Department to help families that need some extra support to get through the holidays. Firefighters took up a collection and donated $1,457 of their own money to his charitable endeavor.

As a department, firefighters and the OVFD Auxiliary escorted Santa to the homes of about 630 children throughout the town. The annual event was the biggest holiday fundraiser in the 27 years the Auxiliary has been running it.

Auxiliary President Jillian Gagel says Santa is delivering toys to a second generation of Orange residents. It's not only a good tradition, she says, it's a valuable opportunity for firefighters to let kids know not to be afraid of firefighters in an emergency.

"Meeting firefighters in a happy situation when you want to see them is much different than when they have to respond to an emergency at your home," said Gagel. "We are very grateful to the community for supporting our Santa's Helper toy delivery program. Because of everybody's support, the program has grown into the overwhelmingly successful event it has become."

At one home, Jessica Fedor of Orange was chatting with her daughter, Ava, about the nesting dolls she received from Santa, who arrived on Engine-33.

"It's such a fun, memorable experience for them," the elder Fedor said as Ava hung on her leg.

A few days later, firefighters were back out with kids, helping to light Hanukkah candles at the Southern Connecticut Hebrew Academy in Orange.

The traditional gift for Hanukkah, referred to as the Festival of Lights, is coins, or "gelt."

Firefighters raised the ladder on their truck and climbed to the top. Children watched, excited by the presence of firefighters and the ladder truck, as chocolate gelt rained down from the top of the ladder. The children took their turns, scrambling to catch or pick up the chocolate coins. Then, they watched as the Hanukkah menorah was lit.

For Rabbi Sheya Hecht, the head of the Academy, there is a spiritual tie between firefighters and the flames of the Hanukkah candles.

"The firefighters' job is to put out fires," he said. "They're saving lives, giving life back. Our job is to light fires. We light fires in the spiritual sense that dispel the darkness. The light of goodness and kindness can illuminate lives and miles. We all certainly need more of that."

Fire Chief Vaughan Dumas says the community outreach is not only fun for department members, it's rewarding on several levels.

"For more than 95 years, our motto has been Neighbors Helping Neighbors," he said. "That usually means responding to emergencies and helping people during what is usually a very bad day for them. But these activities let us interact with kids and the community in a calm environment and enjoy a positive experience with our firefighters."