Home Renovations Lead to Structure Fire in Springfield
December 13, 2022 | MASSACHUSETTS
NATE ARNOLD, Correspondent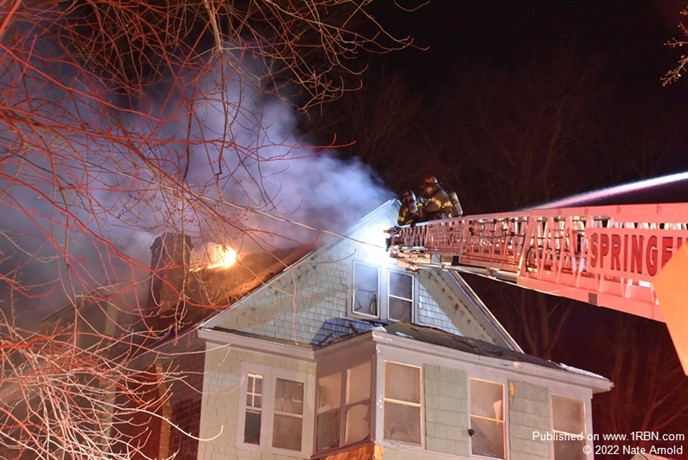 Photo by Nate Arnold Truck 3 plays their ladder pipe into the gable end vent at 177-79 Leyfred Terrace.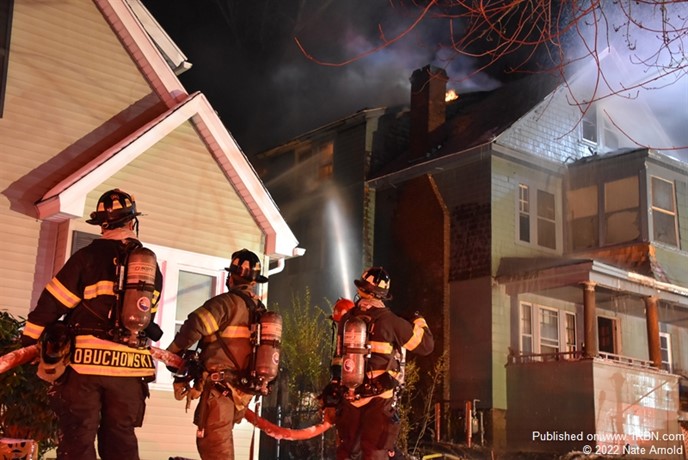 Photo by Nate Arnold
This article is a direct street report from our correspondent and has not been edited by the 1st Responder newsroom.
SPRINGFIELD, MA - A resident doing work in their attic accidentally started a fire that went to two alarms and did an estimated $100,000 in damage to the two-and-a-half story wood-frame duplex in the Forest Park neighborhood of Springfield on December 13, 2022.

Companies responded to the address of 177-179 Leyfred Terrace shortly before 5:00 P.M. to find heavy smoke and fire venting from the roof of the occupied dwelling, and the lone occupant of the home already outside. Crews entered the structure for an interior attack on the fire, but 20 minutes into the incident, with fire still venting from the roof and crews not making good progress inside, Leyfred Command ordered the evacuation of the structure and the sounding of the second-alarm to bolster manpower on scene and improve water supply.

Crews switched to a defensive attack mode and two ladder pipes, as well as several hand lines were deployed to darken down the fire from the exterior prior to reentering the building for salvage and overhaul. Once crews reentered the structure, they made a troublesome discovery according to information released by department officials. Firefighters found a propane fired heater in the attic of the building where the resident admitted to investigators he was doing renovation work that included grinding/soldering prior to the fire. During the fire, the tank began venting propane into the attic and the only thing that prevented a BLEVE from occurring was the master streams from Truck Companies 3 and 1 playing into the attic that inadvertently cooled the propane cylinder.

SFD officials turned to local news media after the fire to remind residents that it is illegal in the Commonwealth of Massachusetts to have propane fed heaters inside an occupied residential structure, and to be careful this winter season with any and all forms of heating. The resident was uninjured in the fire and investigators believe the work they were doing was the cause of the fire.