Two Major Fires in North Hudson on Historic Day (CONT'D. TO STORY #120522101)
December 01, 2022 | NEW JERSEY
RON JEFFERS, New Jersey Editor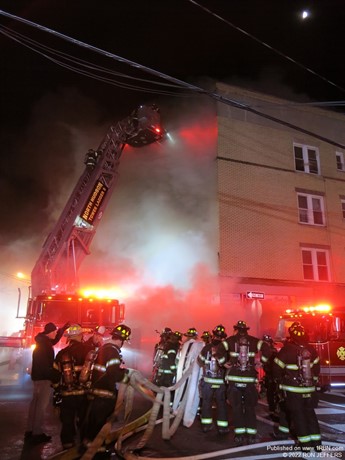 Photo by RON JEFFERSFire consumed this large mixed occupancy building at Madison and 54th Streets, West New York, and later the floors experienced pancake collapse.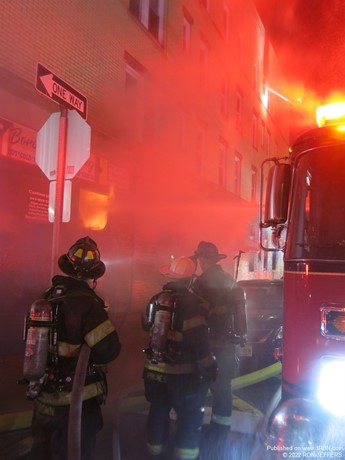 Photo by RON JEFFERSFire raced up the walls and an old shaft from the basement to all floors of the Madison Street building on December 1st.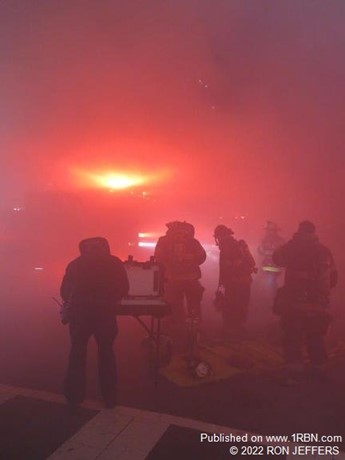 Photo by RON JEFFERSLow banking, choking, smoke covered the neighborhood.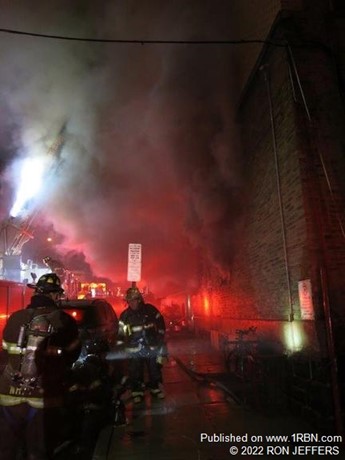 Photo by RON JEFFERSFire at Madison and 54th Streets, West New York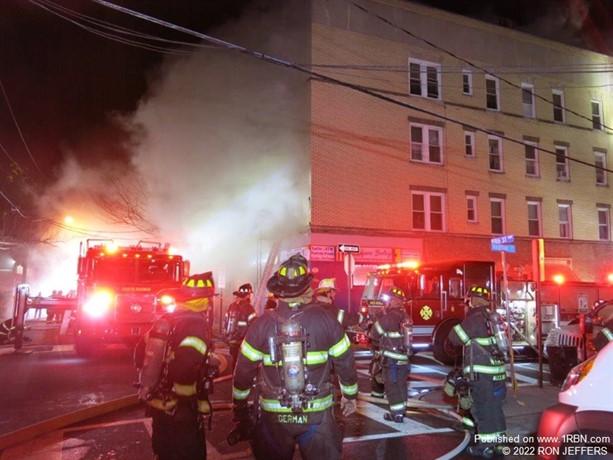 Photo by RON JEFFERSFire at Madison and 54th Streets, West New York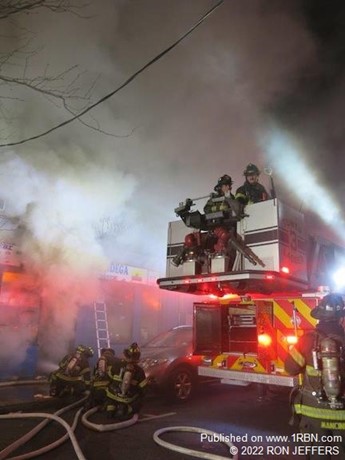 Photo by RON JEFFERSFire at Madison and 54th Streets, West New York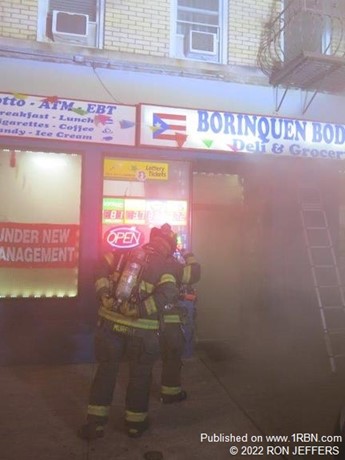 Photo by RON JEFFERSFire at Madison and 54th Streets, West New York
This article is a direct street report from our correspondent and has not been edited by the 1st Responder newsroom.
WEST NEW YORK AND UNION CITY, NJ - December 1st to 2nd, 2001, is known as "Night of Fire," in the North Hudson Regional Fire & Rescue's 10th anniversary book. Numerous fires struck in Hudson County that night and into the early morning hours, putting a stress on mutual aid. Fire companies from the FDNY crossed the Hudson River and went to work at several fires in Union City.

On December 1st, 2022, firefighters, dispatchers and mutual aid would be once again put to the test.

At 4:47 P.M., North Hudson Fire Control dispatched a full assignment to 5412 Madison St., West New York, for a reported basement fire. This was followed by dispatcher's radio information that they were receiving numerous calls and reports of people trapped on the upper floors. The assignment called for Squad 10, Engine 5, Squad 1, Engine 9, Ladders 3 and 4, Rescue 1, Safety 1 Battalion 3, Deputy 1, and Squad 2 as the "RIC" team.

Arriving units encountered heavy smoke from the basement of a large, corner four-story mixed occupancy building, with a bodega on the ground floor. Firefighters worked with civilians helping people off of the fire escape, and other members lined in to the basement and began a primary search.

An interior radio report stated that there was water on the fire in the basement, but flames were already extending up the walls and an old shaft. Heavy smoke was pushing from first-floor apartment windows and inside the bodega. It was discovered that the fire was "gas-fed". Public Service Electric & Gas was notified to respond to the scene.

The working fire assignment, at 4:52 P.M., brought Squad 7 and Battalion 2 to the scene. Fire raced up walls and smoke could be seen at the top-floor level. A second-alarm was sounded at 4:57 P.M. for Engines 4, 13 and Ladder 5. The third-alarm was transmitted at 5:09 P.M. for Engines 1, 3 and Ladder 1. The fourth alarm, at 5:25 P.M., brought Jersey City Engines 11, 14, Ladder 3 and Battalion 3 to the scene.

Thick smoke covered the building and the neighborhood, eliminating visibility except for warning lights on apparatus. A mayday call was transmitted for a member that reportedly was disoriented in the blinding smoke. He was quickly located. Then, a second mayday as the first floor hallway floor collapsed, sending firefighters through the floor. They were quickly grabbed and taken out of a side hallway door by fellow members.

At one point, the low banking and blinding smoke caused the chauffeur of Engine 9, Firefighter John Prezioso operating at the corner, to don a SCBA to work at his rig.

In all, 13 firefighters were injured, according to Chief of Department David Donnarumma. Eight were hospitalized, but released by morning. They suffered cuts, shoulder strains, smoke inhalation and exhaustion.

Flames extended to all floors and the cockloft. The exterior operations included a ladder pipe and tower ladder operation and Engine 9's deck gun. As flames were visible, breaking through the roof, Fire Control dispatched a full assignment to a reported explosion and fire on the 900 block of Kennedy Blvd., Union City, at 6:44 P.M.

At this time, mutual aid fire companies were out handling other alarms in North Hudson.

The initial alarm for this fire was North Hudson Engine 16, 13, Ladder 2, Battalion 5, Deputy 2, along with Hoboken Engine 1, Bayonne Engine 6 and Jersey City Engine 22 plus Jersey City Battalion 1. Battalion 5 reported smoke in the area, while responding in. An explosion and fire had blown out the front display windows of the Salvation Army thrift store, with extremely heavy fire through the roof in the rear of the one-story truss roof structure.

The working fire assignment, at 6:50 P.M., sent Kearny Engine 1 and Hoboken Ladder 1 to the fire. Fire companies were sent to the rear of the fire, on the Summit Avenue side, where flames were threatening mixed occupancy buildings along Union City's southern commercial strip.

Ascending a ladder on Summit Avenue, Kearny Captain Matt Mitchel, of Engine Co. 1, found heavy fire impeding on the Summit Avenue buildings, with a severe ember condition, and he called for more help. The buildings fronted on the avenue contained various occupancies, including a furniture store and pharmacy. Hoboken Ladder 1 backed into a large driveway on 10th St., between the fire and the Summit Avenue structures, and set up a ladder pipe that was later supplied by Harrison Engine 2.

A second alarm, at 6:58 P.M., brought Jersey City Engine 10, Ladder 12 and Harrison Engine 2. Companies reported to the 900 block of Summit Avenue.

The rear of the Salvation Army building turned into a pile of bricks, and the radiant heat from the fire blistered the sidings of the Summit Avenue buildings. On Kennedy Boulevard, Exposure "B" received some fire at the upper level. The dwelling was evacuated and hose lines were stretched to protect this building from additional damage. That building also suffered smoke and water damage and its occupants were displaced. Firefighters also used this structure to operate hand lines on the fire building.

At 7:20 P.M., a third-alarm was sounded for Jersey City Engines 7, 18 and Ladder 9. A 4th alarm was transmitted at 7:21 P.M. for Bayonne Engine 7, Jersey City Ladder 7, Kearny Tower Ladder 2, North Hudson Engine 15 and Battalion 4.

At 7:56 P.M., a fifth alarm brought Secaucus Engines 2, 4 and Ladder 1 to the fire along with Car 1 and Battalion 1.

On Kennedy Boulevard, ladder pipes were used by North Hudson Ladder 2, Bayonne Ladder 3 and Jersey City Ladder 9. On Summit Avenue, Jersey City Ladders 7 and 12 had their aerial ladders to the roof of those buildings and firefighters operated hand lines onto the rear of the Salvation Army structure.

Both fires were going for several hours before they could be declared under control. The Union City fire was placed under control at 10:48 P.M., while the West New York fire was not declared under control until early on the morning of December 2nd. After midnight, in West New York, a giant raw was heard while firefighters were operating in a defensive mode. The floors had pancake collapsed within the building.

Chief Donnarumma said 100 people were displaced from the West New York fire. They were assisted by town officials and the Red Cross.

The Gong Club provided food, warm and cold drinks, staged on Bergenline Avenue, West New York. In Union City, the Bayonne Canteen unit set up on Kennedy Boulevard. Some items were provided by the Coach House restaurant, located directly across from the fire. Food was also supplied by a Salvation Army official. Jersey City O.E.M.'s Mass Care bus was also on Kennedy Boulevard.

On December 1-2, 2001, Hudson County and area firefighters were busy from evening to sunrise. Jersey City had a large multiple-alarm, as well as a multiple-alarm fire in North Bergen. Just after midnight, December 2nd, North Hudson units responded to a working fire, with people trapped, at 1016 Summit Avenue, Union City, just up the street from the 2022 fire scene. The fire extended to two attached mixed occupied buildings and 4-alarms were struck.

While operating on the roof of the Summit Avenue fire, a member of Ladder 1 reported fire in the area of 10th and West St. Another multiple-alarm. A fire company going to 10th Street was flagged down for a fire on the 400-block of 13th St.

Mutual aid from the immediate area was, of course, stretched to the limits. FDNY was called and Engine 5, 34, Tower Ladder 21 and the Chief of the 7th Battalion all operated on 13th St. FDNY Ladder 3, followed by Engine 5, Battalion 7 and the 3rd Division Chief operated on Summit Ave.

During these incidents, the fire on Tonnelle Avenue, North Bergen, had flared up, requiring a one-alarm assignment. This included units from Bayonne, Ridgefield and Fort Lee.

On another note, the officer of Ladder 1 at the Summit Avenue fire of 2001, Captain Anthony Venezia, was the recall North Hudson Deputy Chief, and I.C., of the 2022 Kennedy Boulevard to Summit Avenue multiple-alarm.

Mutual aid units that covered North Hudson houses during the night, with some moving up to fires, came from Jersey City, Belleville, Bloomfield and Montclair at 16th Street, Union City. Bayonne, Hoboken, Union Township, Linden and Elizabeth to 49th Street, West New York. Cliffside Park, Fairview, Edgewater, Harrison and Kearny to 60th St., West New York.

Investigators from numerous agencies were called in to determine the cause of the fires.

Firefighters and fire officers, dispatchers, EMS and O.E.M. personnel, Red Cross and Salvation Army personnel, plus the crews from the Gong Club and Bayonne Canteen worked together to assist each other and help displaced residents.

Another "Night of Fire" had repeated itself in North Hudson.