Fire Chief Rescues 2 Cats From Mastic Beach House Fire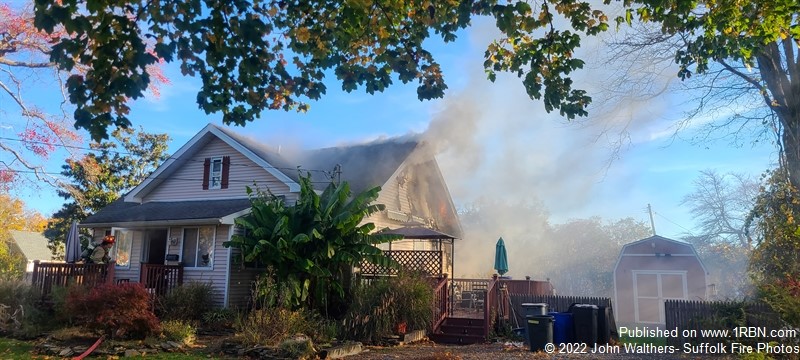 Photo by John Walthers- Suffolk Fire PhotosFirefighters battle a house fire in Mastic Beach .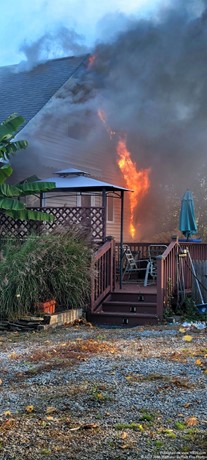 Photo by John Walthers- Suffolk Fire PhotosInitial reports were for smoke in the basement, but firefighters arrived to find the back of the home well involved in flames.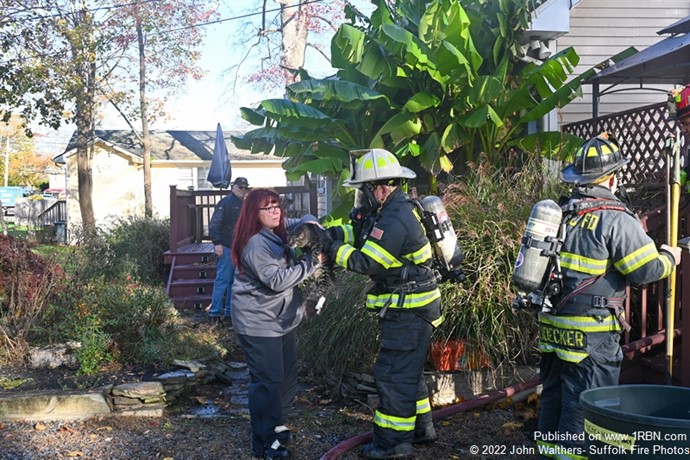 Photo by John Walthers- Suffolk Fire PhotosMastic Beach Assistant Fire Chief Jeff McGown hands over 1-of-2 cats he helped rescue to Mastic Beach Ambulance EMT Denise.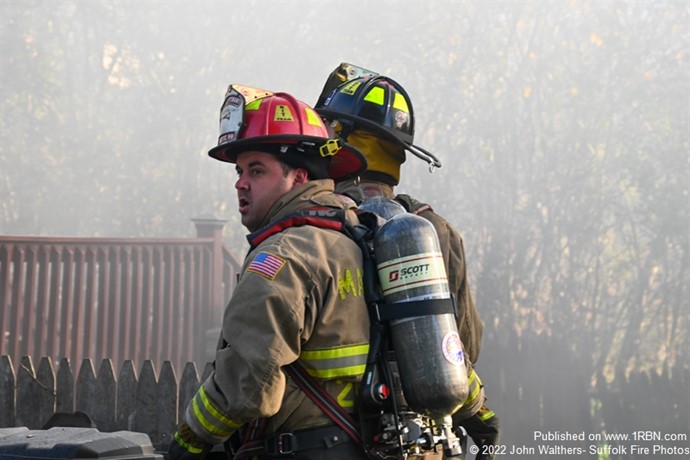 Photo by John Walthers- Suffolk Fire PhotosMastic FD Lt Tarren Kearns and another member on the line awaiting further orders.
Photo by John Walthers- Suffolk Fire PhotosThe RIT Crew arrives on scene from Center Moriches FD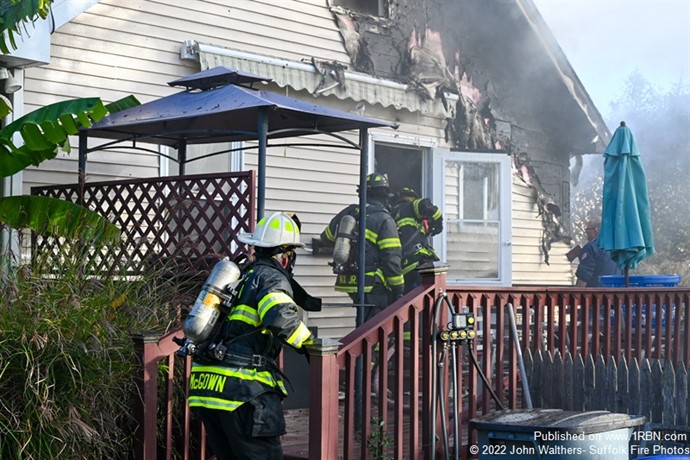 Photo by John Walthers- Suffolk Fire PhotosFirefighters and assistant chief McGown operate at a recent house fire in Mastic Beach.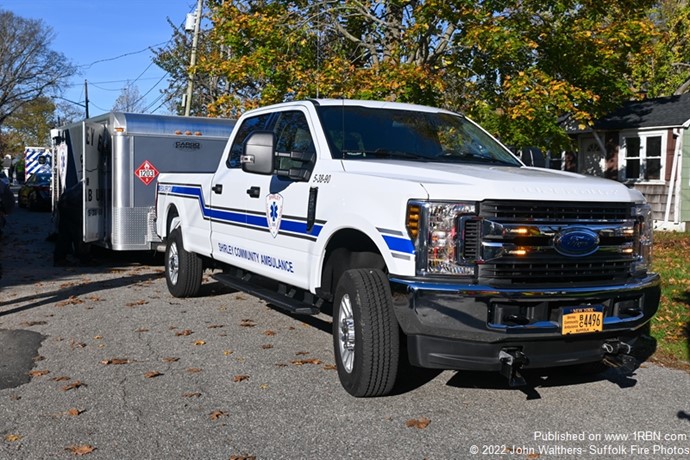 Photo by John Walthers- Suffolk Fire PhotosShirley Ambulance Rehab on Scene.
This article is a direct street report from our correspondent and has not been edited by the 1st Responder newsroom.
MASTIC BEACH, NY - On the morning of November 8th at about 8:10 A.M., the Mastic Beach Fire Department was activated for a report of a residential structure fire on Manhasset Dr., off Astoria Rd. Mastic Beach Ambulance and Mastic FD were also activated as per the response plan.

Dispatchers advised Chief of the Department Loiacono (5-13-30) and Assistant Chief McGown (5-13-31) that they were responding to a report of smoke coming from the basement. On arrival of resources from Mastic Beach EMS as well as chiefs from Mastic Beach FD, flames could be seen coming from the side and rear of the home and a working fire was quickly transmitted.

One of the tenants made contact with rescuers and advised that no people were in the home, however there were two cats in the home. Crews from Tanker 5-13-2, which was first due, went to work stretching lines. While Chief of Department Loiacono operated as command, Assistant Chief McGown geared up and went to work going inside the home to handle operations and assist with firefighting and search duties along with the arriving crews.

Additional companies arrived along with mutual aid engines from Mastic and Center Moriches. Two lines were placed into operation. During the operation firefighters were able to locate both of the cats. Assistant Chief McGown removed them from the home and brought them to members of Mastic Beach Ambulance who provided basic treatment, including giving oxygen until they were able to be taken to a vet.

The main body of fire was knocked down in about 20 minutes of the initial call, however crews remained on scene overhauling to ensure that no pockets of fire were hiding in the walls. Mastic Beach ambulance members along with Shirley Ambulance Rehab were on scene in case of any injuries, and Shirley's rehab team conducted firefighter rehab support to ensure that all firefighters were okay. Upon release of firefighters the scene was turned over to the Fire Marshal's Office for investigation.