Smoke Detectors Save Family in Longmeadow
November 08, 2023 | MASSACHUSETTS
NATE ARNOLD, Correspondent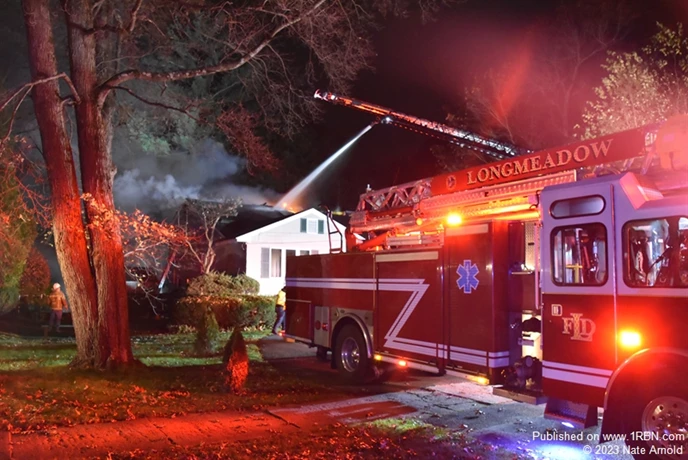 Photo by Nate Arnold LFD Ladder 1 was backed in on the A side to maximize the reach of the aerial.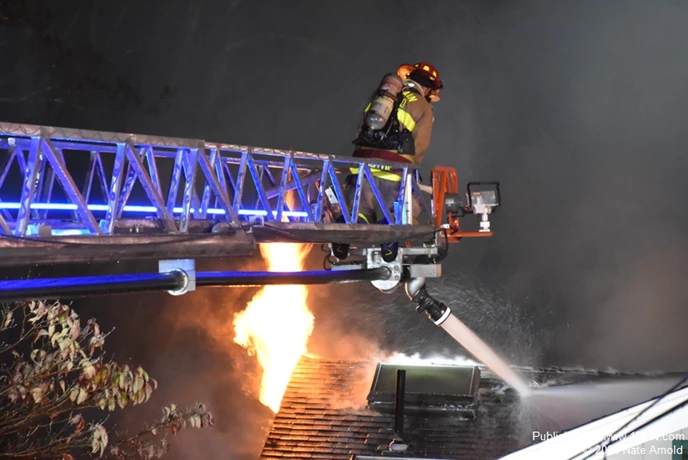 Photo by Nate Arnold Captain Mike Nothe directs L1's ladder pipe into the attic on Bliss Rd.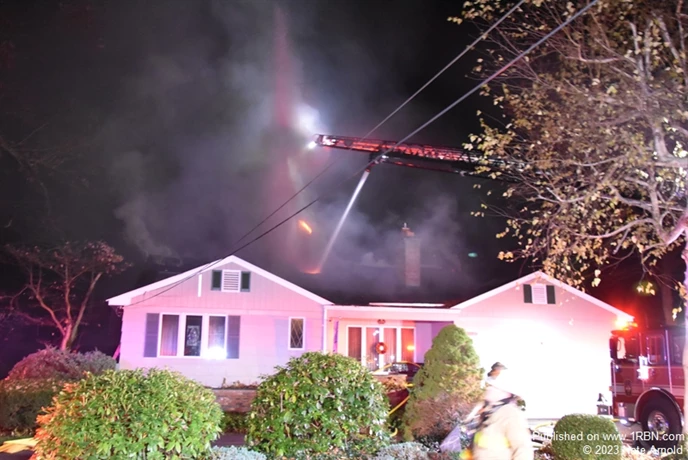 Photo by Nate Arnold
This article is a direct street report from our correspondent and has not been edited by the 1st Responder newsroom.
 A fast moving fire destroyed an occupied single family wood frame home in the Town of Longmeadow Mass. on Wednesday November 8, 2023 but the homes smoke detectors saved the lives of the home owner and their family by waking them from a sound sleep and allowing them to evacuate the house before the Longmeadow Fire Department arrived.
A central station fire alarm rang in to Longmeadow FD at 9:45 p.m. which was followed up by a 911 call from the property owner stating their home was on fire. On duty LFD fire fighters arrived on scene shortly after to find fire burning the Charlie side of the home and extending into the structure via the soffit vents. A second alarm was ordered and mutual aid from East Longmeadow, MA and North Thompsonville Fire District in Enfield, CT was summoned to the scene while Shaker Pines Fire District, also from Enfield, was moved up to Longmeadow's firehouse to cover the town. 
Crews on scene began an interior attack on the fire and fought for 20 minutes to try and contain the blaze but when conditions in the attic worsened, Longmeadow Chief John Dearborn ordered all companies to evacuate the structure and switch to a defensive attack. Once outside the building, hand lines were placed in operation on the Bravo and Charlie sides and Longmeadow Ladder 1, along with East Longmeadow Ladder 1 put aerial master streams into service to darken down the bulk of the fire from the exterior. Defensive operations were suspended forty five minutes later and crews re-entered the home to chase hot spots and overhaul the building.
Thanks to the homes working smoke detectors, the home owner and their family did not suffer any serious injuries and were assisted by the Red Cross. The cause of the fire remains under investigation.