Over a Dozen Cars Destroyed by Two-Alarm Barn Fire in Norwich
By RYAN FLAHERTY, Correspondent | November 08, 2020 | CONNECTICUT
Story No. 111020102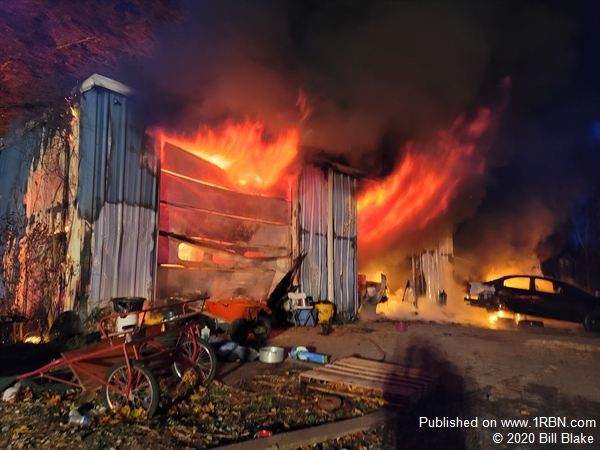 Photo by Bill BlakeEngine 2 arrived to heavy fire conditions and lead off with a 2.5" hose line.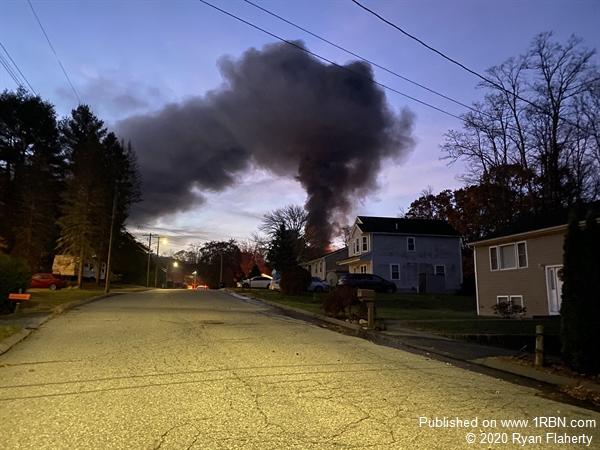 Photo by Ryan FlahertyThe large header could be seen from miles away.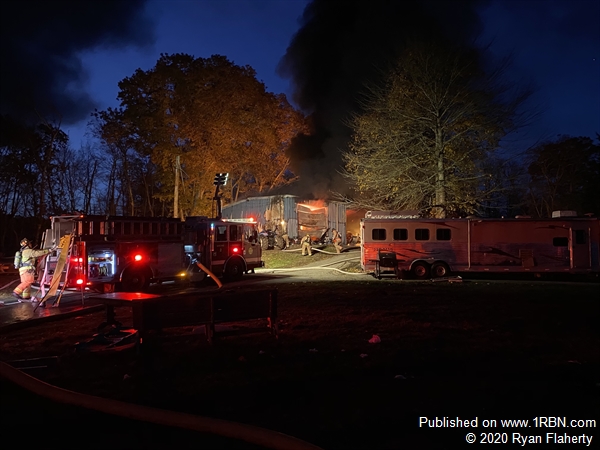 Photo by Ryan FlahertyGreeneville Engine 2 a 2007 Ferrara Inferno has a 1,500 gallon per minute pump with a 750 gallon tank first due in the driveway.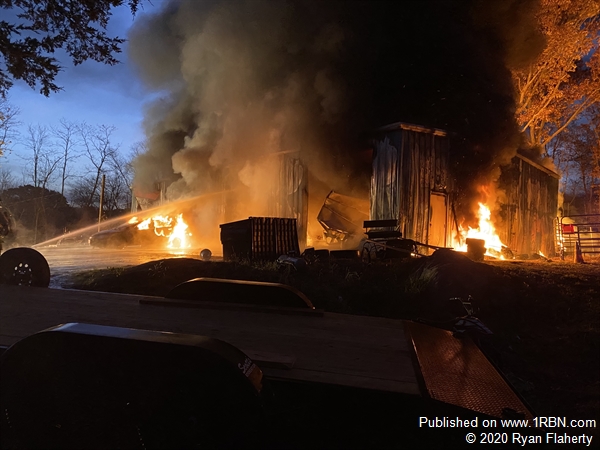 Photo by Ryan Flaherty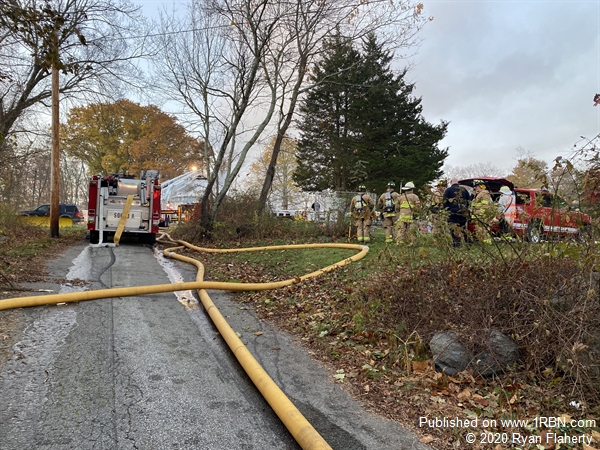 Photo by Ryan FlahertyOccum and Taftville companies staging at the command post.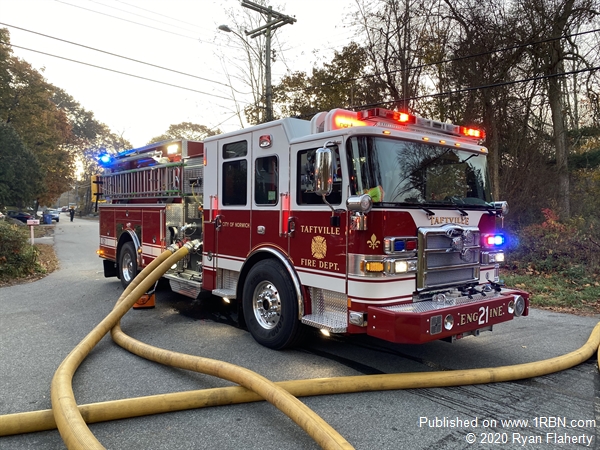 Photo by Ryan FlahertyTaftville Engine 21 a 2020 Pierce Enforcer relay pumping water up the driveway to Truck 1.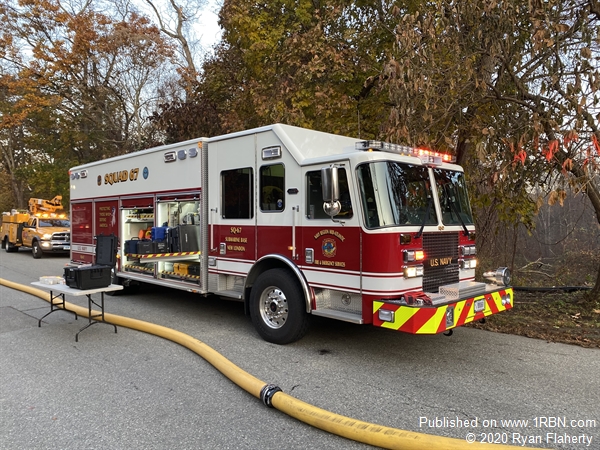 Photo by Ryan FlahertySubmarine Base Squad 67 a 2014 KME responded as part of the CERRIT.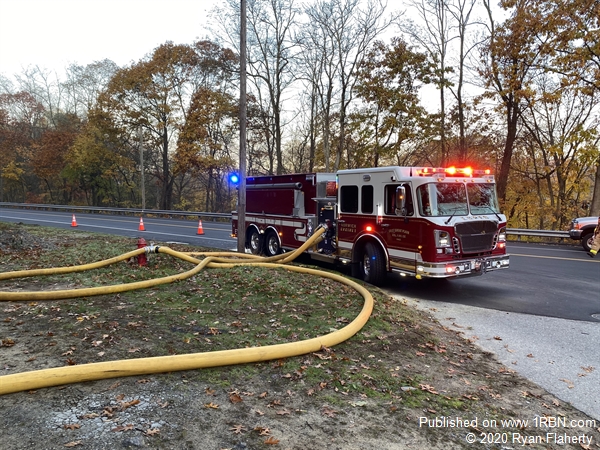 Photo by Ryan FlahertyEast Great Plain Engine-Tanker 51 a 2020 Spartan Evolution tied into the hydrant with their hydrant assist valve boosting pressure up the hill.
Norwich, CT - At 5:39 A.M. on Sunday, November 8th, the Norwich Fire Department was dispatched to the area of 115 Corning Road for a structure fire. When the rigs signed on, dispatch said they were taking multiple calls reporting a large barn on fire with horses inside. Crews could see a header while responding, so the Battalion transmitted the working fire and staged second-alarm companies.

This area has a poor water supply, so Laurel Hill's hose tender and tanker, as well as East Great Plain's engine-tanker, were immediately requested. Engine 2 arrived at 5:44 A.M. and corrected the address to 81 Corning Road. Lieutenant Sicuso transmitted the second-alarm for a four-bay garage with multiple vehicles well involved.

Engine 2's crew stretched a two-and-a-half inch hose line to the 'Alpha/Delta' corner while Truck 1 backed up the driveway and positioned for defensive operations. Squad A laid in from a hydrant on Gillette's Road up the driveway to feed Engine 2. Engine 3's crew stretched a three-inch line with a Blitzfire and operated it in the front. After establishing the initial water supply, the Squad's crew stretched a three-inch hose line to the rear, where eight vehicles were burning.

Hose Tender 6 laid 1,200-feet of supply line up Corning Road from the hydrant at the corner of Hamilton Avenue which fed Engine 21. ET-51 established the secondary water supply at 6:09 A.M. and used their hydrant assist valve to boost the pressure which fed Engine 21, who relay pumped to Truck 1. The Truck Company darkened down a large volume of fire with the ladder pipe. Crews worked for about an hour removing garage doors and extinguishing all of the vehicles on fire. Fifteen vehicles inside of or around the barn ended up burning, and unfortunately a pony died inside.

The Taftville, Occum, East Great Plain and Laurel Hill Fire Departments provided manpower on scene. Command asked for a level 1 response from the Connecticut Eastern Regional Response Integrated Team, so the Groton Submarine Base's Squad 67 responded. The Mohegan Tribal Fire Department provided the FAST while the Department of Energy and Environmental Protection had a representative on scene to assess the runoff.

Crews remained on scene for a couple of hours overhauling with the fire marshals. East Great Plain Ladder 5 and Yantic Engine 33 covered headquarters while Baltic Tower 124 and Jewett City Engine 156 covered Taftville and Occum.
This article is a direct street report from our correspondent and has not been edited by the 1st Responder newsroom.