Port Jervis Remembers Three Fallen Firefighters
By SHARON SIEGEL, Senior Correspondent | November 03, 2020 | NEW YORK
Story No. 110320104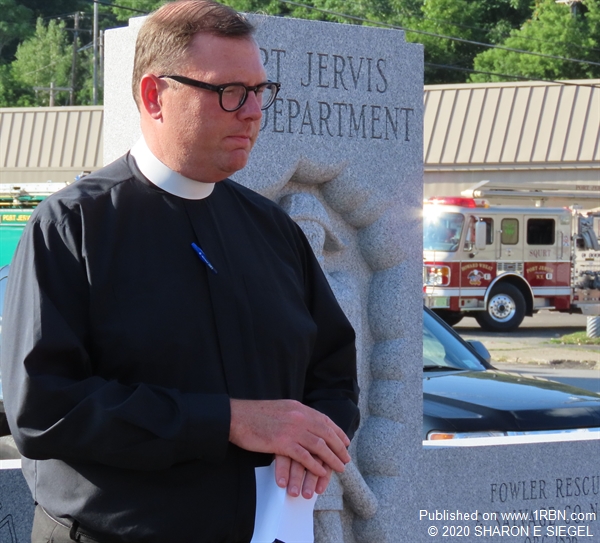 Photo by SHARON E SIEGELPort Jervis' Firefighters Memorial and PJFD Chaplain Rev. Matthew Newcomb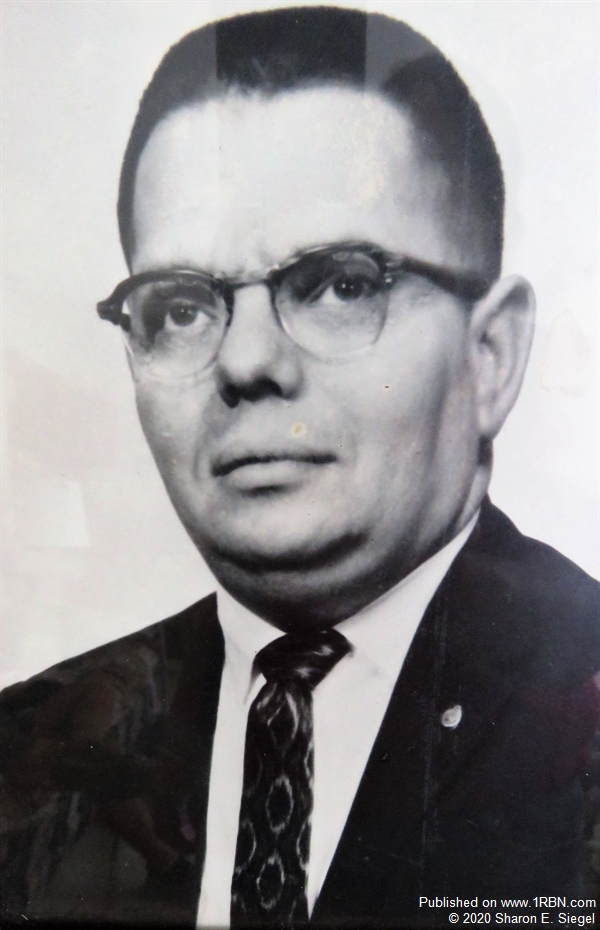 Photo by Sharon E. SiegelFallen PJFD Firefighter Frank Schips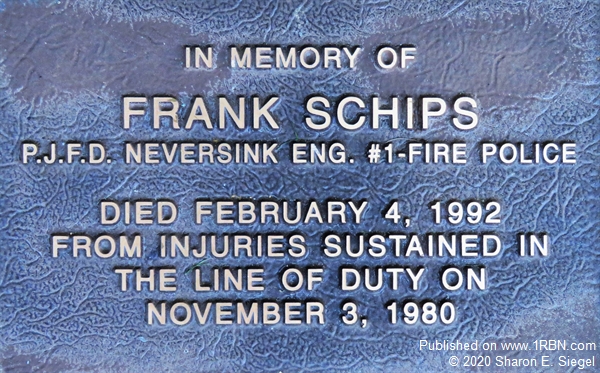 Photo by Sharon E. SiegelFallen PJFD Firefighter Frank Schips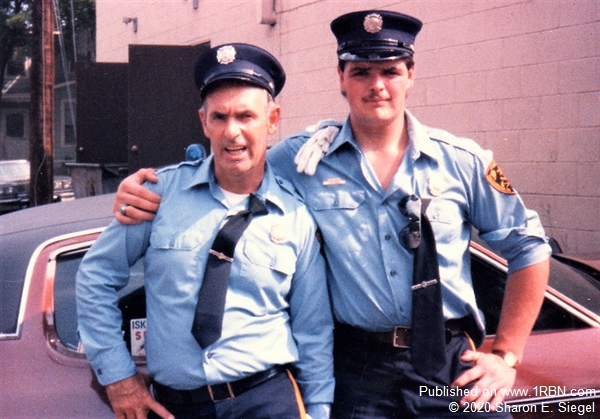 Photo by Sharon E. SiegelFallen PJFD Firefighter Earl Garrity, Jr. with his dad and fellow firefighter Earl Garrity, Sr.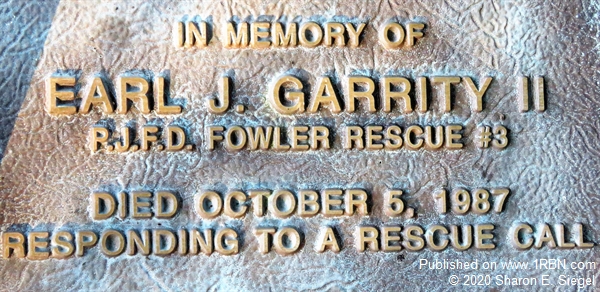 Photo by Sharon E. SiegelFallen PJFD Firefighter Earl Garrity, Jr.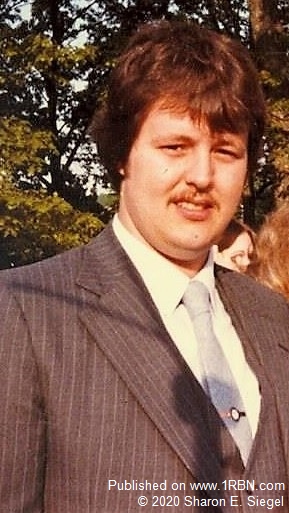 Photo by Sharon E. SiegelFallen PJFD Firefighter Chipper Howell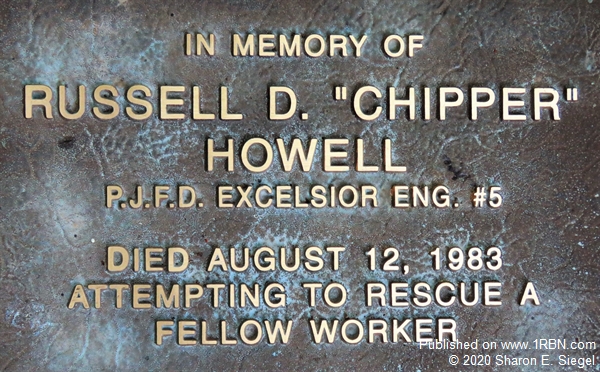 Photo by Sharon E. SiegelFallen PJFD Firefighter Chipper Howell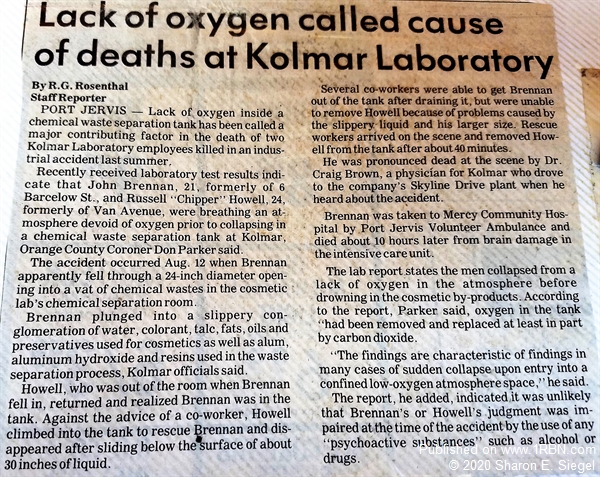 Photo by Sharon E. SiegelFallen PJFD Firefighter Chipper Howell's attempted rescue is described in news clippings of the time.
Port Jervis, NY - Port Jervis Fire Department's three fallen firefighters were remembered during October's National Fallen Firefighters Day on October 4th, as they are throughout each year.

The department plans to install a specially crafted bronze recognition plaque at the city's Fireman's Memorial, once a plaque base is constructed at the site. The Fireman's Memorial salutes the service of the nearly 200-year-old department's dedicated all-volunteer firefighting membership and remembers the ultimate sacrifice of three PJFD firefighters in service to others.

Russell D. "Chipper" Howell (8/7/59-8/12/83), Earl John Garrity II (3/5/68-10/4/87), and Frank L. Schips, Jr. (8/10/25-2/4/92) lost their lives as a result of responses in the 1980's.

PJFD Past Chief Frank Fuller spoke at the time the Fireman's Memorial was relocated to its current location on lower Pike Street in November of 2017. Fuller stressed strict safety measures followed to keep responders as safe as possible, yet said each firefighter is aware that anything can happen at any time – and that someone could end up not going home.

"It's not just firefighters in big cities who lose their lives. Unfortunately, it can happen to anyone, at any given time," Fuller said. Fuller praised the department's volunteers for their willingness to step up to protect life and property, and to serve their community despite the risks and great amount of time involved.

Frank L. Schips, Jr. (8/10/25-2/4/92) - Incident Date: 11/3/80

Frank L. Schips, Jr. and his twin brother Ralph were born in Port Chester, NY, August 10, 1925. Their family moved to Illinois, and then in 1943 to Port Jervis. The boys grew up above their parents' 54 Front Street store, Schips Hardware & Sporting Goods.

Frank joined Neversink Engine Co. #1 soon after moving to Port Jervis. He and Ralph also joined the Port Jervis Fire Police, with Frank later serving as Treasurer for New York State Volunteer Fire Police Association.

Frank married his wife, Mary, a teacher at Sullivan Avenue School, in 1955, raised two children, David and Margot, and later enjoyed being a grandparent.

On November 3, 1980, Frank was directing traffic during a Beach Road fire call. Stationed at the intersection of Hamilton St. and Kingston Ave., he was wearing all appropriate safety gear when he was hit from behind by an 18-year-old driver traveling south from Huguenot. Schips sustained severe and lasting damage to his head and back, spent five days in intensive care and 25 days in the hospital, and was extensively bruised for many months. When able to return home, resuming some things he enjoyed, lingering problems and seizures continued. In 1987, he experienced a seizure, cardiac arrest, and went into a lasting coma, never able to communicate again.

"He spent 220 days in the hospital this time, and then went into a nursing home," Mary recalled. "It was very hard on his twin brother, and on all of us. Our son was 17, and our daughter 15, when their father became 100% disabled. It changed our lifestyle; our entire lives."

Frank, who was 55 when struck, had been employed at Skydyne in Port Jervis. His wife said she was thankful for Port Jervis having insurance for fallen firefighters since Frank was never able to return to work. She is also grateful for the help and support of the fire department for her family.

Russell D. "Chipper" Howell (8/7/59 – 8/12/83)

Russell D. Howell was born in Port Jervis on August 7, 1959, graduated from Port Jervis High School, and joined Excelsior Engine Co. #5 and PJFD's Dive Team. He served in the U.S. Navy, returning home to work at Kolmar Laboratories and resumed his service as a fireman.

In June of 1982, Howell met Denise Donovan, who also worked at Kolmar. The two were soon engaged with a wedding planned for October of 1983. On August 12, 1983, Howell called Donovan during a morning work break. They talked about routine things, and made plans to pick up their wedding bands later that day. Howell said he wanted to get back to work and check on his co-worker.

"He had a good heart and always looked out for this guy; actually, he always looked out for everyone. He was always ready to help," said his mom, Eileen Corcoran. "He was good-hearted, loving, and fun, but serious, too, and gentle – never a fighter."

Newspaper stories written in The Tri-State Gazette detail the tragic workplace accident that shortly after that phone call killed both 24-year-old Howell and his 21-year-old co-worker.

The co-worker, John Brennan, had reportedly fallen through a 24-inch opening into a chemical separation vat containing 30-inches of mixed water, cosmetic chemicals, colorants, and preservatives. Instinctively, upon discovering this situation, Howell paged Kolmar's nurse -- his tone and urgency summoning additional workers. He then climbed into the tank to attempt a rescue, but slid beneath the slippery liquid surface. Co-workers were able to drain the tank and remove the smaller-sized Brennan, but could not free Howell. Rescue workers, who arrived on scene within minutes, used a complicated process described by then Chief Robert Dunn to get their brother fireman out. Four men equipped with breathing apparatus went down one-by-one into an approximately two-feet in diameter hole. They attached a line to Howell's body, and additional men stationed outside the tank pulled him out 40-minutes later.

Brennan survived until that evening, but Howell was declared dead on scene. Lab reports indicated both had been breathing atmosphere devoid of oxygen prior to collapsing in the tank, a factor in their deaths.

While Howell was not officially on duty as a firefighter upon entering the vat, it was he who began the call for help. As a skilled, active firefighter he took immediate, instinctive action to help another and is remembered for his brave, selfless volunteer service.

For his loved ones, life changed forever in that instant. Donovan has moved on with life, yet never married, never had children, and never lived the life that she and Howell had planned. Kelly Kean, Howell's older sister, lost her only sibling and uncle to her children. His mother has her son's last days and moments forever frozen in her mind.

"It wasn't even a week after his 24th birthday. The night before he died, I made his favorite meal for him – lasagna. I wasn't able to make it again for years," recalled Corcoran. "At the time of his accident, I was painting. We had just moved into our house. I heard ambulances and wondered what was going on. Then the phone rang. It was someone from Kolmar telling us we needed to get there quickly. They sent us to the hospital, but I knew he was gone. It's never been the same since. There's always one person missing at Christmas, birthdays, and every holiday and event."

Corcoran said her fiancé was aware of the risks and danger as a firefighter and rescue volunteer, but he had always felt a strong personal calling to help. He called her after every response, knowing that she worried and had admitted his own sense that if he died young it would be during a rescue call. There was no changing his calling, and Corcoran said she would never have tried.

"It's what he wanted to do, help people. It's just who he was," she said.

Earl J. Garrity II (3/5/68-10/4/87)

Earl John Garrity was born March 5, 1968. Named after his dad, he grew up going everywhere with his dad, hunting, fishing, to sporting events – and to the firehouse. As soon as he was of age to do so, Earl John Garrity II followed his dad into volunteer service as a Port Jervis FD firefighter, and as a member of the dive team.

Born in Port Jervis to Earl and Ora Lee Garrity, Earl II was 6'5" tall and excelled in all athletics, as a wrestler, football and basketball player, bowler, and hunter, and had always dreamed of becoming a firefighter. His father remembers him as a child saying he was going to be a firefighter, diver, and high angle rescuer. He planned to go to college, become a police officer, and continue to volunteer as a fireman, all of which in process at the time he was killed.

"We were always together, and he always knew what he wanted. He was strong, but lovable. He loved everybody and wanted to help everyone," his dad recalled. "After Earl died, I had no interest in anything or anybody. It was a terrible time in our lives, and we miss him so much still."

Garrity said his wife, who was fighting cancer at the time, did not want their son to respond to the call for mutual aid during the freak snowstorm of October 4, 1987. It was for a motor vehicle with entrapment in neighboring Montague, NJ.

"Earl said 'Mom, I'm a fireman. I'm a member of a rescue squad. I have to go', and off he went," his dad recalled of the minutes preceding his son's death. "He hit a patch of wet leaves in the snow and slid into the railroad trestle just down the road from our home. The shifting lever hit him, sliced the aortic artery to his heart, and he bled to death within minutes."

The following year Ora died, leaving behind her son's still grieving dad and two sisters, Darlene and Dawn. Thirty years later, the young firefighter's family still misses him every single day.

"A quote about Earl in his high school yearbook called him a mountain of a man, and that's what he was. He was only 19, but he gave his life in the line of duty because he wanted to help others. That's just who he was. But it's something the rest of us will never get over," said his dad.
This article is a direct street report from our correspondent and has not been edited by the 1st Responder newsroom.