On National First Responders Day-Teamwork Saves a Life
October 28, 2023 | NEW JERSEY
RON JEFFERS, New Jersey Editor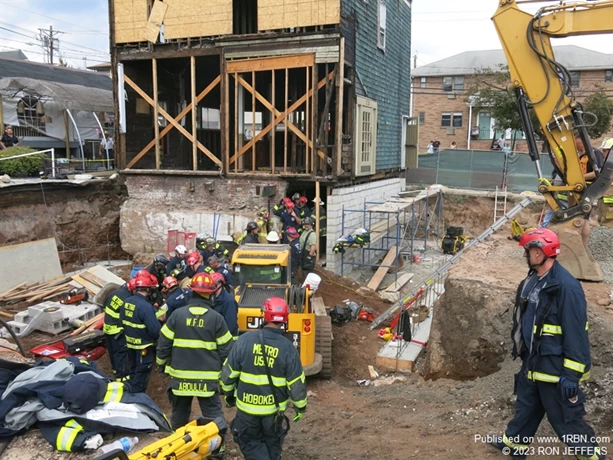 Photo by RON JEFFERSFirefighters from East Rutherford, Wallington, UASI Metro Task Force members and Hackensack University Medical Center medical personnel teamed up to rescue and treat a construction worker that was trapped in the basement of a Union Street building under renovation, October 28th.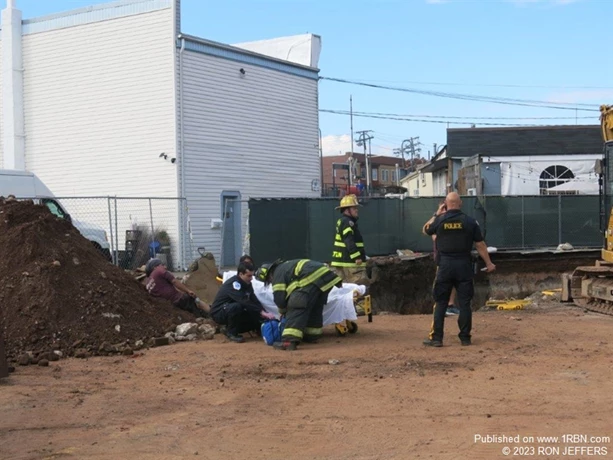 Photo by RON JEFFERSOne worker self-extricated himself from the collapse and he was treated and transported to HUMC.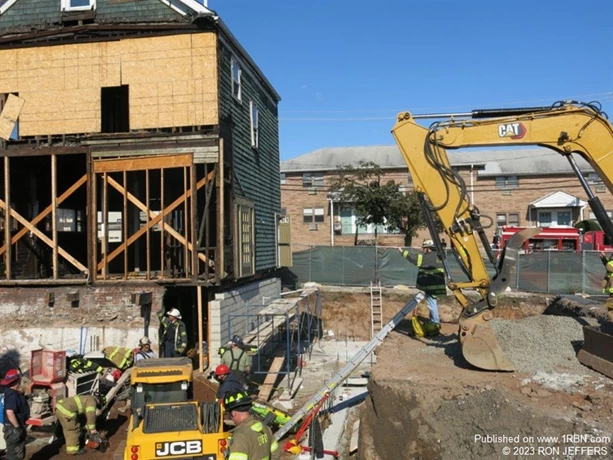 Photo by RON JEFFERS
Photo by RON JEFFERS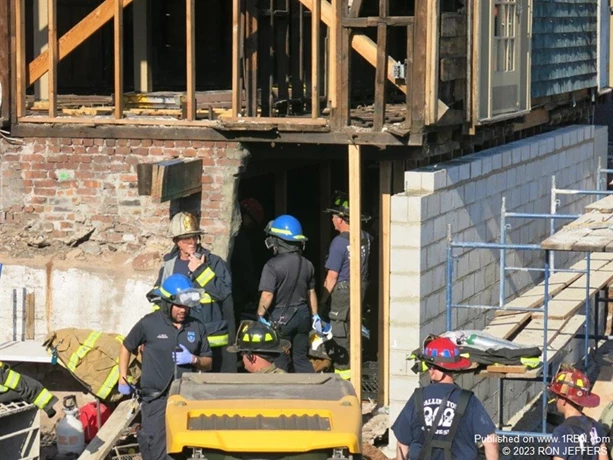 Photo by RON JEFFERS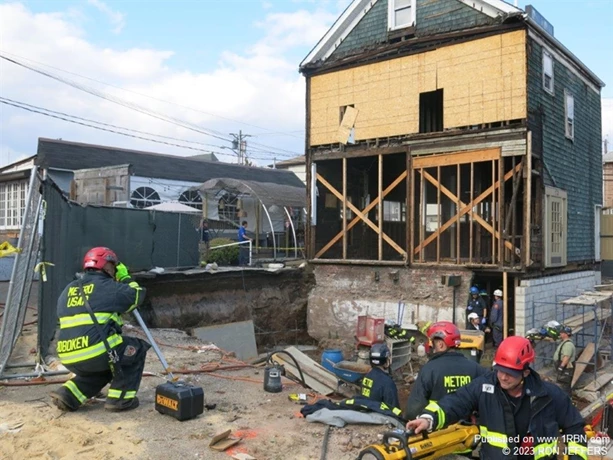 Photo by RON JEFFERS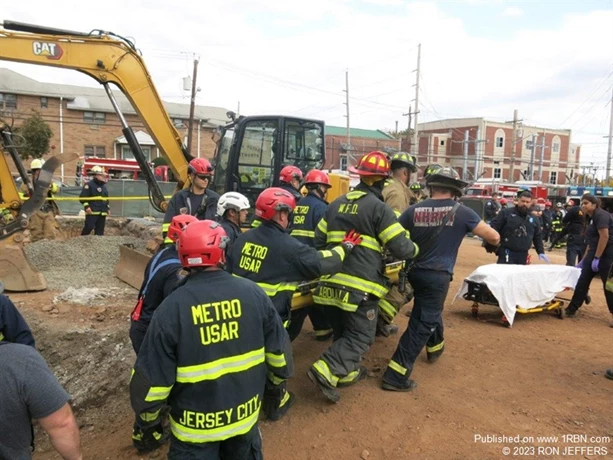 Photo by RON JEFFERSThe trapped victim was removed and turned over to HUMC medics for transport to the hospital.
This article is a direct street report from our correspondent and has not been edited by the 1st Responder newsroom.
EAST RUTHERFORD, NJ - October 28th was National First Responders Day. It was also the day that numerous first responder agencies, including fire departments, police and EMS units, responded to a collapse scene in this borough to save a man's life.    
Work was being done to renovate a 143-year-old structure that was a local landmark and former location of the Rail Road Cafe, on Union St. The building experienced a partial collapse of the foundation, causing injury to three workers. One worker escaped and was treated at the scene. Another self-extricated and was treated for a leg injury and transported to Hackensack University Medical Center.
A third worker's body was pinned up to the waist area, between the foundation wall and concrete and other debris. 
The East Rutherford Fire Department and Wallington rescue were dispatched to the scene. The incident was assessed, victims assisted, and a call was put in to activate the Urban Area Security Initiative (UASI) Metro Strike Team. Highly trained members with specialized rescue trucks rolled to the borough. 
Nearby Hackensack's special operations truck and a shoring unit were first to arrive with UASI trained personnel. Before the incident was over, UASI units responded to the scene from: Paterson, Hoboken, Jersey City, North Hudson-including a shoring unit, Newark, Morristown, Elizabeth, Millburn and the Port Authority. NJ Transit police were on location due to the incident being located near a busy railroad crossing. Hackensack University Medical Center EMTs and paramedics were attending to the conscious victim inside the structure and assisted with his removal.
The structure had to be made stable for rescue operations and the extrication commenced.
An adjacent restaurant helped by supplying electrical power for first responders and coming out with cases of water for the hard-working emergency workers, on this warmer than usual October afternoon, with temperatures in the 80's. In addition, the Teaneck Box 54 canteen arrived to assist with the rehab operations. 
According to a PIX news report, the victim was extricated in 120-minutes. The worker was transported to HUMC with injuries described as "severe". At sunset, the building was demolished for safety. 
East Rutherford, Wallington and UASI firefighters teamed up and operated quickly and efficiently to save a life on their special day.