Suffolk County Fire Academy Hosts "Women in the Fire Service" Day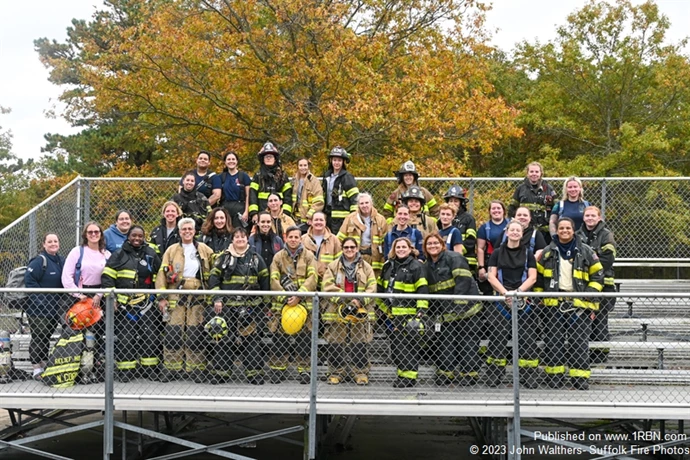 Photo by John Walthers- Suffolk Fire PhotosFemale firefighters/fire service personnel from across Suffolk County and a few from other parts of Long Island/NY came out recently for the first-ever "Women in the Fire Service" day at Suffolk Fire Academy.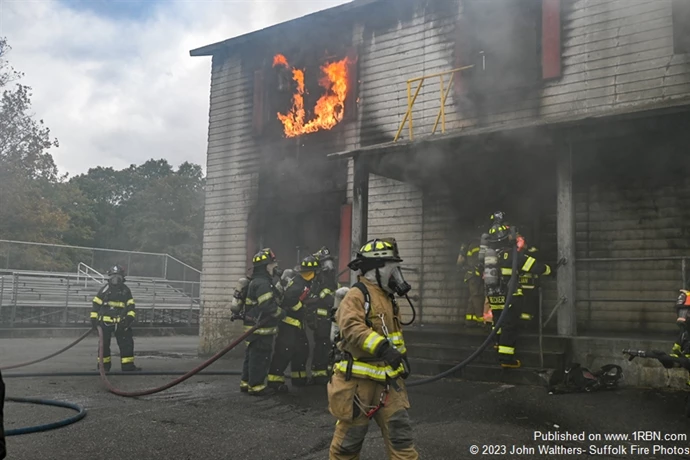 Photo by John Walthers- Suffolk Fire PhotosHands on live burn at Suffolk County Women In The Fire Service Day.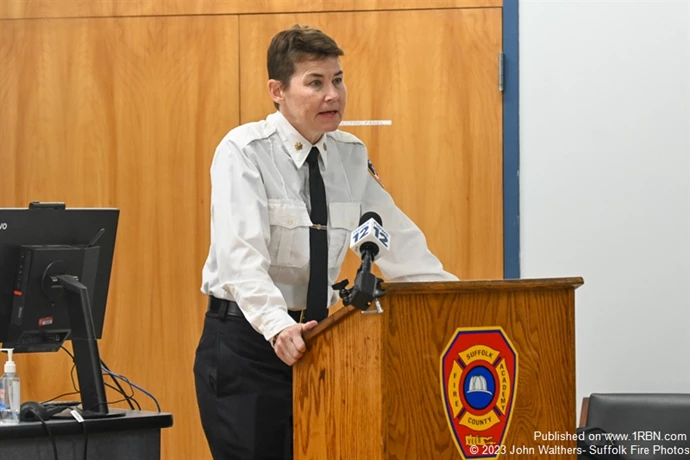 Photo by John Walthers- Suffolk Fire PhotosFDNY Battalion Chief Michele Fitzsimmons gives the keynote at Suffolk County "Women in the Fire Service" day. She is an over 20-year veteran of the FDNY and was the second-ever female battalion chief.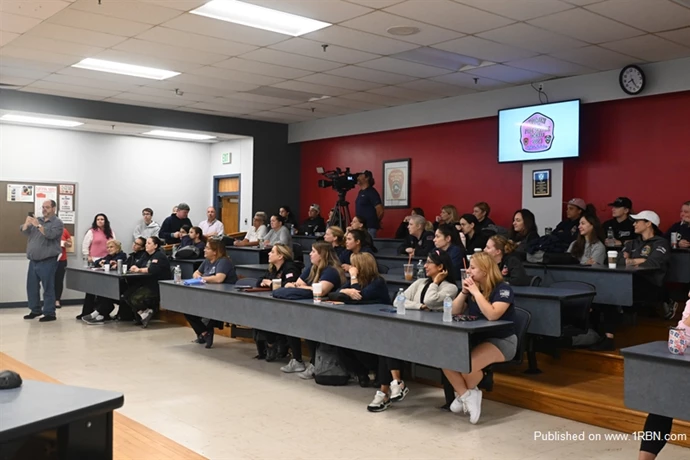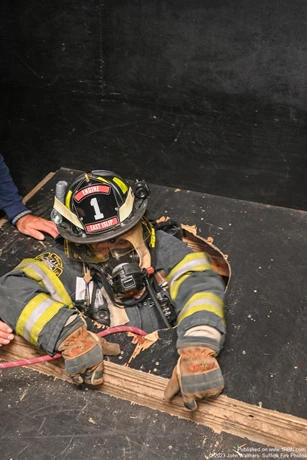 Photo by John Walthers- Suffolk Fire PhotosA firefighter comes through a hole during the SCBA MAZE training at the Suffolk County Women In The Fire Service Day.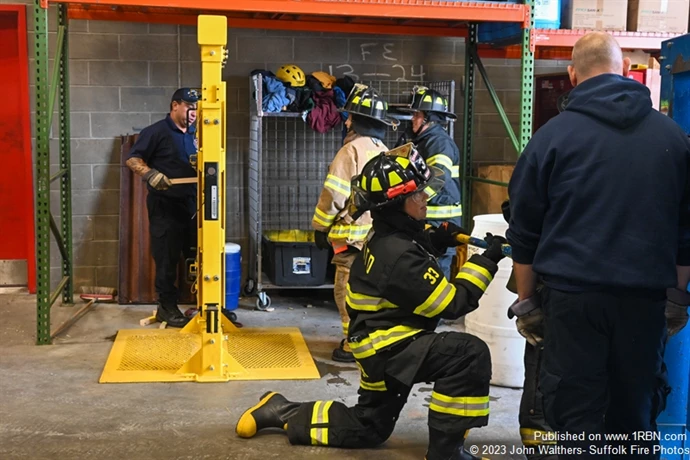 Photo by John Walthers- Suffolk Fire PhotosForcible entry training during Women In The Fire Service Day.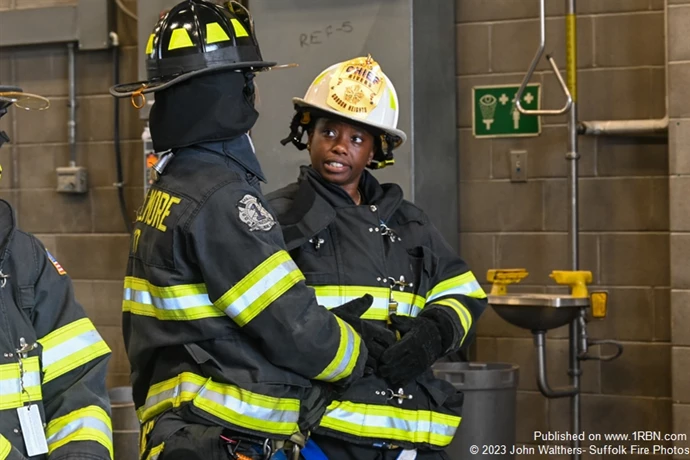 Photo by John Walthers- Suffolk Fire PhotosChief Rivers of Gordon Heights along side others participated in Forcible Entry.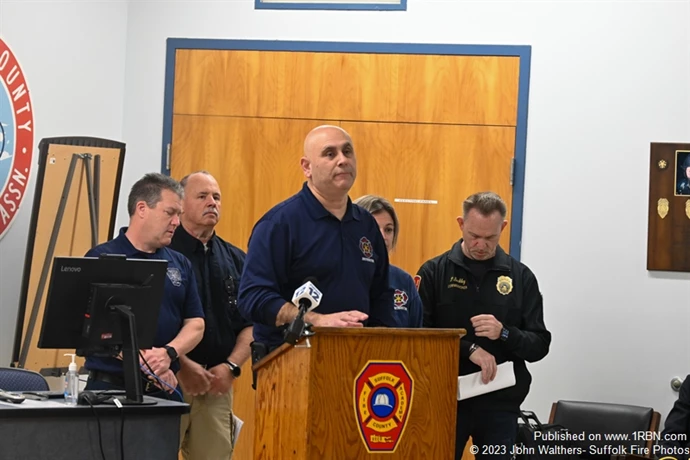 Photo by John Walthers- Suffolk Fire PhotosSCFA Director Rudy Sunderman giving opening remarks.
This article is a direct street report from our correspondent and has not been edited by the 1st Responder newsroom.
YAPHANK, NY - On Saturday, October 21st, the Suffolk County Fire Academy hosted the first-ever Women in the Fire Service Seminar Day at the Yaphank Facility. The day was jam-packed full with speakers, as well as hands-on training geared toward those women in the fire service on Long Island. About 55 firefighters from Suffolk and Nassau, as well as one from Brooklyn, were greeted by Suffolk County Fire Academy Executive Director Rudy Sunderman and Deputy Director Scott Davonski to start the morning. They were joined by Suffolk Fire Rescue Commissioner Patrick Beckley and Suffolk Fire Academy Instructor Christine Manzi, who is an Ex-Chief and was the first-ever female chief in the West Babylon Fire Department. Manzi, along with help from other staff at the academy, took the reins so to speak in putting together the day's events.
After the morning opening greetings FDNY (Fire Department of New York), Battalion Chief Michele Fitzsimmons gave an eye-opening keynote address to the crowded room. Fitzsimmons, who is an over 20-year veteran of the FDNY, spoke about her personal struggles prior to getting on to the fire service. She also spoke about the challenges and struggles she faced getting into the department, as well as through her time serving on the front lines, as well as through various leadership roles; but her speech was not just about struggles, it also addressed how her "always say yes" attitude helped bring many rewards to her during the fire service and her rise through the ranks to becoming only the second-ever female battalion chief in the FDNY. She still serves today and continues to work to advance her career.
The firefighter cancer support network gave very in-depth info about cancer in the fire service. They spoke about how to take action against cancer and the importance of screenings, as well as ways to prevent against cancer as fire personnel. This was followed by Retired FDNY Chief Thomas Richardson, who also addressed the room of fire personnel on private dwelling fires. He did not do this to minimize any other types of fires, but the main reason for his focus on this is that it's a type of fire that many of these women respond to in their home department's areas, and he used this discussion to teach about various tactics and functions of both the engine and truck companies at these types of calls. The morning culminated with a panel discussion called "Don't be afraid to take the risk". This spoke of the challenges faced by women in the fire Service. This was led by an all-female panel from the local fire service in Suffolk County, including Ex-Chief Manzi, current Chief of the Gorden Heights Fire Department Chief Rivers, and various other local female ex-chiefs and fire personnel were also present for this discussion that was given to only the women that were present.  
After lunch, the firefighters on hand participated in various hands-on exercises that they signed up for, including vehicle extrication, SCBA MAZE (Mask Confidence), Forcible Entry and EMS on the fire ground. Each of these items holds a large importance in the fire service and are valuable skills that firefighters need. The hands-on training keeps skills sharp and prepares them for what they need to do day in and day out as fire personnel. The final hands-on evolution was a live burn, which all members were invited to participate in. The firefighters were paired up with people from other departments and tasked with various functions from incident command to engine and truck companies. The SCFA Class A (residential) building was used for this and instructors were on-hand to supervise and if needed, step in if any safety concerns arose. The live burn was a huge success. South Country Ambulance stood by during the hands-on portion.
A great and motivational day was had by all that attended the event!