Brighton Vol. Ambulance Member Honored by the Monroe County Legislature
By MICHAEL POLLOCK, Correspondent | October 12, 2021 | NEW YORK
Story No. 102121100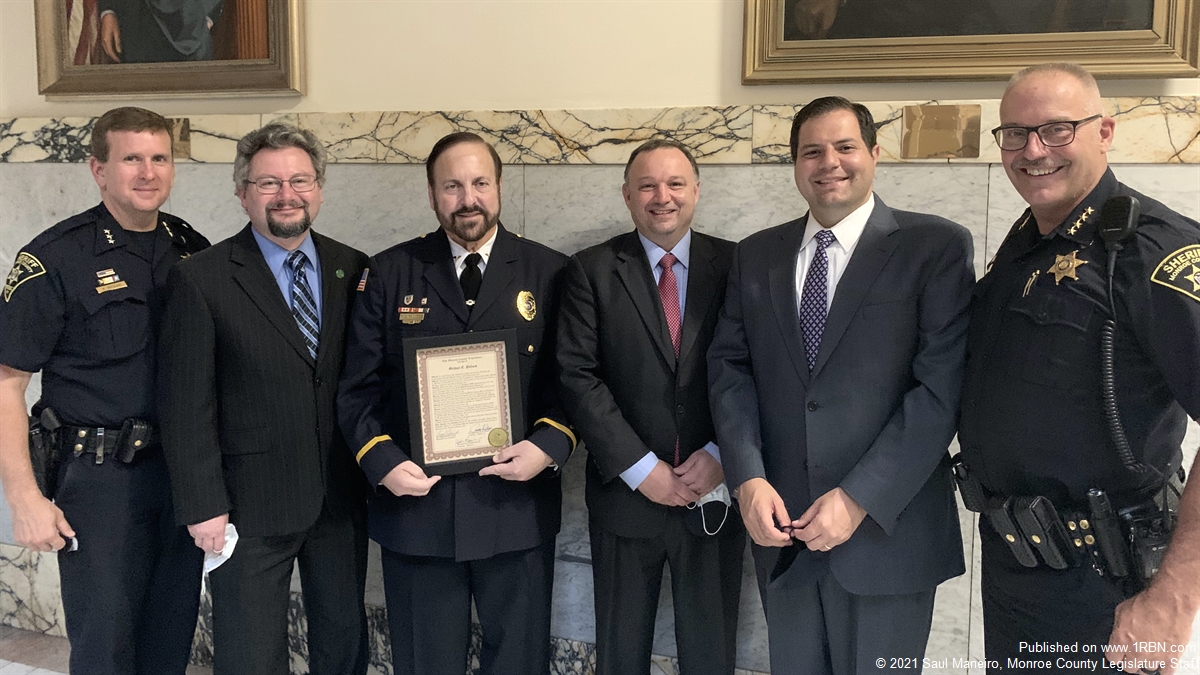 Photo by Saul Maneiro, Monroe County Legislature Staff(L to R): Monroe County Undersheriff Korey Brown, Monroe County Legislator Joshua Bauroth, Michael E. Pollock, Honoree; Monroe County Legislator Justin Wilcox, Monroe County Legislator Joseph D. Morelle, Jr; Monroe County Sheriff Todd K. Baxter
ROCHESTER, NY - The Monroe County Legislature (NY) recently honored Michael E. Pollock, a Brighton resident, recognizing his role in making Monroe County a better place to live.

Michael has dedicated his life to Public Service. He has served nearly 35 years with Brighton Volunteer Ambulance (BVA), where he still actively volunteers, despite retiring as an EMT and Lieutenant. He is retired from the NYS Dept. of Correctional Services as a Correction Sergeant, Deputy Fire Chief, and Firefighter after 28 years, two years with the Monroe County Sheriff's Office, and six years with the Brighton Police Department. Pollock also volunteered for 25 years with the Monroe County Office of Emergency Preparedness Radiological/Chemical Response team in a supervisory role.

Michael's role as a lifesaver was not limited to his "on-duty" hours. While off-duty, he rescued two neighbors. One was an electrocuted senior citizen in full cardiac arrest, and the other was an infant in full respiratory arrest.

Pollock works tirelessly on behalf of all NYS EMS personnel. Unfortunately, when the COVID-19 Pandemic was in its early stages, EMTs were left out of the definition of "Essential Workers." This technicality had many effects, not the least their eligibility to receive the vaccine immediately, despite their role of going into homes to evaluate and transport patients that had contracted the virus. He used the contacts he had developed as BVA's Government Liaison to reach out to then, NYS Governor Cuomo, to issue an executive order declaring all EMS personnel "Essential Workers." He continues to lobby officials to make sure that EMS workers are written into law as Essential Workers.

Michael is an advisor to Ezras Nashim, a BLS ambulance and First Responder service in Boro Park – Brooklyn, the only all-women Orthodox Jewish EMS organization in the United States. He participated in the National EMS Memorial Bike ride during his recovery from a total knee replacement using a stationary exercise bike in Physical Therapy to ride virtual miles to raise funds for the proposed National EMS Memorial in Washington, D.C. This event is very special to Michael because a Brighton Volunteer Ambulance member, Zhe "Zack" Zeng, who perished while performing first aid at "Ground Zero" during the World Trade Center attack on September 11, 2001 will have his name on the memorial.

Michael continues to aid his community by advocating on behalf of EMS workers, servicing on the Board of Directors of Brighton Volunteer Ambulance, the Society for Total Emergency Programs (STEP) Council of the Genesee Region, and serving in an ex-officio role on the NYS EMS Memorial Service committee. In addition, he is a member of the National Association of Emergency Medical Technicians (NAEMT) and works on their advocacy committee, including participating in NAEMT's EMS on the Hill Day. He is also a member of the NYS Volunteer Ambulance and Rescue Association. Finally, Michael secured over $500,000 in funding to expand the Brighton Volunteer Ambulance Base.

Pollock also serves on the Temple Beth El Synagogue Security Committee. He has also served on the Board of Directors of the Learning Disabilities Association of the Genesee Valley and the Brighton Rowing Club.

Other outside activities include membership as a Master Mason in Zion #1 Lodge in Detroit, MI, a 32-degree Mason in the Valley of Rochester Ancient and Accepted Scottish Rite of Freemasonry, and is noble in the Damascus Shrine Masons in Rochester.

Michael and his wife, Mary Lou, live in the town of Brighton. He is the father to a daughter, Emma of Washington, D.C.

Michael was nominated for this Monroe County Legislature Recognition by Justin Wilcox, Legislator, District 14, and Joshua Bauroth, Legislator, District 24.

This article is a direct street report from our correspondent and has not been edited by the 1st Responder newsroom.