Massive Four-Alarm Warehouse Fire in Rochester Ruled Accidental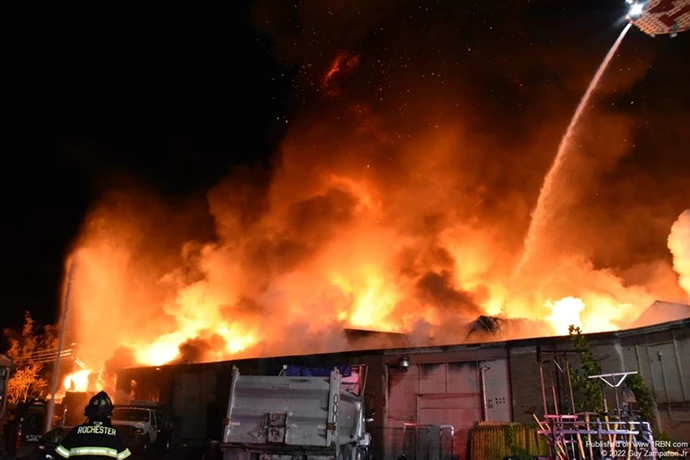 Photo by Guy Zampatori Jr4 Alarm Warehouse Fire in Rochester, NY 10-16-22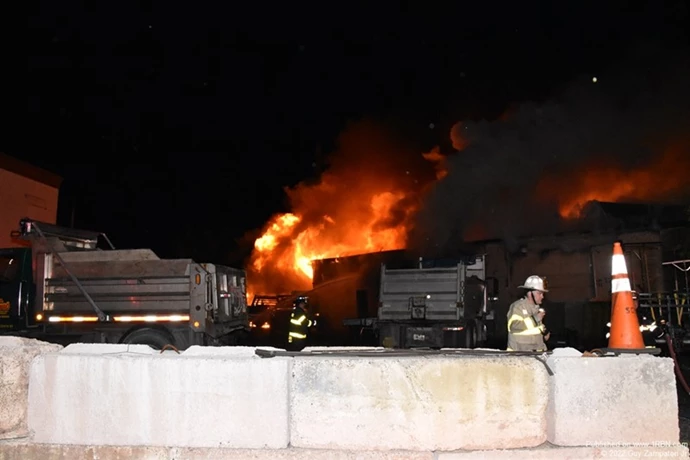 Photo by Guy Zampatori Jr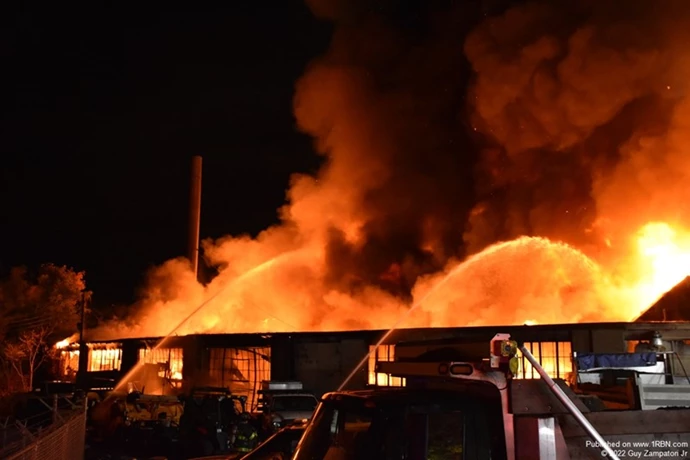 Photo by Guy Zampatori Jr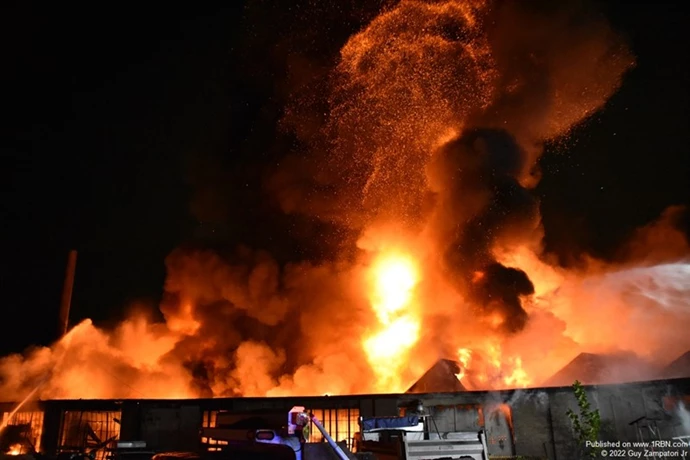 Photo by Guy Zampatori Jr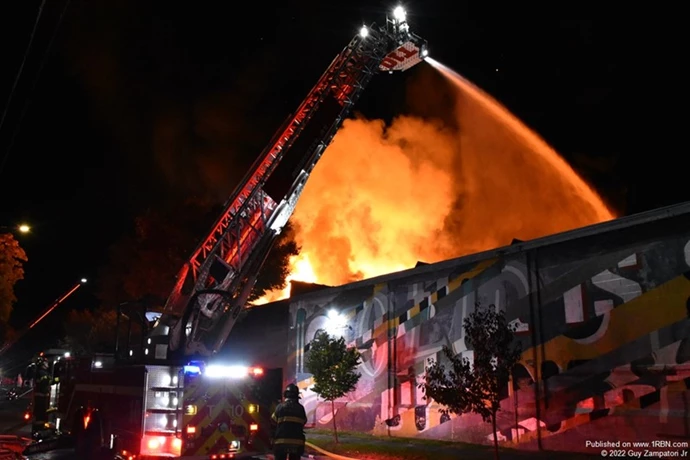 Photo by Guy Zampatori Jr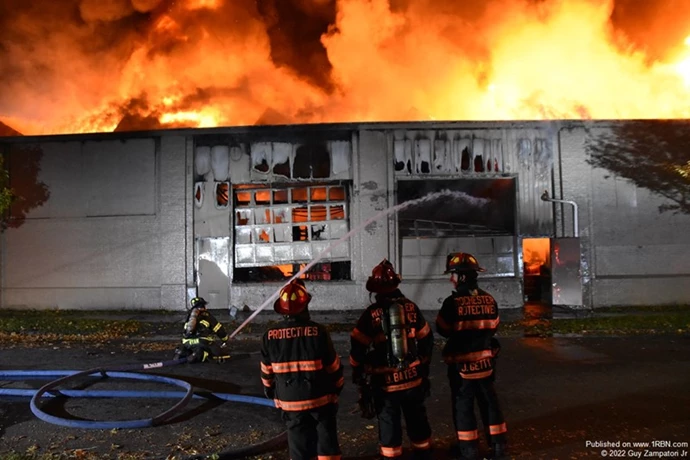 Photo by Guy Zampatori Jr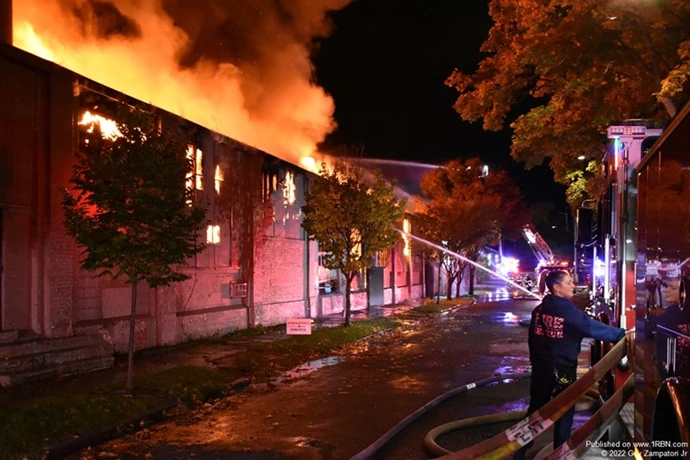 Photo by Guy Zampatori Jr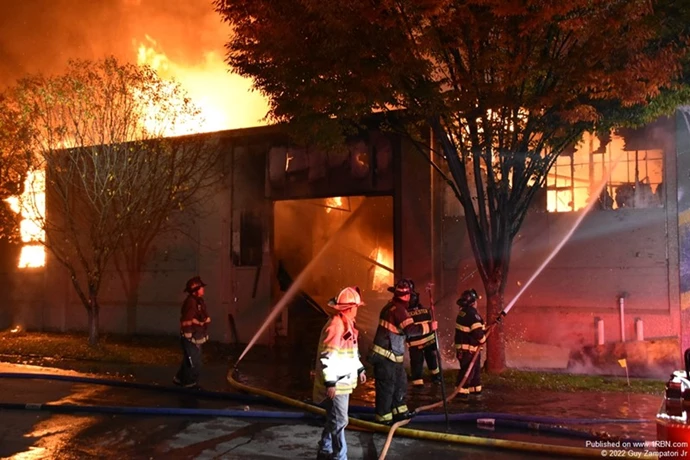 Photo by Guy Zampatori Jr
This article is a direct street report from our correspondent and has not been edited by the 1st Responder newsroom.
ROCHESTER, NY - A four-alarm fire in Rochester started around 8:00 P.M., October 16th, on Leighton Avenue and spread all the way to Greenleaf Street. After the flames were stopped crews still worked using water to put out some lingering hot spots.

The damage and destruction were catastrophic. Officials said the heavy fire and smoke were coming mainly from the storage unit of this building that houses several different businesses.
Rochester Fire Department Captain David Abdoch said the original call came in as a car on fire inside the warehouse of the one-story building. Fire crews came from as far away as Penfield, Irondequoit and other parts of the county to provide mutual aid. It was a defensive attack fire.

Besides making sure homes across the street from the warehouse also did not burn down, firefighters said the construction of the building kept the fire from spreading any further. Captain Abdoch said no one was inside the building, and no injuries were reported. An investigation into the cause of the fire would follow.

Some classic cars stored inside were destroyed. Local businesses also used the building for storage and a lot of that burned up in the fire. Battalion Chief Tim Young said that thanks to the building having a firewall, it kept the fire from spreading to the rest of the building.

"It was crucial for the protection of the next building down the row," Young said. "Had that firewall not been there it would continue to burn until it ran out of the building. Our crews set up on the inside of the firewall on the unburned portion and made sure that the fire did not come through."

RFD confirms that the fire started when someone was working on his car and some flammable liquid was accidentally ignited. The fire is being ruled accidental. No firefighters were injured.