Jersey City FD Loses a Best Friend
By RON JEFFERS, New Jersey Editor | September 24, 2020 | NEW JERSEY
Story No. 092420109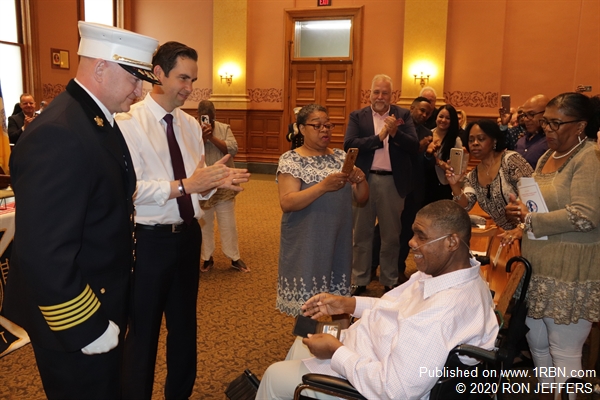 Photo by RON JEFFERSGregory "GG" Greene received his Honorary Deputy Fire Chief's badge and ID card from Chief of Department Steve Mc Gill and Mayor Steven Fulop during a 2019 department ceremony at City Hall.
Jersey City, N.J. - When he was 10-years-old, Gregory Greene was rescued from his burning home by city firefighters. Later, his father took him to the Communipaw Avenue firehouse for a visit with the members of Engine Co. 20 and Truck Co. 5. The rest is history.

He spend some 55-years hanging around that firehouse with his second family at his home-away-from-home. Engine 20 and Truck 5 are gone, but the house remains as the quarters of Rescue Co. 1 and Squad Co. 4.

In his later years, he battled many health issues, and his time would be spent at a rehab center in the Heights section of the city. Firefighters would stop by to check on him and let Gregory know he was still in their hearts. Gregory Greene passed away in September.

Since his youth, Gregory would respond to fires in his neighborhood and assisted firefighter in anyway that he could. He had his gloves on and he was ready for duty. Gregory's unofficial duty was to line line up empty air bottles in the street. Back at quarters, he would help fill those bottles in the rear of the firehouse. He was very experienced in handling SCBA, and he was the unofficial Mask Service Unit, before the department organized such a unit. He also looked after the firehouse when members were out on routine calls.

On June 21st, 2019, the FDJC held a Meritorious Award Ceremony at City Hall. Firefighters were recognized for their courage, experience and life saving actions. At the center of the ceremony was the department's loyal friend, Gregory Greene, 65. Before firefighters received their awards, Chief of Department Steve Mc Gill and Mayor Steven Fulop named Gregory Honorary Deputy Chief, receiving a badge and ID card.

During the ceremony, Gregory sat in the front row, along with family members. As firefighters came forward to receive their awards, they all turned to "GG" and offered him a salute and/or a handshake.

A statement on a Facbook page said: "Gregory will be remembered for his smile, enormous personality and his genuine love for every member of the JCFD. Especially Squad 4 and Rescue 1."

This article is a direct street report from our correspondent and has not been edited by the 1st Responder newsroom.