1949 Fly & Harwood "Little Chief" Crosley Fire Truck Restored
By BERNIE MEEHAN, Senior Correspondent | September 13, 2020 | CONNECTICUT
Story No. 091320119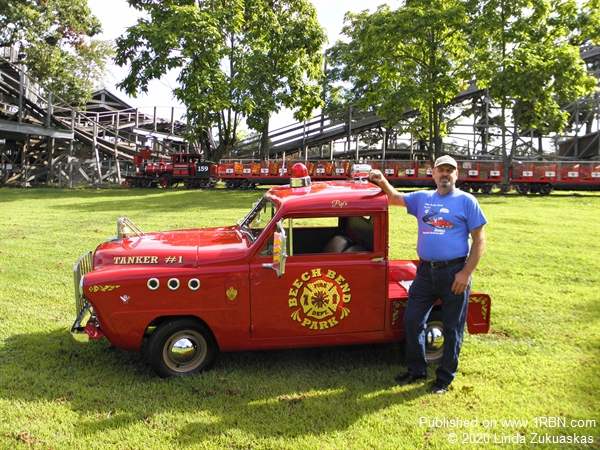 Photo by Linda ZukuaskasTed DellaCamera with his 1949 Crosely Fire Truck at Quassy Amusement Park.
Article by LINDA ZUKUASKAS

Oakville, CT - Ted DellaCamera, life-long resident of Oakville and owner of Yankee Crosley Parts, has brought his 1949 Crosley "Little Chief" firetruck back to its original purpose: putting big smiles on little faces.

Mr. DellaCamera came across this firetruck in 2000, not realizing that he'd not only found the real deal but one of the rarest examples. "You just don't find Fly and Harwood "Little Chief" Crosley firetrucks. They only made about 50 of them, using the Crosley pickup trucks as a starting point. Most were one long truck, but this is unique because the tanker is separate. I think this was the only fifth-wheel ever made by Fly and Harwood."

The long body of the firetrucks was difficult to maneuver. A detached tanker was a design improvement but, still, Powel Crosley Jr.'s idea of manufacturing vehicles for emergency use in tight spaces, such as manufacturing facilities, didn't take off.

Mr. DellaCamera's vehicle instead found work at Beech Bend Park in Bowling Green, Ky., pulling children around the family-owned amusement park and raceway. When the park sold the apparatus, the professional clown who bought it planned a restoration but fell ill and died before starting the work. Another two decades would pass as other projects and priorities pushed the little truck aside in Mr. DellaCamera's garage.

"I was inspired to finish it because I was spending more time at home. This is a complete frame-off restoration and every nut and bolt was touched. I made new floor pans and splash panels, did the paintwork, fabricate the floor mats, and everything but the seats."

There is a lot to take in when looking at the work done, including a flag holder at the front and a fire nozzle standing in for the shifter. "When I work on a car, it starts talking to me, telling me what needs to be done. That's when ideas start popping into my head."

In tribute to the little firetruck's past and as a way to celebrate the milestone he'd reached, Mr. DellaCamera contacted Quassy Amusement and Waterpark in Middlebury, Conn., and asked if they'd be interested in allowing him to photograph the firetruck in its natural habitat.

Ron Gustafson, director of marketing and public relations for the park, was happy to accommodate the request, pointing out the relationship between the two properties. "When the UConn Huskies faced the Kentucky Wildcats, we made a friendly wager and, when UConn won, that flag was raised on top of the Kentucky Rumbler, the wooden roller coaster at Beech Bend." He added, "This is a great industry and we're very supportive of one another. Quassy is happy to have Ted bring Beech Bend's firetruck and this great piece of amusement park history to visit."

After its visit to Quassy, the vehicle next stopped at the annual Historic Festival at Lime Rock Park, Lakeville, Conn., where Mr. DellaCamera invited several children to climb behind the wheel of the pint-sized apparatus.

"That's the whole point of working on it. I want kids to see what we had growing up. Well, this was a little before my time but they can ring the bell and make the siren go. I think they had a ball."

He explained his personal interest in taking on the restoration project, "My dad always wanted to restore a firetruck with me. He was a salesman for GMC and designed a lot of trucks for fire departments. At one time, we bought a truck and were bringing it home from Hartford but the rear end blew out. I thought that was the end of that dream."

The lettering above the door reads, "Pop's," which is not the only personalized lettering he's designed. "I had another firetruck that was named Mo because, in Pennsylvania, it was a tradition to name the apparatus that way, Big Mo, Little Mo, etc. Back then, I'd give my daughter, Ashley, a hard time, telling her I'd pick her up from junior high in my first firetruck. "She'll be getting married next month and I wanted to let her know I didn't forget her growing up. So, I put Ash Mo on this firetruck. I think she likes it."

This article is a direct street report from our correspondent and has not been edited by the 1st Responder newsroom.