Labor Day 5th Alarm in the Bronx
By BILL TOMPKINS, Correspondent | September 07, 2020 | NEW YORK
Story No. 090920100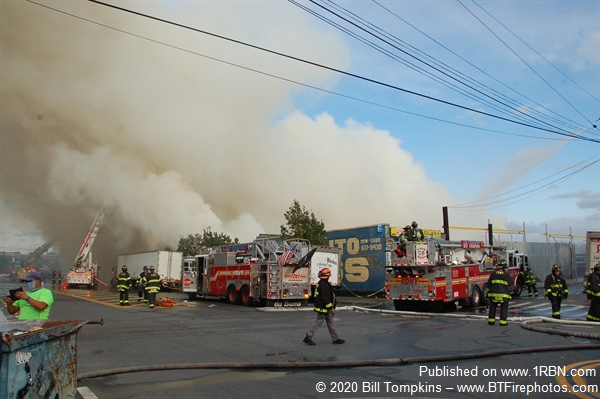 Photo by Bill Tompkins – www.BTFirephotos.com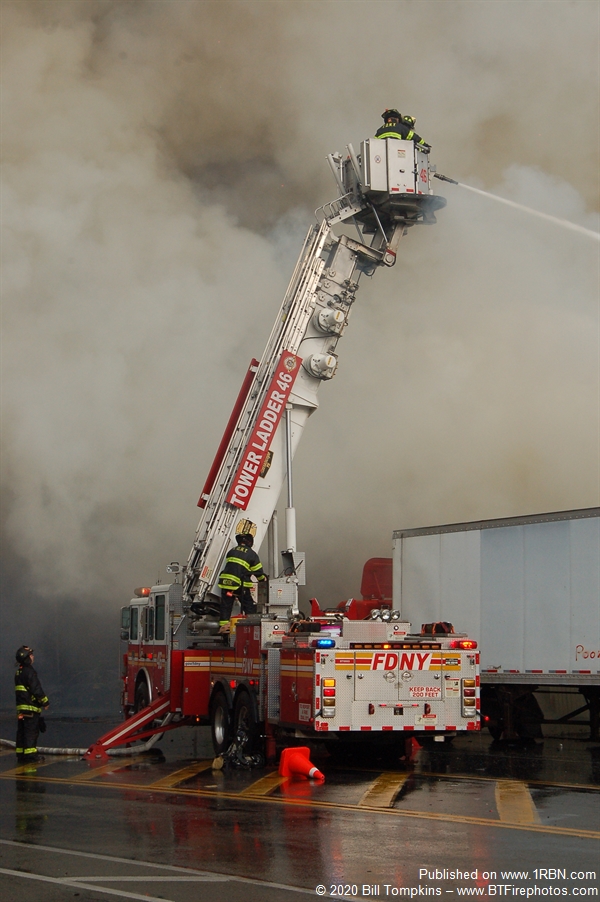 Photo by Bill Tompkins – www.BTFirephotos.com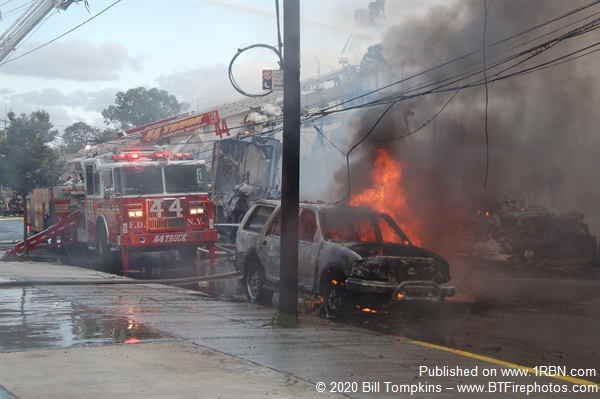 Photo by Bill Tompkins – www.BTFirephotos.com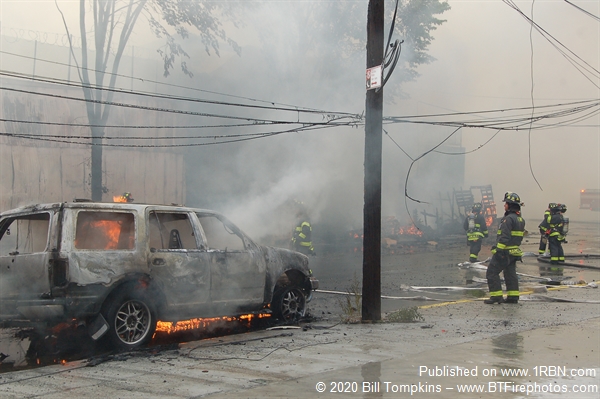 Photo by Bill Tompkins – www.BTFirephotos.com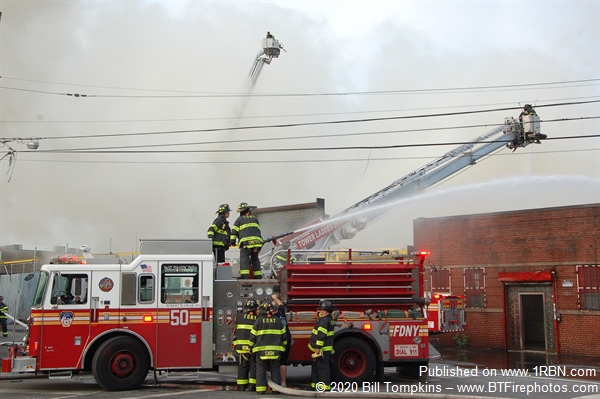 Photo by Bill Tompkins – www.BTFirephotos.com
A spectacular five-alarm fire swept through a pallet yard and several other businesses on September 7th sending up a smoke column that was visible in three states.

At 4:28 P.M. the first of many phone alarms was received at Bronx Dispatch for a reported junkyard fire at 528 Jake Street in the Hunts Point section of the Bronx. Heavy fire extending well above the walls of the 250 X 200 enclosed yard. Extra units were quickly called as the "10-75" was transmitted at 4:30 P.M., then the "all hands" a minute later, a second alarm at 4:38 P.M. and a third alarm at 4:44 P.M. Heavy fire quickly consumed the pallets putting off radiant heat that ignited several trucks and cars on and across the street. Flames leapt 50 plus feet above the structure as tower ladders were positioned and put into operation. Several adjoining businesses were threatened including a fuel oil company. Firefighters drove all the trucks that would start out of danger.

A fourth-alarm was transmitted at 5:09 P.M. as the intensity of the fire began to diminish. In total six tower ladders, 5 handlines and 2 Stangs were operating. The exposures were protected and a 125 X 100 structure inside the yard was listed as slightly involved. A fifth alarm was called for relief purposes only as companies were switched out. The fire was placed" Probably will hold" at 7:01 P.M. and under control at 9:09 PM. Seven firefighters received injuries, two were listed as serious. The blaze was initially deemed suspicious due to the amount of fire on arrival and the fact the businesses were closed due to the holiday. Fire Marshalls are investigating.

This article is a direct street report from our correspondent and has not been edited by the 1st Responder newsroom.