Breast Cancer: a Fire Chief's Journey from Discovery to Diagnosis to Treatment
September 23, 2021 | NEW JERSEY
ROBERT DONNAN, Correspondent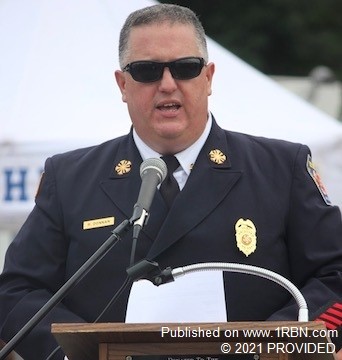 Photo by PROVIDEDRobert Donnan is currently the Apparatus Training Coordinator for Fire & Safety Services. He's the former owner of Jersey Fire & Rescue in Metuchen, a former US Army Combat Medic and EMT. He has been a firefighter for 33 years and has served as the Chief of the Metuchen Fire Department for the past 15 years.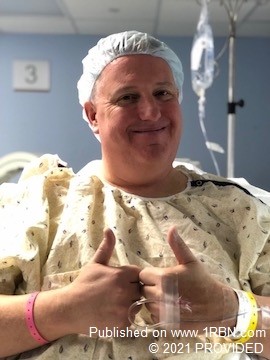 Photo by PROVIDEDMetuchen Fire Chief Robert Donnan was diagnosed with breast cancer in February of 2019 and underwent a mastectomy on March 25, 2019.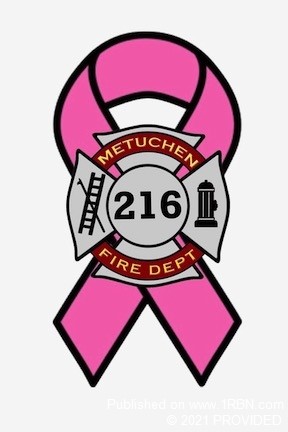 Photo by PROVIDED
This article is a direct street report from our correspondent and has not been edited by the 1st Responder newsroom.
The following story is probably more personal information than I would normally share, but if my experience could help any of my brother & sister firefighters, it's all worthwhile. Products of combustion, chemicals and the other contaminants we're exposed to are the enemy. Wear your PPE, decon your gear & equipment, and wash your dirty hands!

In February of 2019, I was diagnosed with breast cancer. Yes, men can get breast cancer but it is very rare. We were told that men only make up 1% of all cases and that the specific type I had, "mucinous colloid carcinoma", was rare as well. About six weeks later I underwent a mastectomy, where they surgically removed my entire right breast. As scary as my diagnosis and treatment was, they pale in comparison to the frightening reality that my cancer almost wasn't discovered, or it may have been found much later than it was, resulting in a more dire outcome. The reason for the delay would have been my ignorance and fear. My whole story is considerably longer than could be published here, but there are a few important components that I believe need to be shared.

I'm a guy in my 50's, and of course I have lumps and bumps, that's part of getting older. So when I felt a small lump under my right nipple, I didn't think much of it. I can't tell you how long I ignored it, but it had to be several months, or even a year. Eventually I asked my doctor about it during my annual CDL physical; he took a look and decided to write me a script for a mammogram and I remember thinking to myself "yeah right, like I'm gonna get a mammogram". So I folded it up, put it in my wallet and out of my mind.

Probably the luckiest thing that has ever happened in my life is that several weeks later, I injured my back. I still don't know exactly what the cause was, but it was bad, real bad. It resulted in a chiropractor sending me for an x-ray and while I was at the radiology office, I decided to pull out the script for the mammogram that I'd been carrying around. After admonishing me for not acting on the script sooner, they scheduled me for a mammogram, and thank God they did. During the test, the radiologist was immediately concerned and had the technician do an ultrasound. After looking at those results he came in and told me the "mass" had characteristics of a "cancer", and I need to contact a surgical oncologist immediately for a consultation. He basically finished off by saying I should "keep my spirits up and consider this the beginning of a journey and not the end of the road". To say I was floored would be an understatement.

After some research and consultation we decided to go with the Rutgers Cancer Institute of New Jersey (RCINJ), which is part of the Robert Wood Johnson system. My wife and I went to meet the surgeon for the first time and we both immediately liked her. She had a great bedside manner and was very informative. She decided to waste no time and took several biopsies of the mass right there in the office. She was also very honest and held nothing back. Based on the radiology results and her exam, the most likely course of action would be a mastectomy (total removal) of my right breast. Once the biopsy results confirmed the cancer diagnosis, she wanted to waste no time and "get it out". I was scheduled for surgery on March 25th, 2019.

The weeks leading up to the procedure were full of tests, scans and interviews. The actual surgery took about 3.5 hours and I was on my way home the next day. From what I was told, everything went well and I actually felt pretty good. My chest was bound in a giant ace bandage and it took me a few days to build up the courage to actually look at the site. I also had two drains in place that I was told could come out in two or three weeks. The next step was to determine if chemo or radiation treatment would be required, based on tests of everything they removed from me. The results came back, I did not need chemo but would have to go for 25 sessions of radiation therapy. I will say the radiation sucked, but it was over in 5 weeks and I moved on. The final part of the treatment plan was the need to take Tamoxifen for the next five to 10 years to help prevent any remaining cancer cells from finding a new home. And that's where I am today, doing pretty good, going for my six month checks.

I'm lucky and my final outcome could have been much worse. To my brother and sister firefighters: while there is no definitive proof that 30+ years of firefighting has anything to do with my cancer, it is also impossible to prove that it didn't. There is no history of this disease in my family and I don't have any of the known genetic markers. There is an ever-growing list of cancers that firefighters contract at a higher rate than the general public and our industry is paying much more attention to this issue. Products of combustion and other contaminants that we are exposed to are the enemy; wearing your PPE and performing decon are the first steps to protecting ourselves. Rotate hoods, clean your gear and wash your hands after every run or touching any equipment. Please take this issue seriously and take the steps to protect you and your family. If something doesn't look or feel right, get it checked. Don't let fear or arrogance stop you from doing the right thing, and don't make the mistake I made and delay treatment. Never forget…EVERYONE GOES HOME!

Bio: Robert Donnan is currently the Apparatus Training Coordinator for Fire & Safety Services. He's the former owner of Jersey Fire & Rescue in Metuchen, a former US Army Combat Medic and EMT. He has been a firefighter for 33 years and has served as the Chief of the Metuchen Fire Department for the past 15 years.