One Person Dead After House Explosion in Maynard
September 02, 2021 | MASSACHUSETTS
CHUCK LOWE, Correspondent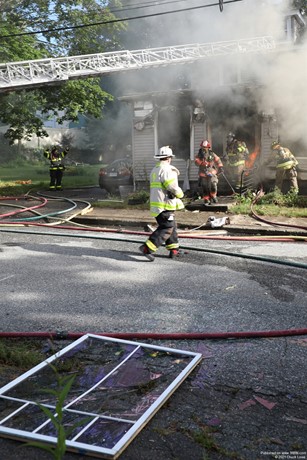 Photo by Chuck LoweA window that was blown out of the home sits across the street from the scene.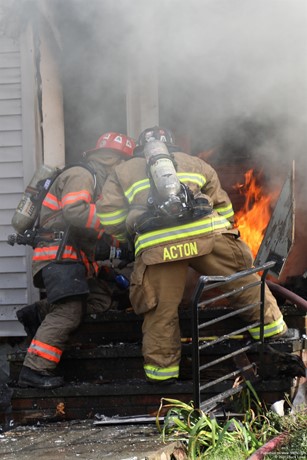 Photo by Chuck LoweActon Firefighters work to hit fire under a weakened floor.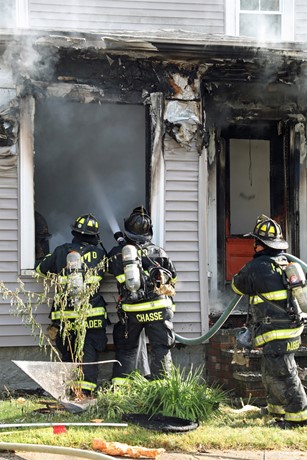 Photo by Chuck LoweAfter being withdrawn, Maynard Firefighters operate a handline to darken down fire inside the first floor.
This article is a direct street report from our correspondent and has not been edited by the 1st Responder newsroom.
MAYNARD, MA - Maynard 911 received a call from the occupant of 27 Park St. around 4:20 P.M. on Thursday afternoon, September 2nd. The caller stated that there was a "funny smell" inside his residence, but he was unsure if it was gas or carbon monoxide. The dispatch center sent Engine 2 and the Police for an inside odor investigation.

Within seconds of calling on scene, the officer of the Engine radioed back and requested a box alarm for a working structure fire. Box 44 was transmitted followed by an immediate request for a second-alarm. This brought mutual aid to the scene from Acton, Stow, Sudbury, Concord and Boxborough. Command provided a size up indicating heavy fire in a two-and-a-half story house with possible entrapment. Vehicles were in the driveway and neighbors indicated that the couple who lived there was home.

Members made an aggressive interior attack despite evidence of an explosion and the possibility of a gas fed fire. Primary searches were conducted on all floors with negative findings. A weakened floor was reported as crews were moving to perform their secondary search. This prompted the incident commander to order all members out of the structure.

Crews then repositioned handlines and knocked down the remaining fire from the exterior. Once visibility improved and structural integrity could be assessed crews resumed their searches. One occupant of the house was located but deemed non-viable by personnel on scene. The victim's wife was not home.