Millburn Fire Department Awarded Grant from The Leary's Firefighter Foundation
By ADAM BRENNER, Correspondent | August 31, 2020 | NEW JERSEY
Story No. 083120115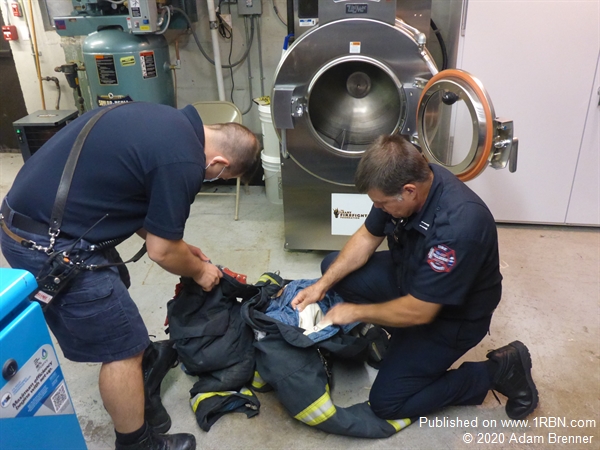 Photo by Adam BrennerFirefighter Muresan and Captain Adam Brenner prepare the dirty gear for the P.P.E. washer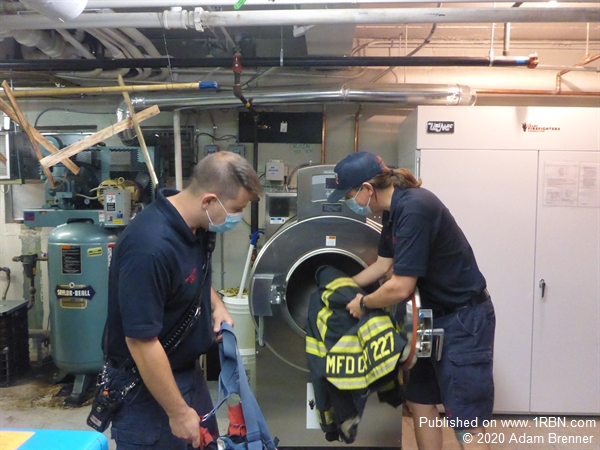 Photo by Adam BrennerFirefighter Muresan and Firefighter Maguire load the dirty turn-out gear into the P.P.E. washing machine.
In December, the Millburn Fire Department received a grant from the Leary's Firefighter Foundation for two new PPE washing machines and one new PPE dryer. The grant being awarded to us is a huge step for the Millburn Fire Department to better protect themselves from cancer and other toxins that collect on our gear. Our over 20-year-old washing machine was located at our Station 2. In order to wash our gear after a fire or other exposure, we had to bring the gear up in vehicles increasing and spreading the contamination. Now with the Leary's Firefighters Foundation help we have washers and dryers at both our Headquarters and Station 2. The new machines also allow us to do more sets of gear and PPE equipment, allowing us to get our gear back into service quicker. The locations that we have the new washing and drying equipment also have separate entrances that allow us to take our soiled and contaminated gear and equipment directly to the machines without having to bring it through the station. In addition to these machines we have also started policies where Turn-out gear is not allowed in living or working quarters. Because fire boots are one of the most heavily contaminated parts of our P.P.E We also carry on all of our apparatus a bucket, garden hose with nozzle, a large brush, and a bottle of Dawn soap. This is our decontamination kit, that is used by members after a fire or hazardous material incidents. After the fire or incident and before getting in the apparatus, members are required to scrub and wash their boots to lessen the contaminating of the apparatus. In addition to the above equipment in the bucket, available to members is a container of sun screen that members may use when working or training in the sun. With the Covid-19 Crisis we have also been able to assist the Police Department and the Millburn-Short Hills First Aid Squad with washing their P.P.E.

For more information about how you can help the Leary's Firefighter Foundation and how they can help you, visit their web site at https://learyfirefighters.org/
This article is a direct street report from our correspondent and has not been edited by the 1st Responder newsroom.