Port Jervis Fire Department Co-Grand Marshal Bob Mills 52-year firefighter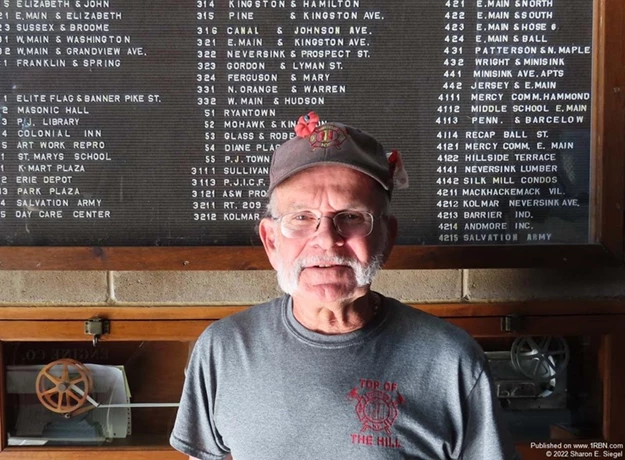 Photo by Sharon E. SiegelBob Mills at his Orange Street firehouse this summer.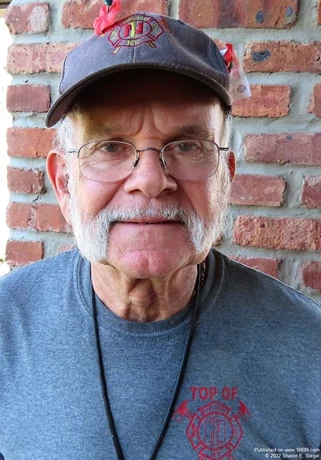 Photo by Sharon E. SiegelFifty-two year firefighter Bob Mills this summer, July 2022.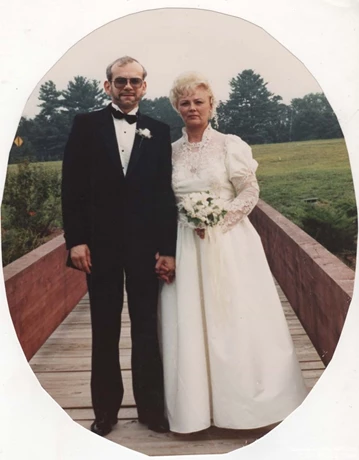 Photo by Sharon E. SiegelBob Mills and his late wife Nancy.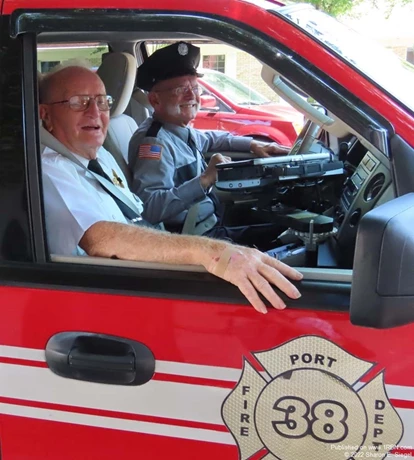 Photo by Sharon E. SiegelBob Mils driving longtime past PJFD Secretary Dick Drew in a past parade.

Photo by Sharon E. SiegelBob Mills at right at a fire call in neighboring Westfall PA this year, summer of 2022.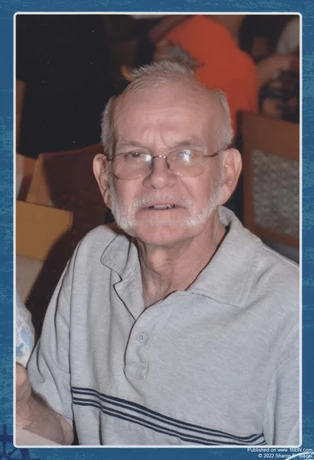 Photo by Sharon E. SiegelFifty-two year firefighter Bob Mills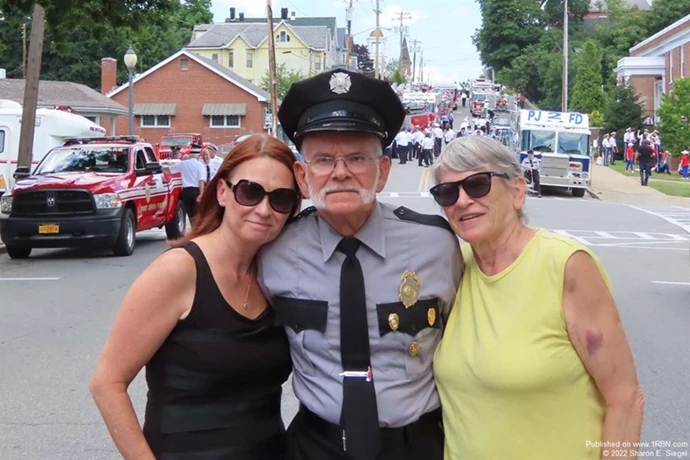 Photo by Sharon E. SiegelBob Mills in parade lineup 2022 with family members.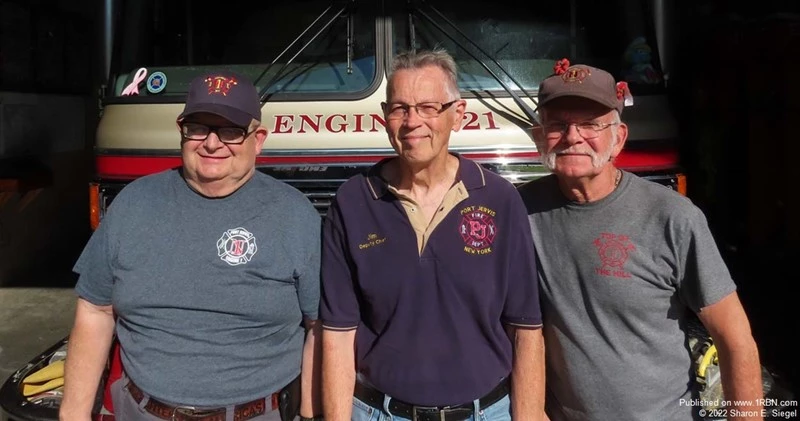 Photo by Sharon E. SiegelCo-Grand Marshals 2022 and fellow 50-plus year members of Neversink Engine Co. No. 1 and PJFD are L-R David Moore, James Rohner, Robert Mills
This article is a direct street report from our correspondent and has not been edited by the 1st Responder newsroom.
PORT JERVIS, NY – Port Jervis Fire Department firefighter Robert "Bob" J. Mills was honored as one of this year's PJFD Parade Grand Marshals. As a 52-year member, Bob has fit firefighter service in throughout all decades and aspects of his life, helping in diverse emergencies and calls as a skilled volunteer.

Mills became a firefighter in September of 1970, joining family and friends who were already in service and continuing alongside many through present.
He was born in Port Jervis on August 22, 1950. His family lived briefly in Montague, N, but returned to Port Jervis' Tri-States neighborhood where he was raised, attended Port schools, and graduated in 1968. Mills went on to Orange County Community College, then worked for local employers, including A&P, Kolmar Labs, and then C&D Batteries for more than 30-years. After C&D closed, he worked for about five years for Orange County Jail in Goshen, and then moved to the State of Florida with his wife Nancy, where he worked in semi-retirement for Walmart.
The couple moved back to the Tri-States area (Matamoras, PA) where sadly Nancy died in 2019.

Throughout his life, Bob has remained active in PJFD and his fire company, Neversink Engine Co. No. 1. Some of the lifelong friends and fellow members who were there when he joined 52-years ago include the other two company grand marshals, his lifelong friends, Jim Rohner and David Moore. These three and Past Chief Dominic Cicalese, who is also a 2022 grand marshal, have a combined (still accumulating) total of 184-years of service.

Mills recalls his brother, Bill Mills, and brother-in-law, Charles Conkling, as being members in Tri-States Hose Co. No. 6 when he joined. Their firehouse, 6's ---Port's oldest firehouse, was (and still is) right across from the East Main Street house where he grew up. While he personally chose to join Neversink Eng. Co., he remembers growing up with firefighters in all of PJFD's companies.

"Jim Rohner, David Moore, Bob Cade, Dick Bray, Francie May, Jack Shannon, Ray, Dick, and Fred Harding, Rocky Giovanniello, Gary Lopriore, Bob Mason, Paul Fink, Herbie Westfall, Ralph and Frank Schips, Charlie Theodore, Lloyd Rhoades," Mills quickly recalled of some of the many he served with early-on in PJFD.

Bob also went through all levels of school with many of them, beginning with kindergarten at Church Street School. Firefighting is just one level of service also shared as adults, including church, community events, organizational memberships, and other hometown connections.

Some of the past responses that come quickly to mind are Neversink Lumber, Buchanan's (Barkmann's), small house fires, many false alarms, the Colonial Inn and New Bauer, the flood of 1981 and flooding scare of 1982. Mills, an interior firefighter in those days, recalled knowing some of the people who lived in the Colonial Inn at the time it burnt and the bitter cold, tough conditions of that fire.

He also remembers the damage and worry of flooding responses in the past.

"I remember going door-door to tell people 'I'm sorry to say this but it's getting pretty bad out there, and the water isn't stopping," Mills recalled of evacuation measures and warnings.

Recent calls include one this past Fall of 2021 in a historic 72 East Main Street home. Mills was helping with hose lines and other duties as an exterior firefighter during the intense blaze in which interior firefighters were ordered to exit as it became rapidly engulfed and collapsing. However, all residents were safely evacuated and an injured dog was saved.

"We just couldn't seem to get it out no matter how hard we tried. It spread so fast throughout the place," Mills recalled.
Mills, who has held leadership roles in his company as Vice President, President, Treasurer, Secretary, and now Financial Treasurer and Trustee, encourages anyone who is willing to give a helping hand as a firefighter to do so. He chose to join at age 20 to help his hometown community and as best he was able.

"The more help you have, the better it is," Mills said. "Just be willing to not only show up but always give the best you can to help everyone out, not just put in the time. It takes a lot of training, and a lot of time spent away from family. You have to be committed to doing the best you can."
For anyone wishing to do so, Bob advises there are ways to fit in training by scheduling it around work and family time. There are also other members willing to help each other. In return, the reward for this time spent is knowing you are able to help save property and lives, including someone who might be trapped or in need of help during major fires and calls.

When he was told by Neversink Eng. Co. No. 1 Captain David Moore, Jr., who is the son of fellow 2022 Grand Marshal David Moore, Sr. and among the department's many multi-generational firefighting families, that he would be honored as a grand marshal this year, it made him feel very good.

"I was told 'you've been here for a long time, over 50-years, and we would like you to be a grand marshal'," Mills recalled of learning of this honor.
Mills was joined by family members along the parade route and enjoyed being with his fellow grand marshals in the escort division of the parade. His stepdaughter Tina, step son-in-law Jamie, sister Mary, and niece Amy were among those who attended the parade.

What was he thinking of as he moved along this year's historic parade route, more than a century-and a half-long in tradition? He thought of how glad he was for his family to be there and of all the current and past PJFD firefighters he has served with over so many decades.

How long does he plan to remain a firefighter?

"I plan to stay until the good Lord calls me," he said.