Mastic FD Installs 2021 Officers and Presents Awards
By JOHN WALTHERS, Senior Correspondent | August 13, 2021 | NEW YORK
Story No. 081621113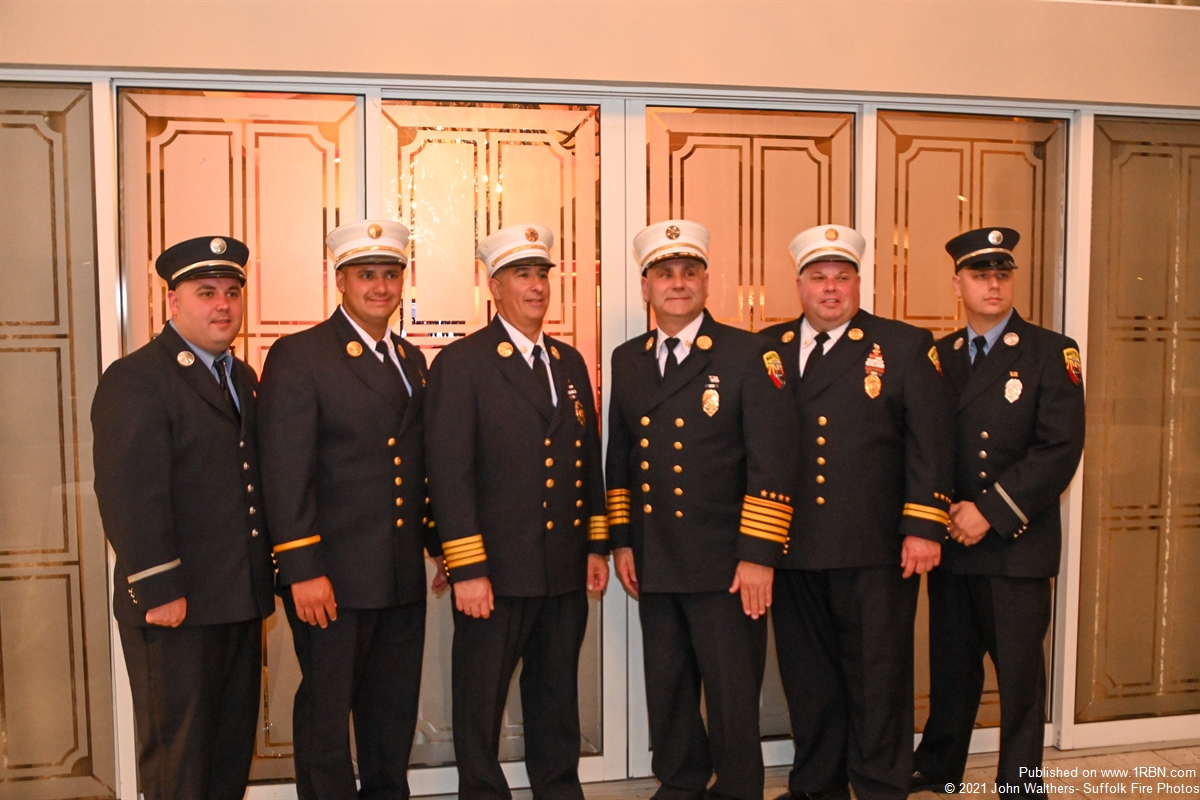 Photo by John Walthers- Suffolk Fire PhotosOfficers of Mastic FD after getting installed, (L to R): 2nd Lt. Tarren Kearns, 1st Lt. Rudy M. Sunderman, Assistant Chief Gene Martucci, Chief Rudy Sunderman, Captain Steve Januskiewicz, and 2nd Lt. Jason Lasek.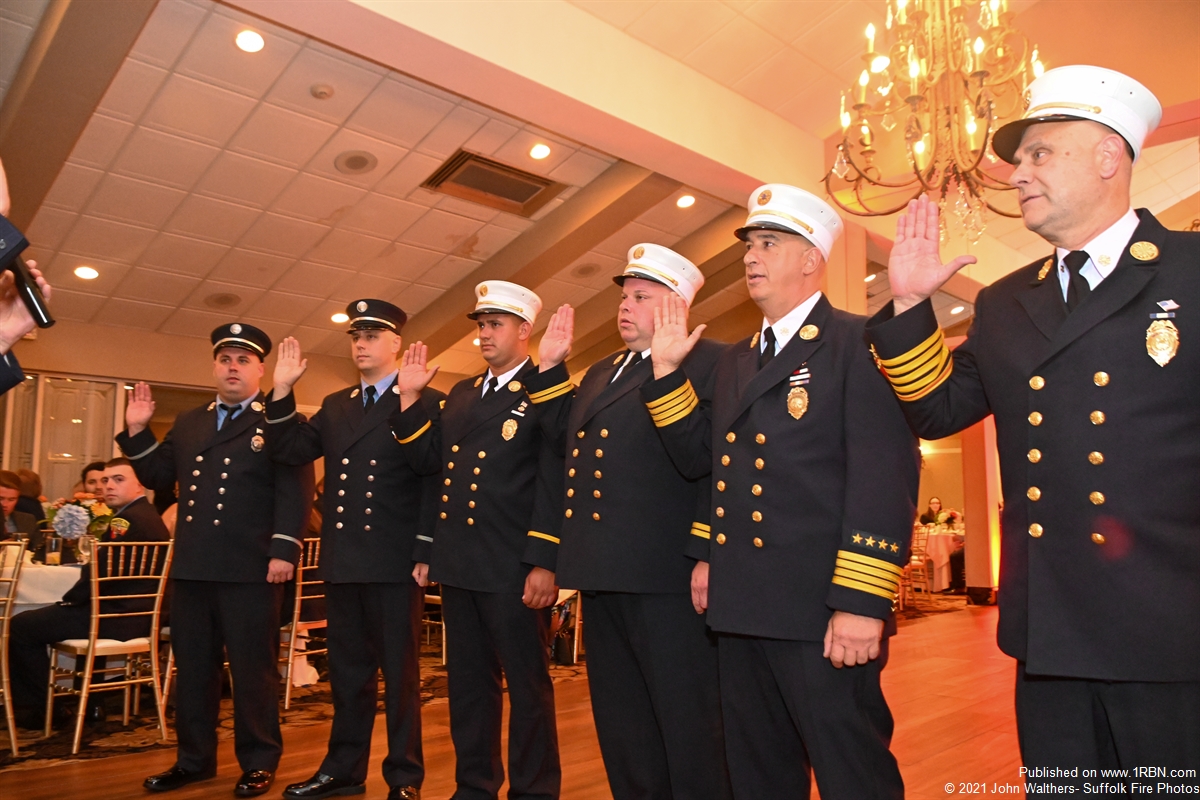 Photo by John Walthers- Suffolk Fire PhotosDepartment Line officers Getting Installed.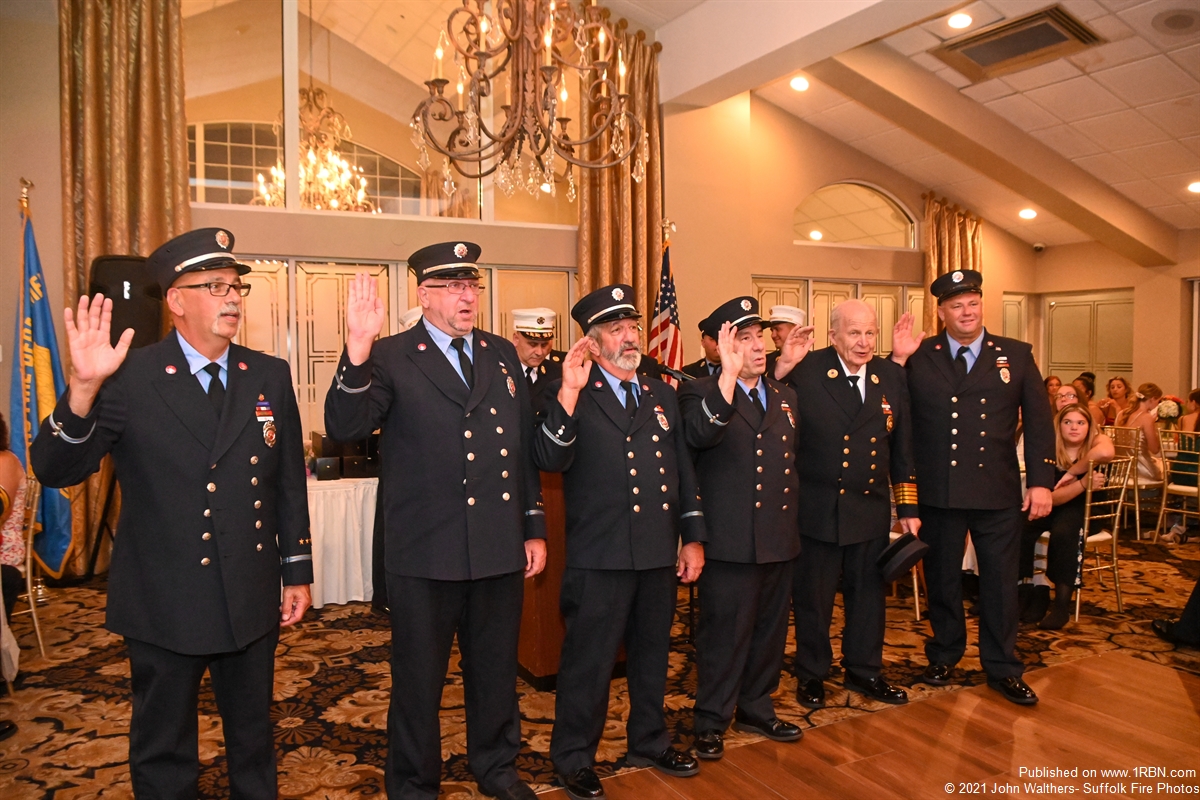 Photo by John Walthers- Suffolk Fire PhotosMastic FD Admin Officers Get Installed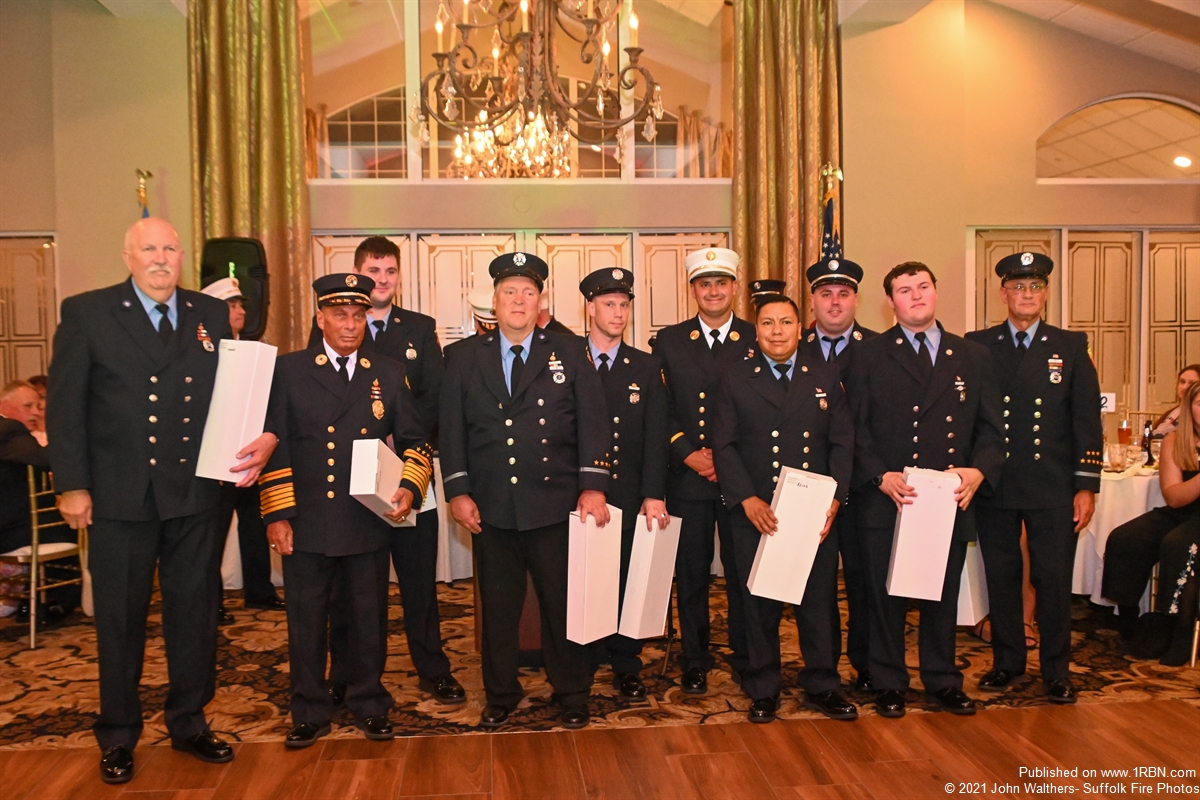 Photo by John Walthers- Suffolk Fire Photos2020 Top Responders of Mastic FD.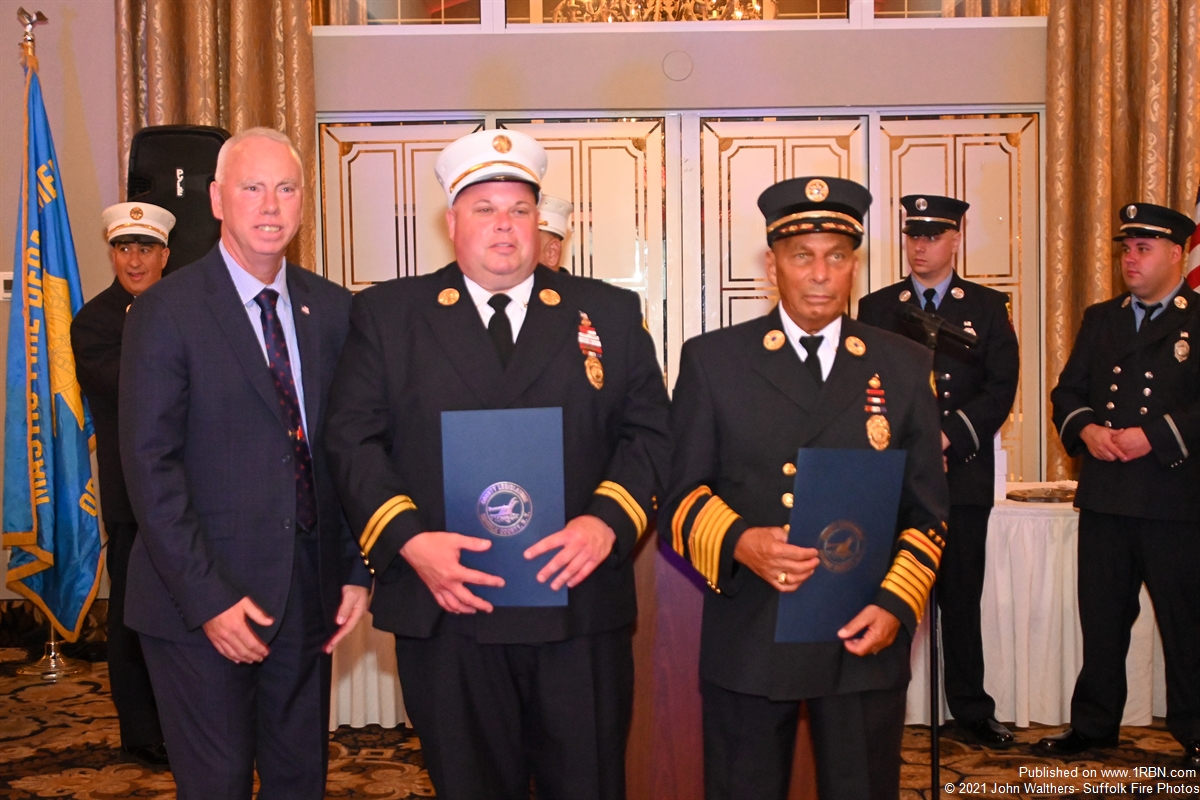 Photo by John Walthers- Suffolk Fire PhotosSuffolk Legislator Tom Donnelly Presents a proclamation to Captain Steve Januskiewicz for his 25 years of service and also Ex-Chief Charles Mineo for 50 years of dedicated service.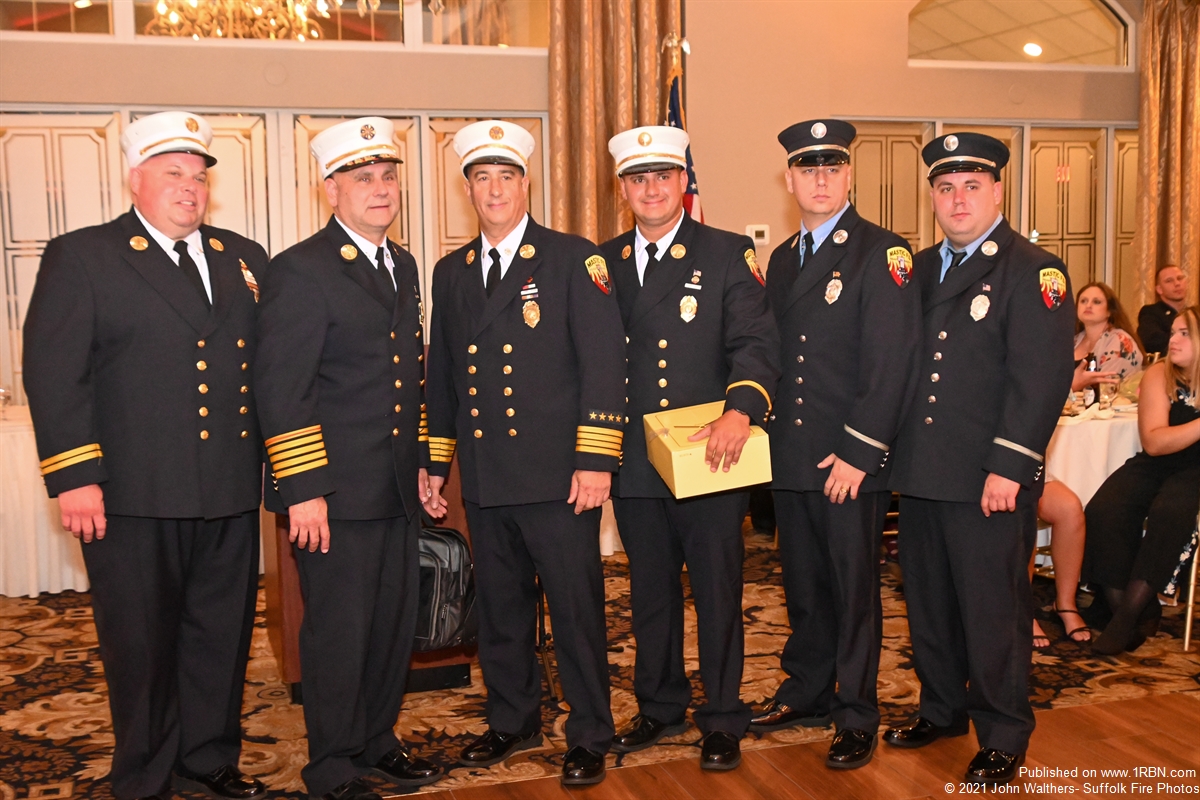 Photo by John Walthers- Suffolk Fire PhotosThe Officers of the Mastic FD Presented Chief Rudy Sunderman and 1st Lt Rudy M. Sunderman with lifesaving awards after they rescued people from a house filled with Carbon Monoxide last yr.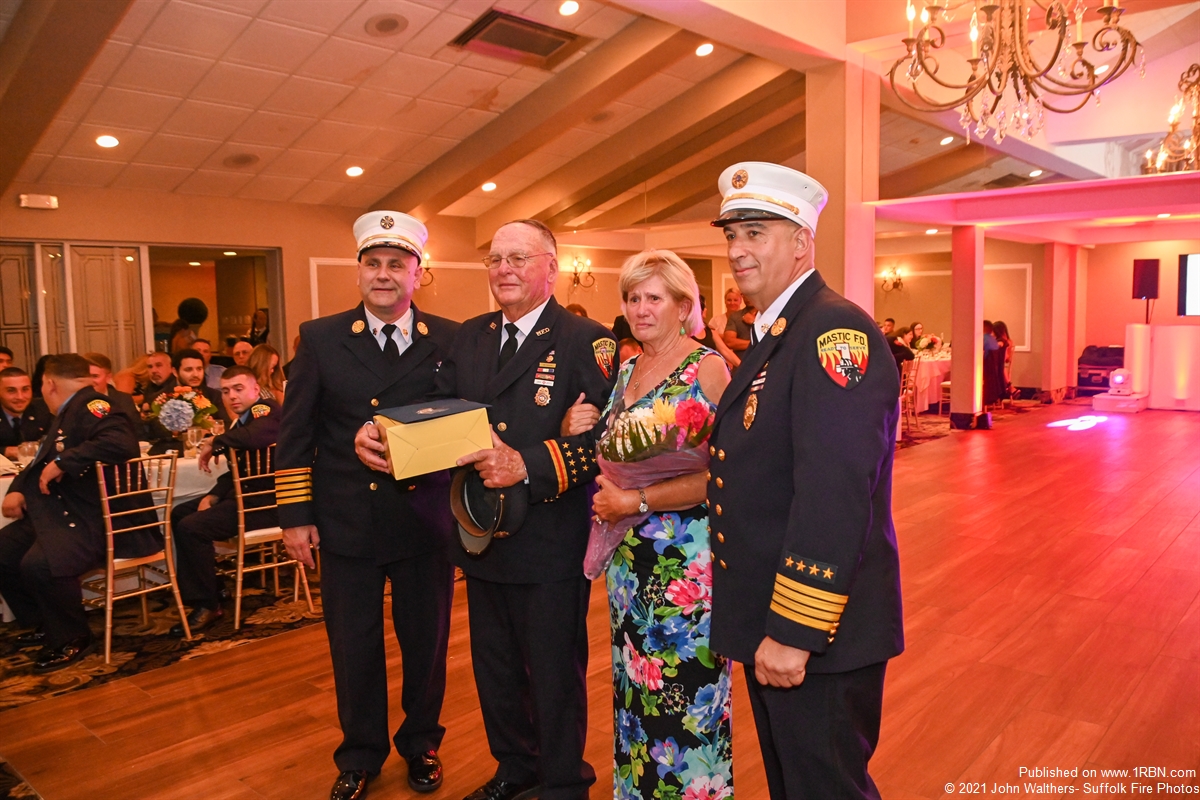 Photo by John Walthers- Suffolk Fire PhotosLife Member John Dolezal and his wife with Chiefs Rudy Sunderman and Gene Martucci. Dolezal was presented the chiefs award at the 2021 installation and awards dinner by the Mastic FD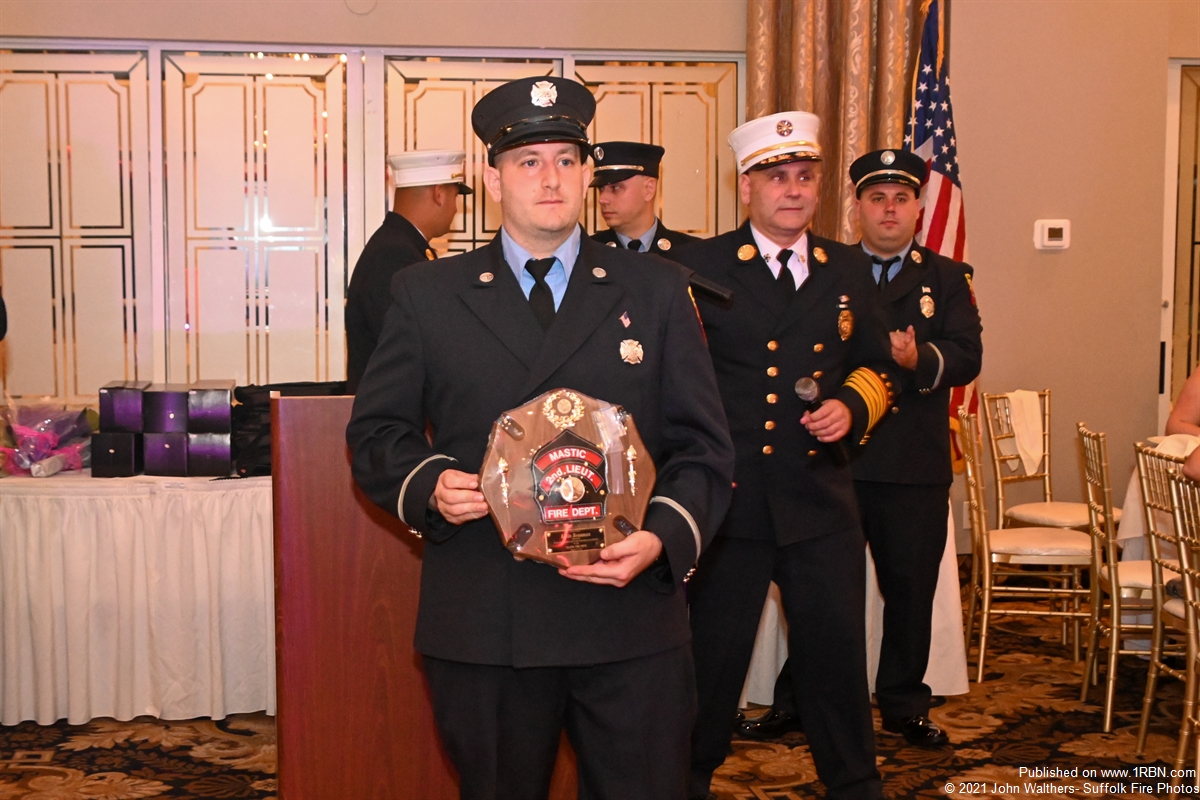 Photo by John Walthers- Suffolk Fire PhotosOutgoing 2nd Lt Kevin Beauman is presented a plaque for his time as 2nd Lieutenant at the dinner as he was preparing to leave the department and move out of state the following day. Thank you for your service Kevin.
PORT JEFFERSON, NY – On Friday, August 13th, the Mastic FD held its annual installation dinner at the Waterview at Port Jefferson Country Club.

The event brought together members of the department for the installation of Chiefs, Officers, Admin Officers, Fire Police Officers, and also winners of numerous awards presented by the fire department as well as from the Suffolk County Legislature. The awards included top responders for 2020, top responders after midnight (Midnight Alamers), and tenure awards.

The department as well as Suffolk Legislature Public Service Committee represented by Legislator Tom Donnelly honored current Captain, Steve Januskiewicz, for his 25 years of dedication and service to the department. Steve's family was also present for this great honor.

Ex-Chief and current Active Member, Charles Mineo, was honored for 50 years of service to the department and community. Charles is well known for helping to get the truck/engine on the road quickly as an active driver for the department. He also had family on hand to help him celebrate this honor.

The Chiefs award was presented to Life Member John Dolezal, who acted with braveness when a boat exploded as he was out near the Mastic Beach property owners last year. Dolezal immediately jumped into action assisting a victim who was severely burned and in the water at the time until responders from Mastic Beach FD and Ambulance were able to get on scene and continue to render aid as best as possible to the man.

Chief Rudy Sunderman and his son, 1st Lieutenant Rudy M. Sunderman, were given life saving awards for responding to a call for a cardiac arrest on Floyd Rd. North in Shirley shortly after Hurricane Isaias in 2020. On arrival they were confronted with a home with high levels of CO. They entered the home and were able to make rescues of victims who suffered carbon monoxide poisoning, caused by a generator being used. Had it not been for their quick action, this could have turned out to be a much worse situation.

Outgoing Lieutenants were also honored, including 2nd Lt. Kevin Beauman who received a plaque.

The Mastic Fire Department celebrates 96 years of dedicated service in 2021. Congrats to all the chiefs, officers and award winners on a job well done.

This article is a direct street report from our correspondent and has not been edited by the 1st Responder newsroom.