Burn Foundation Artist Aided by the NJ Forest Fire Service
September 08, 2021 | NEW JERSEY
JOSEPH M. GETSINGER, Correspondent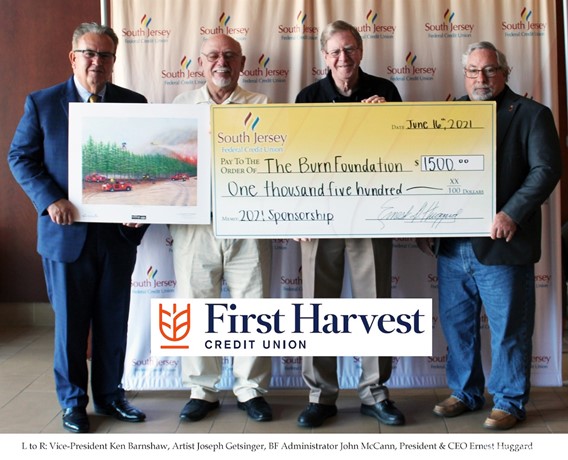 Photo by PROVIDED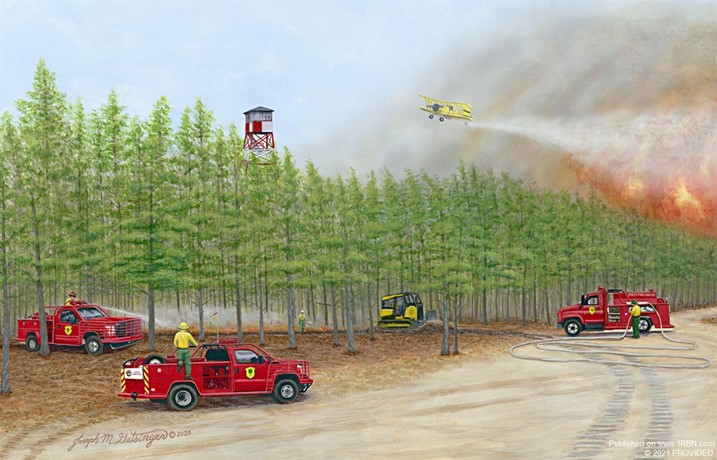 Photo by PROVIDEDThis year's painting is artist Joseph M. Getsinger's first to feature the Forest Fire Service in action.
Photo by PROVIDEDNJ Forest Fire Service, Division C, (L to R): Al Valentino, Quincy Jones, Ken Badger, Jr., Nick Bleyhl, John Knapp, Larry Birch, Bill Donnelly, (Asst. State Fire Warden and K9 Handler) and Anthony Tobolski Jr. in the truck (2020).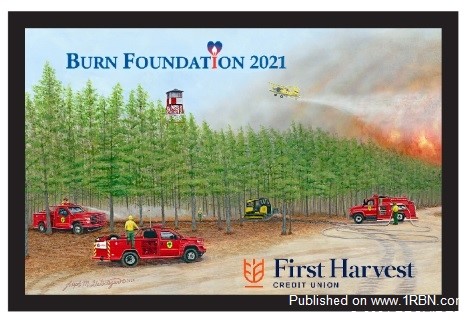 Photo by PROVIDEDImage of what the "Forest Fire Service" collector pin will look like this year.
This article is a direct street report from our correspondent and has not been edited by the 1st Responder newsroom.
For the 41st year of his partnership with the Burn Foundation and its annual fundraiser at the NJ State Firemen's Convention in Wildwood, NJ, artist Joseph M. Getsinger wanted to create something unique.

Co-worker and firefighter, Rich Dale, suggested a "Wildfire" scene honoring the Forest Fire Service. Over the years, Joe's work has depicted many aspects of emergency response featuring firefighters and their equipment, their history, and various evolutions of the first responder experience. The 2021 painting will be Joe's first to feature the Forest Fire Service in action.

The Burn Foundation was established in 1973 to provide fundraising for the emerging specialty for the treatment of burn injuries. The foundation was formed with the mission to provide assistance to burn patients, their families and the institutions that treat them. Over the years the four (4) regional Burn Centers at Crozer Chester Medical Center, St. Christopher's Hospital for Children, Temple University Hospital and Thomas Jefferson University Hospital, their patients, families and staff, have all benefited from contributions raised at various events throughout the years. But none is more important than the annual NJ State Firemen's Convention in Wildwood. Joe Getsinger's art has been a major influence in the foundation's successful fundraising efforts in Wildwood for 41 years.

To get the ball rolling with this year's painting, Joe called Assistant State Fire Warden/K9 Handler of the New Jersey Forest Fire Service, William J. Donnelly of Division "C" headquarters. Bill responded that he and his crew would be honored to assist the Burn Foundation and the artist. He and his crew knew of Joe's art, some of which is displayed at their headquarters.

In early March of 2020, Getsinger met with Donnelly and his crew and set up a photo shoot in the Mays Landing Forest. The crew was ready with equipment and manpower. Joe learned many facets of the of New Jersey State Forest Firefighters and their expertise, not only in extinguishing fires, but also how to prevent them from spreading.

The scenario for the painting shows a wildfire traveling to the crew's area of operations and what the Forest Fire Service members do to mitigate its spread. The artist also incorporated the NJ Forest Fire Service airplane shown dropping an extinguishing agent from above and the Fire Tower.

Joe found the photo shoot and exercise a terrific learning experience about the NJ Forest Fire Service and its great group of dedicated professionals.

This yearly art project continues to be sponsored in full by David Russell, President of Fire & Safety Services Ltd., South Plainfield, NJ, who has supported the Burn Foundation and the artist for over 20 years.

This year's sponsor for the "Forest Fire Service" collector pins is First Harvest Credit Union. First Harvest's President and CEO, Ernest Huggard, and Vice President Kenneth Barnshaw, were proud to sponsor the collector pin for the third year to support the work of the Burn Foundation. In June 2021, the South Jersey Federal Credit Union's name was changed to First Harvest Credit Union. Today, First Harvest Credit Union is a diverse, full-service financial institution serving more than 54,000 members and over 700 employee groups throughout South Jersey. From its original roots in Camden County, the credit union has expanded its presence all the way to the Jersey Shore. Ten full-service locations in New Jersey include the main office in Deptford, along with branches in Camden, Glassboro, Pleasantville, Pennsauken, Voorhees, Mt. Laurel and Vineland. In addition, we service our members in Philadelphia and Williamsport, Pennsylvania. You can pick a collector pin up at the gates of the Wildwood Firemen's Convention tents, or at the Burn Foundation booth for a $5.00 donation on September 17th & 18th.

The Giclee' canvas print, the number one raffle prize valued at $1,500.00, was created and donated by John Cortese, owner of Van Gogh Again Galleries, 1068 Pontiac Road, Drexel Hill, PA, who has donated a Giclee' canvas to support the Burn Foundation for over 10 years. The custom framing of the "Forest Fire Service" Giclee' canvas #1 was donated by Will Edwards of Premier Art & Frames, 162 S. Broadway, Pitman, N.J., a great place to get quality work at reasonable prices.

Finally, God bless our First Responders, Nurses, Doctors, EMTs, Firefighters, Police and all who support them in their efforts to stem the effects of Covid-19. We especially pray for the families who have lost loved ones during this pandemic.

We all look forward to seeing everyone in Wildwood this September 17th and 18th.

If any Fire Departments/Companies wish to assist in selling raffle tickets for the limited edition artwork, feel free to contact the artist directly through his email at: jgetsart@aol.com. Checks may be made out to: Burn Foundation. Prints of Joe's work will be raffled off on Saturday, Sept. 18th at 1:00 P.M.