Mastic FD Explorers Travel to CT for ITTFS Class 50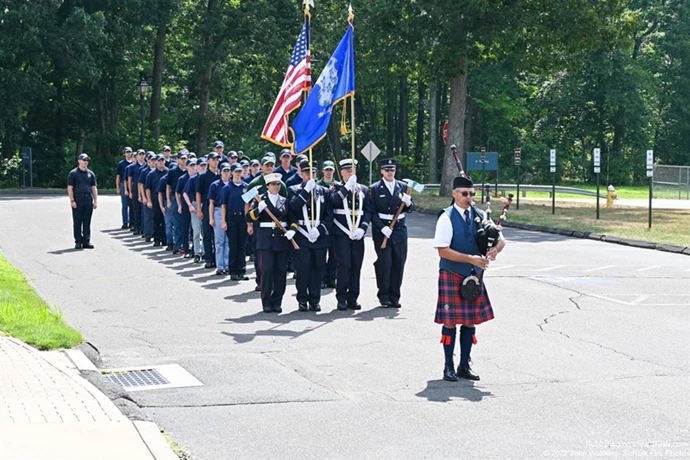 Photo by John Walthers- Suffolk Fire PhotosITTFS Cadets March at Graduation of Class 50 in CT. This class included 2 Explorers from Mastic NY.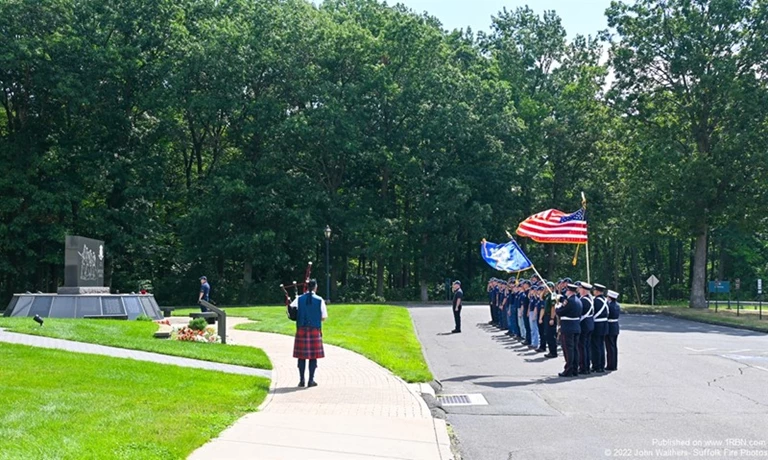 Photo by John Walthers- Suffolk Fire PhotosITTFS Class 50 Cadets stop at the CFA Fallen Firefighters Memorial.
Photo by John Walthers- Suffolk Fire PhotosMastic FD Explorers Capt. Connor Jacobs salutes Chief of Department Rudy Sunderman after receiving his certificate from ITTFS Class 50. Advisor Walter Wood was also present.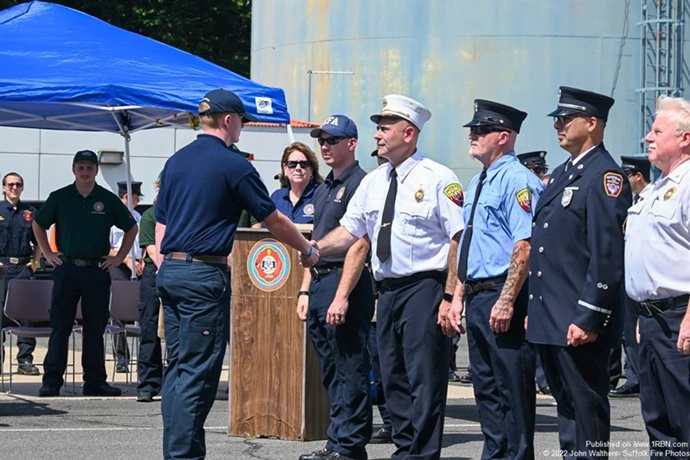 Photo by John Walthers- Suffolk Fire PhotosMastic FD Explorer Lt Jack McNamara is greeted by a delegation that included ITTFS Program Coordinator Kenneth McKenna, Mastic FD Chief Rudy Sunderman, Mastic Explorers Advisor Walter Wood, Waterbury CT FF Bill Cadella and Meriden CT Assistant Chief Robert Burdick.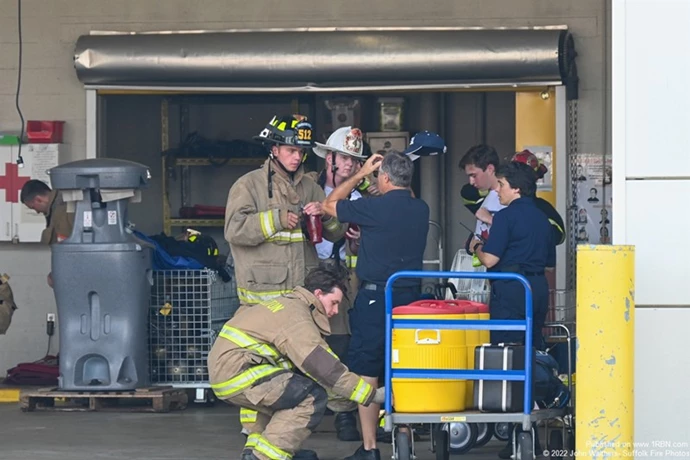 Photo by John Walthers- Suffolk Fire PhotosCadets Connor Jacobs and Jack McNamara (Mastic FD Explorers) and other cadets prepare for a demonstation.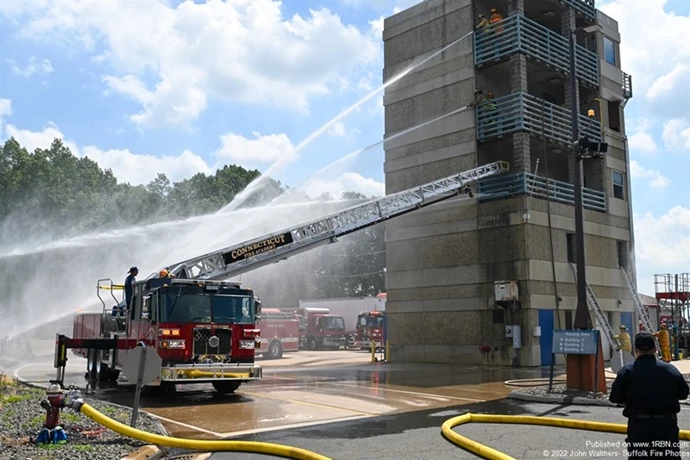 Photo by John Walthers- Suffolk Fire PhotosA tower ladder and multiple hand lines are stretched to show what would be done at a high rise fire.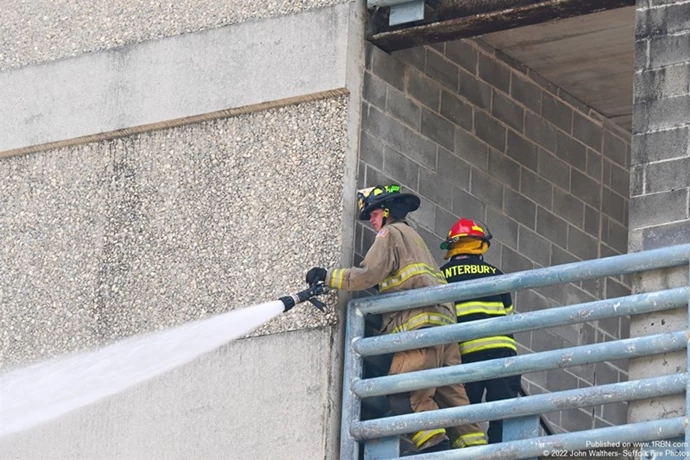 Photo by John Walthers- Suffolk Fire PhotosMastic FD Explorer Captain Connor Jacobs and A Canterbury FD Junior operate a line on one of the upper floors.
Photo by John Walthers- Suffolk Fire PhotosCadets from ITTFS class 50 from CT Departments grab ladders and other gear during the high-rise fire demonstration..
This article is a direct street report from our correspondent and has not been edited by the 1st Responder newsroom.
WINDSOR LOCKS, CT - The Connecticut State Fire Academy plays host each year to a number of programs geared toward not just adults in the fire service, but also the youth of the fire service.

Each summer, the CT Fire Academy hosts Introduction to Fire Service (ITTFS), and Advanced Skills and Concepts (ASAC) programs. The ITTFS program is a residential 6-day summer session held at the academy located in Windsor Locks. The program provides a vast curriculum of the fire service, which includes classroom education, physical training and hands-on skills training related to the fire service.

This year, ITTFS Class 50 was held from August 1st to August 6th and consisted of approximately 25 Cadets, a majority of which were Junior Firefighters/Explorers from the state of Connecticut. This year's class also consisted of two cadets from Mastic FD Explorer Post 512 located on Long Island; Capt. Connor Jacobs, age 17, and Lt. Jack McNamara, age 15, traveled to Connecticut where they honed their skills as part of ITTFS Class 50.

On August 6th, a graduation ceremony was held for the cadets at the CT Fire Academy that began with a brief memorial service at the fallen firefighter memorial located on the grounds of the academy. The cadets then marched across the roadway to the field where the formal graduation ceremony was held. Brief remarks were made welcoming the guests and then program coordinator Kenneth McKenna and CFD Director of Training PJ Norwood spoke about the program. The class Public Information Officer, Jonathan Sartori, who was elected by his peers, gave a rundown of the events from the week and recognized the cadets from NY as well as CT. Each cadet was able to have representatives from their department present to assist with certificate presentations. Mastic FD Chief of Department Rudy Sunderman and Explorer Advisor Walter Wood made the trip to help in the recognition of their cadets.

After receiving their certificates, the cadets demonstrated their skills with a high-rise fire scenario at the training tower. Mastic Explorer Lt. Jack McNamara was given the role of Incident Commander (District 4 Chief) while Explorer Capt. Connor Jacobs and the other cadets were assigned to an engine or truck and given various roles in the operation, from making entry, to stretching lines, to rescuing victims, as well as other tasks. The demonstration showed the parents, friends, elected officials and media/photographers a small portion of what the kids learned. They were then invited to stay for lunch provided by the academy before heading home.