Bridge Inspectors Rescued from Top of Mid-Delaware Bridge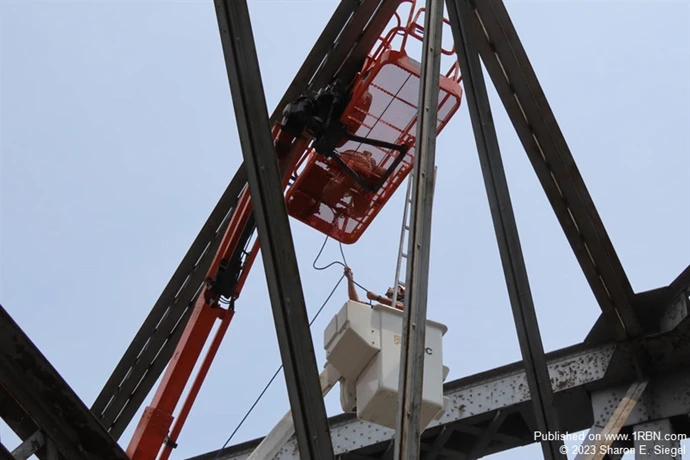 Photo by Sharon E. SiegelPort Jervis FD Special Operations Team Mike Aumick.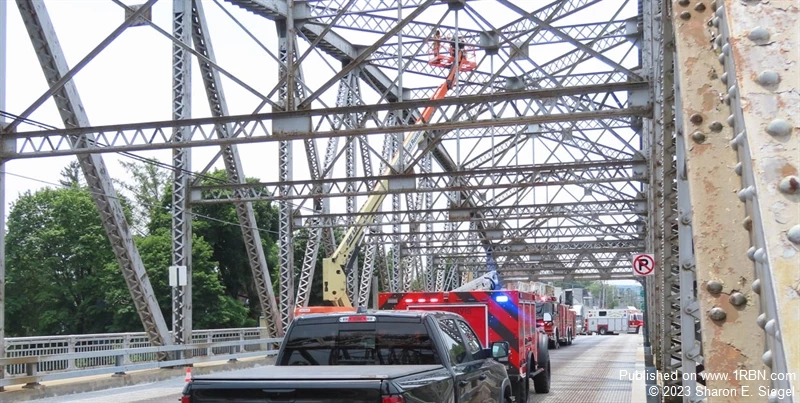 Photo by Sharon E. SiegelPort Jervis, NY and Matamoras, PA Fire Department volunteers Kyle Innella, Sean Alessandra, and Tim Simmons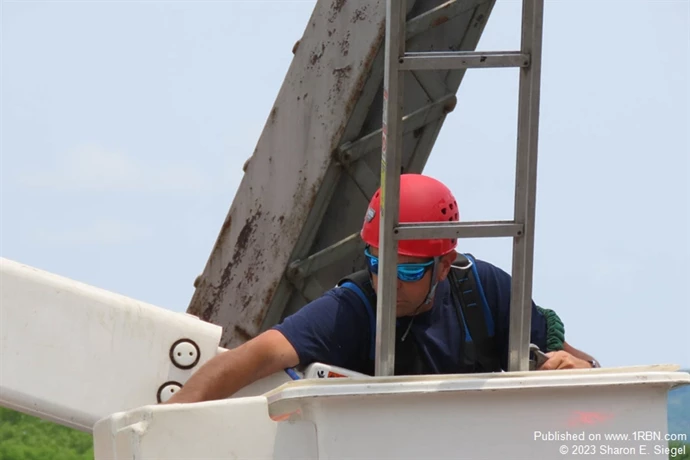 Photo by Sharon E. Siegel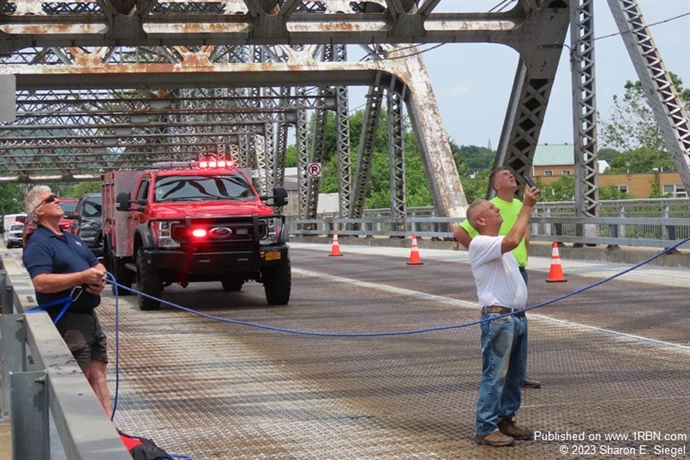 Photo by Sharon E. SiegelPort Jervis firefighters Tim Simmons and Joe Kowal, with Port Jervis Department of Public Works Assistant Director Wayne Addy.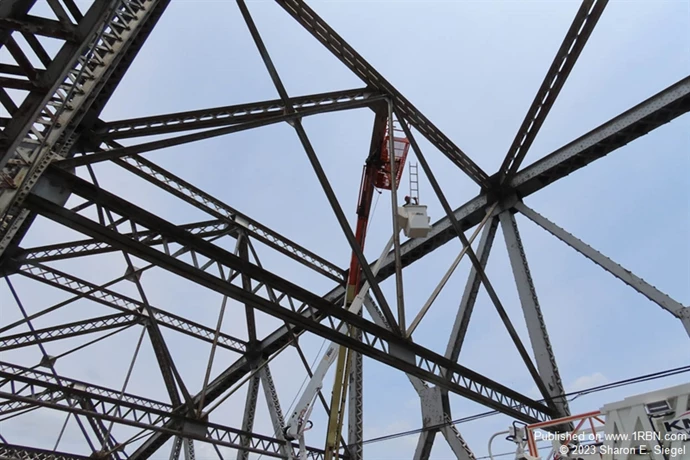 Photo by Sharon E. Siegel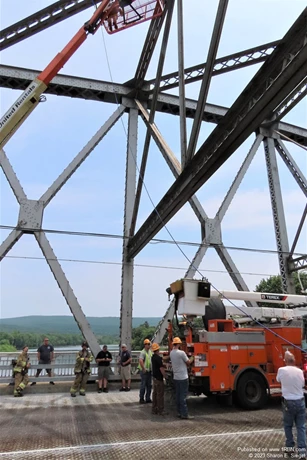 Photo by Sharon E. Siegel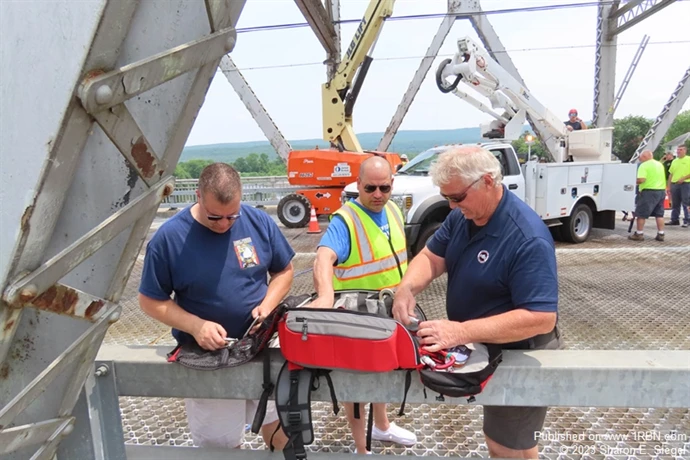 Photo by Sharon E. Siegel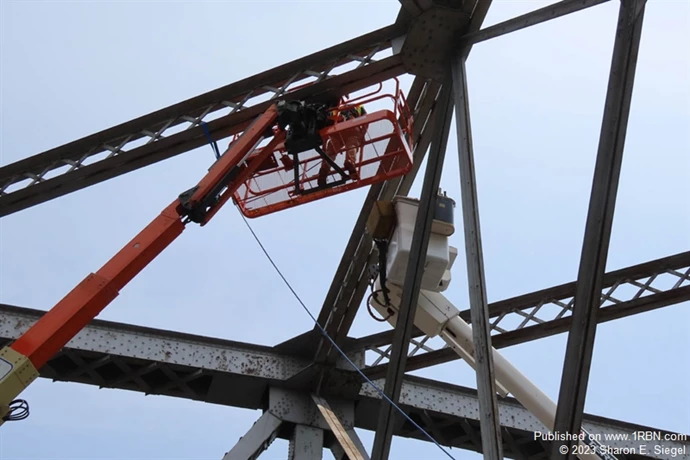 Photo by Sharon E. Siegel
This article is a direct street report from our correspondent and has not been edited by the 1st Responder newsroom.
PORT JERVIS, NY - A crew of bridge workers inspecting the Mid-Delaware Bridge between Matamoras, Pennsylvania and Port Jervis, New York required a rescue this summer when the bucket of their lift truck became stuck between the top beams of the bridge.  
Fire, police, and EMS from both sides of the Delaware River, along with a Port Jervis Department of Public Works crew, assisted in bringing the worker safely down from the top of the 50-60-foot-tall metal bridge.  
The bridge inspection crew had been hired by Pennsylvania's Department of Transportation for a scheduled bridge examination. The sole occupant of the bucket at the time it became stuck said he had been working near the top of the bridge when the hydraulic lift bucket became wedged. The 20-year employee said that in all of his years as a bridge inspector, this was the first time he had run into trouble. He was grateful for the help of responders.
The rescue required several strategic attempts. The first was made by Port Jervis Fire Department, with their aerial ladder and Special Operations Team. Due to the intricate cross maze of beams, their ladder was unable to extend to a safe position for the rescue. Next, Port Jervis' Department of Public Works bucket truck was used for an attempt. Michael Aumick, a member of PJFD's High Angle Rescue Team, was lifted in the DPW bucket, but it was determined that this could also not make a safe transfer connection. The mission was accomplished on the third attempt, with help from a nearby Orange and Rockland Utilities crew.
By using the utility's larger bucket truck, lift, and safety gear provided by rescue responders, the bridge inspector was able to transfer from his unmovable bucket to O&R's. He was then lowered to the deck as ropes were operated for additional safety by the rescue team.
While it required teamwork and strategy, the rescue took only about an hour overall for these crews to complete. No injuries were sustained.