Historic Fire Boat John J. Harvey Celebrates 90 Years
By CHUCK PARODI , Correspondent | September 01, 2021 | NEW YORK
Story No. 072921104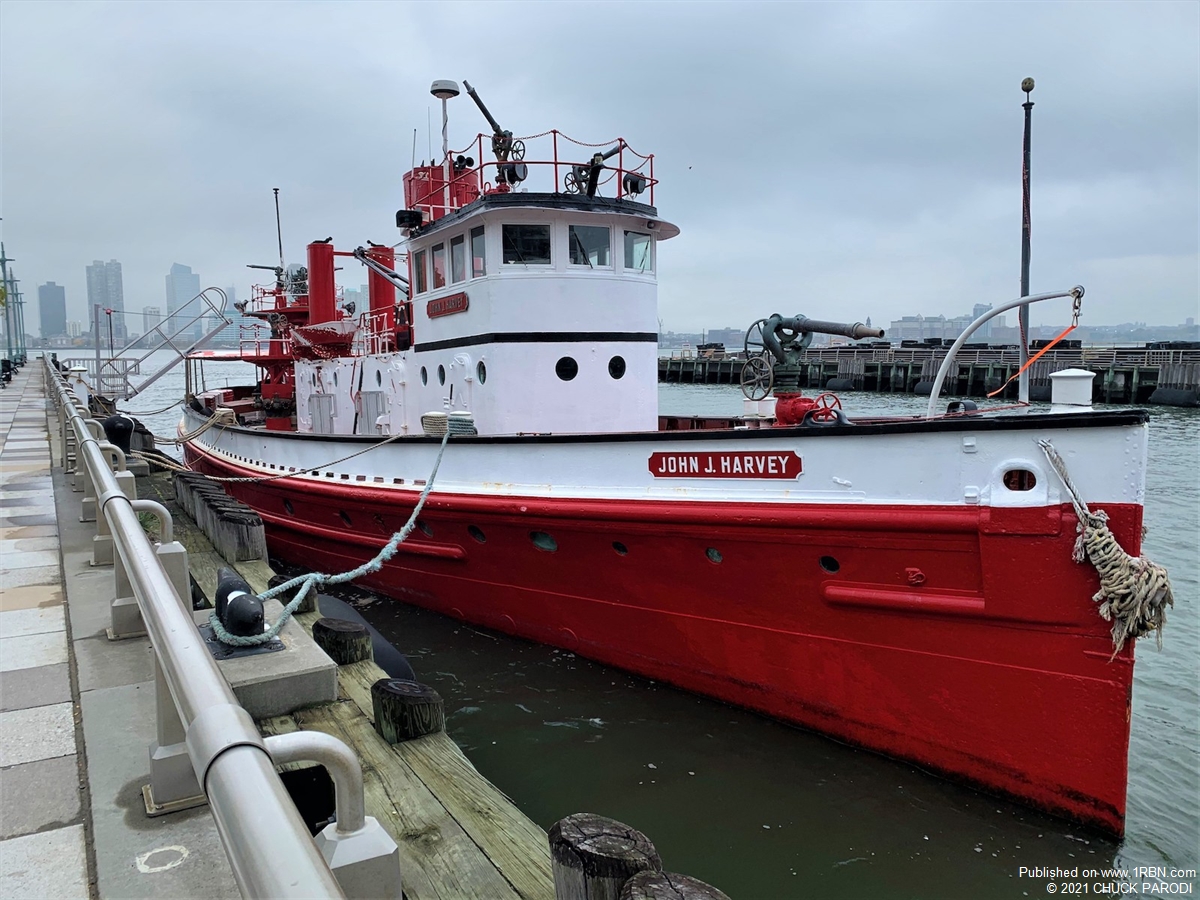 Photo by CHUCK PARODI Boat docked near Freedom Tower.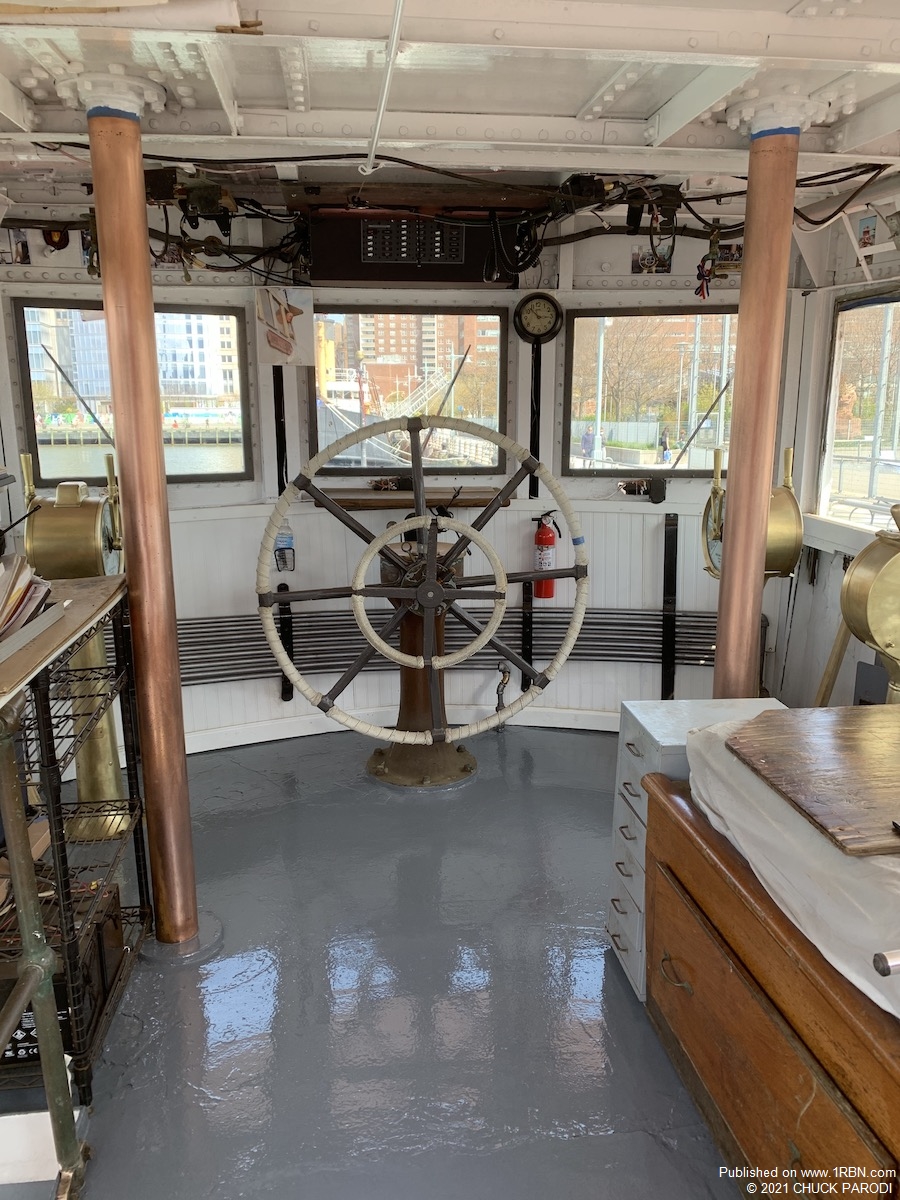 Photo by CHUCK PARODI Pilothouse of John.J Harvey.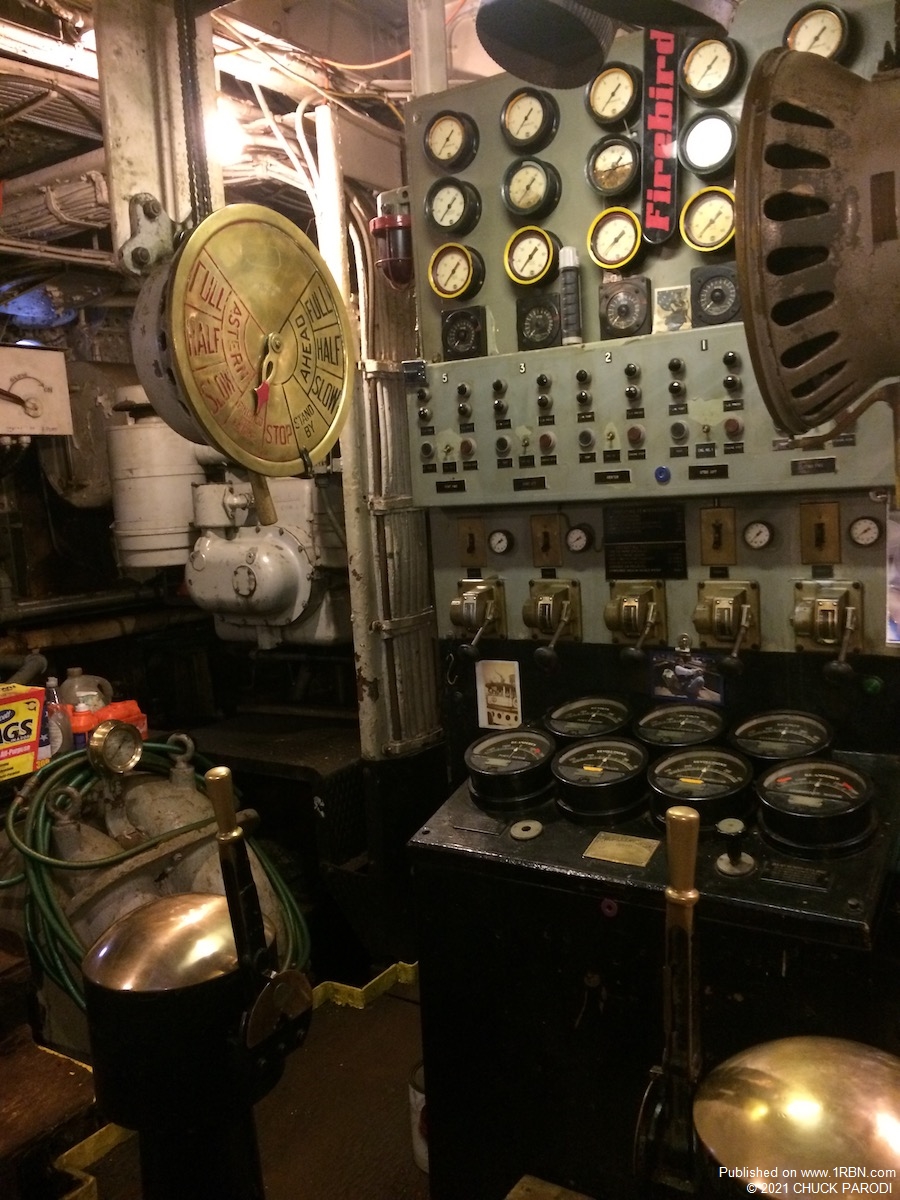 Photo by CHUCK PARODI One of the few remaining "bell system" engine room control panels on a working boat.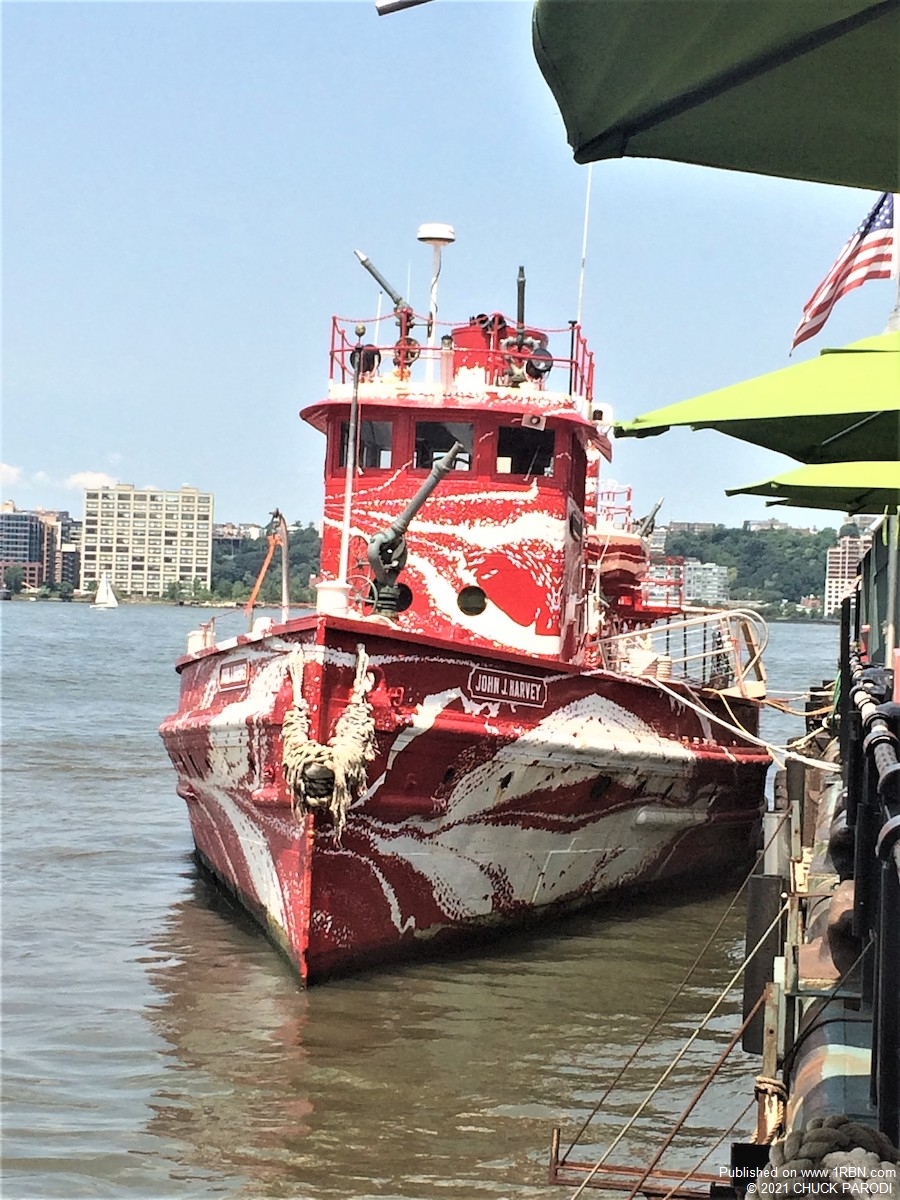 Photo by CHUCK PARODI John J. Harvey "Dazzled" and moored at Pier 66 Maritime, Hudson River Park, NYC, 2018.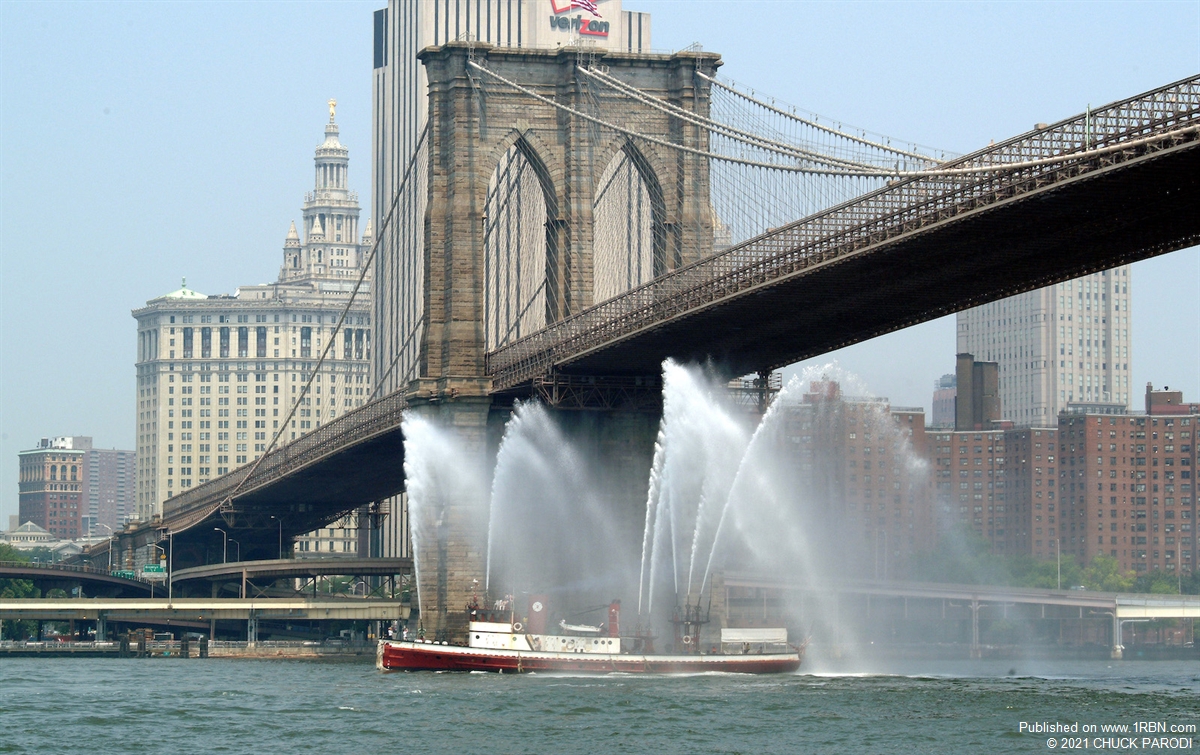 Photo by DAVID GRILLWater display on East River passing under Brooklyn Bridge.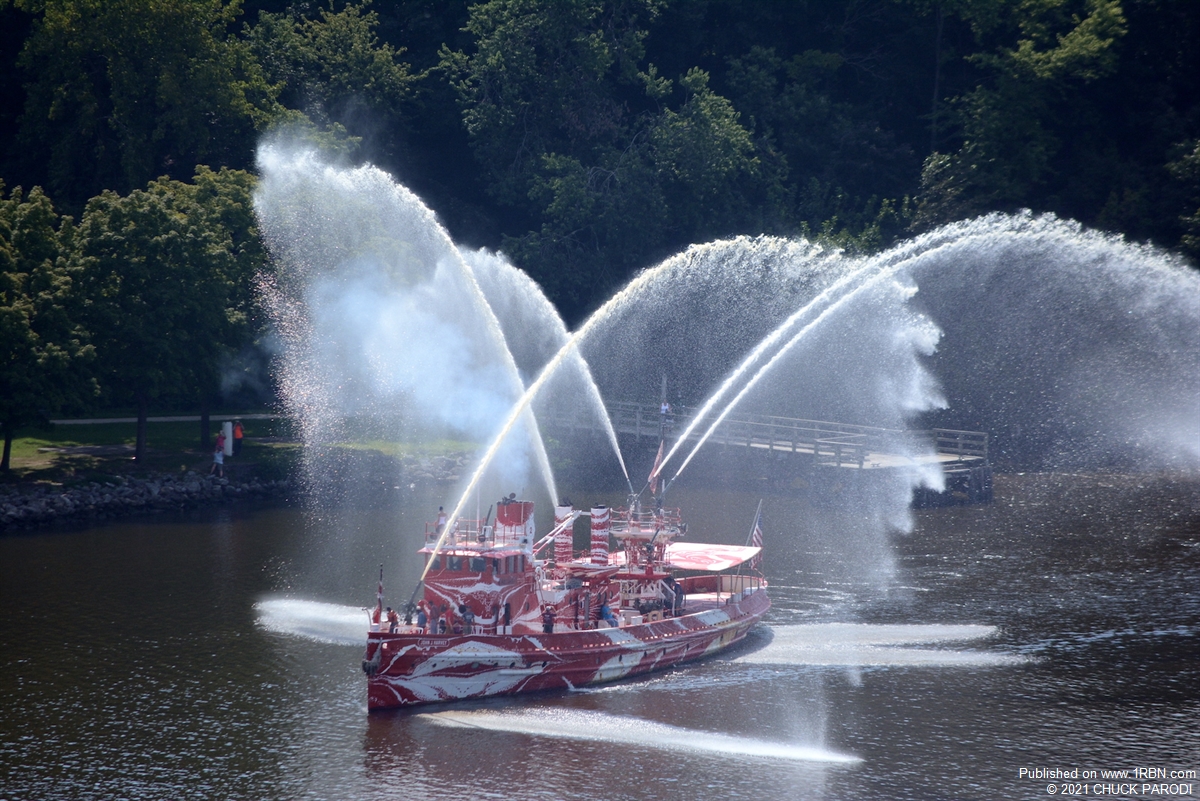 Photo by DAVID GRILLLeaving dock at Poughkeepsie going north to Waterford , New York.
1931 is the birthdate of the Empire State Building, George Washington Bridge, and the oldest, most famous firefighting vessel on the Hudson River, the John J. Harvey.

Built for the New York City Fire Department at Todd Shipyards in Gowanus Bay, Brooklyn, she was ordered in 1928 at the cost of $594,000. Her keel was laid down in 1930 with her commissioning occurring on December 17, 1931. She was originally named Engine 57, then Engine 86 in 1938, and finally the John J. Harvey. John J. Harvey was a FDNY pilot who was killed aboard fireboat Thomas Willett while fighting a fire aboard the North German Lloyd Line's SS Muenchen.

Before being retired in 1994, the Harvey was a historic first. She was the first gasoline-electric powered fireboat with 5 gasoline motors, 4 fire pumps, and 2 twin screws. She could pump and maneuver simultaneously and was the largest, fastest fireboat of her time being capable of pumping 18,000-gallons-per-minute. Originally powered by a pressurized gas system, the Harvey was retrofitted in 1957 with the Fairbanks-Morse 8-cylinder diesel engines that power her today. She has 7 deck monitors and is 130' in length with a 28' beam and 9' draft.

She served on the west side of Manhattan her entire career and fought some of New York harbor's most noteworthy fires. Her first famous fire was at Cunard Pier 54 on May 3, 1932. On April 24, 1943, she fought the fire on the munitions ship El Estero in Bayonne. Had that ship exploded, lower Manhattan would have been destroyed. For her efforts, her crew earned the FDNY's Medal of Valor Award. February 9, 1942 found the Harvey fighting the fire at Pier 88 on the luxury liner Normandie, which was being re-fitted as a troop ship. After 63 years of active service, the Harvey was taken out of service in June, 1994. Saved from the scrapyard 69 years to the day after pilot John J. Harvey died, the boat was bought at auction on February 11, 1999 at the last minute by a group of individuals interested in marine history. In June of 2000 she was added to the National Park Service's National Register of Historic places.

On September 11, 2001, the John J. Harvey had an unexpected time to serve encore. Shortly after the attacks on the World Trade Center, the boat's owners started helping evacuate people from the sea wall near the Battery near ground zero. Meanwhile, the NYFD realized the vast damage to many fire mains, depriving fire crews of water at the disaster site. Seeing the Harvey carrying people off the island to safety, fire officials radioed the John J. Harvey asking if her pumps still worked. She responded yes and was told to drop off her passengers as quickly as possible and tie up adjacent to FDNY fireboats, Fire Fighter and McKean, on the sea wall to provide much needed additional pumping assistance. FDNY designated the Harvey as Marine Company Two and assigned her an officer. Since the water mains were broken, the fireboats were the only source of water. There she worked nonstop at the site until Friday night when hydrants had been restored, and she was then sent home. The Harvey's actions that week were the subject of numerous newspaper and tv reporting and resulted in the 2002 book, Fireboat, by Maira Kalman concerning the tragedy.

In 2018, the John J. Harvey sported a new appearance with a "dazzle" camouflage pattern paint job. A naval disguise used in World War 1, the Harvey's new paint scheme was a result of a partnership between Public Art Fund, a New York based nonprofit that commissions free public exhibitions, and 14-18 NOW, a U.K. based arts program that marked the centenary of World War 1. The red and white pattern painted on the Harvey was designed to confuse range finders, the optical instruments of World War 1 era, through a series of slices, shifts and repetitions, creating the illusion of a false stern and false bow. The painted design would optically distort their forms, confusing enemy submarines tracking their distance, direction, and speed. Thousands of vessels were dazzled in the U.K. and United States, including in New York City at the Brooklyn Navy Yard. This art commission was meant to give artists and the public an opportunity to connect with the war that ended in 1918 in which the United States participated. In 2019, the traditional NYFD paint configuration was returned to the boat after a year of many second glances by harbor viewers being "dazzled".

The John J. Harvey is moored at Pier 66 Maritime, at 26th Street as part of the Hudson River Park. Her pier consists of a restored Lackawanna railroad barge which also hosts the Frying Pan Restaurant and 1929 lightship Frying Pan. The fireboat now serves as an operational museum and educational center, working with a variety of organizations to educate the metropolitan community about the rich history of our waterways, maritime heritage, and the fireboat's place in industrial history.

The John J. Harvey welcomes volunteers in our efforts in protecting the irreplaceable workings of the engine room and riveted hull and other boat preservation efforts. The attack of salt water on steel is relentless, and preservation efforts continue daily unabated. Each year the John J. Harvey travels the region to promote waterfront vitalizations, perform water displays, and give tours of her inner workings. Crew training is never ending with courses given in first aid, CPR, man-over-board drills, line handling and deck crewing. She is one of a few boats that still uses port and starboard telegraphs and is known as a "bell boat," so called from the distinctive chime when the telegraph levers are moved. What a great opportunity for someone interested in pursuing a career in the maritime field to start on such a historical vessel! Crew members come from various careers which all add to a wealth of great friendships and opportunities.

Come join us as we celebrate the John J. Harvey 90th birthday this fall! Contact deckhand Chuck Parodi at 201-843-6966 or EMT5748@aol.com
This article is a direct street report from our correspondent and has not been edited by the 1st Responder newsroom.