Old Tappan VFD Receives 26 New Handie-Talkies Through FEMA Grant
July 27, 2022 | NEW JERSEY
WILLIAM J. AUTH, JR., Correspondent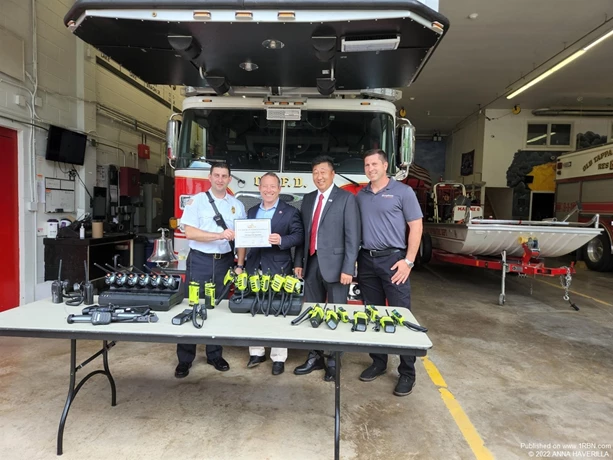 Photo by ANNA HAVERILLA(L to R): Chief Kutzin, Congressman Gottheimer presenting Congressional Certificate of Recognition, Councilman and Firefighter Jin Yhu and Councilman William Boyce.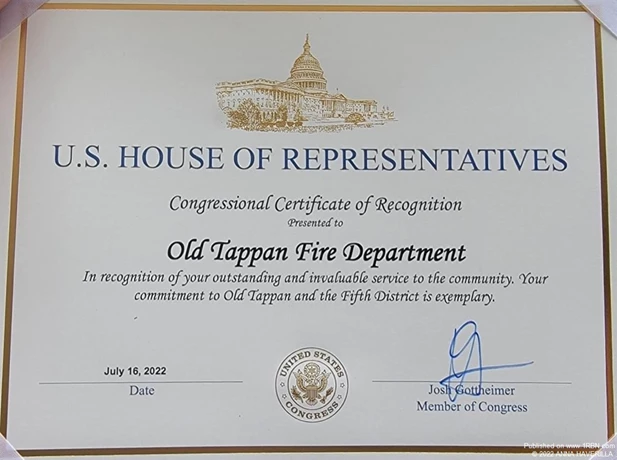 Photo by ANNA HAVERILLACongressional Certificate of Recognition
This article is a direct street report from our correspondent and has not been edited by the 1st Responder newsroom.
OLD TAPPAN, NJ - The Old Tappan Vol. Fire Department recently received 26 new state of the art Handie-Talkies. The Handie-Talkie, or portable radio, is an essential firefighting tool. The department's current Handie-Talkies were 20-years-old or older, and had little in the way of Inter-Operability capability with other fire departments and the other emergency services.

The new models have greatly enhanced Inter-Operability, which will allow the department to quickly and effectively communicate with other fire departments with whom they would work with at major fires or emergencies. They also include a safety feature on each unit's channel selector switch of defaulting to the critical Fire Ground channel in either the full left or right position. Any firefighter in trouble in the low visibility or blacked out conditions of interior firefighting will only have to turn the selector switch full right or left to know he's transmitting his situation on the always monitored Fire Ground channel.

The new Handie-Talkies were acquired with a FEMA (Federal Emergency Management Agency) Assistance to Firefighters Grant, which was prepared and submitted by Chief of Department Evan Kutzin. Chief Kutzin remarked that Congressman Josh Gottheimer, NJ 5th CD, was very helpful in obtaining the Grant.

Congressman Gottheimer was on hand as Chief Kutzin, on behalf of the department, accepted the new Handie-Talkies. At that time the Congressman also presented the department with a Congressional Certificate of Recognition which read, "In recognition of your outstanding and invaluable service to the community. Your commitment to Old Tappan and the Fifth District is exemplary." The department's Line Officers will be training the firefighters in the use of these new Handie-Talkies in upcoming drills and training nights.

Chief Kutzin would like to remind all Old Tappan residents that its VOLUNTEER fire department is looking for new members to assist it in its efforts to protect life and property from the ravages of fire. All healthy residents aged 15 and over who may be interested are encouraged to stop by the department's quarters any Monday evening at 7:15 P.M., when we drill and train.