Mobile Life Honors 8-Year-Old Twins in Pleasant Valley Who Saved Mom's Life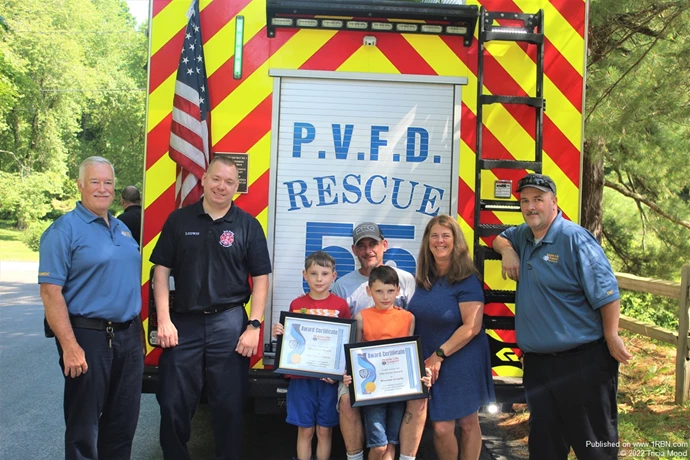 Photo by Tricia Mood(L to R): Mobile Life Support Paramedic John Donnelly, Pleasant Valley FF Andrew Ludwig, Brendan, Kevin, Ronan, Leann, and Mobile Life Support EMT Charles Fraleigh.
This article is a direct street report from our correspondent and has not been edited by the 1st Responder newsroom.
PLEASANT VALLEY, NY (July 22, 2022) - In August of 2021, twin brothers, Brendan and Ronan, had no idea that they would soon be considered heroes by their family, friends, and local emergency responders.

On what seemed to be a usual summer day at home with their mom, Leann, Brendan and Ronan were about to have quite an unusual day. The two boys, only 7-years-old at the time, found their mother on the floor, unable to get up. The boys knew they should call 911, but were unsure of how to get to the correct screen on her cell phone. They found their dad Kevin's number in the list of recent calls and called him instead. Kevin then phoned the neighbor, Carlos, who rushed right over. The quick-thinking twins used a baseball bat to reach the lock on the door and let Carlos in the house.

Once 911 was dialed, Mobile Life Support Services along with Pleasant Valley Fire Department, was dispatched to the residence for difficulty breathing and vomiting. When Mobile Life paramedic, Raina LeBron, arrived on scene, she found Leann lying on the floor. She thoroughly assessed the patient and was able to quickly discern that she was suffering from a very serious medical condition and was in need of immediate intervention. Raina expedited transport to the closest appropriate hospital and provided impeccable pre-hospital care for Leann while en route.

"The fact that these two amazing kids were able to remain calm, navigate through some obstacles put in front of them, and do exactly what needed to be done in such an emergent and stressful situation is really incredible," said LeBron. "I have no doubt that their bravery and quick action is what saved their mom's life."

After proper treatment and two weeks in the hospital, Leann was able to return home to her family, including her two little heroes. She has not only survived, but has made a complete recovery. Months later, after some much needed rest and recuperation, we were able to reconnect with Leann and her family, and present the boys with Life Saver Awards. While it was a team effort that included Kevin, Carlos, Pleasant Valley FD, Mobile Life Support, and the hospital, it was the extraordinary courage and quick thinking of her two young sons that set everything in motion and saved Leann's life that day.

Mobile Life Support Services encourages you to review emergency safety and appropriate actions. If you have or spend time with young children, teaching them that they need to dial 911 in case of emergency may not be enough. Please teach them what is and what isn't an emergency and how to use whatever phone or devices you have available to call for help. Be sure to practice scenarios such as medical emergencies, stranger danger, and run fire drills that include a meeting spot in a safe location. Remind them to stay on the line with 911 after they've dialed and some key info the dispatcher will need.

Follow this link for an instructional video for kids on when and how to dial 911: https://youtu.be/JdKG_L5YuB8

About Mobile Life Support Services, Inc.
Mobile Life Support Services, Inc. is a New York State Certified Advanced Life Support paramedic ambulance company that provides emergency services to communities and healthcare facilities throughout the Hudson Valley Region of New York State, including the counties of Dutchess, Orange, Rockland, Ulster, and Westchester. Founded in 1981 by Rick and Gayle Metzger, Mobile Life remains the premier emergency service provider in the Mid-Hudson Valley, second only to the NYS Police, and is composed of approximately 400 EMS professionals across the region and operates a fleet of more than 70 ambulances and emergency vehicles, and 20 plus stations. With a collective population of more than 1,000,000 residents, Mobile Life handles nearly 100,000 calls per year. For more information about, or to apply online to Mobile Life Support Services, visit our website please www.mobilelife.com.