Fire Races Through Three Homes in Kearny
July 19, 2021 | NEW JERSEY
RON JEFFERS, New Jersey Editor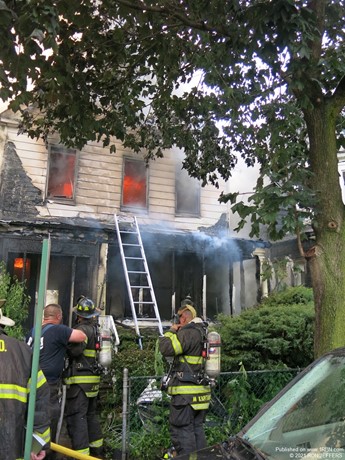 Photo by RON JEFFERSFlames raced through three Elm Street dwellings, in Kearny, keeping firefighters busy from three counties on the morning of July 18th.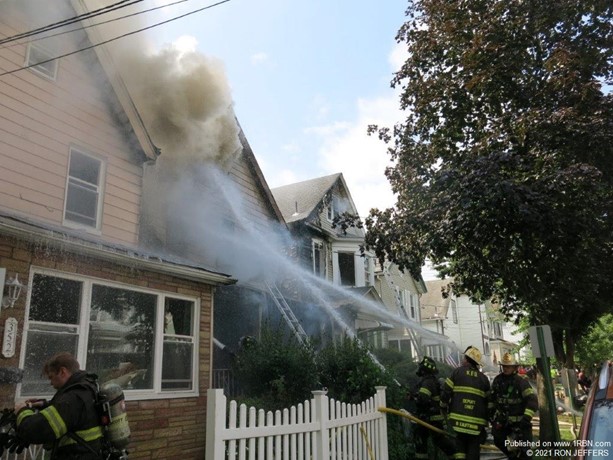 Photo by RON JEFFERS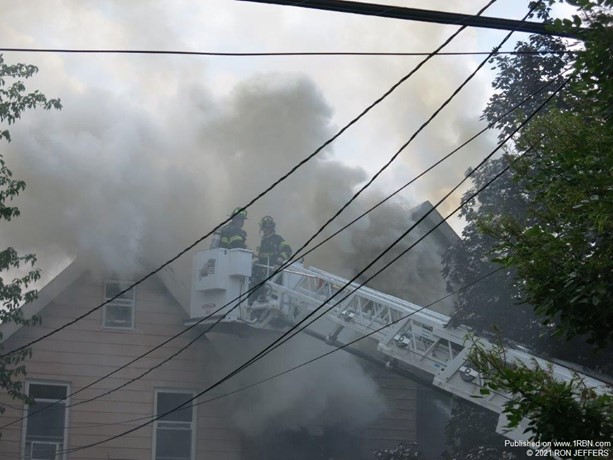 Photo by RON JEFFERS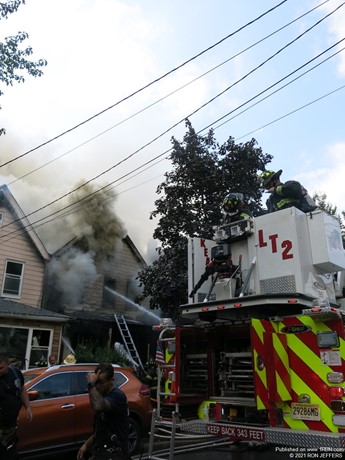 Photo by RON JEFFERS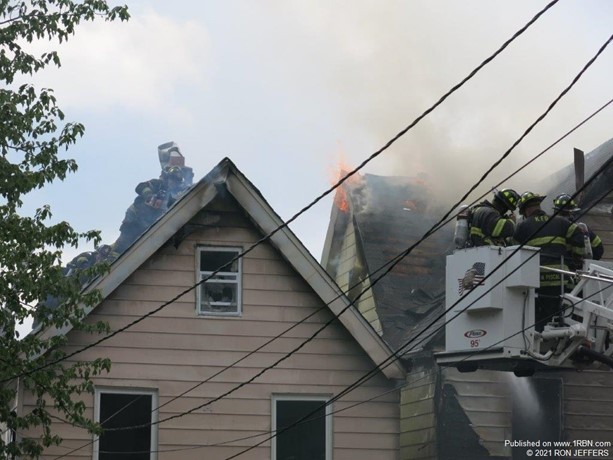 Photo by RON JEFFERS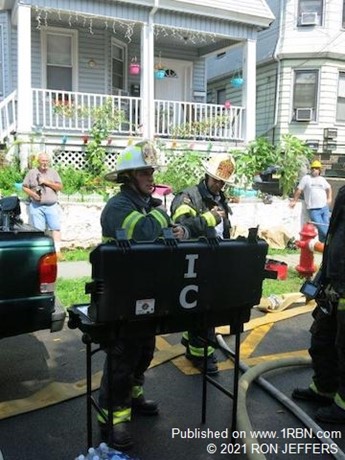 Photo by RON JEFFERS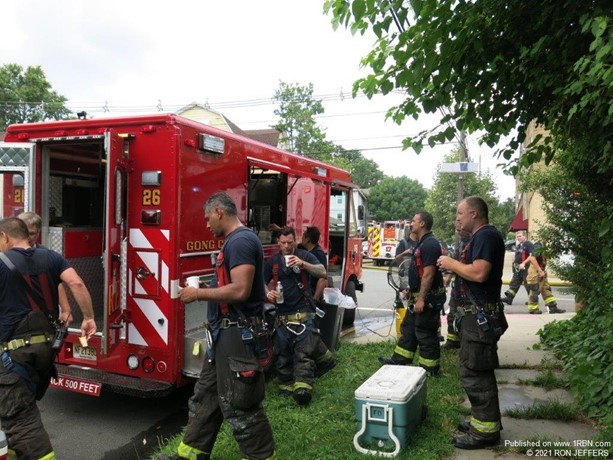 Photo by RON JEFFERS
This article is a direct street report from our correspondent and has not been edited by the 1st Responder newsroom.
KEARNY, NJ - Fire tore through three Elm Street dwellings, July 18th, in a residential neighborhood. The two-and-a-half story, wood-frame structures are all separated by narrow alleyways in this area.

Around 9:00 A.M., fire units responded to the alarm at 350 Elm Street and found fire involving one of the homes, which quickly spread to two others. Mutual aid was called in to assist local firefighters tackle the stubborn blaze that was extending up walls and into the attic areas.

As conditions began to deteriorate, firefighters were ordered out of the original fire building and an exterior attack began. Heavy smoke covered the street and flames would break out from time to time. Deep-seated fire in the buildings kept firefighters busy for quite a while.

With the temperature in the 80's and a 73-percent humidity reading, firefighters took a beating and had to rotate between firefighting operations and taking a rehab break. They shed their heavy turnout gear and grabbed a bottle of water. This also caused additional manpower to be called in for a total of five alarms. In addition, an order was issued for all off-duty Kearny firefighters to return to duty.

Mutual aid fire companies included: Harrison Ladder 1 and Engine 4; North Arlington Engine 1, Ladder 3 and Rescue 5; Jersey City Engines 15, 17, Ladder 9, MSU, Battalion 4 and the Field Training Officer; North Hudson Regional Fire & Rescue Engines 1, 9, Ladder 4, Safety 1 and Battalion 1; Belleville Engine 2, Bayonne Engine 7, Ladder 3, a BC; and Hoboken Engine 2 and Battalion 1. Additional aid from Newark, Secaucus and East Newark covered the town for any other emergency calls.

The Jersey City Office of Emergency Management sent its rehabilitation bus to the scene, and the Jersey City Gong Club canteen truck was also present to supply exhausted firefighters with bottled water, wet cloths and other supplies.

One resident was taken to the Burn Center at St. Barnabas Medical Center, in Livingston, according to Chief of Department Joseph Mastandrea. About nine residents were displaced and three pets perished in the fire. A representative from the Red Cross was on hand to assist the occupants. It was also reported that one Kearny firefighter and one Jersey City fire officer were taken to the hospital and treated for non-life-threatening injuries.

Firefighters had the fire under control shortly after noon. Investigators from Kearny and the New Jersey State Fire Marshal's Office were on hand to conduct an investigation into the cause of the fire.