State Fire Chiefs Association Presents Chief of the Year Awards
July 18, 2023 | NEW YORK
NYSAFC, Correspondent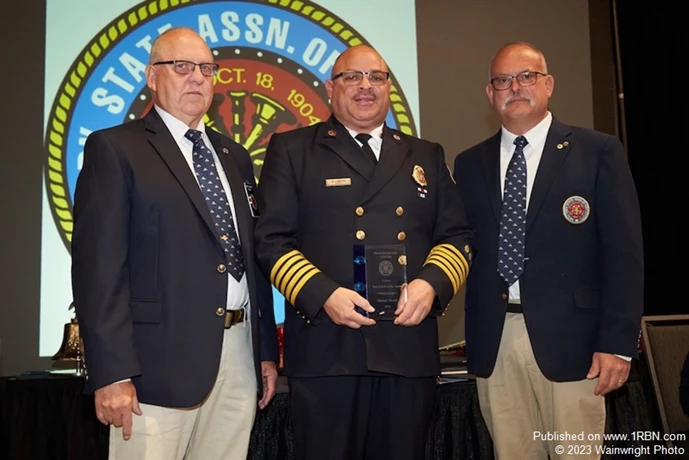 Photo by Wainwright Photo(L to R): NYSAFC President 2022-2023 James Comstock, Career Fire Chief of the Year Michael Monds, NYSAFC CEO Bruce Heberer.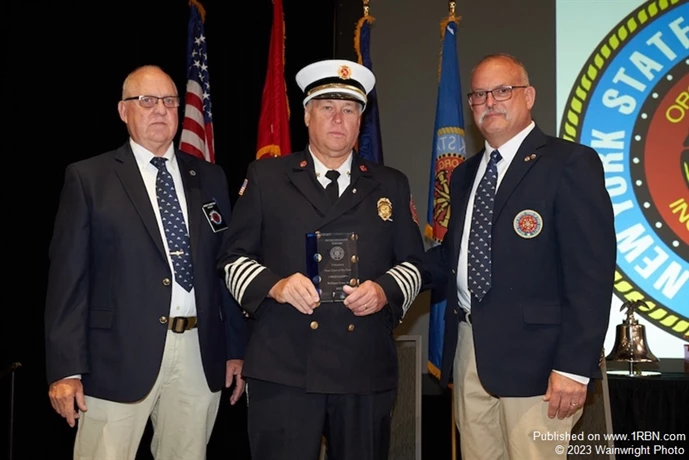 Photo by Wainwright Photo(L to R): NYSAFC President 2022-2023 James Comstock, Volunteer Fire Chief of the Year William Fries, NYSAFC CEO Bruce Heberer.
This article is a direct street report from our correspondent and has not been edited by the 1st Responder newsroom.
The New York State Association of Fire Chiefs (NYSAFC) is pleased to announce the 2023 recipients of its New York State Fire Chief of the Year Awards, Chief Michael J. Monds of the Syracuse Fire Department (Career Fire Chief of the Year) and Chief William R. Fries, Sr. of the Hammondsport Fire Department (Volunteer Fire Chief of the Year). 
The awards were presented on June 15, 2023, during the General Session of the association's 117th Annual Conference & FIRE 2023 Expo in Syracuse, N.Y.
NYSAFC's Fire Chief of the Year Award honorees are association members who have been selected for demonstrating exemplary leadership, innovation, professional development, integrity, service to the public, and contributions to the fire service.  
Michael J. Monds is a 23-year veteran of the Syracuse Fire Department (Onondaga County). As a firefighter, Monds was first assigned to Engine 9, for approximately four years, then was assigned to Engine 6 until he was promoted. After promotion to lieutenant in 2011, Monds was assigned to Engine 18, Engine 6, Training Division, and Truck 5 before being appointed chief of department. He has led the department since January 2018.
Throughout his career, Monds has demonstrated a true concern for his firefighters, his city, and the fire service in general. He was nominated for this award by the Career Fire Chiefs of New York State, which noted his community engagement and outstanding effort in the recruitment of members to sustain staffing needs, including the launch of a Junior Fire Cadet Mentoring Program. Monds also facilitated a transition to 24-hour duty shifts and filled the gap in EMS services to the city by staffing SFD ambulances with paramedics. Under his leadership, the department developed a drone program and strengthened its focus on public fire safety education, particularly for children and seniors. He was honored with awards for life-saving actions in 2009 and 2016. Monds has been an ardent supporter of the NYSAFC Annual Conference & Expo, including the Hands-On Training program, which the city of Syracuse has hosted since 2019.
"Under Chief Monds' leadership, the Syracuse Fire Department has been repeatedly recognized for its outstanding service to the community. The department was awarded the National Fallen Firefighters Foundation 'Seal of Excellence Award,' one of only 22 departments in the nation ever to receive the award. The department also earned the largest Federal Emergency Management Agency grant in its history, more than $3 million for firefighter staffing," said Syracuse Mayor Ben Walsh. "Now, Chief Monds himself is being honored with the 2023 Career Fire Chief of the Year Award. It reflects what I have always known: we have the best fire department and the best fire chief in the nation. I thank Chief Monds for how much he gives to the SFD and this city every single day."
William R. Fries Sr. has been a member of the Hammondsport Fire Department (Steuben County) since 1979. Volunteerism is a family affair, as many members of the Fries family actively serve with the HFD. Fries served as assistant chief from 1981-1985 and was elected chief in 1986. He has also served as a Steuben County deputy fire coordinator since 2012, has been a member of the Steuben County Fire Advisory Board for 20 years, and is a longtime member and current treasurer of the Steuben County Fire Chiefs Association. Recently, Fries received the annual Recognition Award for the Hammondsport Fire Department presented by the Steuben County Chamber of Commerce. 
Under Fries' leadership, the department has committed to training its members to the highest extent possible to ensure firefighter and community safety. The HFD is one of a few volunteer fire departments in New York state to achieve an ISO rating of 3. 
Fries has served as the Hammondsport Central School transportation superintendent for over 20 years, and is a very active member of district committees that focus on student safety, fire/life safety, and fire prevention education. He is also an active participant in career day activities at the school, which has resulted in a significant number of students joining the department as junior firefighters. A very active member of the community, Fries is known as an ambassador for fire safety and volunteerism in the region.
Fire service colleagues who nominated Fries noted his great passion for the fire service and steadfast commitment to the training and professional development of his members, as well as firefighters throughout the region. He is known for dedicating time to seek out new ideas for training and department drills, and opens the doors to other area firefighters. Fries was also commended for his extraordinary commitment to interagency cooperation, working closely with neighboring departments, as well as county and state agencies. The HFD and Fries are strong supporters of NYSAFC training, hosting hands-on and classroom-based programs to provide additional training opportunities for local fire service personnel.
"In my many years in the fire service as a county fire coordinator, instructor, and facilitator of training programs, I have worked with a lot of fire chiefs. Chief William Fries of the Hammondsport Fire Department has impressed me with his leadership, knowledge of fire department operations, community involvement, and his commitment to his firefighters and their families. He is the perfect chief officer to receive this honor and I'm proud to be a member of his department," said Yates County Fire Coordinator (Ret.) Glen Miller.
The New York State Association of Fire Chiefs is a not-for-profit organization based in New York's Capital District with more than 10,000 members. NYSAFC has served career and volunteer fire chiefs, officers, and emergency services personnel throughout New York state since 1904. Learn more about NYSAFC at www.nysfirechiefs.com.