Firefighters Battle Stubborn Third-Alarm at Londonderry Commercial Building
July 11, 2022 | NEW HAMPSHIRE
JAY HEATH, Correspondent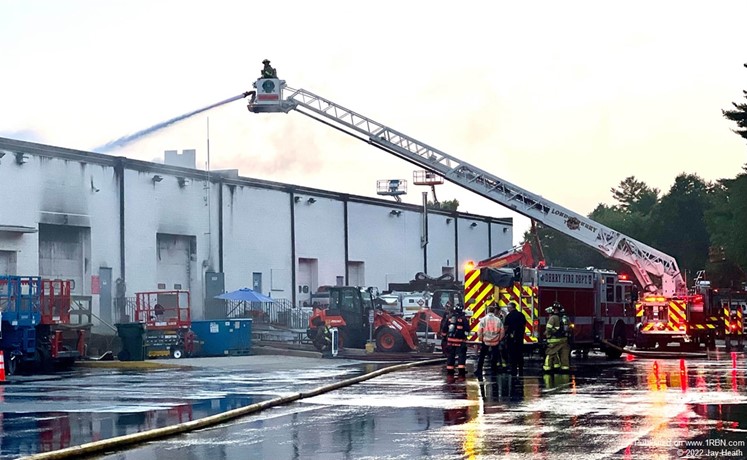 Photo by Jay HeathLondonderry Truck 1 operates at the fire on July 11th.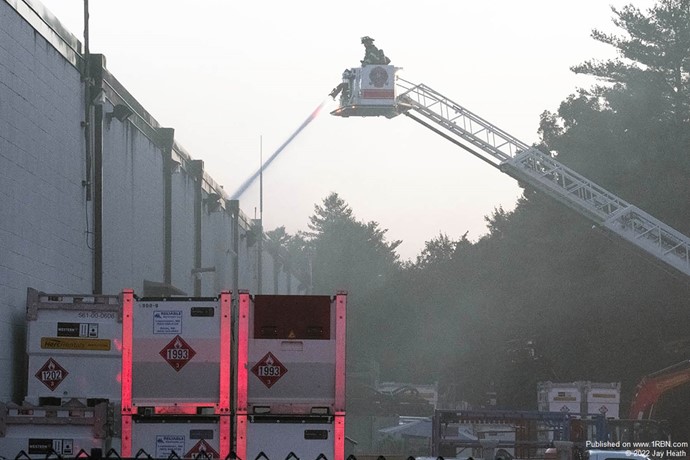 Photo by Jay HeathAcrid smoke and a large oil leak made for difficult firefighting in this large commercial building.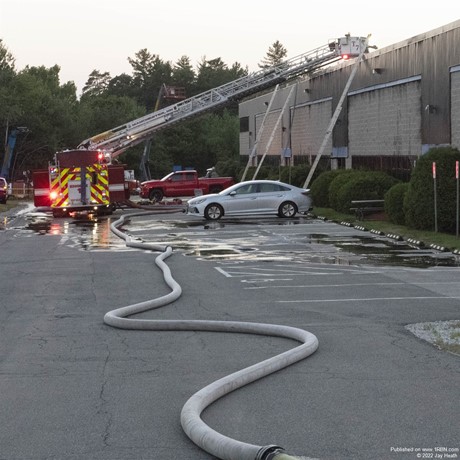 Photo by Jay HeathLadder Truck Companies from Manchester and Nashua operated at the fire scene.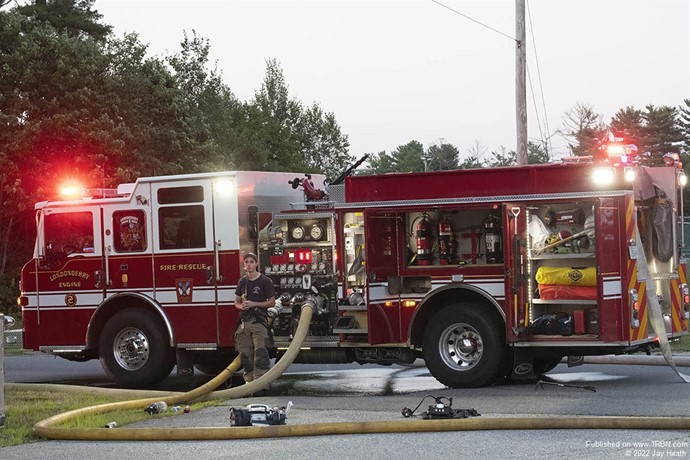 Photo by Jay HeathLondonderry Engine 2 set up water supply to the fire scene.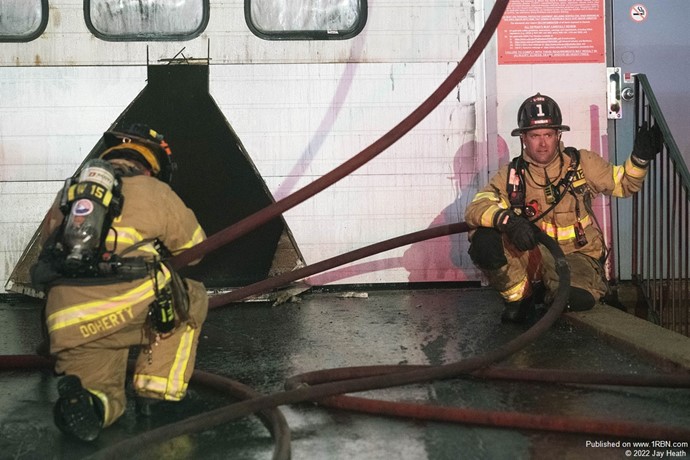 Photo by Jay HeathFirefighters ventilated large over head doors.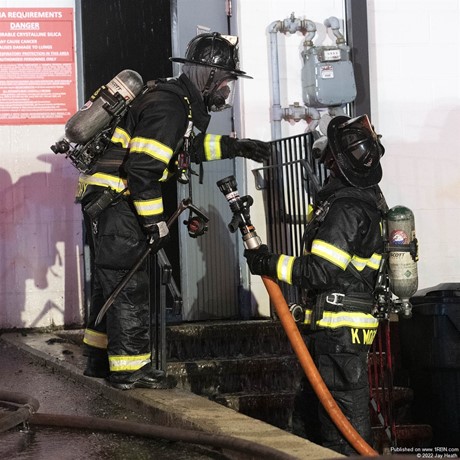 Photo by Jay HeathNashua firefighters working at the 3 Alarm fire.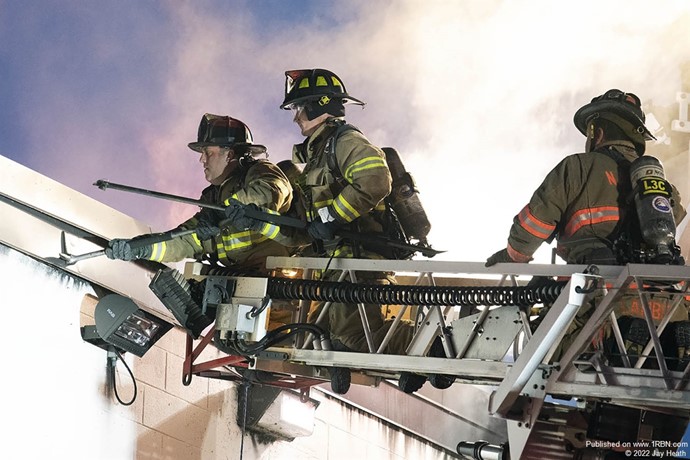 Photo by Jay Heath The Nashua Truck Company working to check for extension along the roof.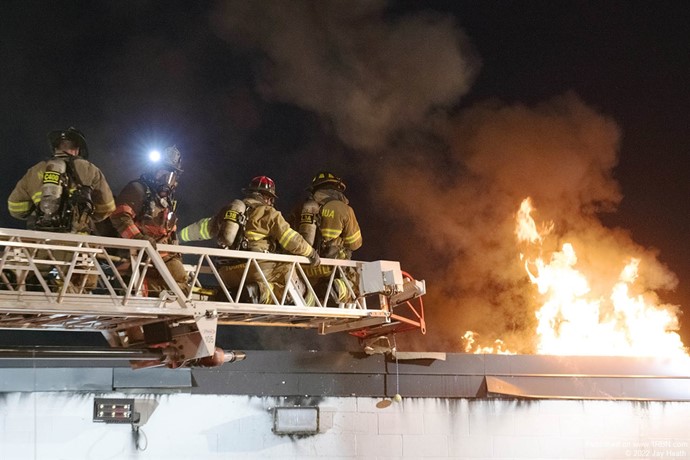 Photo by Jay Heath Fire breaks through the roof in numerous areas as Nashua's Truck operates.
This article is a direct street report from our correspondent and has not been edited by the 1st Responder newsroom.
LONDONDERRY, NH - On July 11th, the Londonderry Fire Alarm Office received a Radio Box for a sprinkler activation along with a call for smoke in the building at the Herc Rentals Company at 3 Symmes Drive. The large commercial building is located just off Interstate 93 and was the former Reliable Equipment Company.

Engine 2, Truck 1 and Battalion 2 Chief Butler were dispatched on the box at 7:00 P.M. Engine 1 and Medic 3 were on the scene of a medical call close by the fire, and Engine 1 reported smoke showing from the building and transmitted the Working Fire at 7:01 P.M. Engine 1 arrived quickly from the medical call and reported a large commercial building with smoke showing.

Battalion Chief Butler arrived and assigned Medic 3 to assist Engine 1 with fire attack, Engine 2 to establish water supply, and Truck 1 to open the roof. Firefighters encountered difficult access to the fire due to building renovations, heavy acrid smoke and high heat conditions. Battalion Chief Butler transmitted a second-alarm at 7:31 P.M., and ordered companies out of the building due to structural integrity concerns. A third-alarm was transmitted with a special call for a Nashua Ladder and the Southeastern NH Haz Mat District due to a large oil leak created by the fire.

Numerous companies worked for hours to battle the stubborn blaze and control the oil leak. The fire was under control at 10:05 P.M., and firefighters remained on the scene until midnight overhauling and ventilating the massive building. Mutual aid was received from Auburn, Bedford, Derry, Hudson, Litchfield, Manchester, Merrimack, Nashua, Pelham, Salem and Windham.

The Londonderry Fire Prevention Officer, NH State Fire Marshal, and State DES responded back to the scene the next morning for their investigation.