Robert D. Padgett, Sr. grateful to serve as a firefighter in Port Jervis hometown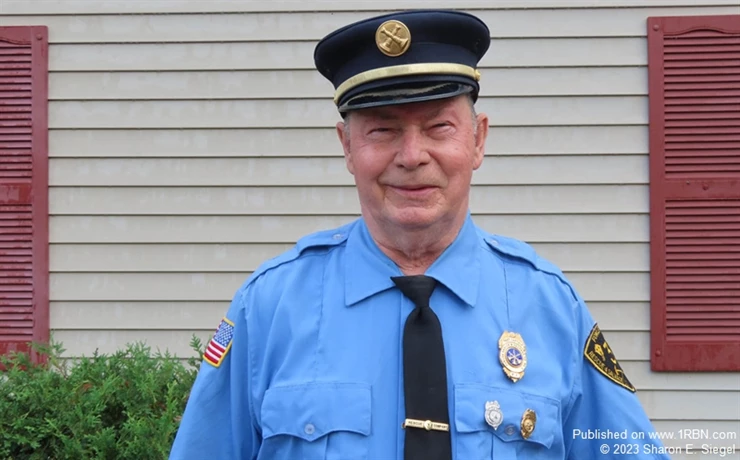 Photo by Sharon E. SiegelPort Jervis Fire Department Grand Marshal 2023 Robert Dana Padgett, Sr., a 53-year firefighter in the department.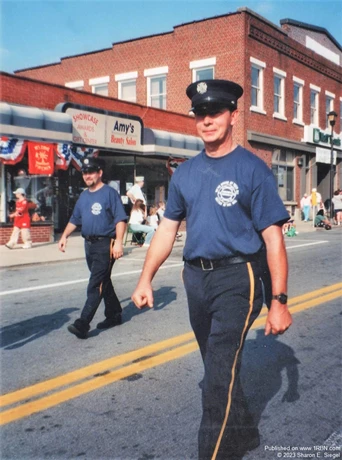 Photo by Sharon E. Siegel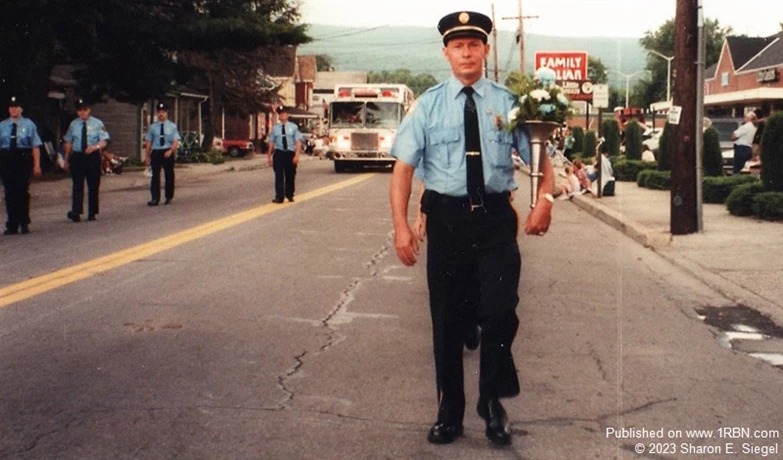 Photo by Sharon E. Siegel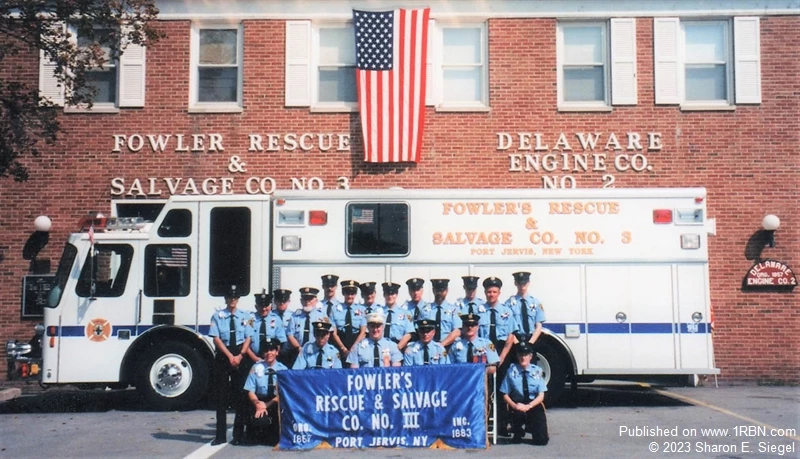 Photo by Sharon E. Siegel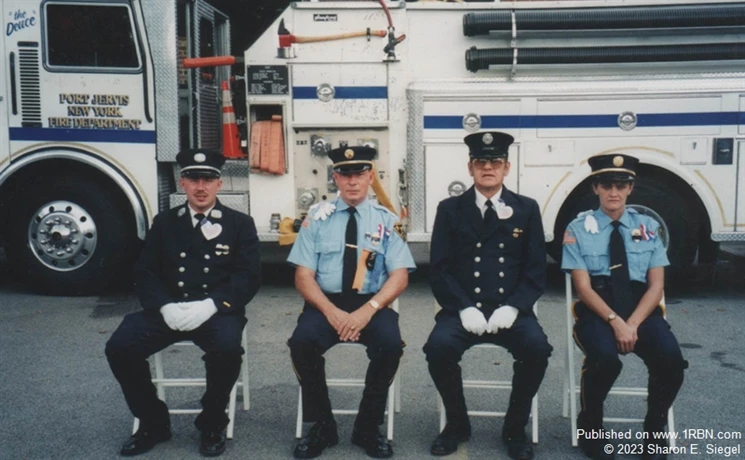 Photo by Sharon E. Siegel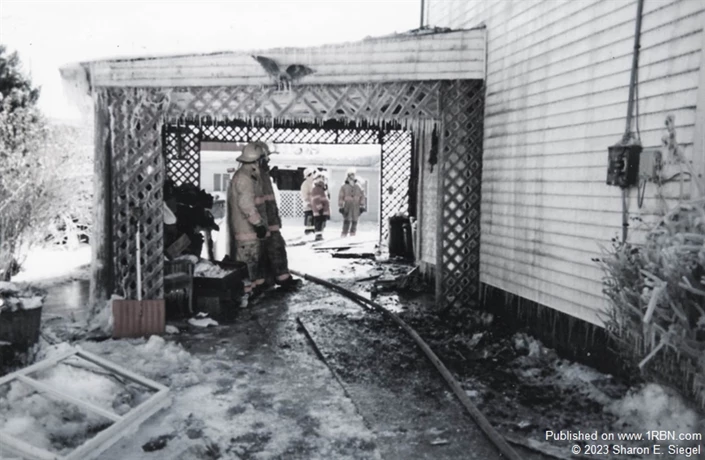 Photo by Sharon E. SiegelRobert Dana Padgett, Sr., and fellow firefighters at the scene of a house fire that destroyed his father-in-law's home and from which his father-in-law was rescued by two Port Jervis DPW workers.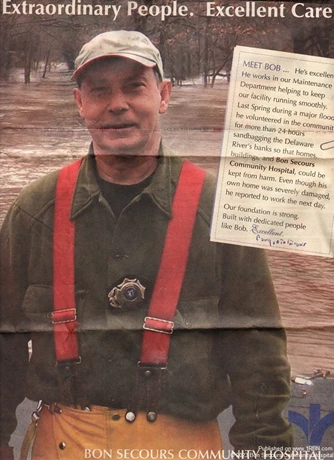 Photo by Bon Secours Community Hospital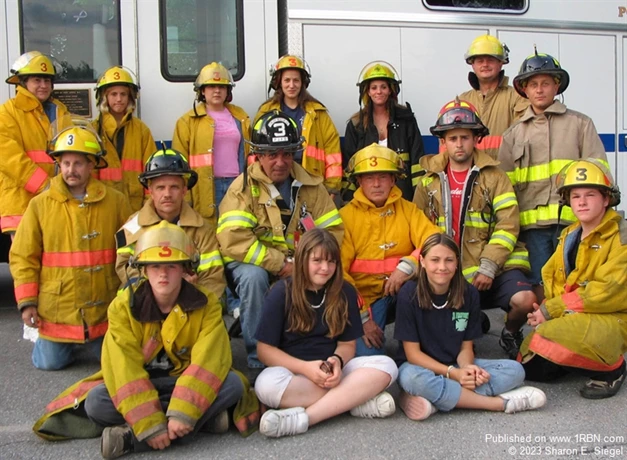 Photo by Sharon E. Siegel
This article is a direct street report from our correspondent and has not been edited by the 1st Responder newsroom.
PORT JERVIS, NY -- Robert "Bob" Dana Padgett, Sr. is among many Port Jervis Fire Department firefighters whose families have chosen to commit time and energy for generations of local emergency service.  His father, uncles, many of his cousins, and his own two sons and daughter – Robert, Michael and Kelly – are among those who have served as or are presently firefighters.
Padgett, a 53-year member of PJFD, joined Port Jervis Fire Department and Excelsior Engine Co. No. 5 on June 1, 1970.  He was born in Port Jervis on April 27, 1950, and has lived in his hometown for nearly all of his life.  While growing up, he attended and graduated from Port Jervis schools, then Orange County Community College, and then completed six years of military service with the U.S. Army from 1971 to 1977.
In his career at Bon Secours Community Hospital, through his retirement in 2014, Padgett worked in maintenance, fire training, and as the hospital's fire safety officer.  He was honored with Bon Secours Health System's "Dedicated Service Award" and described as a team player with a positive attitude, core values of respect, integrity, compassion, innovation, and many civic contributions.
As a firefighter, Padgett recalls being inspired to serve by his own firefighter father (Dana "Dan" Padgett) and his late uncle, PJFD Chief Douglas H. Moore, who served as 1st and 2nd Chief, and then Chief of PJFD from 1966-1967.
"I listened to my uncle a lot. When he got home from calls, he would talk to me, and it got me interested," Padgett said. "I also remember many of the past chiefs, Ray Harding, Dick Hosking, Bob Dunn, Chuck Baumgardner, Russ Potter… and many others."
At the time that he joined the fire department, Padgett was living in West End and joined the nearby Engine 5. Friends he played softball with at the time were also already firefighters.  These included his wife of 50-plus years, Joann's, brothers – his future brothers-in-law.  He later transferred his membership to Rescue 3, which at the time was located in the Acre.  When Rescue 3 disbanded, he became a member of Engine 2. Over the years, Padgett served in nearly every capacity in his company, including 1st and 2nd lieutenant, financial secretary, vice-president, president, and captain.
There are a multitude of calls Padgett remembers responding to over the past 53 years.  To name a few, Hungry Elephant, Pike Street building collapse, Neversink Lumber and a building across from it, a New Year's Day fire that claimed a resident's life, Buffalo Bills and RECAP in West End (by Len & Jo's), and a house fire on Church Street.  As a firefighter, any call can pose a challenge and danger, but it was the Buffalo Bill fire he remembers as being most challenging for him to be fighting from the interior as it was burning.  He recalls very vididly, too, responding to his father-in-law's house as it was burning on a bitter cold night.  It was during that fire that two Port Jervis Department of Public Works employees, Chris Banghart and Bob Stempert, spotted the fire, sounded the alarm, and saved his father-in-law's life by assisting him out of his burning home. 
His advice to anyone wishing to be a firefighter is to be aware of all the classes they are now required to attend, and to have patience, willpower, and a drive to help people and serve one's community. Once a member, always keep their ears and eyes open.  
This parade day, as he enjoys the honor of serving as a Grand Marshal, Padgett will be thinking of his years of service as a firefighter in his community, which he says made him stronger.  He will also think with gratitude of the support of his family, and for having had a chance to save lives and property as a Port Jervis Fire Department firefighter.