Multiple Departments Battle Storage Container Fire in Mastic
July 01, 2022 | NEW YORK
JOHN WALTHERS, Senior Correspondent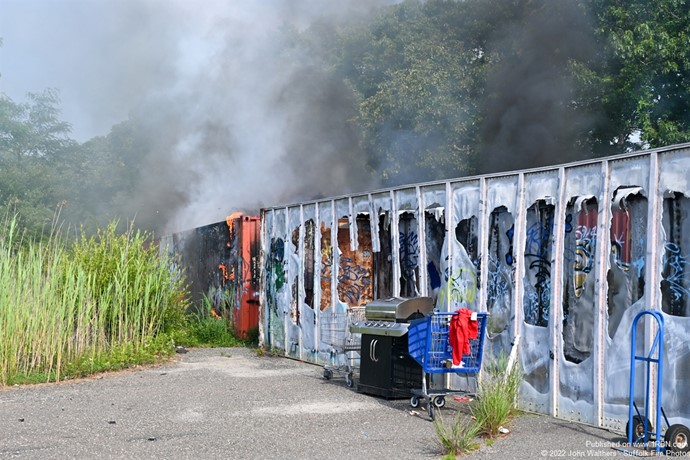 Photo by John Walthers - Suffolk Fire Photos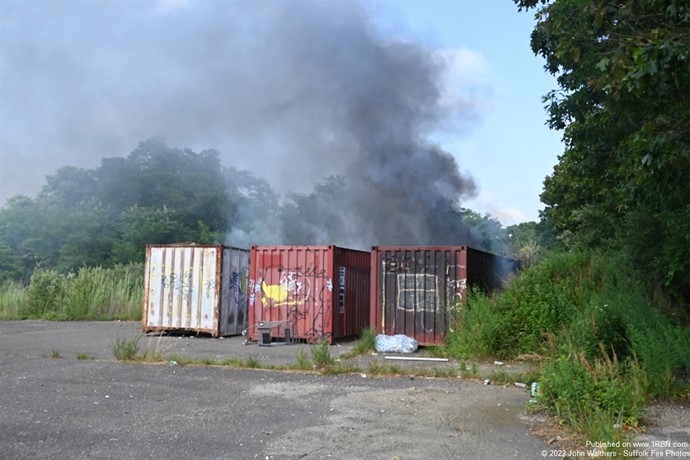 Photo by John Walthers - Suffolk Fire Photos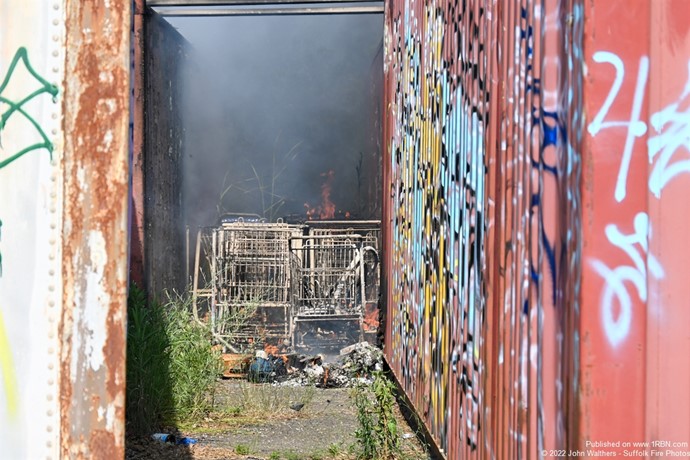 Photo by John Walthers - Suffolk Fire Photos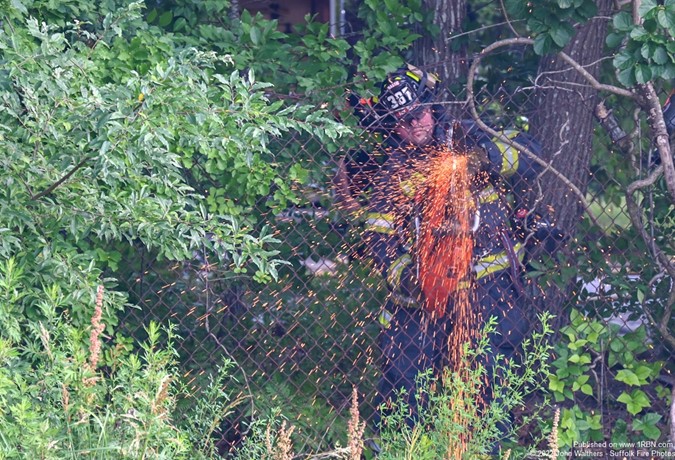 Photo by John Walthers - Suffolk Fire Photos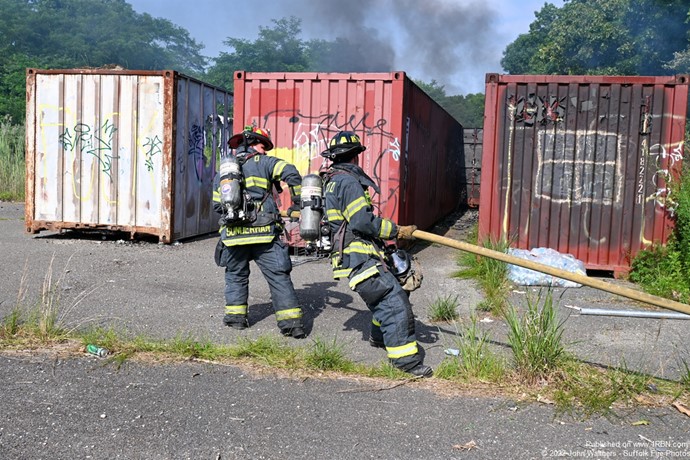 Photo by John Walthers - Suffolk Fire Photos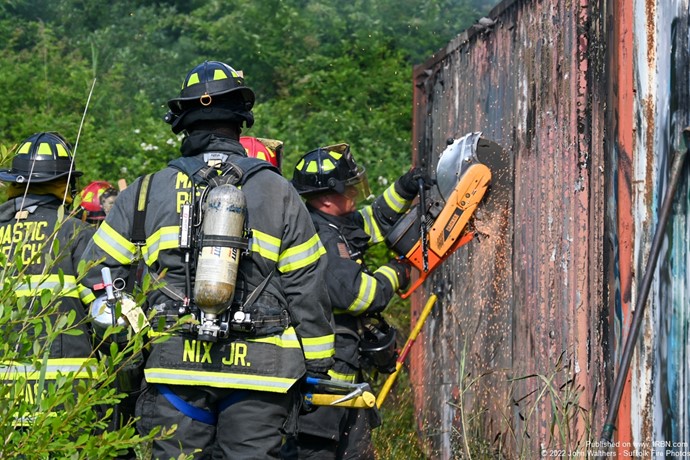 Photo by John Walthers - Suffolk Fire Photos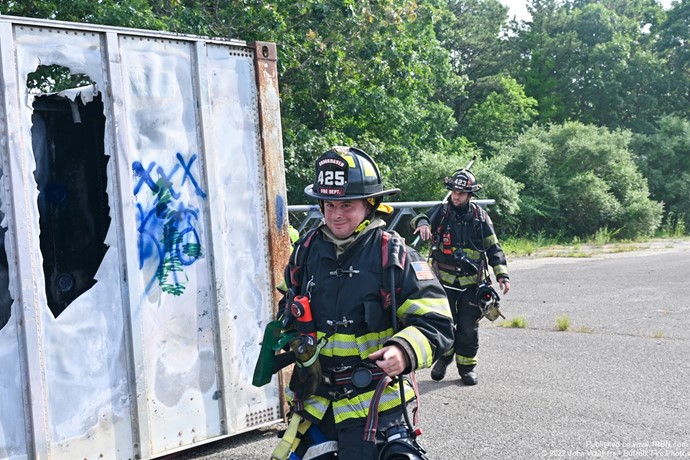 Photo by John Walthers - Suffolk Fire Photos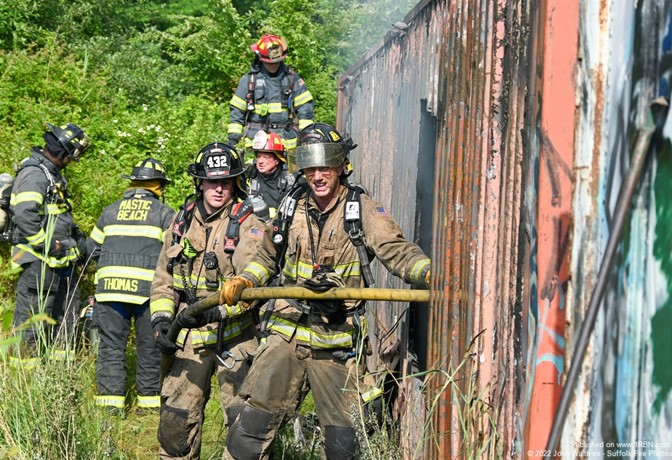 Photo by John Walthers - Suffolk Fire Photos
This article is a direct street report from our correspondent and has not been edited by the 1st Responder newsroom.
MASTIC, NY - On Friday, July 1st, the Mastic FD was activated for a chief's investigation on Sunrise Highway, East of Exit 58, for smoke in the area. Chief of Department Rudy Sunderman and Assistant Chief Gene Martucci, along with additional officers, came on the air advising that they were responding to investigate the situation. Chief Sunderman then advised crews that it appeared the incident may be located at the end of Park Avenue, and made his way down that way.

When Chief Sunderman arrived in the area he found heavy smoke coming through the trees on Franklin Ct., off Park. Chief Sunderman was met by some civilians who confirmed that the fire was on the state property behind the woods. He asked that Firecom activate the department as a general alarm for the fire and update the address to 8 Franklin Ct.

Once he made his way through the woods and into the fence line, the Chief made his way onto the site and found what appeared to be multiple storage containers on fire with debris. The crew from Engine 5-12-1 arrived on scene, and due to the location of the fire, had to use the saws to cut the fence so that they could gain access with the hoses. The crew quickly began to stretch a one-and-three-quarter inch hand line as well as a booster line as a secondary line onto the state property where the containers were burning.

Engine 5-12-3 arrived on scene and the crew went to work assisting 5-12-1's crew. Chief Sunderman requested that Fire-Com dispatch mutual aid for an engine and a tanker, as the closest hydrant was a long stretch away from the scene. Manorville FD was activated for the tanker and Mastic Beach for an engine. Brookhaven was requested as a standby engine, but then quickly moved up to the scene for an extra engine crew at the direction of the chief.

Once additional manpower was on scene firefighters stretched an additional booster and needed to use saws to access some of the storage containers and put out the contents that were on fire inside of them.

Center Moriches stood by at Mastic's headquarters during the incident. Mastic Ambulance was on scene in case of any injuries and worked firefighter rehab along with Shirley Ambulance company's rehab unit members.

A total of four storage containers were burned in the incident. No injuries were reported, however the fire did appear to be suspicious in nature, so the Brookhaven Fire Marshal's office and Suffolk PD Arson Squad were called to the scene.