Sixty-four-year Port Jervis firefighter is honored to be a parade grand marshal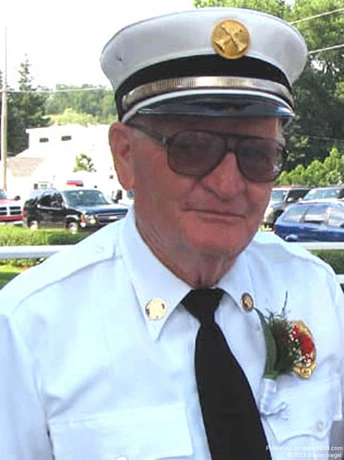 Photo by sharon siegelSixty-four-year Port Jervis firefighter Richard F. Drew is grateful for every year he is able to serve in this volunteer way.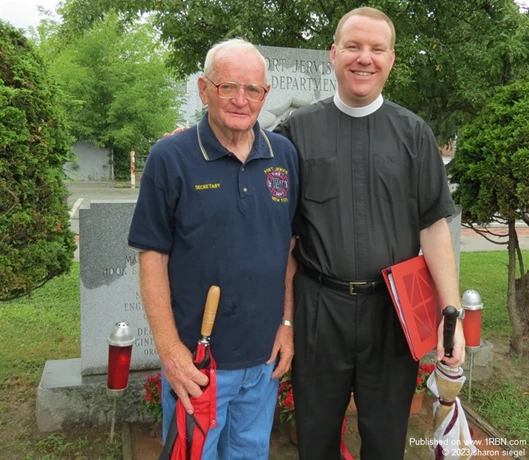 Photo by sharon siegelPJFD Past Secretary with then PJFD Chaplain Father George Hafemann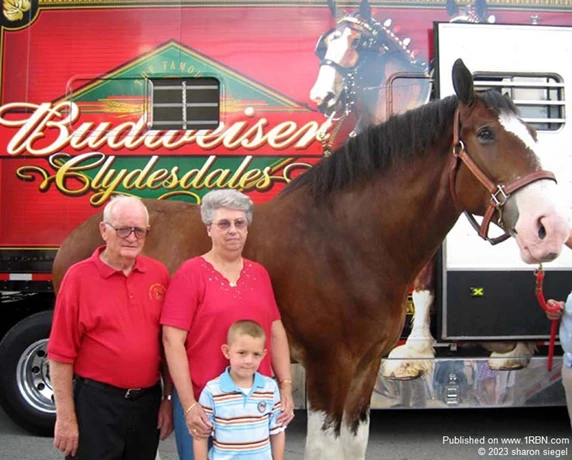 Photo by sharon siegelRichard and Barbara Drew and grandson Kyle at a past PJFD Parade.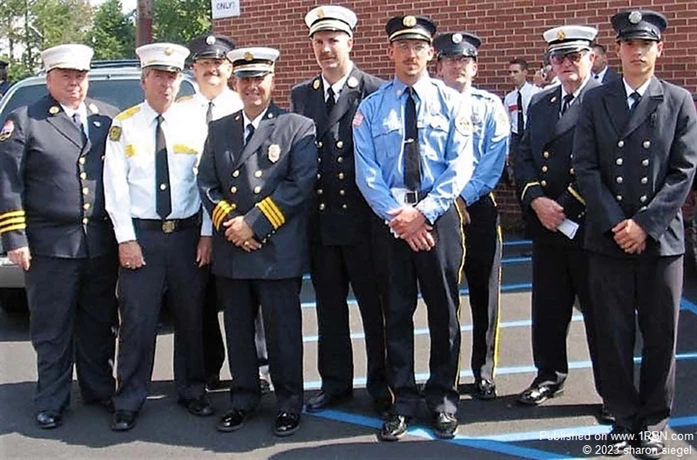 Photo by sharon siegelPJFD officers at a Blue Mass in 2006.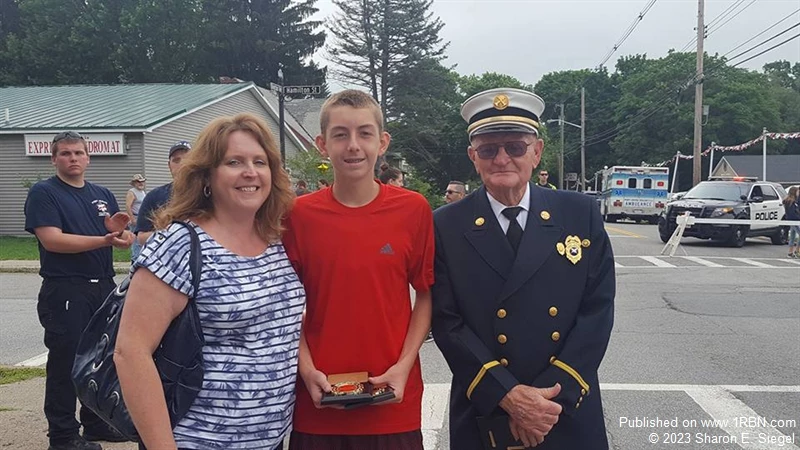 Photo by Sharon E. SiegelRichard F. Drew with daughter Melissa and grandson Kyle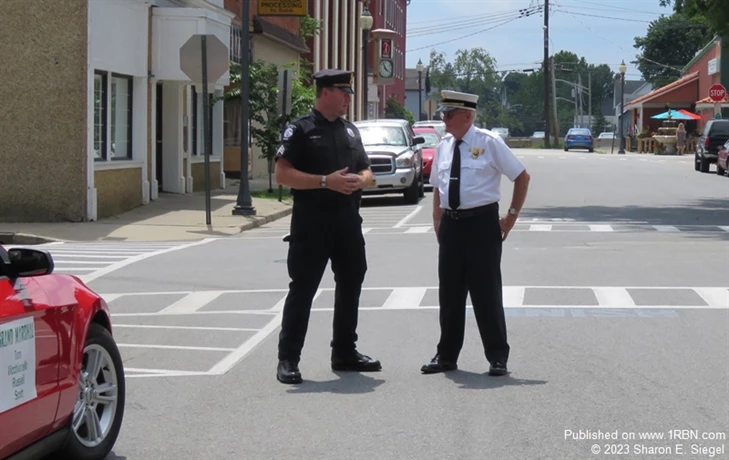 Photo by Sharon E. SiegelAs Parade Chairman, Richard F. Drew made sure the parade stepped off on time and in order from this spot for his 40-years in that parade leadership positiion.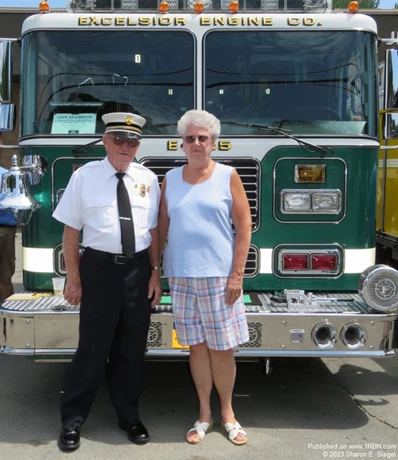 Photo by Sharon E. SiegelRichard F. and Barbara Drew, a true team in all aspects!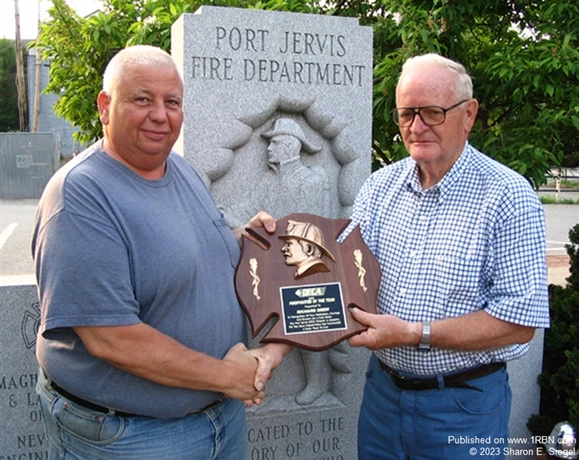 Photo by Sharon E. SiegelPast Chief the late Mike Cicalese with Past Secretary and Parade Chairman Richard F. Drew
This article is a direct street report from our correspondent and has not been edited by the 1st Responder newsroom.
PORT JERVIS, NY – After nearly 65 years of active firefighting service and having served decades as Port Jervis Fire Department's Secretary, Richard "Dick" Floyd Drew has deep feelings about PJFD and the firefighters he serves with.
"Port Jervis Fire Department is the very best!" Drew said.  "And the people in it are what makes it so good. They work together, do things together, and are there for each other – and for anything that comes up. They've been there for Barbara and I many times over the years. You won't find any fire department that is better."
Born on May 20, 1931, Drew and his wife of 61-years, Barbara, are both lifelong residents of Port Jervis. Dick grew up in the city's Tri-State neighborhood, and Barbara in the West End.  After high school, Dick joined the Navy and served as a Yeoman in the engineering division, and with the USS Tutuila.  His duties took him between Norfolk, VA to sea duty and maneuvers in the Caribbean.  
Once his years of service were completed, he joined his brother Fred Drew as a member of Tri-State Hose Co. No. 6.  He became a Port Jervis firefighter on February 1, 1959, at age 28, and initially also served as treasurer of Hose Co. 6.
In his beginning years of firefighting, Drew lived on Lime Kiln Road and responded to Hose 6's firehouse.  He remembers rushing to get to calls, as did other company firefighters at the time.
"Cherry, Dubies, McGaw, Specs Markle and his brother were some of them who, like me, hurried to get on the truck when the whistle blew," Drew recalled.  
Following his and Barbara's marriage in 1962, the couple settled in the city's West End and he transferred his membership to Excelsior Engine Co. No. 5.   
In 1974, Drew was appointed by then Chief Donald DeVore to fill a vacancy in the department.  He remembers William Wilsey, who was also the principal of Sullivan Avenue School at the time, held the position of Secretary at the time.  Wilsey was moved to the position of treasurer when then-treasurer Harold Aughton was unable to continue. Drew then became Secretary of PJFD, a position he held along with Parade Chairman from 1974 through 2015.
As a fireman, Drew recalls countless emergency responses over the past 64 years. These include Diamond Bar & Grill at Ferry and West Main Streets, downtown Sears & Roebuck, West End garage adjacent to his home, Neversink Lumber, floods, house fires, accidents, and a tenement fire where the West End Memorial Park is now located.
His work years took him to Royal Furniture, then management at JJ Newberry and Woolworth's, and then to an engineering career from which he retired at Picatinny Arsenal.  He attributes help and support from his wife, daughter Melissa, and grandson Kyle to helping him fit everything in.
"My family has always been there for me, supporting and helping every step of the way," Drew said.  
Drew is looking forward to this week's parade event and the activities that surround it.  Having served as the department's Parade Chairman for 40 years, he enjoys everything about the parade and continues to actively participate in it.
"We have the visit to Past Chief graves on Thursday, a memorial service and inspection visits on Friday, and the parade on Saturday.  Our new department chaplain, Pastor Anthony Giacona of St. Mary's Church will be with us this year," Drew said. "I am looking forward to all of it."
At age 92, Drew is still a very active member of his company, the department, and an officer in the Fire Police. He is honored to have been chosen as one of Engine 5's two Grand Marshals this year, and as his company celebrates its 150th Anniversary.
As he was in his early firefighting years, Drew says he is grateful to still be surrounded by great firefighters in his neighborhood and in the department's fire companies.  
"You won't find a better department to be part of, but it's not something you should choose to do overnight or take lightly.  You have to be dedicated to it and want to help others,' Drew advised.  "It takes a period of time, and you have to willing to put that time into it.  You have to want to do it."
Drew definitely still wants to do it.  He plans to remain a firefighter for as long as he is able, and says hopefully it will be for all of his life.
"As long as God gives me the chance. He gave us these last six months, which I wasn't sure we would have.  So, we are very blessed," Drew said.  "I'm grateful for another year, and I hope I can make it."